Nepenthes are tropical pitcher plants native to Southeast Asia. These plants are carnivorous and mainly feed on insects. They trap insects using highly modified leaves known as pitfall traps. The leaves are vase-shaped and filled with nectar, the primary digestive fluid. These plants also form great houseplants because they produce beautiful flowers and are relatively easy to care for. As long as you provide your pitcher plant with the right growing conditions, it can survive in a home environment for many years.
So, how do you care for nepenthes? In their natural environment, nepenthes usually grow in wetlands. If you plant them at home, you need to try as much as possible to mimic these conditions. Use highly nutritious potting mix and keep the soil moist all the time. Place your pitcher plant in direct light and maintain the temperature between 50oF and 70oF for better results. If you are feeding your plant with enough insects, there is no need for fertilization.
Today, we discuss everything you need to know about growing nepenthes at home and taking good care of it. Read on to find out everything you need to know.
What Types of Nepenthes Plants Are There?
Before discussing some of the things you need to do to keep nepenthes healthy and happy, it is crucial to understand the different types of nepenthes plants.
Generally, there are highland and lowland pitcher plants. These plants grow in different settings. The highland nepenthes are primarily found in areas at least 3000 feet above sea level. This is mainly in the mountains.
Lowland nepenthes are the opposite since they mostly thrive in areas below 3000 feet above sea level. You will mostly find them in forests and open fields.
However, most nepenthes species belong to the highland type. We also have a wide range of hybrids produced artificially or naturally through crossing different nepenthes species.
Some examples of highland nepenthes include Fusca, Maxima, Alata, Sanguinea, Spathulata, and Ventricosa. Examples of lowland nepenthes include truncate, Veitchii, Gracilis, Northiana, and Bicalcarata.
Taking Care of Nepenthes
Now that you are ready to add nepenthes to your plant collection, you need to know how to care for it. Below are some guidelines to help you get started.
1. Soil and Potting
Pitcher plants usually enjoy soils with a relatively low mineral content that stay moist (not wet) for a long time. The soil must have good drainage capabilities. The simplest potting mix that works well with this plant is a mixture of equal parts of perlite and long-fibered sphagnum moss. Both of them should be readily available in your local plant nursery.
You can also grow nepenthes in a potting mix consisting of equal coconut coir and coconut fiber parts. Keep in mind that coconut products sold in many parts of the world for horticulture are often salty since they are harvested from beaches.
Therefore, it is essential to soak the coconut products in pure non-salty water a few times to eliminate the risk of salt buildup.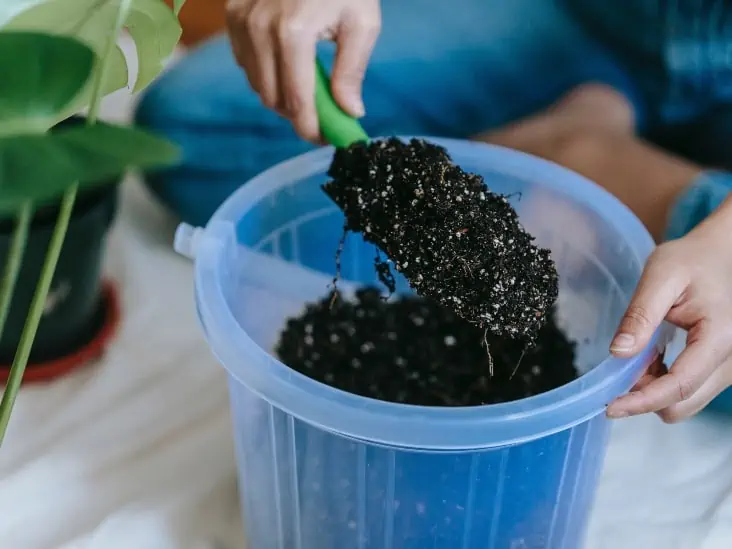 Most small and medium-sized nepenthes plants will grow well in a 3"-4" diameter pot. However, larger plants will thrive in 6"-8" diameter pots. Ensure the pot you choose has plenty of drainage holes.
Repotting will only be necessary after two or three years, depending on the plant size and soil quality. The use of hard water may cause your potting mix to break down faster and turn mushy.
2. Temperature Requirements
Nepenthes are predominantly native to parts of Southeast Asia and the surrounding area. These areas are generally cool and humid, although some nepenthes species thrive in hot jungles.
These plants generally appreciate warm temperatures and relatively high humidity. Highland nepenthes grow in high altitudes and enjoy day temperatures between 75oF and 83oF with a 15oF -20oF temperature drop at night.
Highland nepenthes can handle a few months of relatively high temperatures but night temperatures must remain consistent for the plant's robust growth and overall health.
For lowland nepenthes, they tend to thrive in relatively warm and humid jungle temperatures. So, if you are growing lowland nepenthes at home, you need to ensure the temperature never falls below 70oF during the day.
The ideal temperature for lowland nepenthes is between 85oF and 90oF during the day and 60oF -65oF during the night.
It means that lowland nepenthes are great candidates for terrariums and shaded porches in the relatively warm and humid tropical climates and steamy greenhouses.
Hybrid species are cozy between the lowland and highland species. Most hybrid species will do well in day temperatures ranging between 80oF to 85oF and a night temperature ranging between 50oF and 60oF.
Many hybrid species are considered intermediate and can handle a wide range of temperatures quite well.
3. Watering Requirements
Nepenthes love to remain moist, not wet. Therefore, your primary objective should be to keep the potting mix moist. These plants also do well in a well-draining potting mix and don't like being waterlogged for too long.
You should never allow your pitcher plant to dry out completely because the results can be catastrophic. You are free to keep them in water saucers indoors but allow the excess water to evaporate completely in between watering sessions.
One of the crucial factors you need to pay attention to when it comes to watering nepenthes is the water quality. Unlike other carnivorous plants, nepenthes cannot handle low quality water.
Therefore, you will want to ensure that you use rainwater for watering. If you cannot access rainwater throughout the year, use distilled or reverse osmosis water.
Try to avoid using tap water because it contains a lot of impurities that can harm your plant. Although these plants can still do fine with salty water, you need to ensure there is a minimum amount of contaminants in the water you use.
Testing your water is critical. During testing, pay close attention to the Total Dissolved Solids (TDS), which measures the amount of minerals, metals, and salts in the water. TDS is usually measured by the parts per million (PPM).
You can purchase a cheap TDS reader from your local plant store. Use the device to check the TDS score of the water you want to use in watering your nepenthes. These plants love a TDS score of between 0-10. The lower the figure, the better.
If you have pure water, you can even use it to grow sphagnum moss which is a necessity when you have pitcher plants. Nepenthes love growing in sphagnum moss, and it is so beautiful to the eyes.
4. Light Requirements
Pitcher plants will do well with a few hours of direct sunlight and the rest of the day in relatively bright indirect light. A sunny east or south-facing window will be the perfect spot if you are growing them indoors.
Shade cloth from 50% to about 70% is the best option for greenhouses. These plants also do well under artificial grow lights. The only thing you need to do is ensure your artificial lights remain on for at least 12 hours a day.
The plant should also receive at least eight hours of total darkness to allow it enough time to rest.
5. Fertilizer and Feeding
The safest and most recommended way to provide nutrients to your pitcher plant is to feed it through its pitchers. The good thing is that its pitchers will accept almost all types of insects that fit inside it.
However, you need to avoid feeding it with non-insect organisms and slugs because they can cause the pitcher to die. Consider purchasing dried crickets from your local plant store. These insects make a perfect food source.
As long as your plant is getting enough food, there is no need to fertilize it but feel free to place a small amount of half-strength fertilizer in the pitcher once in a while. The fertilizer can be a single osmocote pellet.
6. Growing Location
You can successfully grow nepenthes both indoors and outdoors. You can also grow them in a greenhouse, windowsill, or terrarium.
But you need to remember that each growing spot poses different challenges. Therefore, you need to ensure the light, humidity, and temperature requirements are met at all times.
Choose lowlanders or highlanders because each set requires unique growing conditions. If you want to mix and match, then go for the hybrid species which can survive in a wide range of growing conditions.
If you are growing lowlanders and highlanders together in a greenhouse, ensure the temperatures are slightly higher to accommodate both sets of plants.
For instance, temperatures during the day should be maintained at 75oF to 85oF to help lowlanders thrive. Nighttime temperatures should be maintained at around 65oF.
7. Pruning
The pitcher plant can sometimes become too crowded when provided with the right growing conditions. When your plant becomes bushy, you need to prune it to allow new growth.
Pruning should only be down in winter when the pitchers and leaves of the plant start to brown and wither. Feel free to trim them down to the rosette.
Bottom Line
Caring for nepenthes isn't a difficult task if you are careful and patient. In fact, these plants only take a few months to adapt and settle in. However, they still require a certain amount of attention to thrive and be happy. If you follow the tips outlined above, you will be on your way to growing happy and healthy pitcher plants in no time.
Last update on 2023-07-26 / Affiliate links / Images from Amazon Product Advertising API