Native to Southern parts of Madagascar, the Madagascar palm is a member of the succulent family and not a "palm" tree as its name suggests. Madagascar palm is adapted to surviving in relatively warmer areas as an outdoor plant and cooler regions as an indoor plant. It grows to about six feet indoors and up to 16 feet outdoors. Its trunk is covered with thick spines that appear as shiny thorns. Madagascar palm is a low-maintenance succulent that can be an incredible addition to your home.
So, how do you care for Madagascar palm? To keep your Madagascar palm happy, have it on the dry side and only water it when the potting mix is completely dry. Like other succulents, you need to ensure the soil you use is highly porous and well-draining. For fertilizer, only feed your plant with a balanced houseplant fertilizer at the beginning of spring or summer. If possible, grow your plant in full light and relatively warm temperatures to achieve the best results. For indoor plants, position them on a west or south-facing window.
Are you planning to add Madagascar palm to your plant collection? If so, read on to find out what you need to do to keep your plant healthy and happy.
Basic Facts about the Madagascar Palm
The scientific name of Madagascar palm is Pancypodium lamerei, and it belongs to the Apocynaceae family. The succulent has a very distinct appearance, with its trunk filled with spines. It can grow to a height of up to 16 feet and 2 feet wide when provided with the right growing conditions.
When the time comes, this succulent tree will bloom throughout summer, putting on a spectacular show. Its flowers are usually white and quite large.
If you are growing the succulent indoors, position it near a west or south-facing window where it can get maximum light exposure. However, you need to remember that the plant can become tall with time. So, ensure you provide it with enough space to develop correctly.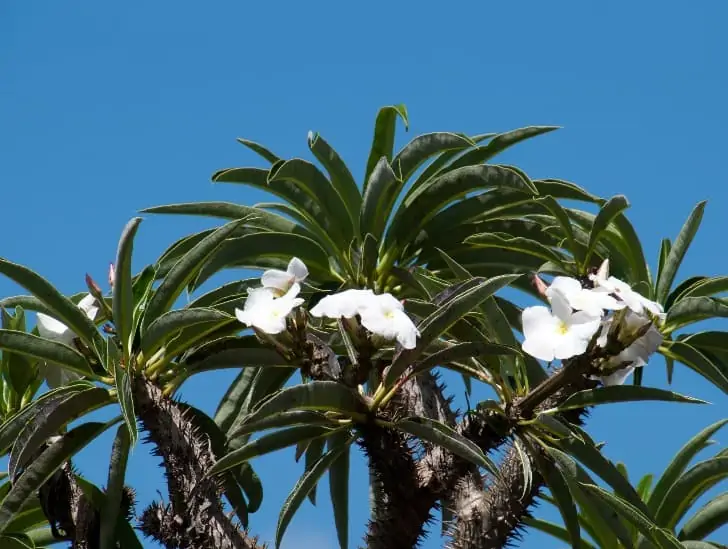 When planting them outdoors, it is recommended to plant them in a group but ensure they are well spaced. You should also ensure you plant them in areas far away from children since they are poisonous. Ensure no other high-maintenance plants are growing next to the Madagascar palm.
How to Care for the Madagascar Palm
Now that you have some background information about the Madagascar palm, let us highlight some things you need to do as part of the daily routine care to keep your plant happy.
1. Watering Needs
The Madagascar palm doesn't require frequent watering because it is adapted to surviving in a relatively warmer climate. The plant is highly resistant to climatic changes and harsh weather conditions. In fact, they love the heat.
If you live in an area that experiences extreme winters, you don't need to water your plant as often during the cold months; otherwise, you will cause root rot which is more dangerous than underwatering.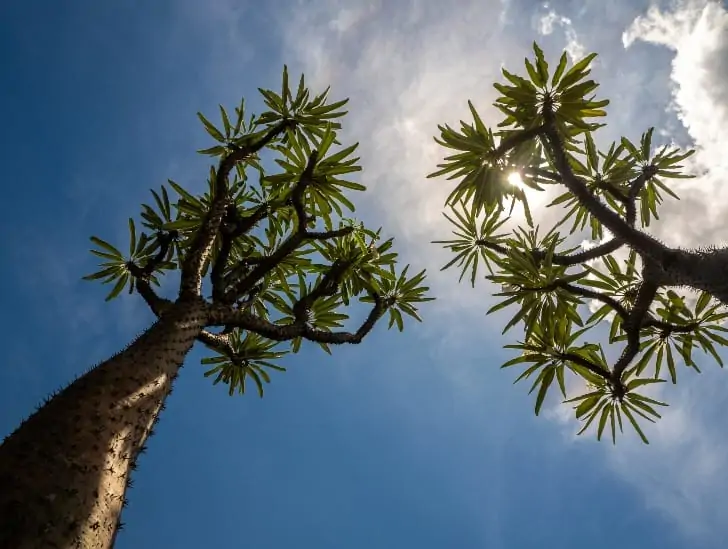 Before watering a Madagascar palm, ensure the potting mix is completely dry. So, it is crucial to ensure you have a well-draining potting mix that allows water to drain out of the growing pot without damaging the plant roots.
Water your plant thoroughly during the hot summer months but stop watering completely when the leaves fall off. When leaves fall, it means that the plant has enough water storage in its stem, and it is only looking for a way of minimizing water loss through transpiration.
In fact, one of the biggest threats to the overall health of your Madagascar palm is overwatering because it may result in root rot. It is easy to think that your plant requires watering when its trunk still contains plenty of it.
One of the physical signs of overwatering is breakage. If a long spindly trunk of your plant suddenly snaps in half and tips over, it could be a sign of overwatering. This may also happen if you keep your plant in a spot with too much cold and not enough light.
2. Growing Location
Since the Madagascar palm is a sun-loving plant, it can take the full sun without any issues. The succulent is highly drought-resistant and ideal for xeriscaping in warm climates. So, if you are growing it indoors, choose a spot that receives plenty of bright light (whether natural or artificial).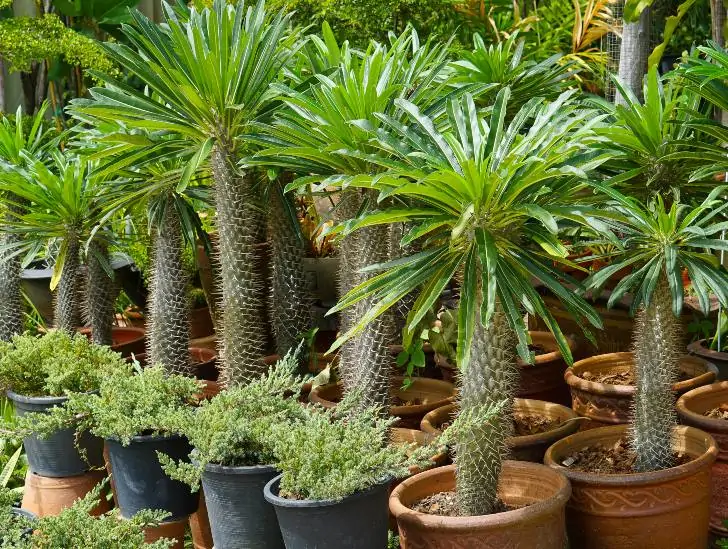 If you are growing it outdoors, ensure it is far away from tall plants that may provide unnecessary shade. Keep your plant slightly moist so that it doesn't shed its leaves. The succulent will only shed its leaves when it is too dry. Make use of a humidity tray to keep the humidity levels high.Humidity trays are shallow trays filled with small stones and water at the bottom. Ensure the water in the tray doesn't reach the bottom of the bonsai pot. As the water evaporates, it creates a relatively moist environment that keeps your plant moist.
3. Soil Requirements
The succulent can adapt relatively well in porous soils with good soil-drainage properties. It can grow in the conventional sandy soil of old dunes near the ocean or sea, in schist, limestone, and so on.  For better results, plant it in cactus compost but maintain a mildly acidic to a mildly alkaline pH of between 6.0 and 7.7.    
For potting, go for clay pots with plenty of drainage holes over plastic pots to keep the succulent on the dry side. The pot size should be slightly larger than the root ball of your Madagascar palm.
4. Temperature and Light Requirements
Madagascar palm is a sun-loving succulent. So, it prefers a relatively warmer and bright-lit location. When positioning your plant indoors, place it on a west or south-facing window where it can receive lots of full sunlight.
If you live in an area that doesn't receive plenty of natural sunlight, consider using artificial grow lights to keep your plant happy. If you are using artificial grow lights, keep them on for at least 16 hours a day and let the plant rest in total darkness for the remaining eight hours.
Indoor Madagascar palm plants should also be kept near a heating vent or register to ensure it stays warm during the cold winter months. During winter, make sure the temperature doesn't fall below 55oF.
If you maintain relatively warm temperatures and keep your plant moist, it will never shade its leaves. The leaves add beauty and serenity to your indoor spaces.
5. Fertilizer
Feed your Madagascar palm with a general-purpose liquid houseplant fertilizer at the beginning of spring. The fertilizer must be diluted to half-strength. You can also use low nitrogen liquid fertilizer but you will be forced to feed your plant every four to five weeks.
Whether you are growing your plants indoors or outdoors, don't fertilize it in winter or fall because it is a period of dormancy and doesn't require nutrients. You should only start watering and feeding it when you spot new growth.
With proper watering and fertilization, a Madagascar palm succulent will grow approximately 12 inches per year.
6. Disease and Pest Control
Extremely cold weather can affect a Madagascar palm quite significantly. Your plant may rot and put on a soft, mushy, and withered appearance. If you notice such signs, remove the damaged part and let your plant rest easy.
This succulent is also prone to mealybug infestation. These insects feed on the leaves of the plant. When you notice appearance of black spots on the leaves, it could be a sign of mealybug infestation.
To deal with the infestation, simply pull off the affected leaves and you are good to go. In some cases, there might be an infestation of white fly larvae or mites that attach themselves at the base of the plant. This can easily be cleared out with insecticides and fungicides in the form of systemic poisons, soapy rinses, and gentle sprays.
7. Pruning
Pruning is not an essential task for a Madagascar palm. The plant will shed its leaves naturally to preserve the absorbed water. Shedding of leaves mostly happens during the hot summer months, but you can stop it by keeping your plant moist.
While the plant typically grows on a single trunk, sometimes it will branch out after blooming or if the main stem is injured.
To maintain a relatively small size plant or induce branching, consider pruning the tree with a lot of care. Snap portions of its top with a sterile knife or pair of scissors to prevent infection. Monitor it closely after pruning to see if it shows any signs of infection for you to act quickly.
Summary
The Madagascar palm is one of the best succulents to have at home. The plant does well both indoors and outdoors. It can be placed around other succulents growing in full sunlight, and it will still thrive with minimal care.
The most important thing you need to do is ensure you provide your plant with the right conditions for it to stay healthy and happy. So, if you have decided to add the Madagascar palm to your plant collection, your time is now!
Last update on 2023-07-27 / Affiliate links / Images from Amazon Product Advertising API