With its relatively large, glossy leaves, the kalanchoe remains one of the most attractive and easy-to-grow plants ideal for your indoor or outdoor garden. It produces beautiful flowers in the shades of magenta, orange, red, pink, and yellow, which forms a spectacular view. The foliage is also attractive. Since the plant is easy to care for and highly resistant to some of the common plant diseases, it is one of the best low-maintenance indoor/outdoor plants for your home.
So, how do you care for kalanchoe? Kalanchoe plants require relatively sunny and bright locations with moderate to warm temperatures. Your indoor kalanchoe will do well if positioned near a window, receiving plenty of indirect sunlight. It will thrive in a well-draining potting mix complemented with the right pot size. Typically, you should only water your kalanchoe when the soil is completely dry and only feed it with fertilizer when it is almost bloom time. You should also watch out for dead stalks or foliage once your plant has bloomed and prune them off.
In this guide, you will learn everything you need to know about taking care of and growing kalanchoe in your home. So, let us get started.
A Brief Overview of Kalanchoe
The genus Kalanchoe comprises more than 100 different species of plants, but only a few are known and cultivated at home. The most famous one is the Kalanchoe blossfeldiana that has acquired the title "Kalanchoe" over time.
Native to Madagascar's tropical and sub-tropical climate, the plant tends to thrive in a relatively arid environment, making it one of the best and most popular succulents to have in your home. Plant lovers are usually attracted to kalanchoe thanks to its beautiful leaves and flowers that bloom consistently throughout the year.
Kalanchoe is a slow-growing succulent and will take between two to five years to mature and reach its maximum height, which can be up to 45cm tall. Younger plants in nurseries and flower shops are usually available in yellow, white, pink, and red shades.
Kalanchoe is readily available in most plant nurseries, florist shops, and even grocery stores, especially during the holiday season. While this is one of the best succulents to have in your home, you need to be careful if you own curious pets because almost all parts of the plant are toxic to both dogs and cats.
Taking Care of Kalanchoe Plant
If you are looking to grow an almost perfect succulent that offers a magnificent floral show throughout the year, then look no further than the kalanchoe plant. Like other succulents, this is a relatively hands-off plant that only requires minimal care to thrive.
As long as you provide it with plenty of sunlight, well-draining soil, and know when to water it, everything will be fine. It can survive in a wide range of temperatures and will bloom at the beginning of spring.
The flowers last for several weeks and can reoccur at different times throughout the year as long as the plant receives plenty of sunlight and is pruned appropriately between blooms.
Here is a comprehensive list of some of the most critical things you need to do to take care of your kalanchoe and enjoy the many benefits that it offers:
1. Sunlight and Temperature Requirements
Due to its high sensitivity to cold, kalanchoe tends to do well when grown as a houseplant where the temperature is maintained at between 60oF and 85oF. However, if you want to grow them in your outdoor garden, you need to ensure the temperatures are at least 45oF for them to thrive.
The most important thing you need to keep in mind is that these succulents are highly sensitive to cold and won't survive long if you don't maintain the right temperature.
Kalanchoe will also thrive in a home that gets plenty of bright and natural sunlight. But they don't like direct sunlight and may portray stunted growth if you leave them in direct sunlight all day.
You can position them on east or south-facing windowsill but keep them away from the windowpane since the hot surface can result in severe burns.
Generally, the more bright and indirect sunlight you give to your kalanchoe, the brighter and more colorful the flowers will be. In low-light conditions, the flowers may fail to open, and its leaves turn spindly.
So, if you are purchasing a kalanchoe for your low-light rooms, ensure you get one that is already flowering. You can always substitute the natural light with artificial growers' light.
2.Humidity
Kalanchoe plant generally thrives in normal indoor humidity levels. If you are growing them in an area with high humidity, provide sufficient air circulation to prevent powdery mildew and other fungal diseases.
Extremely high or low humidity levels can cause the leaves to drop or turn yellow. You can use a humidifier if the room is dry and a dehumidifier if there's too much humidity. The most important thing is to ensure that your kalanchoe is comfortable.
3. Watering
Kalanchoe plant is succulent, which means it doesn't require a lot of water to survive. In fact, too much watering can lead to root rot and other issues. Its leaves are highly sensitive to water which can cause irreversible damage when overwatered.
With that in mind, you should only consider watering your kalanchoe when the potting mix is completely dry. Try to avoid wetting the leaves and flowers during watering.
When your plant stops flowering, you need to cut down on watering and let the soil remain reasonably dry. Increase watering during spring or summer when you start to notice signs of new growth on your plant.
For the watering method, it is highly recommended to use the bottom watering method. The method allows you to avoid getting the leaves and flowers wet by accident while ensuring your plant gets the sufficient amount of water it requires to stay happy and healthy.
You can also water your plant the conventional way, which is from above the pot. The only thing you need to ensure is that no leaves or flowers of the plant should come in direct contact with the water.
If you accidentally splash some water on the plant's leaves, get a tissue and wipe it off immediately. Don't forget to drain the excess water from the growing container.
4. Use the Right Potting Mix
A kalanchoe plant will only thrive in a well-draining potting mix because it is a succulent. So, make sure you choose or create a perfect blend of succulent soil that doesn't retain too much moisture.
You can achieve good drainage by mixing 50% regular potting mix and 50% cactus mix or 60% peat moss and 40% perlite mix.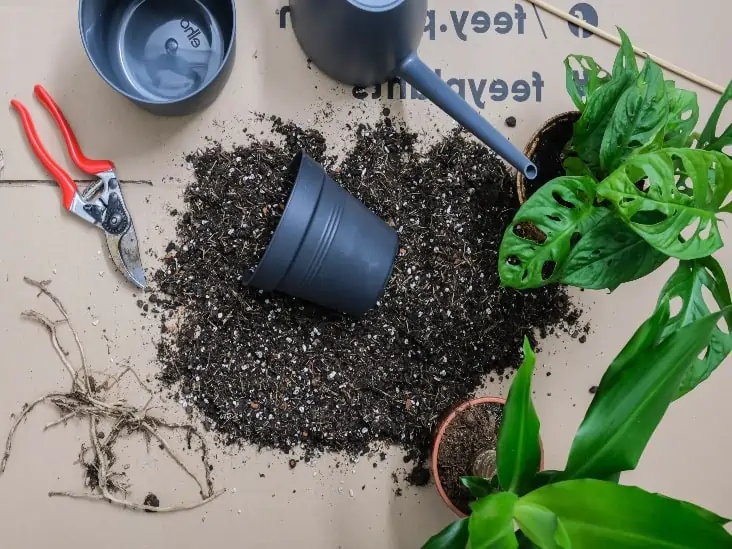 To ensure proper drainage of your kalanchoe potting mix, try as much as possible to avoid a moist environment. You are free to grow your kalanchoe in a clay pot which can help drain excess water from the potting mix.
5. Fertilizing Kalanchoe
Typically, you don't need to fertilize your kalanchoe plant. All you need to do to keep your plant happy is to provide it with some top dressing for nutrients.
Consider dressing the topsoil with some compost and worm castings at the start of spring. You should top dress your kalanchoe whether it is growing indoors or outdoors.
If you don't have a top dress combo, consider fertilizing your plant with an organic liquid fertilizer at a half-strength only once during spring. If you fertilize the plant with a full-strength fertilizer, it can result in severe burning of the tip of the leaves.
Don't top dress or fertilize your kalanchoe plant after summer because it enters into a period of dormancy. During this time, the plant only focuses on recovering from the stress of the growing season and preparing for the next flowering season.
If you are still a newbie to these plants, you may easily mistake the dormancy for death, and you may even be tempted to throw it away.
But the only thing you need to do is water the plant one last time and keep it in a relatively dark room until spring. When spring kicks in, water your plant, return it to a spot that receives plenty of indirect sunlight and watch it put on a spectacular floral show.
6. Watch Out for Common Pests
Although these succulents are highly resistant to pests and diseases, they can still get infected by scale, nematodes, spider mites, and aphids, especially when grown outdoors. These insects feed on the plant's leaves.
To remove common pests such as aphids, quickly pass your plant through a stream of fast-flowing water from a hose pipe or sink sprayer. For mealybugs and other pests that won't be washed away by water, dab them off from the plant with an alcohol-saturated cotton swab.
You can also get rid of scale insects from your plant using a plastic bank card. Simply scrape the insects from the plant, and you are good to go.
7. Pruning
Kalanchoe usually requires some pruning to remove damaged or dead branches and to shape the plant. Prune it plant before it goes into dormancy to help prepare the plant for the next flowering season.
To prune your kalanchoe, use scissors or shears to cut away dead flower heads and dried leaves. Cut back the stems as much as 65% of their length when they become lanky or stretched out.
Be sure to use a pair of sterilized scissors or shears when pruning your plant to avoid spreading diseases or fungus. You should also consider labeling your pruning tools and storing them away safely when not in use.
With proper pruning, your kalanchoe will reward you with plenty of blooms and lots of appreciation from your visitors.
8. Propagation
Kalanchoe can be propagated through stem cuttings and leaf cuttings. For stem cutting propagation, take a healthy kalanchoe branch that is at least four inches in length, remove the lower leaves and place it in a soil-free medium such as vermiculite or perlite.
Keep the pot with the stem cuttings in a bright spot where it can receive plenty of indirect light but avoid direct sunlight. Water the cuttings regularly until new growth appears.
For leaf propagation, you need to take a healthy and undamaged leaf from your kalanchoe plant and place it in a soil-free medium for about four weeks or until the roots start to appear.
Once roots appear, transfer the leaf cutting into a pot with moist soil and water it regularly until new growth appears.
Summary
The bottom line is that caring for kalanchoes is relatively easy because these succulents are less demanding.
As long as you provide them with a well-draining potting mix, water them appropriately, top dress the soil once every spring and expose them to bright indirect sunlight, they will survive and thrive.
Good care is a recipe for flowering, which is amazing because their flowers are long-lasting and have rich green foliage that you will surely love. This is definitely one of the great blooming succulents to brighten your outdoor garden or indoor spaces.
Last update on 2023-06-02 / Affiliate links / Images from Amazon Product Advertising API