If you are looking for one of the most vibrant succulents to fill your garden or indoor spaces, then you should try Ice plants. Native to South Africa, these heat-loving succulents tend to draw much attention in the landscape thanks to their attractive daisy-like flowers that come in shades of yellow, cream, pink, red, or purple, depending on the plant's variety. Furthermore, Ice plants are relatively hardy and can survive on some degree of neglect.
So, how do you care for an Ice plant? Since the plant isn't fussy, you don't have to do much to keep it happy. Give your Ice plant full sun for at least six hours per day. Like other flowering plants, Ice plants won't bloom well in shaded areas. Plant it in a growing pot slightly wider than the root ball and water it only when the potting mix is completely dry. Be careful with your watering because it doesn't like to stay in moist soil. The plant prefers sandy and well-draining potting mix.
In this guide, we discuss everything you need to know about caring for your Ice plant. Read on to learn how to keep your plant healthy and happy.
A Quick Overview of the Ice Plant
The name "Ice plant" is an umbrella term that refers to several plant species. These plant species are mostly grown in urban gardens and spread quite rapidly under the right growing conditions. Sometimes, it can spread so rapidly, invading unwanted spaces.
The plant has more than ten cultivars, all of which are unique and gorgeous in their own way. The most prominent one is the Cooper that produces unique purplish-pink blooms. This succulent can grow year-round depending on the temperature and climate.
Light is essential to its growth which means growing it indoors can be challenging if you don't have an indoor spot that receives plenty of direct sunlight. The most common pests that attack Ice Plants are Mealybugs and Aphids.
These pests usually feed on the plant, causing severe damage. You can treat light infestations by spraying the affected areas with water. However, for heavy infestation, consider replacing the entire plant instead of chemical treatment.
Despite their name, Ice plants are highly sensitive to cold and prefer hot temperatures with minimal humidity. High levels of humidity can cause the stem and roots of the plant to rot.
How Do You Take Care of Ice Plants?
Now that you have a clear overview of these plants, let us figure out the specific tasks you need to accomplish to make your plant happy and healthy.
1. Site and Potting Mix
These plants usually require exposure to direct sunlight to thrive. Failure to provide them with a sufficient amount of sunlight, the blooms won't open. So, if you are growing them indoors, you need to find a spot that receives plenty of bright, direct sunlight for at least six hours a day.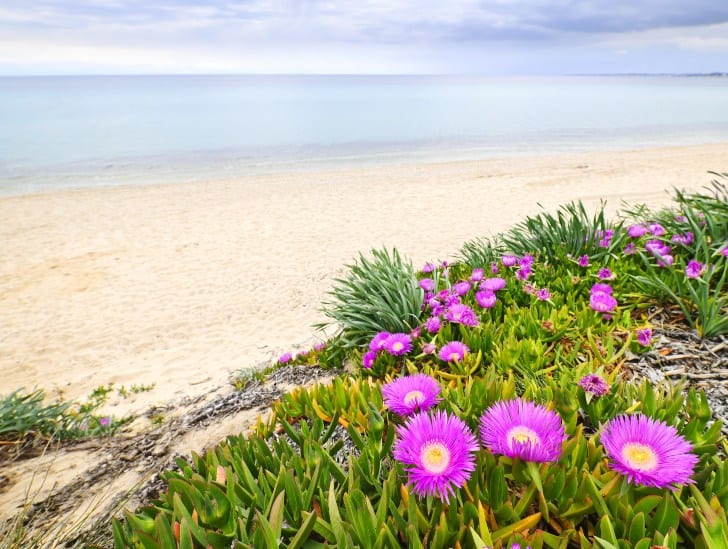 That means a west-facing window will be the perfect spot for your indoor Ice Plants. If you are growing them outdoors in your plant or flower garden, find a suitable location that receives sunlight throughout the day. Avoid shaded spots or those that only receive partial sunlight.
For potting mix, ensure you use light, well-drained soil that doesn't hold water for too long. If you are using growing pots, make sure the potting soil used is of high quality and combined with a sufficient amount of pellets or coarse sand to provide adequate drainage.
Space outdoor Ice plants at least 13 to 20 inches apart to allow sufficient room for growth. Plants grown indoors should be as far apart as possible.
2. Watering
Ice Plants are drought-tolerant succulents and only require minimal watering to thrive. Before you come up with your watering schedule, assess the amount of rainfall your area receives and consider watering your outdoor plants only once or twice per month if your area receives plenty of rain.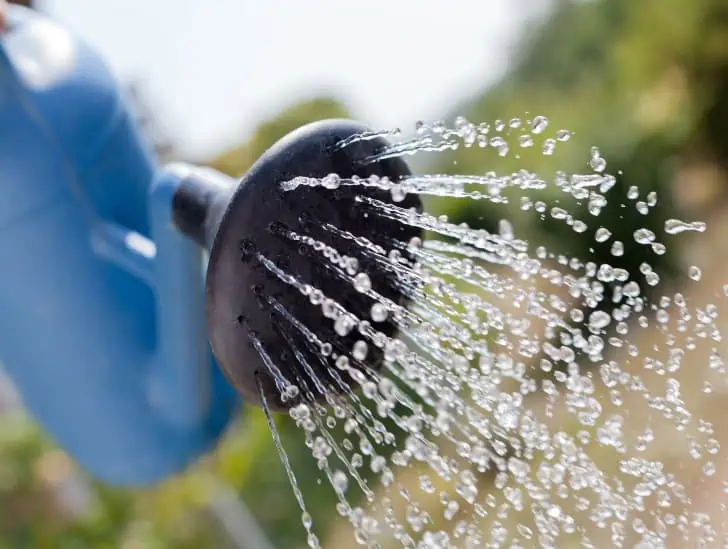 However, you should water more frequently if you live in a relatively dry area that only receives sporadic rainfall.
Cease any watering as fall approaches and allow your ground-grown Ice plants to dry out. This will help protect them when the hard frost hits during the cold winter months. If you don't give your plant sufficient time to prepare to enter into winter dormancy, it may succumb to winter temperatures.
3. Temperature and Humidity
Ice Plants are well adapted to surviving in relatively warm temperatures where winter front isn't a significant danger. If you live in an area where winter temperatures drop below 36oF, you should consider growing your Ice Plants indoors to prevent cold damage.
Typically, your plant will do well in temperatures that range between 50oF and 75oF. Some of the varieties can comfortably withstand higher temperatures. An Ice plant will only tolerate lower temperatures for a short period.
Always check the hardiness range of any Ice plant you wish to grow as a perennial to avoid surprises. If you live in a snowy region, consider winter mulching your Ice plants to prevent damage.
4. Fertilizer
Ice plants will survive with minimal fertilization. You will be surprised to learn that these plants are prolific bloomers and will still produce beautiful flowers even if you fail to fertilize them at all.
Upon planting, it is highly recommended you mix a small portion of well-decomposed compost with your regular soil and add some slow-release organic fertilizer before you plant it into the ground.
However, if you are growing your plants in growing pots, you may be required to feed them regularly. Use half-strength fertilizer to feed your Ice Plant during the spring and summer months.
Never feed the plant during fall since it needs to wither a little bit to protect itself from the harsh winter ahead. Weak growth or lack of flowering can be signs that you need to feed your Ice plant.
5. Propagating Ice Plants
One of the most amazing things about these plants is that they propagate easily, especially when exposed to large amounts of direct sunlight. If you want to multiply your Ice plant, you can do so via cuttings, division, or seedlings.
The easiest way to propagate Ice plants is through seedlings. Simply take your Ice plant seed and bed it in a rich composite potting mix with good drainage.
You don't even need to cover it. Only press it slightly against the potting mix so that it doesn't get blown away by wind. From there, water it lightly and expose it to lots of direct sunlight so that it begins germinating.
Ice plant cuttings work almost the same way as other succulent cuttings. Select a healthy cutting and allow it to heal slightly before you replant it. You can propagate Ice plants from cuttings any time of the year, but we highly recommend against doing it during winter.
The best time to propagate from cuttings would be during summer or spring, when the plant is actively growing. Let your plant rest easy during winter.
Furthermore, you can also propagate by the division method. This is the best propagation method if you intend to plant your ice plant in growing pots. To propagate by division, take out the main plant and slowly split the roots until they form two separate plants.
Repot each of the plants in separate pots and make sure you are using a well-draining potting mix. Water slightly and allow them to sit in a spot where they can receive plenty of direct sunlight throughout the day.
6. Pruning
Since Ice plants are heavy bloomers, you need to prune them regularly to ensure they don't invade other spaces.
As your plant starts to awaken in mid-spring and prepare for blooming, inspect it for any winter-damaged or dried-up foliage. If you spot any winter-damaged or dried-up foliage, prune them from the plant.
7. Special Care
Ice plants grown indoors need repotting at least once every year. Consider repotting it in early spring, before new growth starts to sprout. Since Ice plants enter dormancy during winter, it is always good to report before the growing season ends.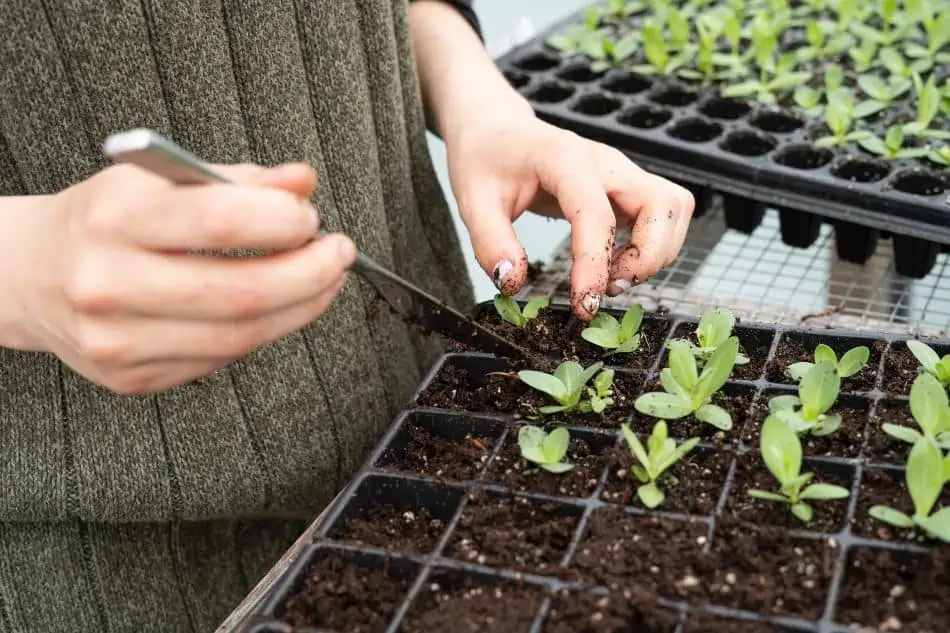 Your outdoor Ice plants will benefit greatly from regular mulching, especially if you live in an area where winter temperatures drop to below 50oF.
Consider applying a two to four-inch layer of mulch to the soil layer surrounding your plant and remove the mulch when temperatures start to rise in spring and summer.
8. Pests and Diseases
Mealybugs and aphids can be a nuisance to ice plants. To prevent infestation, observe your plant regularly and take appropriate measures as soon as you spot the pests.
You can also use insecticidal soap or spray neem oil on the affected area for treatment. If your plants are exposed to cold temperatures for too long, they could be susceptible to rot and frost damage.
If you notice wilting or discoloration of the leaves, cut down on the watering and check if your plants are exposed to wet soil for too long.
Ensure you also give them ample space for growth and provide sufficient light for healthy growth.
Common Ice Plant Problems
When grown in proper conditions, the Ice plant is generally non-problematic. The succulent will thrive with minimal care. However, a non-conducive environment can result in a wide range of growth issues. Some of the common Ice plant problems include:
1. Yellow leaves
Yellow leaves on an ice plant is a common sign of overwatering. This plant is highly sensitive to excess water and will die if you don't take prompt action to correct the problem.
Allow the potting mix to dry completely between watering sessions. Never water your ice plant without checking for the level of soil dryness. Only water when you are fully convinced that the soil is dry.
Also, ensure that the potting mix drains well to avoid this problem. Soggy soil can also lead to yellow leaves and irreversible root rot.
2. Leggy stems
Ice plant is a trailing succulent and tends to grow tall and lanky with age if not provided with enough sunlight. If your ice plant is growing leggy, it might be because it isn't receiving enough light.
Upon noticing this problem, move your Ice plant closer to a south or east-facing window to take advantage of the natural sunlight or consider investing in artificial grow lights. Regular pruning will also help to keep your ice plant bushy and encourage new growth.
3. Failure to produce flowers
If your ice plant fails to produce flowers, it is likely due to several reasons. Poor soil quality, lack of fertilizer, and inadequate sunlight can all cause this issue.
Ensure you use a nutrient-rich potting mix for your plant and feed them regularly with half-strength fertilizer during spring and summer.
Also, ensure your ice plant receives at least six hours of direct sunlight daily. Invest in artificial grow lights with the correct spectrum and intensity if you are growing ice plants indoors.
Summary
Ice Plants can grow everywhere and at any time of the year as long as you provide them with adequate sunlight, water, and the right soil. These plants are relatively easy to acquire, care for, and propagate.
In fact, you don't need to be an expert to take care of Ice Plants, but you really need to be mindful of their needs. While they can thrive anywhere, take time to identify the perfect spot in your house or garden that receives plenty of sunlight to achieve better results.
With proper care, your plant will reward your effort with fast growth and beautiful blossoms that can cover the entire of your interior patio garden or backyard plant garden.
Last update on 2023-07-28 / Affiliate links / Images from Amazon Product Advertising API