It's springtime and you've just purchased a new hens and chicks plant for your indoor garden. You want to do everything right, but are not sure what that entails. The Hens and Chicks plant is a wonderful addition to any garden, but it can be a little tricky to care for if you're not familiar with it. Luckily, this guide has all the necessary information you need to keep your plant happy and healthy.
So how do you care for hen and chicks plant? Hens and Chicks plants thrive in moist, well-drained soil. Provide room to spread roots or it will become root-bound. Water deeply but infrequently, the main thing is to ensure that the plant gets plenty of water while ensuring that it doesn't get too wet. Take care never to fertilize if the plant has just finished blooming. A good rule of thumb is to wait at least 6 months after flowering before fertilizing again. Regular fertilization will promote new growth far too often, which can lead to a quick death.
Hens and chicks plant coins its name from the fact that each plant has multiple small chicks, or pups. This article discusses how to care for these pups. This includes propagation, water needs, and sun exposure.
Interesting facts about The hen and chicks plant:
The plant is composed of multiple small chicks, or pups. These are clones of the original hens and chicks mother plant. The new plants will sprout from between ½ to an inch beneath the soil surface in springtime when temperatures reach above 50 degrees Fahrenheit (around 11 Celsius).
This plant loves full sun exposure but can tolerate partial shade.
The plant can grow anywhere between 12 and 18 inches tall (30 to 45 centimeters). When the plants begin flowering, they produce pink or white flowers.
The number of branches on this plant will vary depending upon growing conditions but is typically four to six branches that bear five petals each.
There are about 100 species of this plant.
The name "hens and chicks" comes from the fact that each branch has multiple pups growing along it, which are clones of the original mother plant
This plant is native to South Africa where they grow in dry grasslands or open scrub lands near sandy soils.
They can also be found in Australia, California, and the Mediterranean.
The plant is drought tolerant, but will suffer if the soil becomes too dry.
How to Propagate Hen and Chicks Plant
While the propagation of this succulent is possible through its seeds, it works best to do so through its offsets. The following steps will help you propagate your hen and chicks plant:
1. Once the flowers have died and faded away, mark where the new pups are growing. This can be done by using a stick, noting with a marker, or taking a picture.
2. Loosen the soil around each pup very gently with your fingers until you can see the roots. For offsets with roots, gently tease the roots apart and transplant them into individual pots. For offsets without roots, just place the pup on top of soil in a pot and press down lightly.
3.       Separate the pup from its mother plant and transplant it into a new pot.
4. Water each newly transplanted pup thoroughly, but allow the soil to dry out between waterings.
5. Place your pups in an area with full sun exposure.
6. Once the new plants have established themselves, you can begin fertilizing your plant once every other month.
Best Growing Conditions for Hen and Chicks Plant:
Your hens and chicks plant demands proper care and attention to thrive. The following are some of the best growth conditions if you are looking to make your plant happy.
Light Needs
A hen and chicks plant can thrive in a wide range of lighting conditions. If you place it outdoors, make sure to bring the plant indoors before the temperature dips below 50 degrees Fahrenheit (around 11 Celsius). This is because extended hours in temperatures below this range will cause the delicate succulent leaves to burn.
The best option is to give your hen and chicks plant full sun exposure. Partial shade will be tolerated if the plant is in a pot, but it is best to avoid placing the plant in an area that experiences late afternoon shadows.
Watering Needs
The hen and chicks plant is a drought tolerant succulent and can go for long periods of time without water. However, this doesn't mean you should neglect your plant. During periods of active growth, water the plant thoroughly but wait until the soil dries out before watering again.
In winter, when the plant is dormant, you can withhold water altogether and wait until spring to resume regular watering. Fertilization is not necessary during winter.
Temperature and Humidity
Hen and chicks plants do well in average home temperatures. The plant will grow slowly in cooler temperatures and may stop growing altogether in very hot conditions. Make sure to place your hen and chicks plant in an area where the temperature remains between 50 and 85 degrees Fahrenheit (10 to 29 Celsius).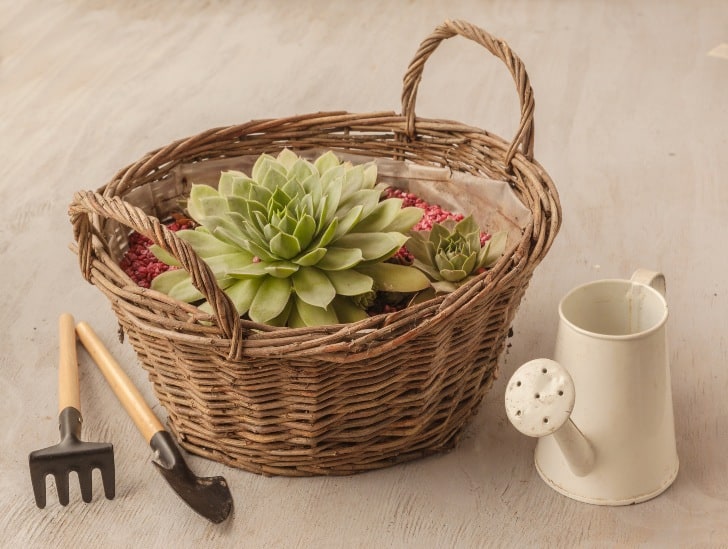 In dry environments, supplementing with humidifiers can help to increase humidity levels around the plant. Succulents generally prefer a higher level of humidity.
Fertilization
Fertilize your hen and chicks plant every other month with a water-soluble fertilizer. Too much fertilization can result in leaf burn, so make sure to follow the instructions on the packaging.
How to Repot hen and chicks plant
Hen and chicks plants grow slowly and will only need to be repotted every other year. When you do repot your plant, use a pot that is only one size larger than the current pot. This will help to keep the roots from becoming too spread out.
When repoting, make sure to gently loosen the soil around the roots before transferring to the new pot. Water thoroughly after repotting. Remember, a good pot or container is important for succulents; drainage is key!
If you have an hens and chicks plant with offsets (pups), you can separate them from the mother plant and transplant them into new pots. Separate the pup from the mother plant by gently loosening the soil around the roots with your fingers. If the offset has roots, tease them apart and transplant them into individual pots.
For best results, use clay pots since they help to retain moisture.
Common Growing Problems
The hen and chicks plant may be resistant to pests and diseases, but there are still a few problems that can occur during its growth. These include the following:
Leaf burn – Leaf burn is a common issue and is usually caused by over-watering or fertilizing the plant. Overly wet soil will cause the succulent leaves to rot and die. Fertilizer can cause leaf burn if too much is applied. Symptoms of leaf burn include brown or black patches on the leaves.
· Wilting – Wilting is a sign that the plant is not getting enough water. If the soil is dry, the plant will wilt.
· Root rot – Root rot is caused by over-watering and can be fatal to the plant. Symptoms of root rot include drooping leaves and yellowing.
If you suspect that your hen and chicks plant has a pest infestation, take the following steps:
· Remove the plant from its pot to inspect the roots for signs of damage or presence of bugs. If there are any visible sign of pests like bugs, insects or mites check out these guides on how to get rid of them:
· If the plant is infested with mealybugs, you can get rid of them by using a cotton swab dipped in rubbing alcohol. For aphids, you can use a strong stream of water to dislodge them or spray with an insecticidal soap.
· In case of a fungus infection, remove all the infected parts of the plant and dispose of them properly. Sanitize your pruning tools with alcohol or bleach before cutting any other succulent.
Hen and Chicks Plant Varieties
Hen and chick plant comes in multiple varieties and colors.
· Reinhardt variety – The Reinhardt hen and chicks succulent has a rosette shape with smooth, grayish-green leaves that have pink tips. This plant does well in bright light but can also grow in partial sun or shade.
· Tokajense variety – The Tokajense hen and chicks is a variation of the original Reinhardt variety. It has shorter leaves with red tips and can be grown in full sun or light shade.
· Meyer variety – The Meyer hen and chicks is one of the most popular varieties because it has brightly painted pink, white, yellow or orange leaves that sit atop long stems. This plant is best suited for hanging pots to show off its colorful leaves.
· Alpine variety – The Alpine hen and chicks succulent has small, round leaves that are grayish-green in color. This plant is drought tolerant and can be grown in full sun or partial shade.
Conclusion
Growing and caring for a hen and chicks plant is not much of a hassle after all. With just a little bit of TLC, your plant will thrive and grow slowly but steadily. Remember to keep it in a container with good drainage and water sparingly. Once you get the hang of caring for this succulent, you can start experimenting with different types to find your favorite. So, go ahead and add a hen and chicks succulent to your indoor garden today.
Last update on 2023-12-11 / Affiliate links / Images from Amazon Product Advertising API