An agave plant is a great addition to any garden. They are easy-to-care plants that will provide you with many years of beauty and enjoyment. However, you should know how to care for an agave plant to reach its full potential.
We will cover everything from how to plant your agave plant through the various ways you can maintain it once it's fully grown.
You can get an agave pup or seed from a local plant store or your friend. Before planting your agave, it's important to note that they should only be planted when they are at least 15 centimeters in height.
Also, here are some key tips to note for excellent caring of your agave plant.
Soil Type
Agave plants tolerate any soil but prefer soil that is rich in nutrients. A good mix to use for your agave plant would be a mixture of sand, potting soil, and compost, with at least 50% being organic material.
The soil should also be acidic or alkaline as agave plants prefer a pH level between six and seven. You can test your soil before planting to ensure that it is acidic or alkaline using a PH testing kit from your local gardening store.
Water
It's important not to overwater the plant when you first begin caring for it but not let it dry out. Once you have planted your agave plant, give the surrounding area a good soaking with lukewarm temperature water.
Always allow the soil to dry before watering again slowly. To test if your agave needs water, simply dig your finger into the soil to see how moist it is. If you feel that there's moisture down below, then the chances are that your agave does not require any more watering.
Fertilizer
Once established, an agave plant will only need fertilizer once per year during its growing season, from early spring through autumn.
When applying fertilizer, use a standard fertilizer rich in potassium. Alternatively, you can use compost tea which will provide your plant with many essential nutrients and minerals.
Light
A four to six hours of sunlight exposure is good for your agave, but it's important to note that they do not like too much sunlight.
If you live in a location where the sun shines brightly for most of the day, then make sure your agave plant is protected from harsh rays. You can either plant them under an overhang or move them into a partial shade.
Temperature and Humidity
Most agave plants can survive frost, but it's important to note that the temperature should never drop below -15 degrees Celsius. If you are planting your agave during autumn or winter, be sure to protect it from frost using a cold frame.
Since most of us do not live in dry climates, humidity is an extremely important factor to consider when caring for an agave plant. Humidity is particularly important during the early stages of growth as this will ensure that your plant develops properly without any issues or deformities.
If you cannot provide enough humidity for your agave, it's possible to use a humidifier indoors until spring arrives and conditions outdoors become more favorable.
Propagating Agave
Fully grown agave plants produce pups which are baby agave plants that can be removed once they become big enough. This is an inexpensive and easy method to add new plants while at the same time preventing the parent plant from becoming clogged with tiny ones.
Lastly, only remove the pups when the parent plant has started to die back or looks visibly unhealthy.
Step 1: You should only take a pup from the agave plant when it is at least 10 centimeters in size. You can use your finger to check the size of the pup if you're not sure.
Step 2: Remove any leaves from beneath where you want to take the pup from.
Step 3: Gently bend down on either side where you want to take a pup and gently clasp the top portion.
Step 4: Lift both hands, which will cause a section of the plant to be completely uprooted with the pup at its base.
Step 5: Cut about an inch off from where you have removed the section of the plant that had been uprooted with a sharp knife.
This is also another way you can get new plants.
How to Grow Agave From Seed
Agaves are one of the most common succulents kept as house plants. It's simple to grow agave from seed. You should use a seed-starting mix for a small pot with drainage holes filled halfway with it.
After that, scatter the agave seeds on top. It is important to find out whether you agave species seeds need light to germinate. If they do, do not cover the seeds. Gently moisten the soil before covering the container with plastic wrap.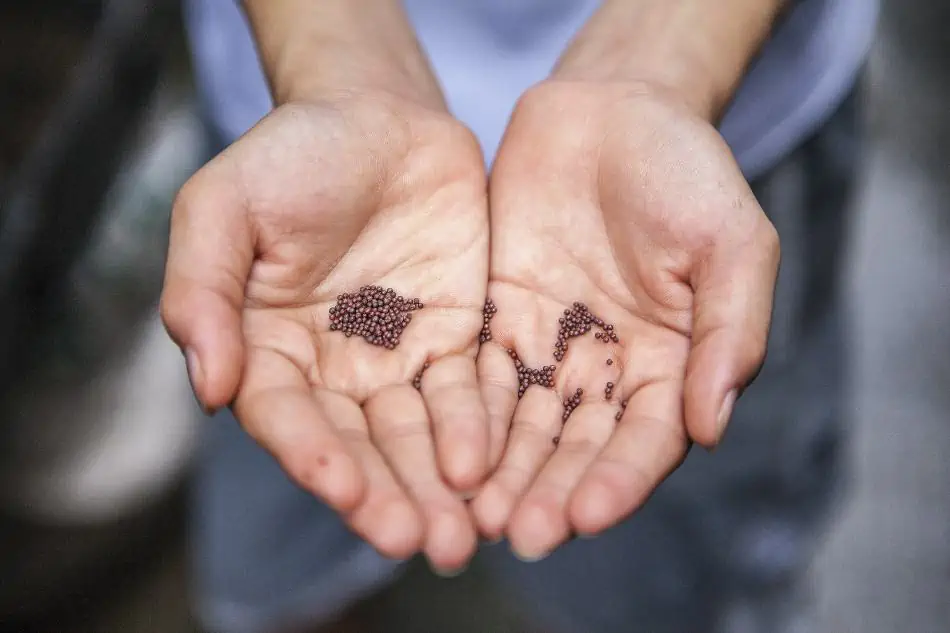 Keep the container in an area with lots of sunshine and above 20 degrees Celsius. You should have seedlings after a few weeks of sprouting and at this point, remove the plastic wrap.
Potting and Repotting Agave
Potting and repotting an agave is easy. First, find a pot that is just slightly larger than the size of the existing plant. This will make it easier to water and feed your plant while giving it room to grow.
Once you have found a pot for your plant, fill it with potting soil mix. The next step would be to take out any pups from the agave plant before you pot it up in its new home.
Now, replant any pups back into the ground in their original location while making sure they are deep enough to allow them to create roots. Lastly, move your agave to its new home to continue growing.
Depending on the soil type, it is good to always pot and repot your agave plant after one or two years to allow room for growth.
How Much Watering and Feeding is Enough for Agave
For the first year of growth, you will want to ensure that your plant is kept moist at all times. Afterward, ensure it only gets water during dry spells, as overwatering can cause root rot or fungal infections.
Watering and Feeding Young Agave Plants
When it comes to young agave plants, the moisture level in the soil directly impacts their chance of survival. So make sure they are kept moist at all times.
Again, when watering these seedlings during dry spells, water them sparingly as overwatering may cause root rot.
Watering and Feeding Older Agave Plants
Once agaves start flowering in late spring, you should stop feeding your plant anything until winter is over. The process of photosynthesis will use up most of the stored energy that your agave has built up. This means it will need to get fed during this period.
How to Care for Agave Plant in Pots
Agave plants in pots require more care than those that are planted in the ground. If you live in an area where it snows, make sure you protect your agave plant. You can cover it with a blanket during winter and add some mulch around its base to help insulate it from frost.
When caring for agave plants grown indoors or outdoors on patios, balconies, decks, or rooftops, always remember to consider that they do not like too much water.
You should also avoid fertilizing the plant when it is in full sunlight. This may cause skin irritation or sunburns on your agave plant leaves.
Note the Common Problems With Agave Plant
Like any other plant, the agave plant also suffers from pests and other plant problems. Take a look at some:
Overwatering
The most common problem with agave plants is root rot which can be caused by overwatering. Always make sure its roots are kept dry, and its soil is not soggy.
Overwatering also makes agave plant leaves turn yellow and wilt. Suppose your plant continues to wilt even after taking care of overwatering. It most likely may be suffering from root rot or fungal infections, which requires you to repot or transfer the agave in a clean potting mix.
Pests
Another common issue is the presence of mealybugs on your plant's leaves, stems, and buds. These insects leave a sticky residue that causes infection if not carefully removed from the plant.
Whiteflies are another pest you may find on your agave plant, which will leave small yellowish spots on your plant's leaves.
Easily Maintain Your Agave Plant
Agaves are not only easy to care for but also very rewarding once they reach maturity! When planting your agave plant, be sure to place it in a wide enough pot and deep enough for the roots if not planting it in your garden. Avoid using clay pots as they will dry out quickly and need more frequent watering.
Keep an eye on where you live because if you have different plants together with agave, some plants can't tolerate cold weather or hot sun exposure very well! If you're looking for tips on how to care for an agave plant from start to finish, we've got what you need right here!
Last update on 2023-08-11 / Affiliate links / Images from Amazon Product Advertising API