Caring for a desert rose requires having an accurate knowledge of different aspects of the plant. Desert rose is a succulent plant native to Africa and Arabia. Taking care of a Desert Rose will ensure it blooms at least once a year.
A desert rose is a small flowering succulent plant with a large bulbous stem, green foliage with red, pink, and white flowers. It has a succulent stem native to dry climates, storing water in the stem for dry seasons. The plant can help decorate your porch, garden, or interior in spring or all year round if you live in an all-year climate.
You can enjoy its showy flowers after it has dropped its leaves in the summer to warm up the house in bright colors.
The botanical name for the desert rose is Adenium obesum, and it is also called Japanese frangipani, Sabi Star, Dwarf Bottle Tree, Impala Lily, and desert azalea.
How to Plant
Adenium is a rare species of plant that you can use seeds or stem cuttings to propagate. The best way to propagate the plant is through stem cuttings.
You have to let the stem cuttings dry out before planting, and if you see some sprouts on the stem cutting, it is ready for planting. The best time to plant is during spring or summer when there is enough light.
However, you have to keep them filtered from the light until they begin to grow.
What You Need to Plant a Desert Rose
A small plant pot
A rooting hormone powder
A healthy Desert Rose
Clean, sharp pruners or shears
A rooting medium like perlite or soil (mixture of  sand and potting soil)
Planting Procedure
Select a healthy branch on the mother plant
Cut a six-inch tip cutting from the end of the branch
Give the cutting time to callus by leaving it in a shade
Once the stem has callused, fill the pot with a rooting medium and moisten slightly
Cut the end and dip it in a rooting hormone
Plant the cutting so that it is just below the soil
Keep the soil moistened and in bright light while you mist the plant daily for about two months till the roots appear
Growing Conditions
From the shrub's name, it is easy to deduce that a desert rose is native to dry and hot climates. Hot and dry climates with perennial rainfall are the plant's optimum growing conditions.
The ideal growing temperature for the flower is 40° F (4°C) to 90° F ( 32° C). You can grow the flower in your garden if you experience a relatively dry climate in the area.
The warm temperature needs of the ornamental garden plant make it a trendy plant in USDA zones 10 and 11. Japanese frangipani can't withstand cold weather and may wither during winter.
When you want to curb this shortfall, you can plant it in a pot and keep it indoors where the temperatures are ideal. The potted plant or potted bonsai can be moved outside during summer.
If you grow the plant indoors in cold climates, get a south-facing window to let the plant have an ideal dose of sunshine. That said, you should limit the amount of sunshine received by the plant to prevent scorching of the foliage.
In warm climates, it is advisable to keep the plant outside in sunny spots during the afternoon from spring to autumn as long as there are warm nights temperatures. Desert roses are sensitive to climate changes; hence you have to acclimate the plant to sunnier conditions in spring and debug it before bringing it to winter.
Desert roses are accustomed to desert soil which is always either sandy or well-drained. Using the plants in well-drained sandy soils helps them grow faster and reduces losing some of the foliage due to soil clogging. 
If the soil is too wet, it can also promote the rotting of the plant. Also, give it a healthy amount of sunlight to help it absorb water.
Watering
All plants need water, but the amount and frequency of the watering differ greatly depending on the origin of the plant. Adeniums are very sensitive to water, and improper watering can easily kill these plants.
The plants have adapted to the tropical desert weather that allows them to grow during the rainy season and become dormant in the dry season.
The plant is part of the succulent family that stores water in the leaves, stems, or roots. In the desert rose, the water is conserved in its bulbous stem called the caudex. A fat stem indicates that the Sabi star is healthy, while a thin one is a cause for alarm and a reason to increase moisture. You should match the watering needs of the plant to the different seasons of the year.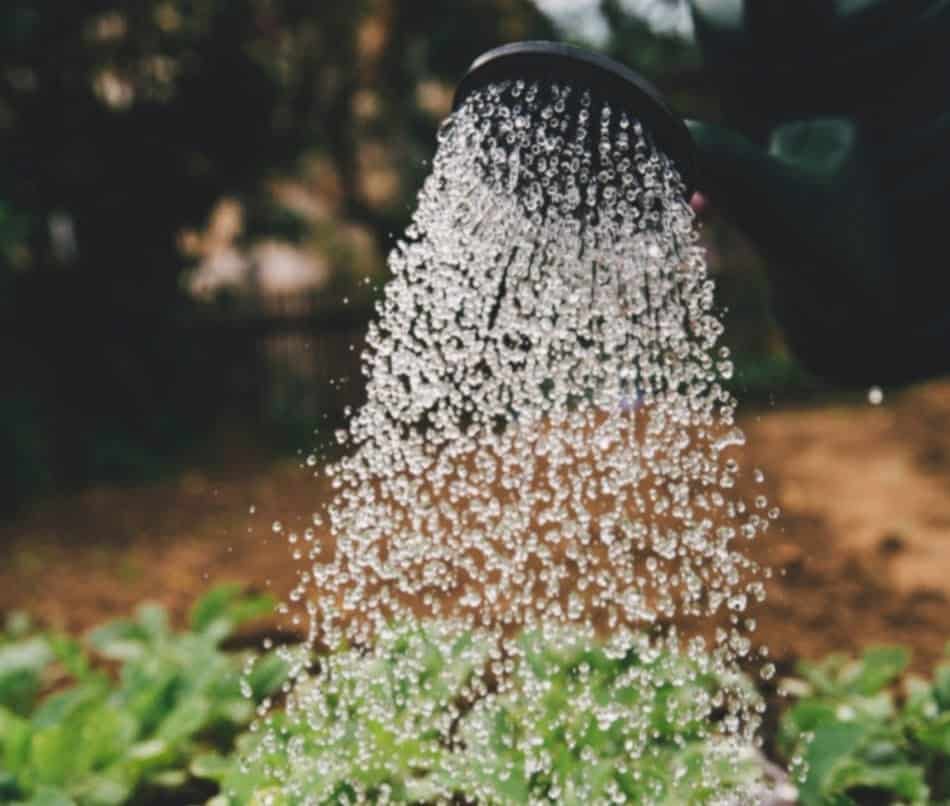 Armed with its desert survival tricks, a desert rose is a plant that needs moderate amounts of water and should only be watered when the soil feels dry. You can test how dry the soil is by inserting your finger in the soil. Always use a quick draining pot to reduce clogging.
Saturate the soil until the water drips from the bottom of the pot and empty the pot drip tray after each watering
The plant should be watered in spring and summer, but the water level is reduced during autumn and winter. You can water the desert once every two to four weeks so that it can become dormant. The dormancy helps the plant flower in springtime.
Adding Fertilizer
A desert rose is a low-maintenance plant that does not need lots of fertilizer. Good fertilizer application goes a long way in ensuring that the outdoor plant will blossom well in summer and spring.
A good regimen should be to fertilize the plant twice or thrice in spring and summer with a balanced mix of all the major nutrients. All the fertilizers used should be water-soluble.Indoor Adeniums should be fed weekly with a water-soluble fertilizer diluted to half strength. Phosphoric fertilizer and bone meal to boost the bloom.
Use high nitrogen granules in early spring with a slow-release in June and before November. Slow-release fertilizers are often coated with polymers that allow them to release nutrients for at least eight weeks; some fertilizers may even release nutrients for up to twelve weeks.
The recommended usage for the fertilizer is 20-20-20 balanced nutrients containing Nitrogen, Phosphorus, and potassium.
Pruning
A desert rose has a healthy amount of foliage that can become problematic if not taken care of, sometimes becoming long and leggy over time.
Some overstay branches may also be infected with diseases or infested by pests that simple pruning can help control. While pruning is possible all year round, a flush of new growth is susceptible to cold weather damage; hence the best time is early spring before the plants start blooming.
Pruning away long leggy branches encourages the growth of more flowers. The pruning procedure is quite simple:
Sterilize the cutting blades before pruning them by wiping them with a 10% bleach solution or rubbing alcohol. If you cut deceased growth, then sterilize the blade between each cut.
Remove cold damaged growth whenever new growth appears in late winter or early spring.
Prune branches that cross or touch other branches avoid cutting old branches as they may have buds or blooms.
Pest Control
A desert rose is pretty hard and poisonous to humans, dogs, and cats, yet it attracts pests such as scale, mealybugs, and spider mites.
You can use a cotton ball washed in alcohol to wash away the insects. If caterpillars have infested the plant, shear away infested leaves and freeze infested parts for a day to clean and kill caterpillars.
Handle fungal infections by spraying foliage with a general fungicide and pruning any unhealthy looking stems
Flowering
One of the greatest attractions to a desert rose is its colorful petals when it blooms over spring. Any healthy and mature desert azalea will bloom for several weeks in summer and spring under the right conditions. Some new and improved species may bloom all year round.
Exercise patience while waiting for your well-tended plant to grow, as it may not bloom overnight. Desert roses may take several months before blooming.
A recently repotted plant may take time before blooming as it takes its efforts from flowering to focus on growing roots in the new pot. You can improve a potted desert rose bloom ability by giving the plant a day or half more sunshine during the warm weather.
Water it well and ensure the soil is well-drained in the warm season and keep the plant on a dry cycle to mimic its natural conditions to maintain an excellent flowering pattern.
Apply a good balance of fertilizer in summer and spring, emphasizing phosphorus, which may aid in flowering. Poor care and maintenance may lead to delayed or no flowering in spring and summer.
Conclusion
A desert rose is low maintenance and a beautiful plant you can have in your home or garden.
However, ensure you repot it in a bigger pot annually or biannually and follow the maintenance tips discussed.
Check it for pests or withering and to apply the instructions when necessary.
Last update on 2023-07-27 / Affiliate links / Images from Amazon Product Advertising API