Growing plants in your home can be a thrilling and satisfying experience. In fact, it is one of the best things that every plant enthusiast longs for in life. While there are many plants you can grow in your home, succulents will always stand out because they need minimal care to thrive. They also offer a wide range of exciting benefits such as improved concentration, productivity, and air purification.
So, what are the top five desert cactus to grow indoors? While there are more than 2500 cacti species, only a few stand out as great indoor plants. Opuntia, Christmas Cactus, Saguaro Cactus, Barrel Cactus, and the Old Lady Cactus are the most popular indoor cacti species.
These plants do well in average room temperatures and can still survive without exposure to lots of sunlight. Most of them are also flowering species and may surprise you with vibrant blooms, which is a bonus for plants that already thrill with their magnificent shapes and spiny textures.
In this post, we discuss these cacti species in detail and provide you with great insights into how to achieve better results. Keep in mind that growing these succulents indoors is quite different from growing them outdoors. So, let us get started.
Saguaro Cactus
If you have ever visited the Sonoran Desert, you may never forget the astonishing sight of a 40-feet giant Saguaro cactus standing tall in the landscape. The Saguaro cactus (Carnegiea Gigantean) is an enormous and slow-growing plant that can live for up to 200 years.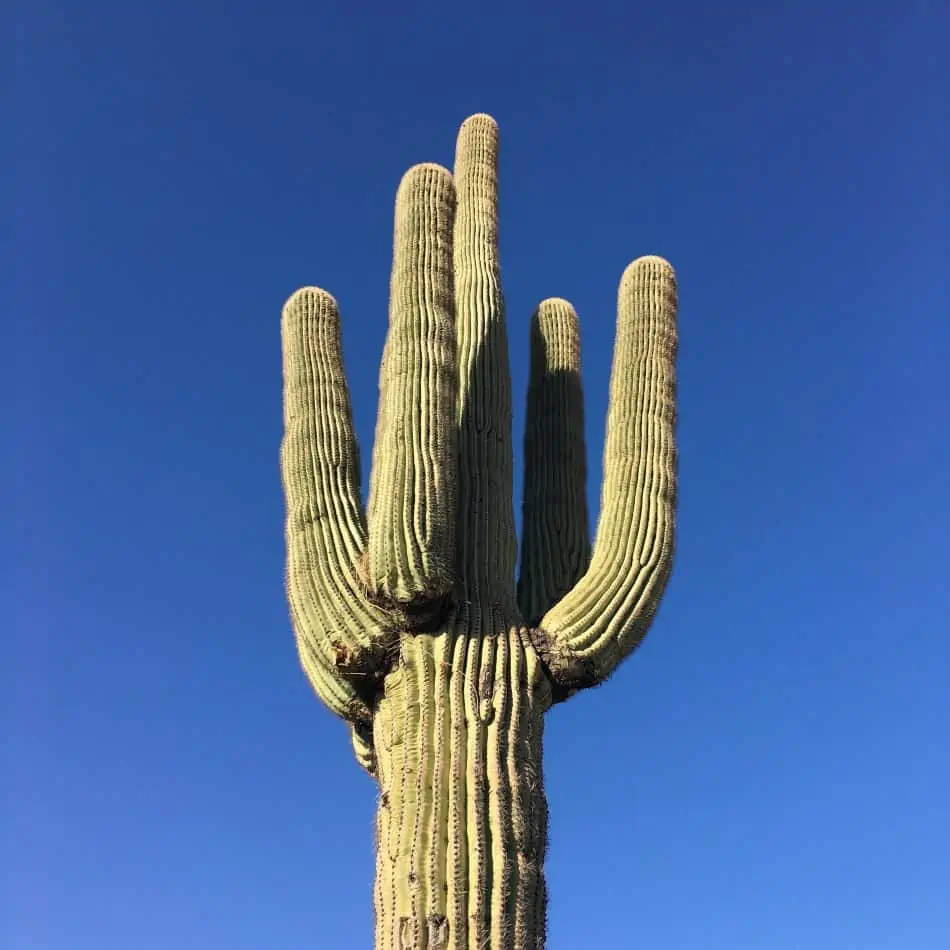 Its scientific name translates to "gigantic candle" because of its large size. Saguaros are barrel-shaped with external water-storing pleats.
The plant can be used as a source of food for both humans and wild animals and provides a cavity-nesting for various birds. Saguaro plants also have peripheral stems known as arms.
An adult Saguaro can weigh up to six tons or more when filled with water and requires a relatively strong internal support skeleton.
Growing Saguaro Cactus Indoors
Saguaro cactus can only thrive in well-drained soil that doesn't hold for too long. The plant does well when it receives low levels of water and prolonged exposure to light.
Since it is used to growing in relatively hot conditions, this plant won't survive freezing temperatures. Make sure you bring your containerized plants indoors as soon as temperatures fall below 60oF.
Water your plant at least once every 10 to 14 days and ensure the soil dries out completely between watering sessions. Check the soil to four inches deep with your fingers just to be sure that it is completely dry.
If you feel even the slightest moisture, wait for a few more days before watering. During winter, stop watering until temperatures start rising above 60oF.
Keep your plant in a brightly lit spot but maintain low humidity. Consider taking your Saguaro outdoors during spring and summer so that it can enjoy the sunlight. Consider keeping it out for several hours a day then bring it back indoors during the night.
Saguaro Cactus Blossoms
This plant is slow to develop and maybe 35 years old or even more before it starts flowering. It mostly blooms in May to June and produces creamy white flowers that are approximately three inches across. Saguaro flowers open up at night and close during the day.
Christmas Cactus
The Schlumbergera Bridgessii, commonly referred to as the Christmas Cactus, is one of the few spineless cacti species native to Brazilian tropical rainforests. The plant is characterized by its serrated green leaves and beautiful flowers.
The Christmas Cactus does well indoors in relatively moderate home conditions. The secret to getting the best out of your holiday cactus is to avoid too much watering because it can lead to irreversible root rot.
The plant can adapt to low-light environments and does well in well-draining soil that doesn't hold water for too long. To achieve better results, make sure you use quality potting mix rich in humus and other vital nutrients.
Maintain your indoor temperature at 65oF and keep your soil evenly moist when the plant is flowering. During summer, move it away from the brightly lit spots into more shaded areas.
Christmas Cactus Bloom
The plant starts flowering in winter just around the Christmas period hence the name Christmas Cactus. To start blooming, the plant requires exposure to extended hours of darkness at least four weeks before the flowering season kicks in.
Therefore, it is crucial to relocate your Christmas Cactus to a dark spot in early October and keep it covered for at least 12 hours. This reminds the plant that the blooming season is around the corner, and it should start preparing to form flower buds.
When flower buds start to appear, introduce it to warmer temperatures, and resume regular watering regimen. Fertilize your plant after the flowering season.
Old Lady Cactus
The Mammillaria Hahniana, also known as the Old Lady Cactus, is characterized by white hair that covers its entire surface. This cactus is from the Cactaceae family and is native to Guanajuato State of Mexico and the dry regions of Bolivia and Argentina.
The white hairs on its surface give the impression of an old lady's white hair or old man's beard. The hairs protect the plant from excessive heat and also hide the numerous amounts of yellow spines.
Growing the Old Lady Cactus Indoors
While it thrives well in an outdoor setting, the Old Lady Cactus can still do well indoors if positioned in a room with moderate sunlight exposure.
Plant the Old Lady Cactus in a fast-draining potting mix, preferably with added perlite or pumice for enhanced draining. If you are planting it in a pot, choose a container with plenty of drainage holes.
Although this plant is well-adapted to sustain excessive amounts of heat, do not be deceived because overexposure to direct sunlight can lead to severe and irreversible sunburns. Move it around in the course of the day if you are keeping it in a spot that is lit all day.
You should only water this cactus when the soil is completely dry because it only requires little water to thrive. Be careful not to overwater the plant because it can easily develop irreversible root rot.
During winter, cut back on watering because the plant is dormant and doesn't require as much water as usual. You can stop watering altogether or only mist it once in a while.
Fertilize your Old Lady Cactus at least once in the summer with a high potassium fertilizer and consider repotting it at least once every year. Repotting should only be done during spring or early summer.
Opuntia Cactus
The prickly pear (Opuntia spp.) is one of the most popular plants in the Cactaceae family. It thrives in drought-prone areas, but it also does well indoors. The plant is characterized by flat and club-shaped pads containing many spines, hence the name prickly pear.
Most Opuntia cacti species are prized for their edible fruits commonly enjoyed as a refreshing snack in parts of Mexico and the United States. The plant blooms mid-summer, producing lovely yellow, purple and red flowers.
Growing Opuntia Cactus Indoors
As a desert cactus, the prickly pear requires maximum exposure to sunlight/artificial light to survive and thrive. Therefore, consider positioning it in a well-lit spot of your house that receives plenty of sunlight. A north-facing window works best if you live in the southern hemisphere.
However, these plants require little water to thrive. So, limit your watering to once every three or four weeks and only water when the soil is completely dry. The most critical requirement for any plant in the Opuntia genus is a potting mix that drains fast.
Choose a potting mix that is well formulated to drain fast, and when watering your plant, simply moisten; don't soak. If you are growing your Opuntia spp. in a pot, make sure it contains plenty of drainage holes.
Repot only when the plant outgrows its current pot and make sure you go for the right pot size. It shouldn't be too small or too big. Fertilize your plant twice every year to ensure healthy and quality blooms. Fertilization should be done in spring.
Barrel Cactus
This cactus is named after its barrel/circular shape. The plant is also nicknamed the "Mother-in-law-cushion" and is mostly found in Mexico and parts of Southwestern US. In their natural habitat, these plants live in extremely hot areas and have adapted to direct sunlight.
They make perfect display plants when grown indoors since they are highly attractive. As they grow, they tend to stretch out and assume a circular or oval shape. Just like other cacti plants, the secret to growing them indoors successfully is perfect drainage.
Growing Barrel Cactus Indoors
Barrel cactus does best in relatively sunny spots. Therefore, consider positioning it on a north-facing window. If your house doesn't have a perfect place that receives plenty of sunlight, install artificial growth lights.
The plant can tolerate low temperatures of up to 50oF but does best without humidity. As long as everything is kept constant, the plant should be fine in a regular household environment.
Make sure you use a well-draining potting mix and repot the plant as soon as the soil starts to break down. You can encourage drainage by adding sand or extra perlite to the soil or adding a few inches of small pebbles or gravel to the bottom of the container.
Feed your barrel cactus with a weak liquid fertilizer solution at least once during spring.  Water infrequently and ensure that the potting mix drains out completely during watering. Do not allow the plant to sit in water because the results can be catastrophic.
How Long Can a Cactus Survive Indoors?
Cactus plants are well-suited for indoor living since they require little maintenance. With proper care, cacti can survive indoors for several years and even decades.
Ensure you provide adequate light, the right soil mix, and enough water to help them thrive indoors. Also, remember not to overwater since too much water can lead to root rot.
Lastly, ensure you repot your cacti when needed and fertilize them twice a year. Typically, you should repot your indoor cacti every two or three years and fertilize them once in spring.
When repotting, pay close attention to the soil mix you use since this will determine how well your cacti survive indoors. A good quality potting mix that drains fast is essential for their healthy growth and survival.
Also, go for a pot slightly bigger than your existing one to provide enough space for the roots and top growth. Ideally, the new pot should be two to three inches larger than the previous one.
For instance, if the current pot is five inches in diameter, go for one that is seven to eight inches in diameter. This will give your cactus plenty of room to grow.
Can an Indoor Cactus Flower?
Yes, an indoor cactus can flower. While some cacti species may remain vegetative for years, others will produce flowers under the right conditions.
Typically, these plants need plenty of light and a warm temperature to flower successfully indoors.
You must also remember to feed your cactus regularly during spring and summer to ensure healthy and quality blooms.
Consider using a balanced liquid fertilizer that is formulated for cacti and succulents. Use the solution at half strength and apply it every other month during the growing season.
How Often Should I Prune My Indoor Cactus?
It is normal for your indoor cactus to outgrow its pot and become bushy. As this happens, it will require regular pruning. Pruning helps encourage healthy growth and enhances the appearance of the plant.
To ensure vigorous growth, you should prune any overgrown parts of the cactus during springtime or summer. Use sharp pruning shears or scissors to avoid damage and cut the stems off at their base.
How Do I Treat Pests and Diseases On My Indoor Cactus?
Indoor cacti may be affected by pests and diseases, especially if they are overwatered or exposed to low temperatures. Common pest infestations include spider mites, mealybugs, aphids, and scale insects.
To treat these pests, you can use insecticidal soap or neem oil to eliminate them. Consider using a systemic insecticide formulated for cacti and succulents if the infestation is severe.
If your plant shows signs of fungal or bacterial diseases, consider discarding it because the diseases can quickly spread to other plants in your collection.
Summary
Cacti plants are a unique addition to your indoor plant collection. These plants are low-maintenance and easy to care for. Furthermore, they offer a wide range of benefits to you and your loved ones. So, if you are ready to up your houseplant game, make sure you start with any of the cacti species mentioned above.
Last update on 2023-07-26 / Affiliate links / Images from Amazon Product Advertising API