Christmas cacti are those long plants with segmented leaves. The plant blooms in pretty colorful flowers around spring. They make perfect Christmas gifts when they bloom; hence, the name. Everyone loves this cactus for its vibrant look and what's to have them in their home garden. But do you know how to propagate Christmas cactus?
Propagating Christmas cactus is easy. You can come up with a new plant by just clipping part of the already existing plant. But good timing is also vital in propagating this cactus. Usually, spring makes the perfect propagation time. You need to propagate it months before it blooms in spring or before it enters the dormancy period of winter.
But how successfully can you propagate Christmas cactus? This article has the answer to that and much more information on how to propagate Christmas cactus.
Ways to Cut Christmas Cactus
The Christmas cactus branches come in several sections that are linked together. At the bottom of the pad is where new roots grow and become a new plant. For proper propagation, you must ensure you separate the pads without damaging the bottom. If you damage the bottom in cutting, all your work will go to waste as the new plant won't grow.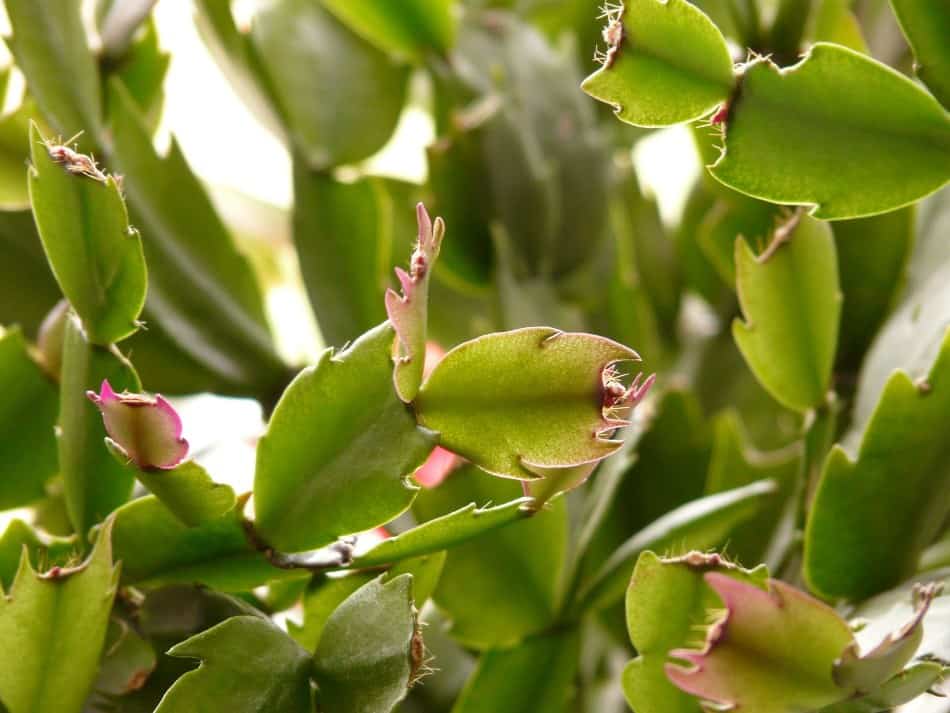 To ensure you don't damage your cactus and end up wasting your time, you need to twist the bottom pad when cutting gently. Gentle twisting will make your pad come out easily without tearing any part of the plant.
Another thing you should ensure is to take the short, Y-shaped cutting on the tip of the stem. The cutting needs to have two to three joined segments. For you to succeed, you should ensure you cut your cactus from healthy foliage. After cutting, let it dry for a few hours before transferring it to the pot for rooting. Make sure you don't expose the stem to excessive moisture.
Rooting Christmas Cactus
Once you've cut your Christmas cactus and allowed it to dry, it's now time for propagation. There are two types of rooting for the plant. You can root your Christmas cactus in water or soil. We're going to discuss all these to see how they work.
Propagating Christmas Cactus Upright in the Soil
Rooting Christmas cactus in the soil is the best method to use if you want to succeed. If you got large cuttings on your plant, the best way to root them in the soil is upright. Here is your step-by-step guide on rooting cactus in soil.
Lay your cuttings in a dry place for 1-2 days. Make sure you don't expose them to direct sunlight. The resting period will help the pads adjust from growing shoots to growing roots. If you avoid exposing them to heat and humidity, the plants will be ready for planting in just 48 hours.
Place your plants into fresh potting soil. The best soil for this will be cactus and succulent mix. Make sure the soil covers the bottom pad of your plant.
Water your new Christmas cactus lightly and let it dry between watering. If you add too much water, the plants will rot.
The roots will start forming within 2-3 weeks.
Place your plant in a location that receives indirect sun. While the plants will need the sunlight, direct sunlight can also damage them.
Propagating Christmas Cactus on Top of Soil
The first soil propagation method is upright in the soil, while the second one is on top of the soil lying flat. This method works for smaller cuttings or if the bottom pad is slightly damaged. Here's how this method works:
Let your cuttings dry in a dry place away from direct sunlight for 1-2 days.
After resting, place your plants on top of the soil horizontally. Make sure you're using light soil, preferably cactus and succulent mix.
Make sure the two cactus pads have direct contact with the soil. The new roots will start forming from this point.
Keep the soil slightly moist, and expect to see some new roots by 2 to 3 weeks.
Be careful when using this method, as the pads laid horizontally in soil may get too wet and rot. Make sure the soil is only wet at the time of watering.
The actual cuttings should be dry as much as possible.
Propagating Christmas Cactus In Water
The next method to plant your Christmas cactus is in water. Many expert gardeners use this method as it's the fastest method to get your Christmas cactus to root. But you should also know that this method involves extra labor since you'll still need to transfer your plant to the soil once it roots. The transfer is very delicate, and you might end up destroying the new roots.
For this method to work, you'll need a glass jar with stones and your fresh cuttings from a healthy plant. Below is the method to use to root your Christmas cactus in water.
Make sure your cuttings range between three to four inches, with each having about three leaves.
 Leave them to dry for about two days so they form a callus and reduce the risk of rotting once you put the pads in the water.
Fill the bottom of your glass jar with stones or pebbles up to about two inches.
Add water on top of the stones.
Place your cuttings inside, ensuring the bottom touches water. The bigger part of your cuttings should rest on the jar. That's above water and the stones.
Keep an eye on the water to ensure it doesn't evaporate. If it does, add more water.
If the water doesn't evaporate, you should consider changing it after some weeks. Keeping the water fresh all the time keeps away bacteria that might cause rotting.
The humidity in the jar will ensure the plant grows without rotting.
Give It Time
I know you must be eager to see your plant root and thrive into a beautiful Christmas cactus. However, you must understand that growth doesn't happen overnight. How fast your plant roots and grows will also depend on various conditions, including climate and soil. You might do everything right, but your plant may take longer than usual if the natural conditions don't allow it.
Your plant can take two to three weeks to root successfully. Once it roots, you'll need to transfer it to a pot for it to start growing normally. Make sure you follow the proper transition process, so you don't kill it. Watch out for the amount of water and sunlight you give it as this may be very strict at this time. Don't soak it in water and avoid exposing it to too much sun.
Transferring from Water to Soil
If you root your Christmas cactus in water, you'll need to transfer it to soil later. Start by keeping your cactus in a good location with enough warmth and indirect light. Well, you can expose it to some direct morning and evening light, but don't allow it to get too hot.
When it comes to watering, make sure you don't overdo it. Allow the soil to dry slightly before the next watering. But you still need to water your cuttings more than the regular Christmas cactus. As the plant grows, the watering should also reduce until you can allow the soil to dry completely. If you do it well, your plant will perfectly transition from being in the water to finally growing in soil.
Caring for Your Christmas Cactus After Propagating
If your cactus manages to reach this point, then you can pat yourself in the back for the work well done. However, you should not lower your guard at this point because the plant is still delicate and needs extra care.
Unlike other cacti, the Christmas cactus needs more watering. Once your plant is potted, you'll need to water it regularly in summer and spring. However, this doesn't mean that you saturate it with water, as this will cause root rot. Allow the soil to dry slightly before the next watering. You should stop watering for up to six weeks in winter and ensure you keep it on the dry side. Depending on the climate, you can also consider introducing mild fertilizer at this point.
Stay away from direct sunlight even after your plant is mature enough, as this can burn the leaves. The plant needs brighter light to produce more blooms but can still thrive in low light. The Christmas cactus enjoys high humidity, with temperatures ranging between 60 to 70 degrees.
Summary
Christmas cactus can be a very rewarding plant if you give it proper care. The blooms can brighten your home and give you perfect Christmas gifts for your friends, family, and colleagues.
However, if you propagate your plant and it doesn't grow, don't worry. Even expert gardeners do trial and error. Maybe, the problem may not be you or the method you used, but the plant. The best thing to do is to try again and see if it grows. Do your research on the care needs and growth conditions, so you get it right on your next trial.
Last update on 2023-07-26 / Affiliate links / Images from Amazon Product Advertising API