Do you love succulents and have plenty of them at home? Or are you planning to have a collection of these sun-loving plants, but you have no idea how to arrange them? Are you looking for creative ideas and inspirations to display and arrange your succulents to add more life to your home? If you answered "yes" to any of these questions, then you are in the right place. Sometimes, arranging succulents at home can be a challenging task to accomplish, especially if you don't have experience.
So, how can you make a good succulent arrangement? The first thing you need to do is choose the type of arrangement ideal for you. Succulent arrangements are divided into three broad categories: Whole plant arrangements using unique pots or shelves, temporary projects for special occasions that mostly use thicker-leaved succulents, and arrangement of succulents by texture, color, size, height, etc. You should also remember the rule of three when arranging your succulents and freshen up your pots frequently to maintain a good look.
This blog post provides you with essential tips you need to know to make an excellent succulent arrangement. Read on to find out everything you need to know.
Understanding the Different Types of Succulent Arrangements
Before you start making succulent arrangements, keep in mind that overcrowding is terrible for these plants. Overcrowded succulents lack the right nutrients and space they need to thrive. They are also easily attacked by a wide range of pests and diseases.
Therefore, no matter what you do, you need to avoid overcrowding your succulents as much as possible. If you are preparing an arrangement in a growing container that won't last long, be sure to use succulent cuttings or plugs.
In such a case, your project will last for around a few days to weeks, and using whole succulents isn't practical at all. Generally, succulent arrangement types can be divided into three categories, namely:
Whole plant arrangement mainly uses large pots and unique shelving to create amazing patterns.
Temporary arrangement for special occasions. This is where you are encouraged to use thicker-leaved succulents.
Arrangement of succulents by size, height, color, and texture.
When choosing the containers to use in your arrangement, ensure they have plenty of drainage holes to prevent root rot. If there is no enough space for the potting mix in the arrangement container, go ahead and plant your succulents without it.
However, make sure you use some sphagnum moss and protect the roots of your plants from direct sunlight exposure. You may also be required to fertilize the plants regularly due to a lack of potting mix.
Succulent Arrangement Tips
It only takes a couple of minutes to get your containers ready (with or without potting mix). Once you are through with that task, you need to get down at work and start arranging your succulents. Here are some tips to get you started.
1. Consider Colors
One of the best things about succulents is that they come in a wide range of colors. This makes it fun to arrange them based on some of the common colors and patterns. Be creative and think about arrangement patterns that show off certain color schemes.
Some succulents are monochromatic (they only have one primary color), while others have shades of different colors. So, assess what you have got and see the color scheme you can develop.
If you decide to create a monochromatic arrangement, ensure you use different shapes and textures to add interest to your arrangement.
For succulents with shades of different colors, look for groupings with analogous color shades next to each other on the standard color wheel. For instance, you could use orange, yellow, and green together or go for green, blue, and purple.
If you love relatively conserved colors, then your arrangement should focus on blues, purples, and greens. However, if you are looking for a brighter arrangement, yellows, oranges, and reds can be eye-catching.
2. Think about Shape
And it is not just about the color. You also have to think about the shape of your plants if you want to come up with a nice arrangement.
Look for a mix of succulents that grow tall and those that grow low. Keep in mind that some will creep or spill over to the sides of your pot, and you must figure out how to manage them.
Some succulents are round, while others are spiky. Others are delicate, while others are chunkier. To achieve better results, try to highlight a mix of different shapes and textures in your arrangement pots.
3. You Are Better Off with a Plant Stand or Ladder
If you are struggling to come up with a good arrangement for your succulents, go for a plant stand or ladder. The stand offers you an incredible way to showcase your succulent collection in their own pots and without much struggle.
A typical plant stand will have multiple shelves allowing you to arrange your plants according to their height. In fact, this is one of the best ways of arranging your succulents without the need for extra tools.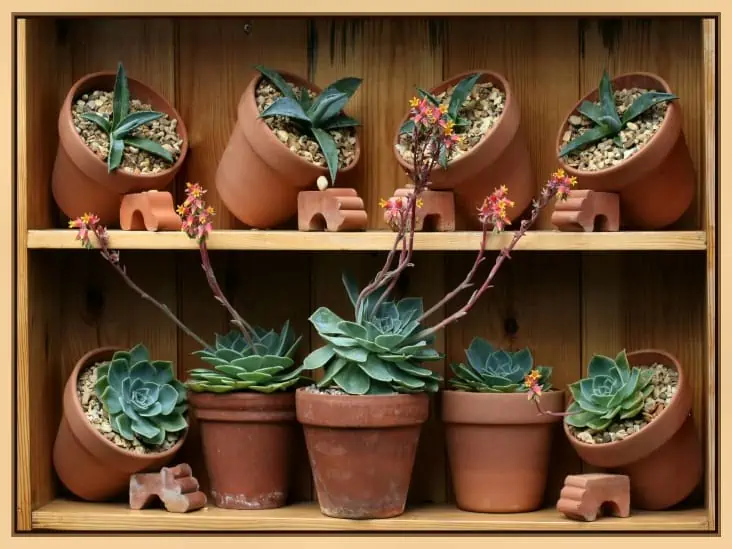 A plant ladder is also a great way to keep your succulents off the floor, especially if you have installed floor heating that may interfere with the general health of your plants.
There are many different types of plant ladders to choose from. Some can be mounted on the wall, while others don't need mounting at all. The ladder will have shelves forming a specific pattern. Be sure to choose the perfect shape for your arrangement when shopping for the ladder.
4. Remember the Rule of Three
For some strange reason, the human mind and eye like odd numbers than even numbers, and it really likes three and its multiples.
Most succulent plants are quite bold and sculptural, so having just one plant in a pot works perfectly fine. That way, the shape and color of the succulent are showcased quite incredibly.
But did you know that adding two more succulents in the same pot can help you achieve a highly balanced and dynamic appearance? But don't have two succulents in a pot because they will look as if they are competing against each other.
Similarly, three different colors in the same growing pot always look better than one or two colors. Just make sure the colors you choose to use in one pot are close to each other on the color wheel.
Odd numbers always seem to work better than even numbers. Three is better than two, and five is better than four. So, try it out today and see if you will like the end product.
5. The Pot Size Matters
Sometimes, it can be difficult to tell what pot size you need for a particular arrangement. Generally, you should aim to leave at least a half-inch of space between your succulents and the rim of the pot. This space will provide your succulents with more room to grow.
But you must be careful because too much space can also hinder your succulents from growing. If the space is too big, the roots tend to spread out much faster and become larger before the succulent has time to catch up.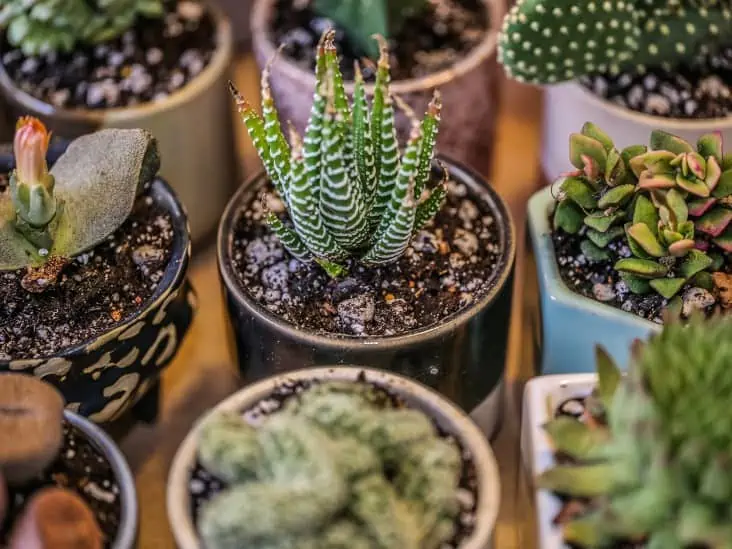 Therefore, it is always good to maintain a 0.5-inch space between the plant and the rim of the container. For instance, consider getting a 2.5-inch growing pot if you have a two-inch plant.
A single tight arrangement always looks awesome as soon as it is completed. Place your succulents into the growing container with their nursery pots to get the right idea of spacing. This provides you with the freedom to move the succulents around until you are fully satisfied with the arrangement.
6. Thriller, Filler, Spiller
If you are still struggling with succulent arrangements, then the thriller-filler-spiller arrangement formula may come in handy.
The formula is one of the most widely suggested guidelines for succulent arrangement since it is so simple but results in great arrangement results.
Basically, a thriller is a succulent that is large, tall, spiky, or highly different from the other succulents you have in your arrangement. The thriller must always stand out as the first thing people notice when looking at your design and arrangement.
The filler succulents make the bulk of the arrangement and occupy the most space. However, the term thriller doesn't necessarily mean dull succulents.
Typically, you want to choose good fillers that will complement your thriller nicely while still providing some form of excitement.
Lastly, spiller succulents are usually hanging over the edge of the pot. The best spillers are usually trailing succulents such as the String of Hearts and the String of Bananas. Spillers can also be longer succulents such as Sedum Burrito.
Whatever kind of spiller you choose for your arrangement, just ensure they cover the edge of your growing pot somehow. That simple modification can make a great difference to the longevity of your overall arrangement.
Summary
If you are considering brightening up your indoor and outdoor space by adding some fabulous plants, you can't go wrong with succulents. The sun-loving plants are easy to care for and slow-growing, ideal for your interior spaces.
You can also arrange them in different patterns to achieve a fantastic appearance. We hope you have learned a few tips, and you are now ready to start arranging your succulent collection to form great patterns!
Last update on 2023-07-26 / Affiliate links / Images from Amazon Product Advertising API