The Aloe plant has hundreds of species, and each species has many varieties to choose from and grow. With all the varieties, you need to select one suited to your area and one that will match your outdoor features. An appropriate choice of aloe plant to grow indoors or in an outside garden will allow you to completely recreate your compound or your garden into a magnificent place.
Below, we will discuss the 10 best types of Aloe Vera that you can consider growing outdoors. This article will help you choose the plant based on its color, kind of soil, and the conditions that it can best fit in. It will also help you decide to relocate some aloe plants from your house to an outdoor state if the succulent plant grows to blossom.
1. Aloe Nobilis
If you are looking for an aloe plant with numerous personalities, aloe Nobilis is your perfect choice. It has large yellow thorns and rose-tilted leaves. These medium-sized rosettes produce reddish-orange bud thwarts when exposed to light. If you have a combined dish garden with other juicy specimens, this golden-toothed aloe looks handsome.
During the summer season, tubular flowers appear, which often reach 2' feet tall. They add a mix of colors to your garden. It is intolerant to frost, and it is suited for outdoor growth in the USDA hardiness zones 9b to 10b.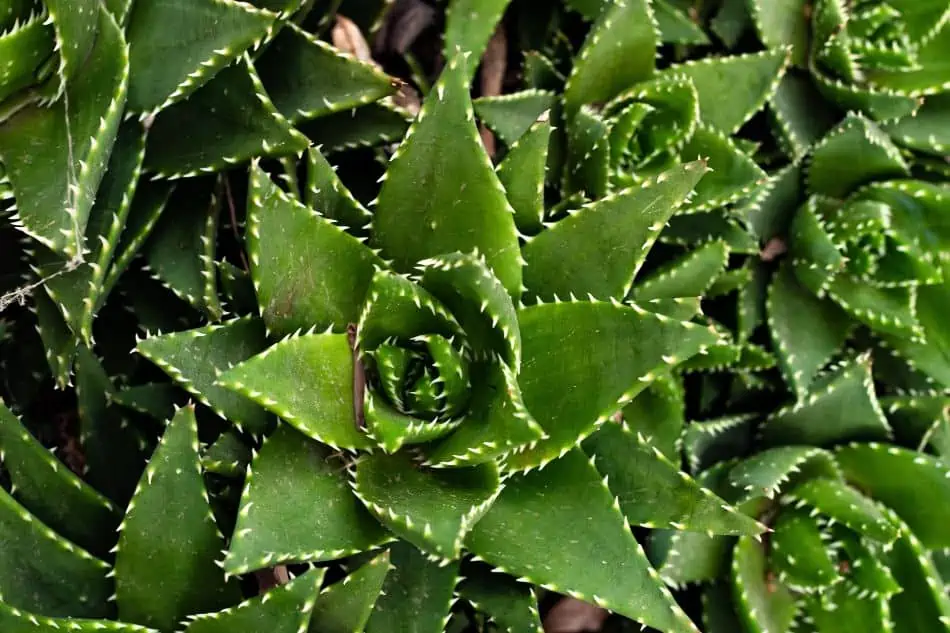 2. Mountain Aloe
It is also known as aloe Marlothii. The leaves of this aloe plant have a wide base narrowing to a sharp point and can reach 5 feet. These leaves have reddish-brown spikes along the ends and sometimes on the surface of the plant leaves. The old leaves are retained after they dry to form a 'petticoat' along the stalk.
It makes an excellent outdoor plant as it makes a beautiful display in sunny borders and is perfect for attracting nectar-feeding birds. The immortal plant is well grown in well-drained soil and full sun. This variety is known for its hardness as it can go for months without even watering.
 It is disease-free and deer resistant, making it proper for the outside environment. When planted outdoors, the variety is great for beds and borders, rocky, Mediterranean, and succulent gardens. It is also ideal as an accent in a sunny border or decorative container.
3. Aloe Barbadensis Miller
It is one of the most known aloes Vera, due to its numerous health benefits. This variety can easily be identified by looking at the difference between the pup and a matured aloe. Aloe barbadensis miller species have multiple white spots when still pups, but it disappears as the plant grows.
Unlike many aloes, they appear green or grey-green. As the plant grows, the leaves become thicker and more solid. At the edge of the leaves, there are small white teeth or spikes, and its spike can grow up to 35 inches tall.
Barbadensis Miller is an adaptable plant and thrives well in a warm, dry climate. The plant is believed to be sensitive to cold. Hence the plant grows perfectly when planted outdoor during summer.
4. Aloe Crosby's Prolific
It is a dwarf plant that grows to about 45 cm and has elongated leaves and translucent projections. This variety grows orange-red flowers, and its leaves turn out red when exposed to the sun, ideal for landscape design. The plant is suited for containers and beds.
Aloe Crosby is a prolific plant that loves sun or partial shade hence does well when grown outdoors. It is not a cold-hardy plant; hence it does not handle cold well. Aloe Crosby should be planted in an area that receives six hours of sunlight a day. The bright orange flower attracts birds and insects, agents of pollination.
5. Aloe Rubroviolacea
The Arabian aloe is tolerant to drought and harsh conditions. It is an outstanding plant with blue-green leaves and reddish teeth bordering it. The leaves of this species turn purple when in full sun, intensified to violet-red in winter, creating a magnificent view. Since they are suited to arid conditions, this plant can thrive well outdoors because it requires little care and is disease-free. 
When planted outdoors, Aloe Rubroviolacea grows perfect in well-drained soil in full sun. It thrives best when planted in beds and borders, a rock garden, and an ideal accent plant on a sunny wall. The flower produces nectars that attract birds and bees, encouraging pollination. 
6. Aloe Aristata
Aloe Aristata is also known as the touch plant. It has fleshy, soft-spined dark green leaves which have white bumps. As weather changes, this variety tends to change color, with orange-red flowers growing on the long stem. These low-growing, bunching rosettes make an excellent and effective ground cover.
Aloe Aristata is short and stemless but very attractive. It grows slowly and succulently, reaching about 12 inches in height. It is an evergreen perennial that grows in knit, lovely rosettes. The plant is resilient and easy to grow in almost all weather and growing conditions.
The Aloe plant has triangular leaves with white spikes and fine cilia, which is the primary identifier of the family. The torch aloe plant is hardier than other aloes' in the same group. It thrives well inadequate sunlight, making outdoor planting the best option.
It is known as the 'succulent city' plant, as it loves warmth and, when grown outside with enough sun, it thrives. Unlike others, it thrives well in autumn and summer and not winter. Therefore, avoid planting this species in extremely cold conditions.
7. Malagasy Tree Aloe
The Malagasy species is a free disease plant native to Madagascar. It is a huge aloe with the ability to grow up to a height of 12 feet and a width of 5 feet. It has fresh leaves with white teeth and turns dark green to a vibrant deep red color when in full sun.
The plant grows quickly in well-drained soil, with enough sun and light shadow. As it matures, it produces attractive red flowers that stand out and are focal to a garden. It is deer resistant, and the flower has nectar which attracts birds and bees, supporting pollination. The beautiful large aloe flourishes in beds, rock, succulent, and Mediterranean gardens. It is ideal as an accent in a sunny border and decorative container.
8. Red aloe (aloe Cameron)
Red aloe is a beautiful Rhodesian native with a similar shape as the aloe arborescens. It is a distinguishable species by its deep red and copper tones display when it withholds enough water. However, its leaves retain a bright color in lower light settings or excessive irrigation.
Aloe Cameronii does well in rock gardens, cactus garden, and succulent but has brittle leaves which can be easily broken hence should be planted accordingly. During drought days or sunny weather, its leaves turn to a colorful, and beautiful coppery red, but become bright apple-green when overwatered. In a succulent garden, this aloe makes an excellent specimen planting and provides a striking color, attracted to nectar-seeking birds.
9. Aloe Hereroensic
Referred to as a sand aloe, both its leaves and the flowers have unique features. The leaves are ornamented with fine lines, and flowers consist of orange-red tubular with a high, green, protruding center that appears like corn. The leaves are decorated with H-shaped white spots that are set in transverse bands on the lower surface.
The sand aloe gets up to 2 feet high and does best in well-drained and alkaline soil. This plant looks good in Mediterranean gardens and rock gardens. In sunny border and decorative containers, this plant makes a drastic focal point. It is a disease-free and deer-resistant plant, with flower-producing nectar attractive to the birds and the bees.
10. Snake Aloe
Snake Aloe plant, is one of the eye-catching aloes that gets a foot wide and have long stunning light skin leaves. The leaves have reddish-brown teeth on the edges. It takes a bit longer to mature, where others take four years, it takes 5 to 6 years to fully mature.
It is a perfect plant to grow in dry or semi-arid areas, and it makes a unique and focal point for anyone's orchard. It is quickly grown in sandy and gravelly, well-drained soil in full or light shade. Snake aloe is one of the stress-free plants that can take care of itself as they are well adapted to arid environments.
Bottom Line
You cannot grow aloe outside its recommended zones except when it is in a container. Growing aloe plants in a container outdoors will help in bringing them indoor when freeze threatens. It is also good to know that not all conditions can support the outdoor growing of aloe. This moisture-rich plant thrives well in warm region zones, while indoor can be the best in other areas.
Due to the harsh conditions outside, it is good to check on your plant regularly to ensure all the requirements. Aloe plants will tend to thrive better in good irrigation and proper observation to prevent them from pests. Some aloes are dangerous to some animals, and they should be protected from outdoor plants.
Last update on 2023-06-04 / Affiliate links / Images from Amazon Product Advertising API