The String of dolphins are succulents with dolphin-shaped leaves and long hanging tendrils. While they can bloom, the delicate blooms are relatively inconspicuous, and these plants are grown for their attractive foliage rather than their flowers.
The String of Dolphins is not heat-loving succulent, so don't give them direct sunlight when it is getting too hot. If you want to cultivate them outside, put them in a shaded place where they can access indirect or filtered sunlight throughout the day.
Although it can easily get sunburned in direct sun when grown outdoors, when grown as a houseplant, a string of dolphins does best when it receives at least six hours of sunlight a day. Therefore, place your String of Dolphins outdoors in the shade or indoors near a sunny window to strike the right balance.
Dolphin Plants need sunlight, but they can tolerate slightly less light than some non-green succulent varieties, thanks to their leaf windows. Therefore, you can supplement with grow lights to get an adequate amount of sun exposure for your StringString of dolphins.
Artificial sources come in handy during low-light periods like winter. However, shady locations will increase the risk of root decay because of a lack of sufficient light. In addition, the amount of light the plant gets will affect the plant's health.
The Leaf Windows in String of Dolphins
Dolphin Plants need sunlight, but they can tolerate slightly less light than some non-green succulent varieties, thanks to their leaf windows. A Leaf window is a leaf structure that consists of a translucent patch where light enters the interior surfaces of the leaf.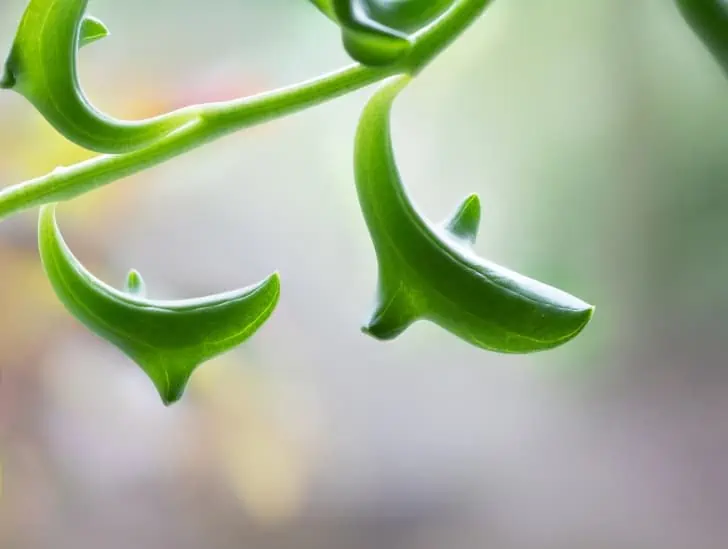 The translucent windows increase the absorption of sunlight. In addition, you can find them at the leaf tips, and they allow light to be captured and used even when the plant is almost entirely below the soil surface; this reduces exposure of leaf surface area and prevents drying because of intense heat.
Indoor Light Requirements
Lots of sunshine encourages fast growth and healthy, green foliage, as with all succulents. Preferably, the String of dolphin plants requires at least six hours of sunlight a day to flourish. If you are growing indoors, try to ensure that the plant is in the brightest location in your home. A bright sunny windowsill is best for this houseplant.
The String of dolphins grows best in bright light but make sure you shield them from direct sunlight. Place the plant near an eastward or west-facing window to get adequate light. Intense sunshine will lead to yellow, scorched leaves. In addition, growing in low light or shade causes leggy growth and sparse foliage.
If growing in a south-facing room, the constant direct sunlight can burn the foliage. So, it's best to keep the hanging succulent a few feet away from the window. Alternatively, you can get lighting conditions right by growing the dolphin plant behind a sheer curtain.
The String of dolphin plants is not low-light plants. So, you should avoid growing them in rooms with little light or shaded corners. Also, because dolphin plants don't require much humidity, they are not ideal for bathrooms. Finally, the lack of light causes the dangling vines to stretch towards the light and give the plant an unkempt look.
Dolphin plants do best next to south-facing windows. Here, they receive at least six hours of morning sunlight and some partial shade in the afternoon. We suggest placing a fluorescent or LED artificial light around your plants during the winter.
Best Indoor Locations For String of Dolphins
Balcony
Planting your succulents on the balcony helps them achieve sufficient light. Additionally, it improves the overall outlook of your patio and the house as a whole.
The balcony is convenient for larger succulents that may not fit the window. The ample balcony space will accommodate your String of Dolphins. To get light, ensure that your balcony has access to sunlight for at least 6 hours a day.
Window
When you are growing your String of Dolphins indoors, the best place would be by the window. East or south-facing windows are ideal sources of light for your succulents because they filter in enough light levels for the survival of your succulents. Through these, your plants will receive indirect bright sunlight throughout the day.
Hanging Basket
Succulents grown in hanging pots can be placed anywhere in the house as long as they get enough sunlight, especially in cases where you have limited space within your home. However, it is essential to note that growing succulents in hanging pots or baskets depends on the plant's growth pattern.
How To Use Grow Lights For Indoor String of Dolphins
Dolphins are sun-loving plants, and sometimes, growing them indoors might not provide enough sunlight, especially during winter when daytime gets shorter. That is when artificial light comes into play. The two common types of grow light for indoor succulents are Fluorescent and LED.
If your window is exposed to full sun all day, then your succulents can survive well even in winter without growing light. However, during wintertime, String of Dolphins rarely get adequate sunlight, and therefore, etiolation and fading are common issues. You can prevent those issues by getting a suitable grow light.
Find a place to put the plants and install the lights in your house. The distance between your succulents and the light is significant. If placed too close, the heat emitted from the bulbs might burn your succulents. On the other hand, there is insufficient lighting for succulents to grow healthy if it is too far. Generally, we recommend at least 6 inches and not exceeding 40 inches.
Expose your String of Dolphins plants to lighting for around 12-14 hours per day. Do not let the plants sit at just one angle of the light source. Instead, rotate the plants weekly so that each side has the same amount of light.
Outdoor Light Requirements
The String of Dolphins enjoys spending the summer outdoors. So wait to move it outside until a few weeks after the danger of frost has passed, and be sure to bring it back inside when nighttime temperatures drop to 55°F.
When your StringString of dolphins is outdoors, please put it in a spot that receives either dappled sun, morning sun, or indirect light. Avoid the hot, blasting sun at midday outdoors. Also, you'll need to water it more frequently than you do indoors since wind and sun often dry the soil out faster.
The String of Dolphins plants flourishes in a location with exposure to lots of bright and indirect light throughout the day. They thrive in direct sunlight in rare cases where the region has temperatures that are not too hot, and the sun is mild. When you provide a String of Dolphins with too much sunlight, they will quickly get sunburned and may die off eventually.
Signs of Too Little Light
Plants that are Light-starved or etiolated look pale and spindly, with significant gaps between leaves on their stems. Succulents will grow tall and lose pigmentation to try and absorb more sunshine.
You can expose your plants gradually to more sun. Start by a step-by-step transition to a brighter location within 1-2 weeks. The growth will help the plants to not only grow more leaves but also recover their color. However, some changes to the shape of the plants can be irreversible. At the first signs of etiolation, move the succulent closer to a south-facing window or outdoors.
You can prevent etiolation by keeping indoor succulents that are colorful/non-green near a sunny window. Additionally, you can use artificial lights to supplement indoor light, starting with a few hours of sunlight each day and gradually increasing duration. Then, over two weeks, slowly move the plant into sunnier conditions, watching for signs of sunburn.
Signs of Too Much Light
Let's explore signs to look out for when your String of Dolphins is overexposed:
Pigments look washed out and bleached
Leaves get blotchy burns in white, yellow, or brown
Wrinkled, scaly, or crispy leaves
To prevent sunburn, take two weeks to transition plants into brighter light gradually. Also, protect your plants from the full sun when temperatures exceed 85F; you can use shade cloth. Moving your plants to lower light conditions is the first step you should take if you notice sunburn.
You can also increase watering frequency slightly and water during the coldest parts of the day. Though the dark burns will not disappear, the burnt leaves will eventually fall off, and new growth will soon appear.
Bottom Line
The String of Dolphins thrives in a location where it can get tons of bright and filtered light all day. Ensure your plant is in a brightly lit room, where it gets at least 6 hours of indirect sunlight daily. A sunny southward window is ideal for this succulent. However, avoid direct sunlight that can easily sunburn, causing unattractive black spots on its sensitive leaves. If needed, you can use grow lights to provide additional light for your String of dolphins.
.
Last update on 2023-07-26 / Affiliate links / Images from Amazon Product Advertising API