Nepenthes is one of the best indoor plants for a gardener. However, a significant number of people who try their hand at cultivating nepenthes end up with a dead plant because they simply don't know how to care for it. The truth is that nepenthes is a relatively fussy plant, and any slight mistake with watering can be costly. Watering a pitcher plant appropriately means finding the perfect balance between overwatering and underwatering.
So, what are the golden rules for watering nepenthes? Pitcher plants must be watered regularly to keep the potting mix moist. Water your plant as soon as the tray is empty and until the potting mix is completely moist. Use rainwater or distilled water and avoid tap water as much as possible. Bottom watering is highly recommended because your plant gets a chance to absorb as much moisture as possible. Always wait until your potting mix is completely dry before you water your nepenthes to avoid root rot issues.
Taking care of a nepenthes plant can be tricky, especially for beginners. One simple mistake can make you feel like you are a plant killer. But you don't have to fear anything because we will show you the best way to maintain the moisture requirements for your plant.
Read on to find out everything you need to know about watering pitcher plants.
1. Know When to Water
A general rule of thumb that most gardeners use is to wait until the potting mix is completely dry before watering the pitcher plant. While this is an acceptable approach, you can still use some better ways to figure out when to water your pitcher plant.
Rather than waiting for the potting mix to dry out completely, study your plant over some period and establish a watering schedule to follow.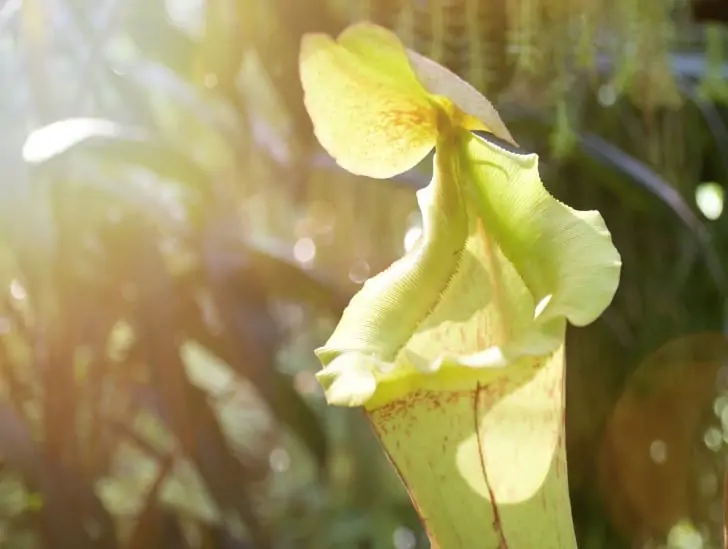 For instance, if you discover that you mostly water your plant after two days during the dry season, stick to that schedule and maybe water after four or five days during periods of high humidity.
The watering schedule you establish will, of course, vary depending on where you live and the general climatic conditions of the area. The best option for beginners is to check your plant regularly without fail.
Ensure that your plant's roots are not sitting in excess water that isn't draining out of the growing pot. Waterlogging a pitcher plant can lead to serious root rot issues that can easily kill it. In simple words, keeping your potting mix moist is crucial but don't make it soggy or oversaturated.
2. Water the Pitchers
Sometimes, the pitchers themselves may also require watering. When you first bring your nepenthes plant home, take a peek inside the plant's pitchers. If you notice they are entirely empty, use an eyedropper to refill each of them to about a third way with distilled or reverse osmosis water.
The primary purpose of filling the pitchers with water is to prevent them from becoming dehydrated and dying off as they struggle to fill themselves.
Make a routine to check the level of fluid inside the pitchers regularly. If you notice the fluid level is periodically low or empty, it could be a sign of underwatering or low light.
A combination of underwatering and low light can be catastrophic. So, be sure to increase the moisture levels inside the pitchers as soon as possible and provide your plant with sufficient exposure to sunlight.
If you live in an area that doesn't receive plenty of sunlight, consider using artificial grow lights to ensure you are fulfilling your pitcher plant's light requirements.
3. Know How to Water Your Pitcher Plant
Pitcher plants are native to Madagascar, Australia, and Southeast Asia. These species generally grow in mountain forests or low-lying jungles. So, this tells you that they thrive in humid areas. The mountain-growing pitcher plants prefer relatively cooler temperatures than the jungle-growing species.
Some species grow in dense jungles below elevations of 3,000 feet. They are known as the lowland nepenthes and prefer relatively high heat and constant, steamy humidity to thrive.
So, if you are growing these plants at home, especially indoors, you need to keep in mind that they cannot tolerate dry soil at all. No matter the species you have, be sure to provide it with enough moisture and keep the roots slightly damp all the time. Damp doesn't mean wet.
So, what is the best way to water your nepenthes to achieve this target? Well, you can use the top-bottom watering technique or the bottom watering method.
In top-bottom watering, you will need to add enough distilled water to an irrigation can and use it to water the plant from the top until excess water starts to drain out of the drainage holes at the bottom of the growing pot.
Make sure the excess water drains off well before you walk away. Avoid using clay pots because they can easily wick water and cause the potting mix to dry out relatively quickly.
The best way to water nepenthes is by using the bottom watering method by placing the growing container in a relatively shallow tray filled with distilled water; a third way the depth of the container. Don't fill the tray more than a third of its depth.
Take your pitcher plant and immerse it in the tray. Allow it to sit in the tray of water for up to 30 minutes before you remove it. The plant would have absorbed enough water to keep it going for three to five days before you water again.
The highland species that enjoy relatively cooler temperatures can benefit greatly from ice cubes placed on top of the potting mix every night. The ice cube will melt through the night and offer the moisture that the plant loves.
4. Don't Let the Plant Sit in Water for Too Long
Using the bottom watering method can be tricky because you may be tempted to leave the plant sitting in the water tray for too long, thinking you are helping it.
Unfortunately, pitcher plants don't like being waterlogged. The more they are waterlogged, the more they develop root rot that can kill your plant in no time. So, you should never let the plant sit in water for more than 30 minutes.
If you are tempted to let your plant sit in the tray for prolonged times, ensure you empty it first and only live about an inch of water in it. The little water you leave in the tray plays a crucial role in increasing the plant's humidity.
5. Use the Right Type of Water
When it comes to watering pitcher plants, not all water is the same. Choosing the wrong water type can kill your plant faster than overwatering.
Don't attempt to water your nepenthes using bottled water or tap water since it can be extremely harmful. These plants are naturally intolerant to nutrients and minerals.
For that reason, they need to be watered with water sources that contain little to no mineral substances. Rainwater, distilled water, or reverse osmosis water are the three best options. These options are highly safe because they don't have any mineral substances.
If your area receives plenty of rainfall during winter, be sure to collect as much rainwater as possible and store it safely somewhere. When you run out of rainwater, go for distilled water.
Fortunately, distilled water can be found in almost every grocery store, and it is highly affordable. A gallon of it will go for about $1, depending on where you live.
Reverse osmosis water is mostly sold in licensed water stores and select pharmacies. However, you need to remember that reverse osmosis water may be slightly more expensive than distilled water.
When buying distilled water, avoid any bottles that contain words such as "contains electrolytes," "enhanced for flavor," and "additives added for taste." These words mean that some chemicals have been added to the water, which is not a good sign.
Why Is Rainwater the Best Option for Watering Nepenthes?
Nepenthes plants generally grow in poor acidic conditions and are highly sensitive to the water they grow in. So, any water containing a relatively high quantity of dissolved salts and minerals such as calcium and magnesium does them no good.
The mineral concentration can build up with time, causing root rot and severe decline in their overall health. The effects are quite dramatic for pitcher plants but slightly slower for other carnivorous plants.
Generally, the type of water you use must contain less than 100ppm (parts per million) of dissolved minerals and salts. Rarely will you have this type of water coming out of your tap, no matter where you live.
You can always check with your local water authority to ascertain the softness of water coming out of your tap. Sticking to rainwater, distilled water, or reverse osmosis water will do you good in the long run.
Summary
Watering nepenthes incorrectly is a catastrophic mistake that many gardeners tend to commit. Even the slightest mistake can affect the general growth of your plant and make you start questioning your gardening skills.
To avoid committing these mistakes, it is good to understand your plant's moisture requirements to help you maintain a perfect garden. We hope you now know what you need to do in terms of watering to keep your pitcher plant happy!
Last update on 2023-12-11 / Affiliate links / Images from Amazon Product Advertising API