You love your Aeonium plant to bits. That is why you bought it and have dedicated a part of your life to caring for it. You feel satisfied, and at peace every time you gaze upon its delicate pink and yellow rosettes. But recently, you have started noticing changes in your beloved succulent. It is getting taller and taller by the day. Its stems are reaching out to the sky with each passing moment. You are confused and stressed because you can't figure out what is happening. Don't worry because this is a common problem, and the best part is that you can fix it.
So, why is your Aeonium getting taller? Like other succulents, your Aeonium can become leggy and start spreading out if you are growing it indoors and it isn't getting enough light. It is a survival mechanism and a way for the plant to search for better light. The phenomenon is known as etiolation and is highly undesirable because it lowers the aesthetic value of your plant. You can fix the issue by exposing your plant to more light, propagating it, or trimming off some sections.
This blog post will discuss why your Aeonium is getting taller and what you can do to salvage the situation. Read on to find out everything you need to know.
Understanding Etiolation and How It Occurs
Before we delve into what you can do to fix the problem, let's understand why your Aeonium is getting too tall in the first place.
Etiolation is a term used to describe plants that have become leggy due to lack of light. It causes them to stretch out and reach for light, which results in weak stems, sparse foliage, and fewer flowers or fruits.
While etiolation is usually a sign of light deprivation for succulents, it can also be about the amount of water the succulent receives and the temperature it is exposed to.
For instance, if you keep your Aeonium warm and water it regularly but deprive it of enough light, it will most likely stretch out and become taller. The plant will be tricked into thinking it is a growing season even when it is winter.
The stretching out will still happen if you maintain the same temperature but cut down on watering.
In this case, the succulent is forced to draw moisture from older stems and leaves, leading to an unhealthier and ugly-looking appearance.
A temporary solution for an Aeonium plant that is growing too tall and overstretching is to keep it at a cool temperature and cut down on watering.
This will trick the succulent into thinking it is a dormant season, and it will stop producing new growth.
Why Is My Aeonium Getting Too Tall?
There are two main reasons why your Aeonium plant could be getting too tall: Lack of enough light and the wrong location. We discuss these causes further below:
1. Lack of Enough Light
The primary reason why your Aeonium plant could be growing too tall is because it doesn't receive enough light.
The stretching is an automatic response in which plants try to get to the nearest light source for healthy growth.
Keep in mind that all plants need exposure to adequate light to thrive. A lack of enough light can cause the succulent to grow outwards, stretching toward the direction of the nearest light source.
When the plant grows taller, the space between the leaves becomes relatively wider. The leaves may also lose their original color intensity, making the plant unattractive and less appealing to the eye.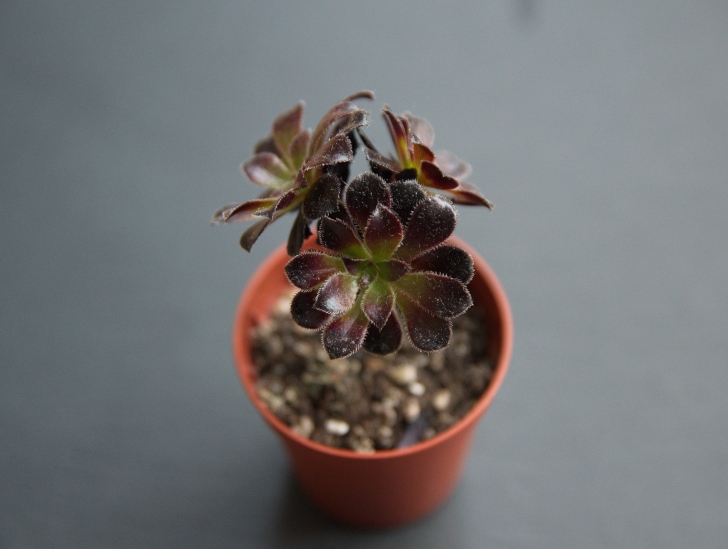 Aeonium plants usually have thickened and fleshy parts that can retain a lot of water in stems and leaves. These plants can also absorb a lot of moisture from dew, which they store in leaves and stems.
Unfortunately, with improper lighting conditions, these plants can't use the stored water properly and start stretching out toward the nearest light source.
They need enough light to carry out the process of photosynthesis, which is crucial to their overall growth.
2. You Have Placed Your Aeonium in a Wrong Location
Your Aeonium may also become too tall because you have placed it in the wrong location. This is especially true for indoor Aeonium.
For the best results, keep your succulent in a spot that receives at least 6 hours of indirect sunlight per day.
If you place it too far away from the light source, the plant will get confused and stretch outwards to reach for sun or artificial light.
Ideally, you should position your plant two to three inches away from the grow lights. This will ensure the plant isn't too close to the source of light while still being able to get enough exposure.
You can also move your Aeonium outside for some sun during warm months, but take caution not to place it in too much direct sunlight as this will cause damage and sunburn.
How to Know If Your Aeonium Is Starting to Stretch Out
While it is relatively easy to spot if your Aeonium is stretching out, it helps to know the signs before things get too bad.
The first sign that your Aeonium is stretching, and things could soon get out of hand is sudden rapid growth. Aeonium will grow steadily under normal conditions.
However, things may seem accelerated if the succulent isn't receiving enough light. The sudden rapid growth is to enable the plant to gain access to more light as soon as possible.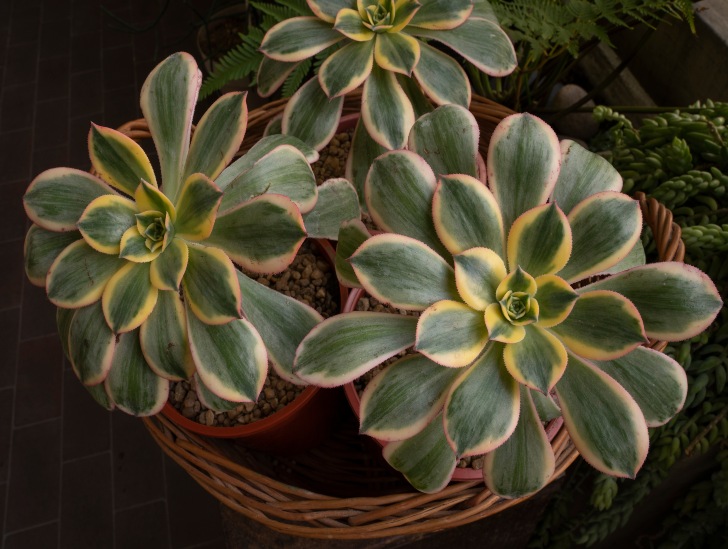 Unfortunately, this will result in elongated stems with fewer and widely spaced leaves. The result is an unattractive plant that is no longer appealing to the eye.
Downward-facing leaves are another sign of a light-deprived Aeonium. This succulent usually has upward-facing foliage.
When the leaves start facing downwards, the succulent is trying to reach out for light.
You may also notice the characteristic etiolation symptoms, such as yellowish or pale leaves and weak stems that break easily when touched. In fact, any slight color change in the leaves should arouse your instincts.
Fixing Your Aeonium That Is Growing Too Tall
Fortunately, there is a way to rescue your Aeonium and make it thrive. Consider the measures outlined below to salvage the situation:
1) Give It More Light
The most obvious way of rescuing your succulent is by providing more light. Unless you give your plant more light, the stretching will continue, and your succulent will eventually die.
So, before you give up, try to find an area in your home where your Aeonium will get more indirect sunlight than it did before.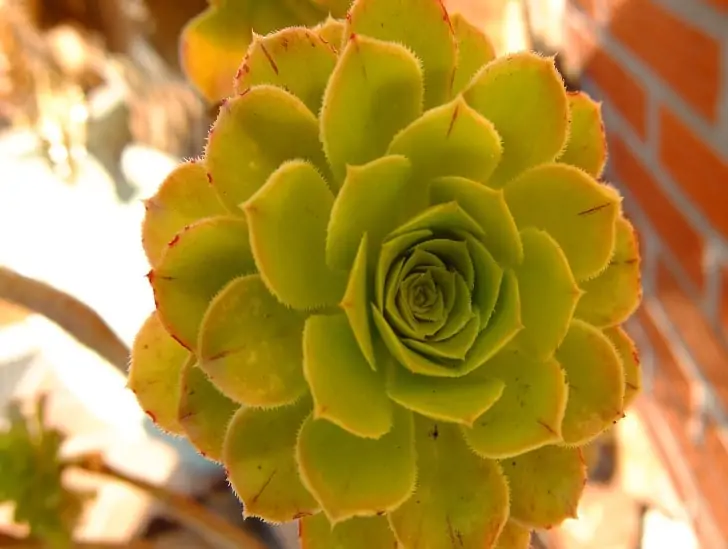 You can move them around or install artificial grow lights to supplement natural light if moving isn't an option.
Typically, you want your Aeonium to get as much indirect sunlight as possible. However, this may not be possible when you grow them indoors. Things become even tougher during winter.
Keep in mind that Aeonium requires at least six hours of light to thrive. If you plan on keeping your plant indoors, make sure you install enough grow lights that will provide the required intensity of light.
2) Move Your Succulent Outside During Warm Months
You can also move your Aeonium outside during warm months. This is only a temporary solution because you need to keep monitoring it to ensure it doesn't receive too much direct sunlight.
If the temperature is suitable, you can place your succulent outside during the day to get more light before bringing it inside when the sun sets.
This will help stop stretching and encourage healthy growth.
3) Simple Trimming
Simple trimming can also be a solution to your tall Aeoniums.
All you have to do is cut off the stretched part of the succulent, including the old leaves, using a sharp pair of scissors. Avoid cutting flowers if your plant is already flowering.
Once you have cut off the over-stretched parts, throw them away or use them to your advantage.
You can chop the cuttings into smaller parts and bury them in the soil so that they decompose and replenish soil nutrients.
This is a smart move because you don't have to buy fertilizer, and it is organic. Burying the trimmed parts into the soil may also improve soil aeration and drainage.
Your succulent will harness the benefits and reward you with beautiful foliage and flowers in the long run.
4) Adjust Your Watering Frequency
Since Aeonium plants are drought-tolerant, you don't need to water them too often. Overwatering can lead to root rot and other succulent-related problems.
To ensure your Aeonium receives adequate moisture without going overboard, restrict watering to once every two weeks during summer when the soil gets completely dry between watering cycles.
During winter, cut down on watering frequency by half or even more. This way, your Aeonium will get enough water without being soaked for days on end.
5) Re-potting Is Necessary at Times
Re-potting is also necessary when your Aeonium is growing too tall. You can re-pot the plant and give it a fresh start with new soil and better light conditions.
Make sure you are using a potting mix that will hold some moisture for some time before drying out completely.
You can always include some extra organic material in the soil to improve water retention and aeration.
Re-potting is also beneficial because it helps expose more roots to air so they can breathe better. This encourages healthy growth as your plant can absorb more nutrients and moisture from the soil.
Finally, re-potting also helps to reduce stress caused by old and overgrown roots. It's a good idea to re-pot your Aeonium once every two years to enable it to reach its full potential.
Summary
So, you now know why your Aeonium is growing taller and what you need to do to fix the issue. As long as you provide your plant with enough light, it will thrive and reward you with beautiful foliage and vibrant flowers.
Last update on 2023-09-18 / Affiliate links / Images from Amazon Product Advertising API