Kalanchoe Blossfeldiana, commonly called the flaming Katy, is an herbaceous, widely grown houseplant. This perennial, bush evergreen succulent can grow to a height of 30cm and 45 cm in 2-5 years. Though considered 'slow,' these succulents are known for the long-lasting bloom heads that appear during the winter season.
Kalanchoe does not require much care when growing and can thrive well even with considerable negligence. With specific care and maintenance needs, even people without much interest in caring for plants can successfully grow them indoors and outdoors. However, ensure you understand how to maintain it based on the location to flourish more.
So, where best does the Kalanchoe Blossfeldiana flourish? Kalanchoe Blossfeldiana can grow indoors and outdoors, but the care is specifically based on where it grows. It produces bright light indoors and bright filtered light outdoors during the summer. Growing kalanchoe indoors or outdoors is relatively simple. However, when grown as a house plant, you have to help it along and make a few adjustments to ensure better plant growth.
Whether indoors or outdoors, the most important thing is caring for the plant. Do you know how to care for this plant indoors and outdoors? Let us help you out.
Kalanchoe Blossfeldiana Flower Color
Unlike most succulent plants that are grown for their foliage, flaming Katy is chosen for its beautiful, long-lasting lovely flowers. These pretty succulents come in several colors depending on the plant species and variety. Kalanchoe Blossfeldiana's s dark green leaves have scalloped edges, with flowers having four petals in most varieties. In bloom, the colors of the flowers range from white to orange to bright red. The flowers are long-lasting and tend to open gradually so that you can have a display of color for many days on end, depending on if indoors or outdoors.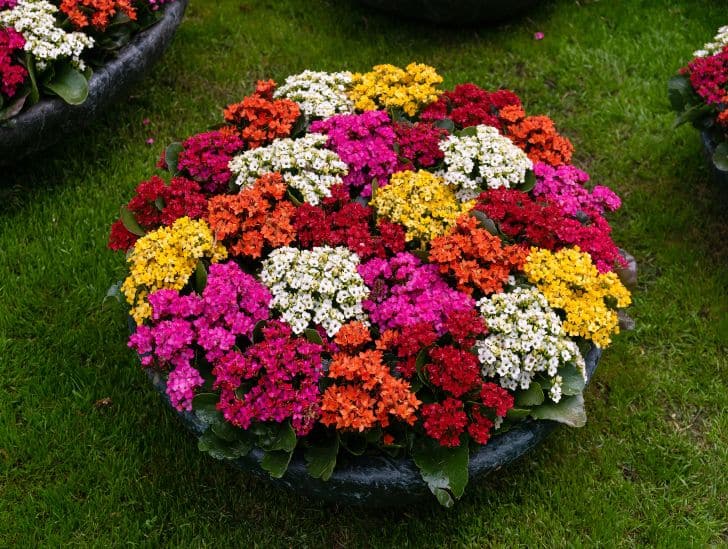 This unique plant blooms for 2 to 6 months, whether indoors or outdoors. This is because each flaming Katy flower umbel contains many flowers that open one at a time, giving you months of colors. If you like flowers in your home and want to cut on the cost, plant flaming Katy and have the whole collection each day for months!
Growing Kalanchoe Indoor
Kalanchoe is extremely sensitive to freezing or cold climatic conditions. To grow indoors, ensure it is in an area with reasonable temperature, light and water for their growth.
Kalanchoe Indoor Care
Sunlight
Growing kalanchoe indoor is simple but with the right conditions. As an indoor plant, kalanchoe grows in full sun or bright indirect light. Place your kalanchoe in a place where enough natural light from the sun reaches the plant. Put the plant at a well-lit spot to get much-needed exposure to sunlight, preferably near a window.
When placed in a bright sunny window, don't expose it to too much heat from the sun. It causes the leaves to burn. When the plant is kept in low light for a long time, it becomes spindly and looks weak. Maintain medium sunlight.
Lighting
If you prefer to grow kalanchoe indoors, ensure that the plant gets a few hours of complete darkness. Kalanchoe is a short-day plant, which means it blooms, responding to long nights and short days. The long days during the summer season inhibit the formation of the flower buds in the plant.
To bloom during the winters, the plant must have at least 14 hours of continuous darkness every night, thus switching the light off in the room the plant is kept. If not able to switch off the light, keeping it in a closed cabinet helps. Flaming Katy needs to be kept under dark conditions for two months to ensure proper blooming in the next season. During these times, ensure to cut down the water supply for optimal growth.
Temperature
As a house plant, room temperature is ideal for the growth of the Kalanchoe Blossfeldiana. That generally means that if your home is comfortable for you, it is comfortable for the plant. As an indoor plant, it does well in a temperature of between 51 and 59 degrees Fahrenheit, dropping to 45 and 64 degrees F at night.
This drop in temperature at night ensures the flower lasts longer. However, putting the plant next to an open window at night is not good. The plant should not be exposed to below 40 degrees F, as the frost quickly kills the plant.
Watering kalanchoe
Kalanchoe growing indoors is watered differently in different seasons. Give your plant a small amount of water every week during the summer season. In the winter season, water your plants with just a splash of water fortnight. Remember, just like any other succulent, there is no guideline on the frequency of watering as it depends on your location.
Water the plant anytime it shows signs of being thirsty. You can also determine whether to water the plant if the surface of the soil or two inches below the ground dries out. Dip in your finger, and if the mud is not sticky, it's time to water. Overwatering is a big mistake, a strategy to lose your plant for good.
Fertilization
Yes, your kalanchoe needs to be fertilized even when indoor. Apply a good dose of the fertilizer to the plant at least twice a year during the spring and the summer seasons. However, kalanchoe grows well with a small amount of fertilizer as they do not need a lot of nutrition.
The best fertilizer to use for kalanchoe Blossfeldiana is a soluble fertilizer. Only apply after mixing with water. A good dose of fertilizer at the right moment will keep your flaming Katy healthy and bloom for long. Excessive use will burn the plant, so trade carefully.
Growing Kalanchoe Outdoors
Flaming Katy care outdoor is relatively straightforward. Although they are mostly house plants, they can do well in mild or less cold winters. Plants' ability to survive outdoors may vary from species to species, so it is essential to check if the species you want to grow can stay outdoors. If they are well provided with the following conditions correctly, kalanchoe can do well outside.
Outdoor Care for Kalanchoe Plant
Sunlight
How much sun does kalanchoe need outdoors?
Place your flaming Katy in a bright sunny spot. The plant loves short hours of direct sunlight and long hour of indirect sunlight. Avoid areas where the plant will be exposed to intense sunlight, especially at midday.
Kalanchoe plant will do well in a shady place most of the time. When the plant is exposed for too long to direct sunlight, the leaves burn. During the growing seasons, full sunlight during the morning hours will help the plant grow properly. In the morning, the sun does not produce excessive heat.
Temperature
Kalanchoe plant does well in tropical climates native to its origin in Madagascar. They require a warm temperature of about 51 and 59 degrees F to show optimal growth. Plant it in a shady place where it gets enough sunlight when planted outdoors.
Be careful during the nights as the plants are susceptible to cold and frost temperatures and should be protected to prevent frost damage. Moving this plant indoors or to a warmer place is better, especially during the night or cold seasons. To put it correctly, avoid extreme temperatures outside because they negatively affect the plant.
Watering
Like any other succulent, flaming Katy needs low watering even when outdoors. As they lack a proper schedule for watering. Ensure always to maintain slightly moist soil, thus watering when the soil is dry. When watering Kalanchoe, Blossfeldiana does it in the morning to absorb enough water before the sun sets in.
Planting kalanchoe outside does not mean that they need more water. The soak and dry method work best with this plant. Constantly water the plant when the top inches of the soil dry out completely. Overwatering the plant will make the ground soggy. The roots become more susceptible to root rot when roots are submerged for long.
Pest and diseases
Kalanchoe Blossfeldiana grown outside is more susceptible to pests and diseases than when grown inside. These pests include aphids, spider mites nematodes which may attack the plant at any time. When kalanchoe is infested with these insects, it starts showing some signs like a honeydew on leaves, torn leaves, or leaves may begin to fade.
In humid conditions, the plant can suffer from leaf spotting and other fungal diseases due to the water remaining on the leaves. Take care of the plant outside and always be on the lookout for these signs. To avoid damaging the leaves, don't treat an infected plant using non-toxic treatments like neem oil.
Best Soil Type and Pot Size for Kalanchoe
Depending on the available space, you can grow your plant in any size of a container. The plant does well in a terracotta container with some draining holes at the bottom. Whether developing the plant indoor or outdoor, there is no difference in the soil or pot type.
Choose a well-draining cactus soil for growing kalanchoe Blossfeldiana. If it is hard to find this soil, use some sand or perlite added to regular potting soil. This soil is good as it is fast-draining soil. The process applies to both indoor and outdoor plants.
Bottom Line
There is not much difference between planting kalanchoe indoors or outdoors. The minor adjustments that we have talked about are to make your plant give maximum results when blooming and stay healthy. Whether indoor or outdoor, remove the spent flowers to keep the plant tidy. Temperatures, amount of heat and sunlight remain the same, whether planting indoors or outdoors.
Last update on 2023-07-26 / Affiliate links / Images from Amazon Product Advertising API