Growing a Madagascar palm can be quite an adventure. This leafy tropical beauty is not only striking to look at, but it also comes with an interesting story. Its native home is Madagascar, an island off the coast of Africa. It was brought to the United States in the early 1900s as a landscape specimen. Today, the Madagascar palm is one of the most popular palms for indoor gardens because it does not require a lot of sunlight, and it is relatively easy to grow. These plants are not only beautiful but also require well-timed watering to thrive.
So what are the golden rules for watering the Madagascar palm? Never let it dry out completely. Ensure that the roots are always getting enough water. Ensure that all containers have drainage holes so the plant does not sit in water. It is best to water the plant in the morning. Avoid getting the leaves and trunk wet, leading to fungal problems. Use a rain gauge or some other measuring device to track how much water you are giving the plant.
Madagascar palm stands out from your home garden, but how best can you tap this beauty for much longer? It all boils down to proper watering. Here are 10 golden rules that will help you keep your plant healthy and happy.
1. Never let it dry out completely
A Madagascar palm may not need much water, but this doesn't mean you let it dry out completely. Take note that the plant will need water as soon as the soil feels dry to the touch. The best way to tell is to stick your finger in the soil up to your knuckle. If it's wet, don't water it; if it's dry, give it a drink.
2. Make sure that all containers have drainage holes so the plant does not sit in water
Every pot must always have a hole at the bottom for excess water to escape. This prevents your plants from drowning and getting root rot you need to ensure ventilation points on every container.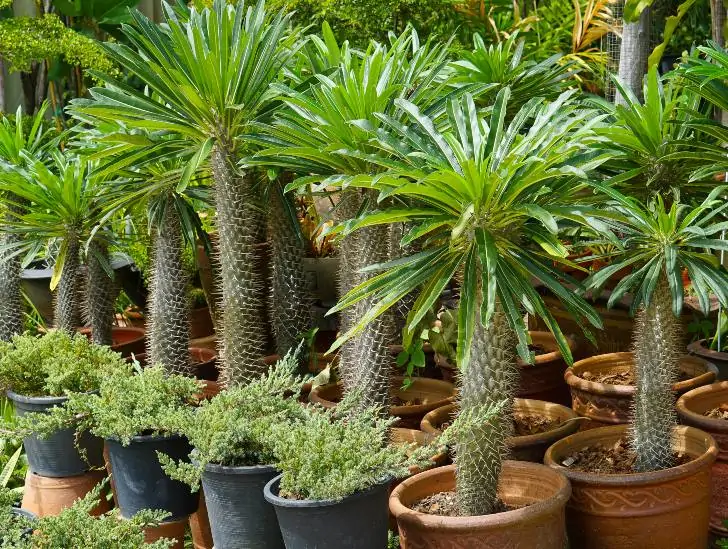 While some containers come complete with drainage holes, others may not. If there isn't a hole, you can always drill one yourself or just use it as an opportunity to up-cycle those old containers that are no longer useful.
3. Water the plant in the morning.
If your daily schedule makes watering difficult for you, water early in the day so moisture can have time to dry up before night falls. This is especially important for plants that are kept outdoors where humidity levels increase at night and the moisture will be trapped inside if you water it later in the day.
Watering your Madagascar palm in the morning also helps prevent fungal problems. While water works as a moisturizer for your plant, it can also harbor fungi that will cause disease if you overwater the plant at night time or when humidity levels are high.
4. Avoid getting leaves and trunk wet.
The bark on the tree looks beautiful but avoid getting this part of the plant wet to prevent any fungal problems. Water the leaves and the soil instead. Not only will this help keep your plant healthy, but it will also make sure that it stays attractive.
In case you accidentally get these areas wet, dry them off as soon as possible. A soft cloth or a paper towel will do the trick. You can also use a hair dryer to speed up the process.
5. Monitor the amount of water you are giving your plant
It's important to be mindful of how much water you're giving your plant so that it doesn't get too much or too little. There is no point in wasting time guessing if your plants need watering or not. Instead, invest on a simple tool that will help you measure exactly how many cups of water
For the cause, you can use a rain gauge, a moisture meter, or a simple measuring device like a ruler or cup to measure how much water you're giving your plant. Use the same tool every time so that over time, you will be able to monitor exactly how much water is getting into your pot and know if it needs more or less.
Alternatively, you can also opt for automated watering systems that are convenient to use and save you time and effort.
6. Watering deeply and less often is better than watering a little bit every day
This helps prevent the soil from becoming saturated and allows air pockets to form, which helps with drainage. When you do water, give it enough to wet the entire root system. If you're using a rain gauge or something similar, make sure that the plant gets an inch of water at least every time you water it.
7. Be careful not to over-water your plant
When caring for your Madagascar palm, you may be tempted to water it more often, especially if you're living in a place with high humidity levels. However, over-watering can be just as harmful to your plant as not watering it enough. The best way to avoid this is to wait until the soil feels dry before watering and stick to the recommended amount of water given above. For better results, water your plants once a week.
8. Watering often encourages shallow root systems
Shallow roots cause the plant to be more susceptible to strong winds, making it easier for them to break off and causing other problems like rot in moist soil. It's best if you can encourage deep rooting by avoiding frequent watering.
9. Water at the base of the plant
Watering at the base helps get the water to where it is needed most-the roots. If you're using a watering can make sure that you are spraying the water directly onto the soil and not on the leaves. You can also pour some water into the potting mix before watering to help wet everything evenly. While at it, ensure the water spreads all around the pot and not just at the base.
10. Watering your Madagascar palm in a container is different from watering plants in the ground
It is worth noting that watering a potted Madagascar palm is different from watering plants in the ground. You will need to keep an eye on how much water you're giving it and adjust your schedule accordingly. Notably, watering containers require more attention than those planted directly into the soil. This means that if you grow Madagascar palms inside, there's a higher chance of overwatering since these pots can't drain the water.
11. Fertilize the plant every other month with a balanced palm fertilizer
Your watering a fertilizing regime should be adjusted according to the plant's needs. Planting within a container requires additional care and attention to detail which you will need to follow if you want your Madagascar palm tree to thrive. With this in mind, make sure that you pay close attention when watering and fertilizing it so as not to cause any damage or other problems for your plant down the line.
Fertilizing your palm helps it grow healthy and strong. A balanced palm fertilizer has the right mix of nitrogen, phosphorous, and potassium essential for plant growth. Be careful not to use a too strong fertilizer as this can damage the plant. Follow the instructions on the package carefully and stop fertilizing if you see any signs of distress or leaf yellowing.
Signs of overwatering in a Madagascar palm
Overwatering is a common problem with Madagascar palms and can cause several issues. Some of the most obvious signs that you're overwatering your plant include:
· The soil around it becomes wet for more than two days in a row
· Brown, scorched leaves at their base or tips
· Fungal infections on the roots cause the plant to rot
· Wilting even when the soil is moist
If you notice any of these signs, it's time to cut back on the watering and take a closer look at your care routine. It may also be necessary to repot the palm if the potting mix has become too wet. Other notable remedies for overwatering include increasing air circulation around the plant and reducing humidity levels.
Conclusion
Watering a Madagascar palm correctly requires more than just following a set schedule. There are several things to consider, such as the plant's location (in- or outdoor), potting mix, and fertilizer schedule. With a little bit of attention, you can help your palm thrive and look beautiful for years to come. With these guidelines, you are in a better position to water your palm the right way and avoid any common problems.
Last update on 2023-07-26 / Affiliate links / Images from Amazon Product Advertising API