A significant number of people start out with cacti plants as a gift plant and usually don't think about propagation in the early days. However, as it grows and starts to blossom, many of them quickly turn into collectors, and questions such as "how do I propagate my cactus?" begin to rise. Fortunately, there are several ways of propagating cactus.
So, how to propagate cactus pups? Generally, this is one of the easiest methods of propagating cacti since it doesn't involve a lot of things. Pups are smaller versions of the parent plant that tend to grow at the base. The process involves removing the offsets from the parent, rooting them in appropriate potting mix and watering appropriately.
Propagating cacti pups not only produces new plants but also plays a critical role in decongesting crowded pots.
Read on to find out everything you need to know about cactus propagation from pups and how to take care of newly propagated offsets.
Propagating Cactus from Pups- A Quick Overview
Propagating cactus by pups is a vegetative form of plant propagation because it doesn't involve transfer of seeds. The parent plant produces an offset asexually, and this is what you use to get a new plant.
The pup occurs as a small clump that you can easily separate from the parent plant and grow a new cactus from it. This is probably the easiest method of propagating cacti. Most of the time, it is relatively easy to separate the pup from the parent plant, and it will grow its roots and settle pretty quickly and often successfully.
In most cases, the pups will already have a small set of their own roots. Unfortunately, not all cacti species can produce pups. Therefore, before you start considering this propagation method, make sure the cactus species in your garden can produce offsets.
Types of cacti that grow pups/offsets
Many of the barrel and rosette types of cacti do produce offsets. Typically, the big barrel cacti form the biggest pups, and it is one of the best types of succulents to propagate using this method. The barrel cactus has a unique way of providing nutrients and water to its offsets and shading them from the harsh sun.
Most pups form at the base of the plant, but you may also find some along the stem or even on the pads. You can remove any of these offsets and root them in a container so they can grow into a new plant.
Cactus propagation by offsets/pups is easy and fast as long as you take clean cuts and allow the offsets to callous before rooting.
Generally, cacti plants you should consider propagating with pups must be large, round, and clump producing. The parent plant must be large, and the offsets must be at least the size of a small ball.
How to Propagate Cacti Using Pups- The Process
Once you are fully convinced your plant has good offsets/pups for propagation, follow the steps outlined below to turn your pups into new plants.
Removing cactus pups from the parent plant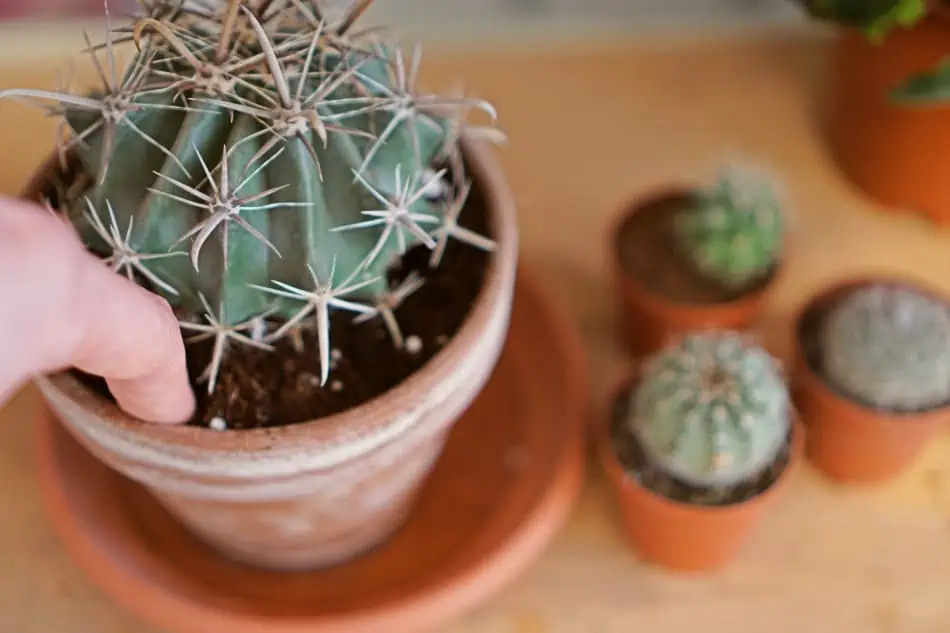 The first thing you need to learn is how to remove the offsets from the parent plant. Get a sharp kitchen knife and wipe it with some alcohol or a 10% bleach solution. This will disinfect it and prevent pathogens from finding their way into your cactus through the cut areas.
Locate a good pup and carefully cut it away at a 45o angle. Make sure your cut is slanted to deflect water so that the cut area doesn't rot before it callus. Some gardeners love to dust the cut end of the pup with sulfur powder to prevent rot issues and fungal infection.
However, sulfur powder may not be necessary as long as you allow the cut end to callus fully before rooting. This may take a few weeks or one month, depending on the conditions in your home. You will know that the offset is ready for rooting when the cut end is dry, hardened, slightly shriveled, and whitish.
When obtaining the offset, make sure you remove soil from the top of the pup to see the joint between the parent plant and the offset. If the joint is clear, you may realize that disconnecting the pup manually is much easier.
If there is any part of the parent plant on the offset, be sure to cut it off. Otherwise, it will start to rot, and that may affect your pup severely.
Rooting the pup
After obtaining the pup, the next thing you need to do is root it. This step is only necessary if your pup doesn't have any roots. To root your pup, consider placing it in a dry soil with some gravel for a few days or up to one week. Monitor it carefully and get it out as soon as it grows a few roots.
You can also place the offset in a small pot with sand, ground charcoal, and some perlite for it to grow roots. Skip this step with all pups that have small roots.
Growing the offset
Once your pups have developed a few roots, it is time to pot them. Start by preparing the container and the potting mix for your offsets. Make sure the container has plenty of drainage holes and is of the right size. Cactus pups need a pot that is just slightly larger than their diameter at the base.
The soil should also have good drainage and gritty. You can purchase commercial soil or make your own by combining 50% perlite or pumice with 50% compost or peat.
Carefully place your pup in the soil, but do not push inside the potting mix too much. Only ¼ of the pup's stem should be under the soil. Ensure your pup is stable enough so that it doesn't fall over. Place the pot in a spot that receives bright but indirect sunlight and keep the soil moist.
However, do not water your offsets straight after planting. Wait for at least five days or one week before watering. This minimizes the chances of root rotting and fungal infections.
Another critical point to note is that some cacti plants tend to produce tiny pups beneath their stems. These offsets are often too small because they get less sunlight.
After separating such pups from the parent plant, dry them up for a couple of days before planting. After planting, leave them in the shade for a few days before you gradually move them to a bright spot.
What Kind of Potting Mix Should You Use for Pups?
The most crucial consideration when it comes to choosing cactus soil is drainage. Cacti plants love well-draining soil that doesn't hold water for too long. If you are a beginner, we'd recommend going for a commercially prepared cactus soil.
However, if you are an experienced gardener, then you probably know how to make your own potting mix. Here are a few tips for success:
Dampen the potting mix thoroughly, but do not get it too soggy. Remember the fact that wetter soil encourages rapid fungal growth and root rot. Before introducing your pups into the soil, consider dipping them in a rooting powder containing a fungicide.
If you want to avoid the moisture problem completely, consider using pumice to start your pups and then transplant them to their permanent containers after they get some growth.
Keep your pups in a relatively warm area with plenty of bright, indirect sunlight and excellent air circulation. Give the offsets a little misting once in a while but do not water them heavily.
To achieve better results, just set the offsets on top of the soil. There is no need to bury them deep into the soil. As long as they are stable, they will automatically send out roots in search of soil.
How Often Should You Fertilize Propagated Pups
For a start, there is no need to fertilize your pups. Moderate watering and exposure to a sufficient amount of sunlight should do the trick. However, as the pups start to grow into plants, you should begin to apply fertilizer at least once in a year.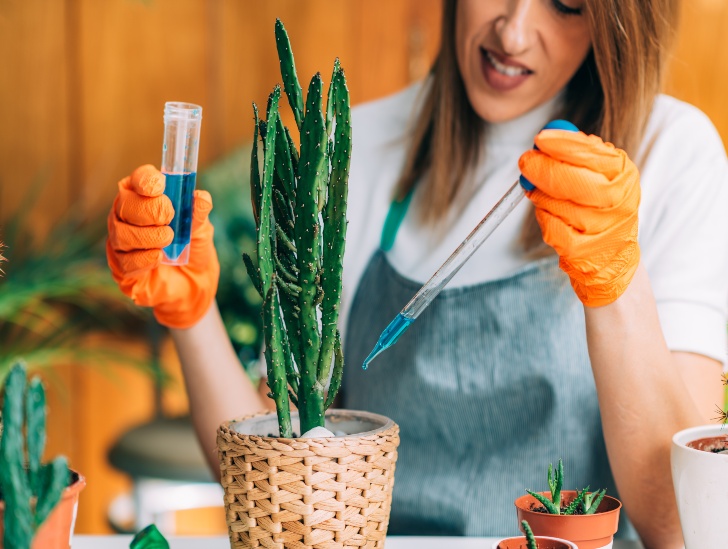 Do not apply fertilizer during winter because your cactus is dormant. Wait until spring or summer when the active growing season begins and give your plant a good dose of recommended fertilizer to promote growth and blooming. Consult experts from your local plant nursery to establish the best type of fertilizer for your plant.
PS: After you give your cactus plant water that contains fertilizer, make sure you rinse the plant body. Otherwise, if you leave any fertilizer on the skin of the plant, there is an increased risk of the plant being sunburned or burned by the chemical itself.
Summary
That is it on how to propagate cacti from pups/offsets. Keep in mind that this is probably the easiest way to propagate cacti, and you shouldn't experience any problems if you stick to the procedure outlined in this article.
The best time to propagate pups is late spring or early summer. Just make sure your pups dry up completely before planting.
If you have any comments or questions, let us know in the comments section below.
Last update on 2023-07-26 / Affiliate links / Images from Amazon Product Advertising API