Aloe vera plants are quirky-looking succulents that every gardener should try. These plants are particularly great for beginners since they can survive and thrive with minimum maintenance. They also play a critical role in cleaning the air and have highly regarded medicinal properties.
Furthermore, propagating these succulents is super easy. With a little bit of patience, you can quickly turn one plant into a huge collection to give to your guests, friends, and family members as gifts.
So, how do you propagate aloe vera? Propagating an aloe vera plant can be from leaf cuttings, germinating seeds, or suckers commonly referred to as pups. The easiest propagation method with the highest success rate is propagating from suckers. If you try to propagate an aloe vera plant from a cutting placed in water, the cutting may rot before it roots. Similarly, chances of cutting rooting successfully in the potting mix are still slim. Growing the plant from a seed takes a lot of time.
This blog post discusses everything you need to know about propagating aloe vera plants and how to take care of your newly propagated plants. Read on to find out everything you need to know.
A Brief Overview of the Aloe Vera Plant
Before discussing the different propagation techniques, let us find some background information about this incredible succulent. Aloe vera plant has traditionally been used as a great source of herbal medicine.
The plant is currently attracting significant interest globally due to its bioactive chemicals extracted from the leaves.
These chemicals are used in industrial preparations for food, cosmetic, and pharmaceutical products. Its leaf mesophyll, referred to as aloe gel, is also subject to industrial processing to produce derivatives.
Aloe vera is native to tropical and sub-tropical parts of Africa, but it also does well in the relatively warm climates of Europe, America, and Asia.
Aloe Vera Plant Propagation Techniques
As mentioned earlier, aloe vera plants can be propagated in three ways; propagation from suckers, leaf cuttings, or germinating seed. Let us find out how to perform each one of them.
1. How to Propagate Aloe Vera Using Pups
Propagation using pups is the easiest and most common way to propagate an aloe vera plant. As an aloe plant matures, it starts to produce offsets or offshoots referred to as pups. These offshoots usually depend on the mother plant for water and other nutrients until it develops its own root system.
The result is a single-parent aloe vera plant growing outwards into a beautiful clump of many connected plants, each with its own fully functional root system.
Aloe plants usually don't produce pups until they are a few years old. Generally, the older and healthier your plant is, the better it will produce health offshoots.
To encourage your plant to produce pups, consider providing it with plenty of sunlight. You should also feed it with some succulent fertilizer during spring or early summer.
To propagate an aloe plant from pups, you simply have to divide the plant. The division can be done at any time of the year but yields better results during spring or early summer.
The Process
Before you start the process of division and potting, make sure you have the following supplies:
At least one healthy aloe vera plant with plenty of pups.
A sharp, clean knife to cut with.
Well draining succulent soil, preferably a succulent blend.
A pot or container with drainage holes.
A rooting hormone.
A trowel.
Carefully search for pups around the aloe vera plant. In most cases, they will be on the stem, while some will be hiding at the base of the parent plant. Sometimes, they may be obscured by the large leaves of the mother plant.
Take the entire plant, including pups, out of the pot and brush off as much soil as possible. If you had planted it in your home garden, use a trowel to carefully loosen the potting mix and unearth the entire plant along with the pups.
Now untangle the pups from the mother plant and if needed, use a sharp knife to cut them free. Once you have separated them from the mother plant, carefully examine them for any signs of root damage. Get rid of any unhealthy or rotten options while keeping as much of the roots as possible.
Take all pups with minimal root damage and dip the root end into a rooting hormone solution to boost new root development. The primary purpose of the rooting hormone is to help with root development.
Now repot the pups in a new, well-draining potting mix. Don't pack down the soil tightly because the roots require some breathing space.
Put the mother plant back in the growing pot and keep it dry for a few days before watering. You can also use this opportunity to upgrade your pot to a relatively larger one.
Watering Baby Pups
Newly propagated aloe vera pups need to be watered a little bit more to help them root efficiently. However, you need to be careful not to overwater them because they can grow rot.
Ensure you only water the pups when the soil is completely dry. Depending on the temperature, light conditions, and soil properties, you may water your newly propagated pups anywhere from once a week to once every three weeks.
The biggest trick you need to know is to water when the soil is completely dry. If you overwater, your young plant may start turning white, brown, or shriveling. All these are signs of root rot.
2. Propagating from Leaf Cuttings
While some people have had success propagating aloe plants from leaves, you need to know that a leaf may fail to form roots. Therefore, your chances of succeeding with this propagation method are relatively slim.
Aloe leaves have a lot of moisture, and most of them will rot before they root. You can increase your chances of succeeding by going with stem cutting instead of leaf-cutting.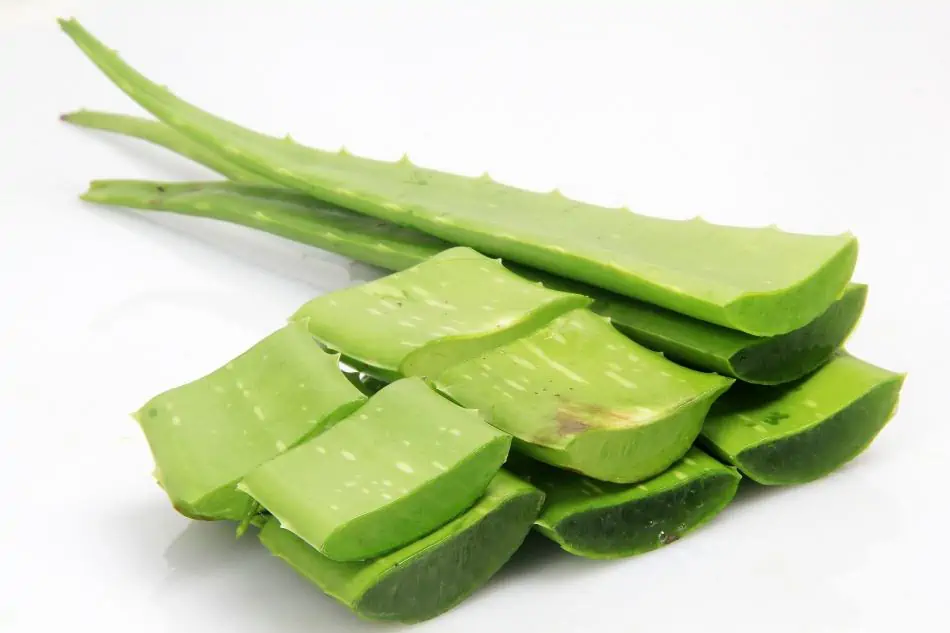 Find a healthy leaf at least eight centimeters long and cut it at the base using a sharp knife. Try to cut it at a downward angle towards the main plant stem.
Place the leaf in a relatively warm place and give it some time for the cut part to callous. This can take a few days to one week. Callousing will protect the wound when you finally root the cutting.
Once the cutting has been calloused, find a pot with plenty of drainage holes at the bottom. Although aloe plants love water, they don't like sitting in it. So, you should only aim to soak the soil and let all the excess water drain away.
Now fill your pot with an excellent succulent potting mix and dampen it with water. If you don't have any good soil at hand, you can learn how to make your own soil here. The pH level of the soil should be between 6.0 and 8.0.
Carefully stick the cut side of the leaf into the soil. Ensure approximately one-third of your leaf is in the soil. You should also consider dipping the cut end into some rooting hormone first. If you don't have a rooting hormone, dip it in honey or cinnamon.
3. Propagating Aloe Vera from Seed
If you have been growing aloe vera plants for a while, you might have noticed some varieties that flower pretty abundantly. Typically, a well-cared aloe plant can produce dozens of flowers that put on a spectacular show.
If you are growing your aloe plants outdoors and they flower, the flowers can be pollinated to produce seeds. You will see the seeds once the flowers have faded.
While propagating aloe plants from seeds is a lengthy process, it can be a fun project if you want to try something different.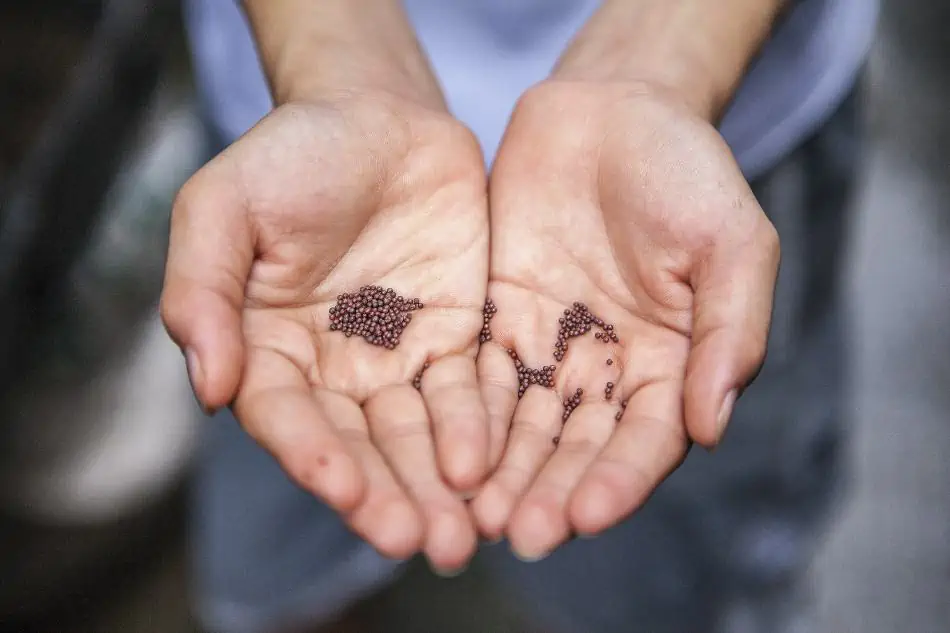 Crack the seed pods to reveal the tiny black seeds. Typically, your plant must be a few years old to produce quality seeds. Now fill your growing pot with a good potting mix and spread the seeds on top of the soil. Cover the seeds with a thin layer of potting mix.
Dampen the soil with water and position the pots in a light place without direct sunlight. The spot should also be relatively warm.
Moisten the soil daily and be patient. Sometimes, it can take several months for the seeds to start germinating. Once the seeds germinate and young aloe plants sprout out of the soil, you can switch to a normal watering schedule.
Should You Propagate Aloe Plants in Water or Soil?
Generally, aloe plants should be propagated in soil. This way, they can root faster and stand a good chance of avoiding root rot. However, if you love the general look of your indoor plants in glasses and vases, you are free to pop your aloe offshoots into one.
They can still do well when propagated in water as long as only the exposed stem is submerged. You can choose to leave the plant in the vase or glass indefinitely or transfer it into a growing container once you feel like it is the right time to do so.
How Do I Take Care of Newly Propagated Aloe Vera Plant?
Now that you have successfully propagated your aloe vera, providing the young plant with proper care is crucial to ensure it thrives.
Select a pot with good drainage when transplanting your newly propagated aloe vera. Aloe vera prefers soil that is well-draining to prevent waterlogged roots. Use a cactus or succulent-specific potting mix or create one by combining regular potting soil with sand or perlite to improve drainage.
Place the young aloe vera in a spot with bright, indirect sunlight. Aloe vera loves sunlight but can get sunburned if exposed to intense, direct sunlight for extended periods. A sunny windowsill or a well-lit room should be ideal.
Always allow the soil to dry out completely before watering your young plant. Overwatering is one of the most common mistakes in aloe care that can lead to irreversible root rot. Water your plant sparingly, once every two or three weeks.
Reduce watering frequency further during winter because the plant goes into a semi-dormant state.
Keep the temperatures between 60°F to 80°F (15°C to 27°C) and avoid exposing your young plant to temperatures below 40°F (4°C) since it is susceptible to frost damage.
Although Aloe vera is generally resistant to pests, it's essential to watch out for common pests such as mealybugs and spider mites. If you notice any infestations, isolate the plant promptly and treat it with insecticidal soap or neem oil.
When Is the Best Time to Propagate Aloe Vera?
Aloe vera can be propagated anytime, but some seasons are better suited than others. Generally, the best time to propagate your aloe vera is during spring or summer when the plant has enough energy to concentrate on rooting a viable offshoot.
Therefore, should you wish to have high success rates with your aloe propagation project, aim to do it during the warm months.
Although you can still propagate the plant during winter, bear in mind that the cold temperatures might slow its growth and even cause frost damage if exposed to extremely low temperatures.
Final Thought
That is it about propagating aloe vera plants. We hope you found this blog post informational and you are now ready to start expanding your aloe vera plant collection without spending money.
No matter your gardening experience, feel free to try out the different propagation methods outlined above and watch these succulents fill your home in a few months.
Last update on 2023-12-11 / Affiliate links / Images from Amazon Product Advertising API