If you are like many gardeners out there, then a Christmas cactus must be one of your favorite plants. The lovely flowering cactus is one of the few cacti species that originate from the forest. While this is an attractive plant to have all year, its real magic is displayed when it starts to bloom. Unfortunately, getting your Christmas cactus to bloom when you want it can be quite a challenging task unless you know how to do it right.
So, how can you make a Christmas cactus bloom? Well, the secret to getting your Christmas cactus to bloom is providing it with the right temperatures and amount of light. Christmas cacti tend to flower in a cold and relatively dark environment. To initiate the production of flower buds, make sure you expose it to at least 16 hours of darkness and eight hours of light for at least six weeks. With the right conditions, it can take up to 12 weeks for the first blooms to appear.
In this simple guide, we walk you through the simple steps you need to take to ensure you receive the best show from your Christmas cactus. The information contained here may also apply to other types of cacti as long as you tweak the schedule to accommodate for the different flowering seasons.
The Christmas Cactus: A Quick Overview of the Plant
Schlumbergera bridgessii, commonly referred to as Christmas cactus, is a type of succulent that originates from the tropical rainforest of Brazil. Some people love to call it the crab cactus thanks to its leaf-shaped stem segments that feature curved pointed teeth along the edges. The Easter cactus is closely related to the Christmas cactus, but it has rounded edges on its leaf segments.
Christmas cactus is usually classified as epiphyte because it thrives above the ground in areas where tree branches meet and decomposing fallen leaves collect. Even though this plant bears the name of a cactus, the care it needs has nothing to do with the typical desert cactus. To be more specific, this plant is classified as forest cactus.
The plant grows well when it is pot bound and prefers a rich and organic potting mix. Never allow the potting mix to dry out if you want to keep it alive. Also, once you notice that it is growing bigger and bigger, you should plan how to move it up to a larger container.
Christmas cacti do well in bright, indirect light. Avoid exposing it to direct sunlight because the intense heat can easily cause sunburn to its leaf segments.
How to Get Your Christmas Cactus to Bloom
The trick to getting your Christmas cactus to bloom boils down to three critical things: light, temperature, and water. Typically, the bloom season for this plant comes during fall- in the last days of October and the early days of November. This information will help you understand when you should start preparing your plant for the blooming season.
Here are the three critical points you need to be aware of if you want to make your Christmas cactus bloom:
Reduce Watering
To encourage blooms to form, you need to start limiting the amount of water your plant receives. The only thing you need to do is to keep the topsoil moist, not waterlogged. Water the topmost layer of your potting mix, which is approximately one inch only when it is necessary.
Keep in mind that too much water may cause the buds to fall. You should only water the plant when the topmost soil layer (about one inch or 2.5cm) is completely dry to touch. Minimal watering will encourage the plant to enter dormancy, which is a critical stage for getting your plant to bloom.
Feed Your Cactus
Although Christmas cactus is known to survive without fertilizer, feeding your plant with slow-release or liquid fertilizer will help promote flowering. Preferably, feed your plant every two weeks from mid-summer until it stops blooming.
Use organic liquid fertilizer to ensure that the Christmas cactus takes in all the essential nutrients for healthy growth and bloom production.
Compost tea and fish emulsion are some of the best options for indoor plants like Christmas cacti.
Alternatively, use a slow-release fertilizer during the blooming season. Be sure to follow the instructions given on the packet when feeding your plant and read the labels carefully. Do not overfeed your cactus plant because it will affect its growth.
Provide Enough Lighting and Darkness
Apart from watering, you will need to ensure that your plant receives the right amount of light and darkness. To bloom, your plant requires between 12 to 14 hours of uninterrupted darkness for at least eight weeks.
This period should start from mid-September to the end of October or early November. Exposing it to some indirect bright sunlight during the day is okay, but you have to ensure that it receives at least 12 hours of absolute darkness at night.
After this period of exposing it to intense darkness, it will take approximately six weeks for you to start seeing the flower buds. If you are growing your Christmas cactus indoors, do not turn on the lights at night even for a second because it breaks the dark cycle required.
Cool Temperature
Limiting watering and placing your cactus in a dark room isn't all that is needed to make it bloom. You also need to keep the surrounding environment as cool as possible. Typically, you should work towards keeping the temperature to an average of about 50-55 degrees F.
This should happen every night from mid-September to the end of October. Therefore, it is critical to ensure that the location where you have stored your plant provides both the right light and temperature requirements.
Avoid Pruning Your Cactus
Pruning or trimming your Christmas cactus is not recommended since it will leave the plant in a weak state which won't be able to produce blooms.
Even if you want to remove some dead parts from the stems, do so very carefully and only when necessary.
The best time to prune your Christmas cactus is after it has bloomed. This way, the plant will have enough time to recover and adjust from the pruning process before it slides into winter dormancy.
Be careful not to damage the flowers while trimming or shaping your Christmas cactus. If you do, it will reduce its bloom production and, in some cases, prevent them from showing up.
Taking Care of the Flowers on Your Christmas Cacti
If you do everything right, you can be sure to experience a magnificent floral show. But how do you take care of the flowers to enjoy the show for as long as possible? The first thing you need to do is to ensure your plant continues to receive prolonged hours of darkness and cold temperatures for between six to eight weeks.
You should also consider relocating your plant to a relatively sunny and draft-free spot. However, protect it from direct sunlight as much as possible since intense heat may cause some of the flowers to start falling off.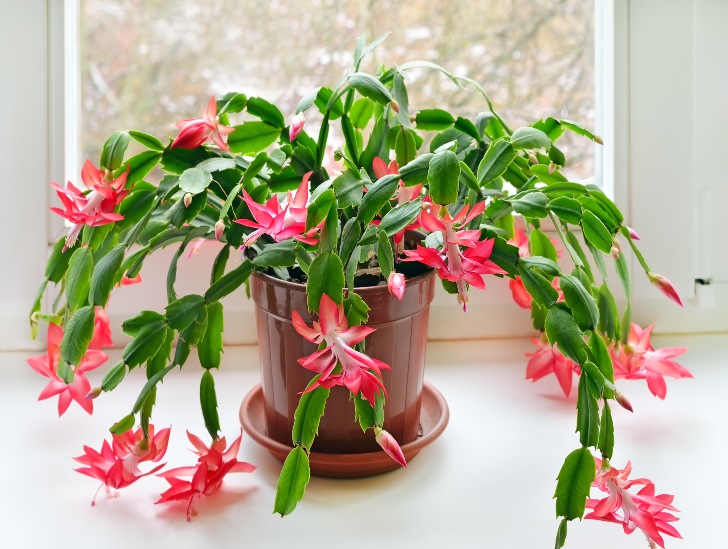 Exposing the plant to brighter, indirect sunlight will encourage it to produce more flowers. Christmas cactus will also bloom better when it is pot-bound.
While watering may be slightly increased during the blooming period, the amount will vary depending on your plant's current light conditions, humidity levels, and temperature.
The good news is that when you force a Christmas cactus to bloom by providing it with the right conditions and proper care, it may surprise you by blooming several times in a year.
Can a Christmas Cactus Bloom More Than Once in a Year?
Yes. Unlike other types of cacti species, a Christmas cactus can put on the floral display more than once a year if you provide it with proper growth and blooming conditions. For instance, positioning your plant on an east-facing window that receives abundant sunlight during the day and at least 12 hours of darkness every night can make your plant bloom again.
In essence, we are looking at the right balance between light, darkness, warmth, and coldness. The cold evening temperatures may encourage your plant to flower again, even when you least expected it.
Make sure your Christmas cactus plant receives the right amount of darkness and cool temperatures in fall so that it can bloom again in winter. While it blooms, continue to provide the right conditions as it takes long before you can start to see new flower buds sprout.
Why Won't My Christmas Cactus Bloom?
The holiday season is here, and you have put in place the right measures to ensure you enjoy the most beautiful floral display of the season. But what happens if your Christmas cactus doesn't bloom? What might be the problem?
Here are some of the common reasons why your Christmas cactus isn't blooming.
Overwatering
The sad truth is that most of us love to pamper our plants during the summer. While your Christmas cactus may love a drink or two every week throughout summer, it can still survive with less.
It might sound strange, but the truth is that these plants usually need a period of almost-drought to signal it to start preparing for winter blooming. So, if you are a lazy waterier, you might just be helping your plant to bloom.
It is getting too much light
Staring mid-September until the end of October, your Christmas cactus requires at least 12 hours of uninterrupted darkness to bloom. Unfortunately, artificial lights in your house can easily interrupt the cycle of darkness. The easiest way to solve this problem is to relocate your plants to a room that is not often used.
It is too warm
Christmas cacti will need a significant drop in temperature to signal the plant to start preparing for the blooming season. If you have positioned your plant on a south-facing window, which is the warmest spot in your house, try moving it to a north-facing window or near the door.
The stream of cool air that hits the plant when the door is being opened or shut should signal it to start preparing for the blooming season.
It's malnourished
Your plant may not bloom because it is malnourished or has been given excess fertilizer.
Be sure to feed your Christmas cactus with the right amount of liquid-based nutrients every two weeks during the growing season and reduce fertilizer levels once flowering starts.
You can also consider repotting your Christmas cactus into a new soil mix. Usually, these succulents prefer to stay in their pots for several years, and they may even bloom biannually.
How Long Do Christmas Cactus Flowers Last?
The flowers on a Christmas cactus have an average lifespan of about two to three weeks, depending on how well you take care of your plant.
Generally, when the flower buds are still in their tight bud stage, they last for up to two weeks before finally blooming. Once they bloom and open fully, they'll stay around for another week before they start to wilt.
When the flowers fade, cut them off to maintain an aesthetically pleasing look on your Christmas cactus.
This will also make the plant focus its energy on other buds that have yet to open up so that it can produce a second round of blooms until the end of winter.
Final Thoughts
Christmas cacti are prolific bloomers that can put on an unbelievable flora display as long as the conditions are right. The flowers form at the end of the leaves, and each flower can last for up to one week.
The best way to make your Christmas cactus bloom is by reducing watering, exposure to light, and keeping it in a relatively cooler spot. The flowering period of these plants can last for up to six weeks and occurs around the Christmas period.
Do you have a Christmas cactus plant and have mastered the art of getting it to bloom? We would love to hear your experience in the comment section below.

Last update on 2023-07-26 / Affiliate links / Images from Amazon Product Advertising API