Cacti are beautiful plants that make great additions to any home. However, they can be susceptible to various fungal infections that may kill them or significantly reduce their growth.
While most people know how important it is to water cactus properly and keep the plant from getting too much sun, sometimes these steps aren't enough to prevent an infection. You also need to be aware of the signs that indicate a fungal infection, such as black spots, discoloration, decay, etc.
You should also know how to get rid of the cactus fungus if you discover it, such as transplanting and removing the infected parts. In extreme cases, you may need to use fungicides to get rid of fungi from your plants, and you should know the right type to use.
This article provides all the information you need about safe and effective ways for dealing with fungus on your cactus. It starts by explaining how to identify these fungi before you proceed to get rid of them. Let's get started!
Cacti Fungus Symptoms
Before you learn how to eliminate fungi from your cacti, it's important to be familiar with a few of them first. Knowing how these cacti look will help you get rid of them before they cause severe damage to your precious plants. Here are some common fungi infections and how they look.
Stem Rot
One of the more common fungal infections is corky stem rot, which most often infects prickly pears. This particular fungal infection produces dry, light-colored patches on the plant's stem, which expand in time. These sections look discolored and may eventually cave in.
Black Rot
This fungal infection is a type of canker disease that affects many different cacti species, including barrel-shaped cactus varieties. This fungal infection makes it difficult for the plant to grow any higher, which is why it's called black rot. It causes large sections of cactus skin to become eroded and look coated in a black substance.
Soft Rot
Soft rot is a fungal infection that affects the area of the cactus between its spines. It often starts as a small, white spot that quickly spreads into an extensive area of decay. The infected flesh eventually turns brown and crumbles away to expose the main part of the plant underneath.
Cotton Root Rot
This kind of fungal infection affects the cacti's roots. It usually appears as a thin layer of mold growing on the soil surrounding the plant, and it can eventually spread to infect other parts of the plant if left untreated for too long. If your cactus has a cotton root rot infection, you'll notice its new growth is weaker, and the plant's overall health seems to be declining.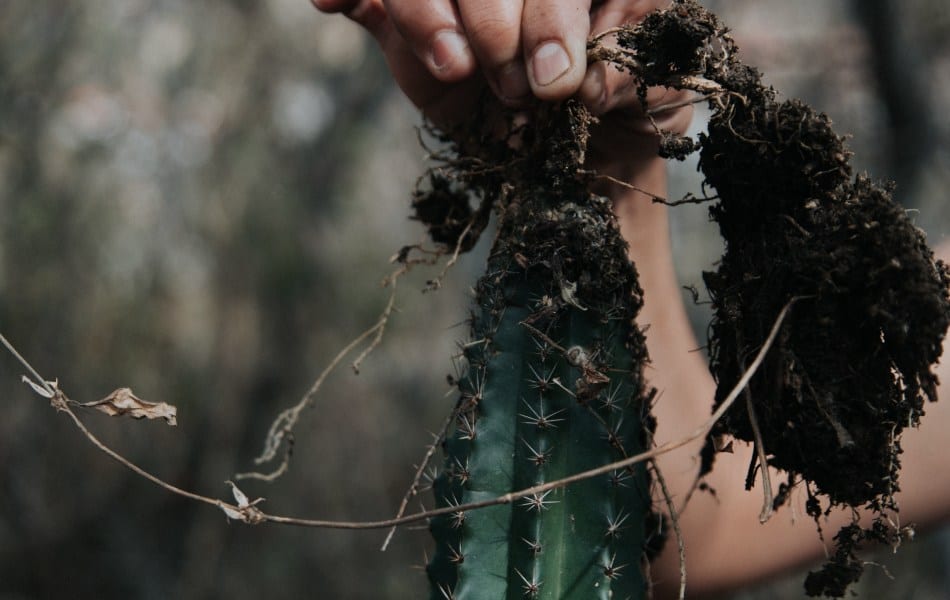 Stem Tip Blight
Another type of cacti fungus is called stem tip blight, which attacks one of the plant's lower sections. It starts by causing damage to the structure of the plant and eventually rots it completely, especially when the infection spreads into other parts of the cactus.
Soil-based Fungi
The last type of fungus is soil-based, affecting different plants, including agave and aloe. They tend to grow in the soil around the plant (and not on its surface). It can be more difficult to notice, especially if you let your plants go unwatered for some time.
The main symptoms of a fungal infection are spots or patches that look discolored and have a slightly sunken appearance. If you see these marks on your cacti, you should carefully inspect the part of the plant they're on to ensure that it isn't just a different type of discoloration. Also, look at any other parts of the cactus to make sure other spots aren't present, which would indicate a fungal infection.
How to Get Rid of Cactus Fungus
As previously mentioned, you may treat cacti fungal infections in different ways. Here are some ways to do so:
Use an Insecticide
If you notice that your cactus has a number of small insects crawling over it, then try spraying the plant with an insecticide to get rid of them. They can also help prevent more pests from infesting your cactus in the future.
Remove the Plant from Its Environment
Fungal infections often appear when the plant's growing conditions aren't ideal. One of the easiest ways to get rid of these types of infections is to change your cactus's environment, so it doesn't suffer from them anymore. For example, if your cactus has developed a fungal infection because you let its soil go dry for too long, then try watering more regularly instead. The same goes for other types of cactus fungus.
Remove the Infected Part
If your plant has a large fungal infection, you might need to get rid of the infected part entirely and be careful not to spread it into other parts of the plant. There are a few different ways to do so, including pruning or sharpening your cactus to remove the discolored area.
You can also use a sharp tool like a knife or razor blade to carefully scrape away the damaged sections of skin and expose the healthy part beneath. This is sometimes enough to get rid of all signs of fungal infection.
Use Fungicides
Fungicides are also a popular way to get rid of the cactus fungus, and there are many available for purchase. One of the most common types of fungicides is the Bordeaux mixture, which you can find at your local gardening store. Apply fungicide directly to the affected areas of your cactus to get rid of the spores and stop them from spreading any further.
Clean Your Pots
You can clean your plant pots specifically to prevent cactus fungus growth. Cleaning the leaves or soil in your pot regularly will help prevent fungal infection or remove small signs of these types of problems already present. This is especially important if you're using a pot designed for cacti since these pots tend to hold onto moisture and could encourage fungal growth.
Avoid Placing the Cactus in Direct Sunlight
Finally, keeping your cactus in direct sunlight can also cause it to develop fungal infections. If you notice the plant beginning to decline in health or its surface is developing discolored or sunken spots, move it. It's a good idea to move your plant into filtered light or shade until the condition clears up.
How to Prevent Fungi Infection
Cactus fungal infections often occur when the cactus is in a state of decline and can no longer fight off pests and pathogens. By taking care of your plant, however, you can avoid this problem.
To keep your cactus healthy, plant it in the correct soil. The soil should be coarse enough to allow good drainage but not compacted either. You should also avoid overwatering your plant.
Spend a few minutes each week or two to inspect the cactus for any signs of pests that are commonly attracted to these plants, like fungus gnats. If you notice any pests, then try removing them manually using an insecticidal soap or a pesticide.
Keep your cactus away from direct sunlight, especially if it's suffering from a fungal infection. The plant will be able to fight off the fungus easier and quicker in more indirect light as opposed to direct sun.
Related Questions
How can I tell if my cactus has fungus growing on it?
If you notice that some plant parts look discolored or sunken in, then it might have a fungal infection. Other signs indicate the presence of fungus gnats, like small black flies flying around your cactus.
Can fungi infections kill my cactus?
The above types of infections can cause irreparable damage to your cactus. However, it should be fine as long as you quickly take care of the problem and don't allow it to spread. Your plant might lose a few leaves or suffer from discolored areas on its surface, though, which would make it look unsightly.
How do I get rid of a fungus gnat infestation?
Try keeping your cactus plant in indirect sunlight and remove any affected soil or potting material the next time you water it. You might save small plants with a fungicide if necessary, but this is unlikely to work on large cacti. If all else fails, you can also try pruning your cactus and removing the affected parts.
How much water should I give my cacti?
Cacti, like other plants, require enough water but don't like to be overwatered. Too much water can cause root rot in larger varieties. You'll need to let the soil dry out slightly before watering it again and avoid watering heavily on the leaves.
Summary
The best way to prevent these types of diseases from harming your cacti is to keep an eye on their overall health. You should be sure that your plants get enough water; they're getting the amount of sunlight they need and that no insects are bothering them. A lot can affect a cactus's health, so maintaining it properly can help prevent fungal infections from developing as well.
Being able to identify different types of cactus fungus can help you get rid of them before they do too much damage and take the plant's health down with them. We hope this article helped you learn how to identify a fungal infection and what you can do to prevent it from spreading.
Last update on 2023-06-04 / Affiliate links / Images from Amazon Product Advertising API