There are two different approaches when planting succulents. One is to purchase the leaves, called pups, from a dependable succulent dealer. You can also propagate your existing collection of succulents following a few simple steps using the succulents already sitting in your window or plant stand.
While the official term is an offset, a succulent pup is a small root that pops out at the base of the succulent mother plant. If you are looking to have more succulents growing each year, it is best to remove pups in the spring. Some succulent plant owners will tell you late summer is best. You do what works best for you and your succulents.
Propagating Your Succulent Pups
Whatever timeframe you choose, there are always correct ways and procedures that may not work out well for you when trying the first attempt to produce new succulents. When propagating succulent pups, follow these thirteen basic steps to get your new succulent to grow correctly.
Keep in mind that your succulent has been tirelessly working year-round, producing pup after pup as it grows. Most pups will be well-formed around the base as the other leaves are still in various growth stages.
Look for pups that are not showing signs of rot or discoloration. You will want to choose fat, well-shaped leaves to remove from the base. Flat leaves or those ripped or torn will ultimately wither and rot during the process.
Before you begin to remove the leaves, there are a few tools you will need to make things easier.
Root Hormone (optional but recommended)
A transfer pot with fresh topsoil mix
It is also a good idea to wash your hands thoroughly before beginning to remove the pups. You will be handling the pups with your fingers to pull them from the mother plant's base. You don't want to take a chance of transferring a bacterial infection to either the succulent or the pup itself.
Removing the Pups of Your Succulent
Now that you have identified the pups you intend to use for propagation; the next step is to remove each one. Hand removal of a pup is a tedious step but crucial one, and it requires patience. Grasp the first pup and gently rock it back and forth.
It is worth mentioning that your first pup may separate from the stem easily, but it is also a strong possibility that it may provide a tenacious grip on the trunk requiring you to work it a bit. Continue rocking the pup back and forth until it finally comes off.
Your goal is to have the entire leaf come off, including the base that attaches to the stem. Without it, the pup is damaged and will not survive the transfer process. Your first attempts may not be as successful, but keep practicing. You will get the hang of it soon.
Let the Succulent Pup Dry
As with all succulent leaves, you need to remember that the leaves are full of moisture. When you pull the pups away, it creates a wet wound at its base where it is connected to the stem. Before your next step, you must let the separation wound dry.
Remember not to place the pups in any area of direct sunlight. They need to remain warm but not warmed by direct sun. Also, depending on the pup's size and moisture content, it may take about two days to two weeks to dry.
You will know when the pup has dried sufficiently by examining the base of the succulent leaf. What you should see is a small scab covering the end. If there are still some pups that have not scabbed over, do not include them in the next step.
If you do, the results will be disappointing as the succulent leaf will rot and die in your potting mix. Considering that you have waited almost two weeks for the drying process to finish, a few more days for the final pups to dry shouldn't be too long to wait.
Growth Hormone For Your Succulent Pups
Using Root starter or growth Hormone makes sense to give your pups a leg up when it comes to establishing a great root system. Dip the scabbed end of the pup into the growth, and then place the scabbed portion into the pot filled with fresh potting mix.
You do not have to bury the scabbed end of the pup in the soil if you don't want to immerse your succulents in the mix immediately. Many gardeners who frequently propagate their succulents often lay them flat on the fresh potting mix.  
If you chose the flat method, you should remember to arrange the pups with enough growth space for when they take root and start growing. While either way will work just as well, these two methods are merely a gardener's preference.
Direct Sunlight and Your New Succulent Pups
During the rooting period, your pups do not need direct sunlight. Direct sunlight at this stage does more harm than good as it will result in drying out the succulent.
Many gardeners on their first succulent propagation attempt, have gone to the window to inspect the progress of their propagation efforts only to discover a bunch of withered and dead leaves. Yes, there will be a time to expose your succulents to sunlight to help them grow, just not at the moment.
Do Not Water Your New Pups Mist Instead
Newly propagated succulents need more water than fully grown succulents, but the last thing you want to do is drown them. You may need to mist once a week in humid environments where the soil stays moist.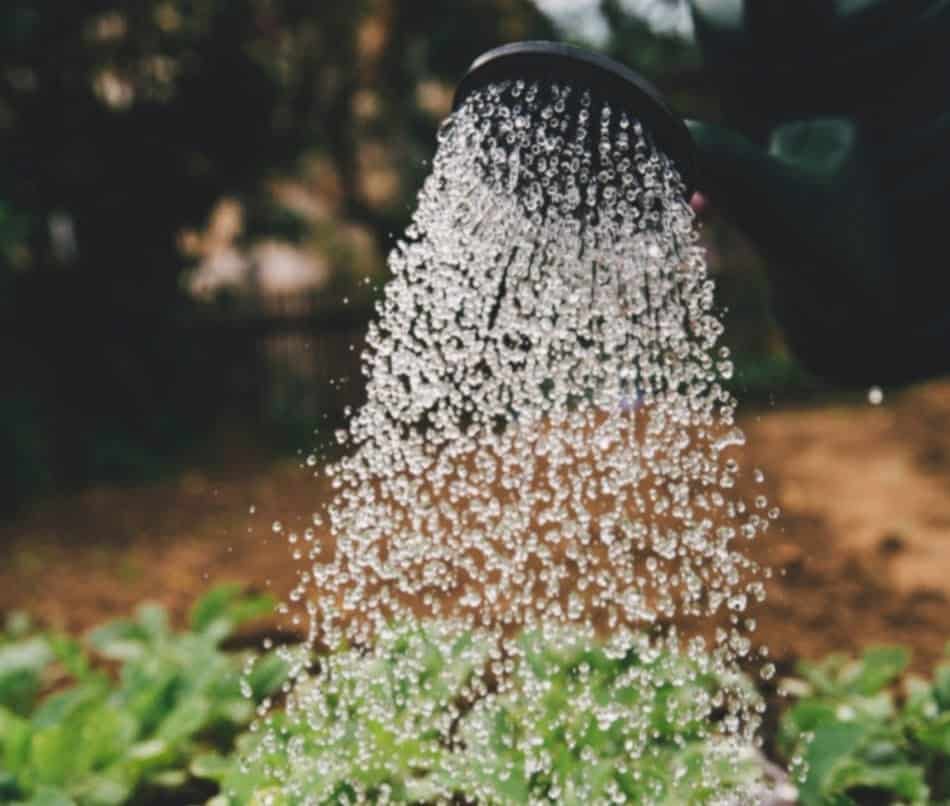 It will help your pups on their journey to mist twice a week when growing in dry climates. Remember to test the soil with a fingertip to determine moisture level before you drag out your mister.
Succulent Pups Over The Next Four Weeks
Over the next four weeks, if you adhere to the basic rules of sunlight and moisture, you should begin to see the products of your efforts. Tiny little root stems will start to show curling from the base of your pup into the soil.
If you propagated your pups using the flat method, you might want to cover the roots with a light dusting of potting mix and continue misting as you have over the last four weeks.
New Succulent Pup Growth
Where there are new roots, there will eventually be a new plant. Continue misting your new plants as the new succulent begins to thrive, and you will notice that the pup used to propagate your succulents has withered and died.
You have a couple of choices at this point. You can leave the original pup where it is until it decomposes entirely, or you can remove it and discard it. Take care if you choose to remove it. You will need to apply the same care with the root system when removing the old pup as you did in the beginning.
Time for a New Propagation Transplant
Your little propagation wonder has now grown into a baby succulent and is producing pups of its own. It is time to transport it to its new home, where it can continue to thrive and multiply.
Hopefully, the final resting place you've chosen does not place your baby succulent in direct sunlight. At this stage of growth, your succulent still needs to stay away from the harsh heat of the sun.
Place Your Succulents in the Sun
As your succulent continues to grow, you can now move it to either your window box or plant stand where the sun filters in and your succulents get direct sunlight.
Continue to water your new succulent as you would all of your other plants until next spring or summer when it becomes time to propagate some more pups. The more you perform the propagation steps every year the more succulents you will have to display with a sense of pride.
Last update on 2023-10-05 / Affiliate links / Images from Amazon Product Advertising API