A string of Pearls, also known as Senecio rowleyanus, is an intriguing houseplant that is easy to propagate and care for. One of the reasons why this plant propagates easily is its relatively shallow and fast-growing root system. In fact, it is one of the few succulents known for propagating themselves. The plant is also popular for its cinnamon-scented flowers that add immense beauty to your indoor spaces. A string of pearls is truly a perfect plant for new gardeners and those who don't have much time to dedicate to plant care.
But, how can you propagate a string of pearls plant? This succulent is mainly propagated through stem cuttings. Regular pruning is one of the best ways of obtaining cuttings that you can propagate into new plants. Once you have acquired healthy stem cuttings, you can root them in soil or water. Rooting in soil requires a specially prepared potting mix with good drainage properties. To propagate in water, you need stem cuttings at least three inches long. Strip off the leaves from the rear end and dip them in a growing container full of distilled water.
This blog post discusses everything you need to know about propagating string of pearls. Read on to learn more about how you can grow your plant collection.
Some Info Before We Begin
A string of pearls is best propagated through stem cuttings. This method is fast, relatively easy, and uses pruned stems. Stem cuttings are also a great way to fix leggy string of pearls plants by propagating new plants from the etiolated stems.
While some people go for the seed germination option, you need to remember that the process can be lengthy, and good results aren't guaranteed. Sometimes, seeds fail to germinate completely.
The best time of the year to propagate a string of pearls plant is during spring or summer. This is the growing season for most succulents because of the warm weather. Any stem cuttings you propagate during this time will have a lot of growing to do before winter dormancy kicks in.
The string of pearls propagation method also works perfectly for string of hearts and string of bananas plants. In fact, these plants can even share the same container during the propagation process.
Another critical thing you need to know is that, unlike other "string" plants, the string of Pearls is highly toxic. If you ingest it by accident, it can cause vomiting, nausea, and skin irritation. Therefore, it is recommended to wear gloves when propagating the plant.
The toxicity effects are worse on dogs and cats. So, don't let your pets anywhere near the plant. Always keep it in a safe room away from your kids and pets.
Propagating String of Pearls through Stem Cuttings
To propagate a string of pearls plant through stem cuttings, you will need the following materials:
A pair of sharp scissors or clippers.
A misting bottle for watering.
Well-draining succulent soil.
A small growing pot with drainage holes.
A mature string of pearls plant with healthy stems.
Rooting hormone.
A glass/cup.
Preparing the Cuttings
Ensure the stem cuttings you take are healthy and at least three inches long. Each pearl contains some water and nutrients that will be crucial in sustaining the cutting while it develops a root system.
As such, your cuttings should have at least three pearls, not counting the ones that you will remove while sticking the cutting into the soil or dipping it in water. If you spot some parts of the stem that are already growing roots, be sure to start with those ones.
Carefully clip the stem using a clean and sharp pair of scissors or clippers. Try as much as possible to get a clean cut. Unless you want to do water rooting, allow the cutting to dry out before proceeding.
Allowing the cutting some time to dry keeps out bacteria and prevents rotting. Since the stem of this plant is so tiny, it can take a couple of hours or a day to dry and callous over.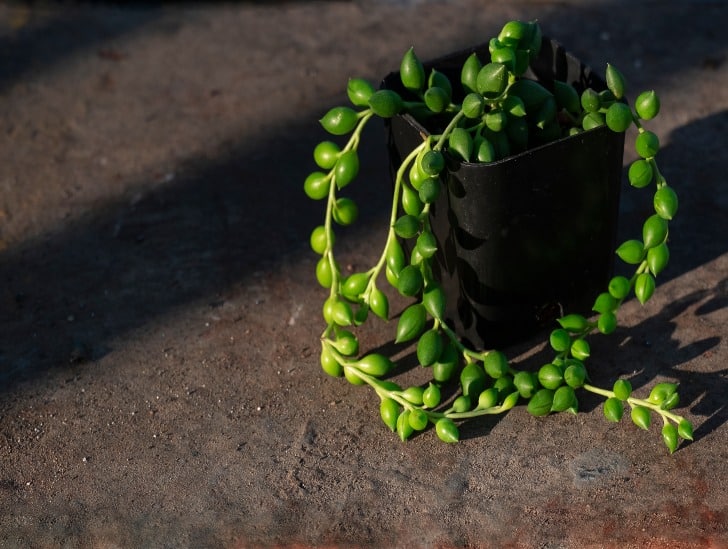 While the stem cutting is drying, fill the small growing pot with potting mix. You may dip the stem cutting into the rooting hormone if you want before planting it. There is no need for a rooting hormone if you are doing water propagation.
In most cases, the string of pearls develops roots so easily that there is no need for a rooting hormone.
Rooting the Stem Cuttings
For rooting the stem cuttings, you have three options. You can lay it on the surface of your potting mix, dip it in the soil, or root it in water. Each method is simple and has its own benefits and drawbacks. Let us discuss each one of them below:
1. Lay the cuttings on soil
In this method, you will be required to lay your stem cuttings flat on soil after they callous over. Let the cutting touch the soil. The cutting will shoot out roots from anywhere it touches the soil.
Ensure you use the well-draining potting mix to achieve better results. If the stem cutting you obtained already has roots on it, position it such that the roots are digging into the soil.
Sometimes, you may need to use something to hold the cutting in place. Feel free to use paper clips cut in half to hold the cutting down.
Mist the potting mix every few days to keep the cutting hydrated. Once the cutting has developed roots, stop misting and switch to proper watering. However, decrease the frequency of watering to once a week depending on the humidity of your area.
Typically, it takes approximately two weeks for the cutting to develop new roots. However, if you used stem cutting that had already developed roots, it will take less time for the plant to be fully established and ready for a new pot.
Ensure you keep the stem cutting away from direct sunlight to prevent severe sunburn.
2. Stick cuttings in soil
To propagate your plant through this method, ensure your cutting is at least two inches long. Give the cutting some time for the cut end to dry and callous over before you stick the cut end into the soil.
Feel free to remove a few pearls from the cut end of the stem to make it relatively easier to stick it into the potting mix.
Make sure the potting mix you use is well-draining. To achieve good drainage, you can use a combination of regular cactus soil and perlite in the ratio of 1:1. You can also add some coarse sand to the mixture to improve drainage.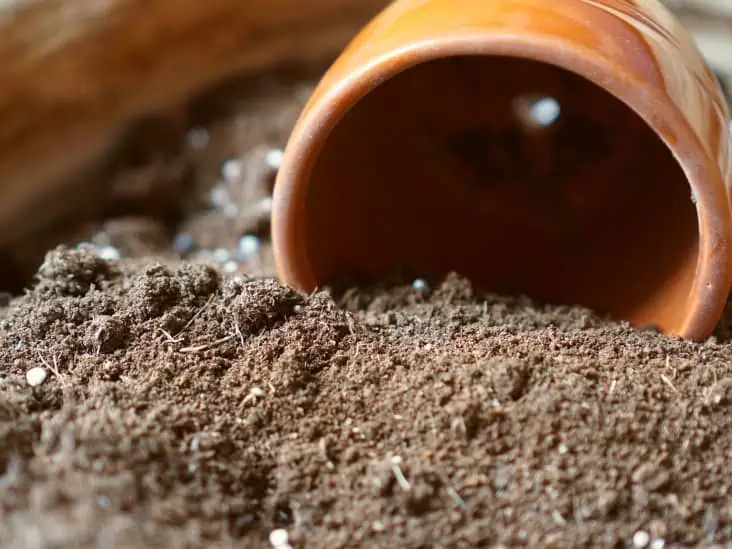 Once you have planted the cutting, mist it and wait for it to develop into new growth. It takes approximately two weeks for the roots to develop. Once the cutting has developed a root system, it will take two or three weeks before new growth starts to shoot at the top of the plant.
Keep the newly planted stem cuttings away from direct sunlight to prevent sunburn. As soon as you notice new growth on the upper part of the stem cutting, switch from regular misting to proper watering. Maintain the watering frequency to only once every week.
Be sure to wear gloves throughout the process because the string of pearls plant is highly toxic. Furthermore, don't allow your children or pets anywhere near the propagation area because they can bite the plant.
3. Water propagation
For water propagation, carefully remove a few pearls off one end of the stem cutting and place that part of the cutting in a vase with water. You don't need to do anything else for the cutting to root. For better results, consider using distilled water.
New roots will start to form after two to three weeks. You should see a lot of roots after approximately four weeks. This is the right time to shift the cutting from water into a well-draining potting mix.
For the first few days, mist the soil to give the cutting some time to adapt to the new environment. From there, switch to regular watering but be careful not to overwater your newly propagated plant. Water it once or twice a week in less humid areas.
Propagation through Seed germination
If you feel lucky and want to try your hand at propagating this plant from seeds, then you can give it a try but don't expect much success.
To propagate from seeds, you need to find a way of pollinating the flower. Pollinated flowers open their heads into a fluffy ball ready to be blown away by wind. The ones that have not been pollinated still look fluffy but won't open up.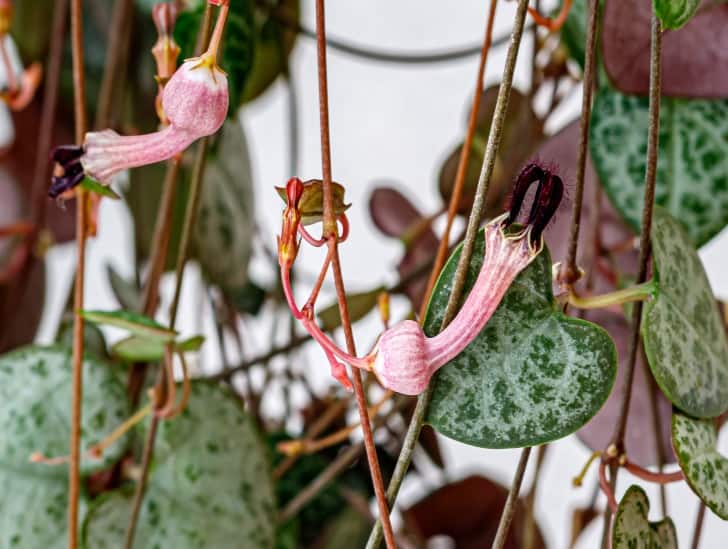 If you collect seeds from the unopened flower heads, they won't germinate. You can plant the seeds right into a potting mix but remember to water them daily. The germination period for seeds can be anything from a few weeks to three months.
The seeds tend to germinate better during spring or summer. If you buy string of pearls seeds, ensure you get them from a reputable seed shop.
Final Thought
That is it about propagating string of pearls plants. We hope you enjoyed reading this post and you are now ready to start multiplying your plant collection. Follow the steps outlined above, and you will have a huge collection of this amazing succulent in no time.
Last update on 2023-07-27 / Affiliate links / Images from Amazon Product Advertising API