The String of Bananas plant is a trendy plant for trailing arrangements. This hanging succulent is highly similar to the String of Pearls plant, and the only difference is the banana-shaped leaves.
The hardiness of the plant makes it an ideal choice for beginners. Additionally, the plant flowers in mid-December add to the perks of this beauty. You can propagate the String of Bananas at any time of the year, though spring, summer, and early fall are the best when the plants are actively growing.
Requirements for String of Bananas Propagation
You should have the following:
Disinfectant
Container with potting/succulent mix
String of Bananas
A pair of scissors
Rooting Hormone (Optional)
Patience
Steps To Follow When Propagating String of Bananas
Propagation of String of Bananas is a five-step process.
Choose the propagation method
You can propagate your String of Bananas in either water or soil. Either way, start by sterilizing your cutting tools using alcohol or disinfectant.
Take your Cuttings
Select a healthy stem from your plant. Use a disinfected cutting tool to obtain pieces with a few leaves. Make sure the stem cuttings are long enough, at least 10cm, and cut off the bottom leaves.
Ensure that the cutting has a node from where the roots emerge. You can take multiple cuttings to increase the chances of successful propagation. Give the cuttings two to three days to dry to prevent rot.
Put the Cuttings in your preferred medium
Use either water or soil as your propagating medium. The soil should be loose for easy formation of roots and excellent water drainage to prevent rot.
Wait for root growth
As you wait for your cuttings to root, avoid overwatering them. Ensure the soil is dry before the next watering session. Propagation in water is much faster though more time-consuming. Repot the cuttings from your medium once the roots are established.
Feed Your Plant
After about half a year, you can feed your plant with succulent liquid fertilizer. When providing your String of Bananas, be careful not to over-fertilize as this can weaken your plant. Use a balanced houseplant fertilizer with half strength. Do not feed your plants during dormancy.
Methods of Propagation
The main propagation methods of String of Bananas are leaf propagation, seed propagation, and stem cuttings.
Seed Propagation
For successful propagation from seeds, the flower heads will require pollination. If planting indoors, put the seeds in the succulent mix but not allow the blend to dry up. Cover the pot with a plastic bag to provide humid conditions if you cannot water the plant daily. Germination can take a few months, although the seeds germinate faster in summer.
Leaf Propagation
You can propagate the String of Bananas plant from a single leaf. However, this method has a shallow success rate and can take some time. Choose a plump leaf for better success. Succulents are delicate, so take the leaf off by carefully twisting.
Poor cuttings will cause your leaf not to sprout roots. Dry out the leaves on a paper towel for the cut ends to dry. Once the cut ends have become calloused, frequently place them on a potting mix and water.
The leaves thrive well under bright and filtered sunlight. Mist them as soon as the soil dries. First, the roots will grow after approximately two weeks, then the shoots much later. Do not expect much using this method as the leaves tend to rot.
How to Propagate String of Bananas using Stem Cuttings
First, you will need to select a strand. Go for long and mature stems. Mature stems are easier to propagate because they have already developed some roots. Select items that have left and are luscious and firm. Avoid dehydrated and shriveled ones.
You might lose some cuttings in the process, so always take more than one cutting. Most succulents require drying after cutting to prevent rot; however, the String of Bananas does not need to be dried for long because the stems are pretty thin. You can dry the cuttings for a couple of hours. However, give it a few days before planting it in a humid environment.
The stems should be dry before planting to avoid infection by fungus or bacteria. After taking your cuttings, you can dip the cuttings in the rooting hormone. This step is not mandatory, but you could consider it to speed things up. Let's get into the various ways to propagate your stem cuttings:
Soil Requirements When Propagating String of Bananas
To propagate your String of bananas in soil, consider the following:
Find a suitable soil mixture for succulents because they need excellent drainage. You can choose a pre-mixed option or mix equal parts of grit and Potting Soil.
Use a container with drainage holes at the base to enhance drainage and stop stagnant water from causing rot.
Position the container in a bright but shaded area with indirect sunlight.
Spray the plants frequently at first to avoid disturbing the cuttings. Once rooted, switch to a regular watering schedule.
Stick the Cuttings in Soil
Cut a few inches from the base of the plant and stick in the soil. You can remove some beads from the stem to make sticking them in the ground easy. Also, use chopsticks to create the holes. Ensure that you attach the cut-off end to the soil for faster rooting. The cuttings can be heavy; you can use floral pins to secure them down.
Use a potting mix that drains out well. You can blend equal strengths of cactus mix and perlite. To increase the drainage capacity, add coarse sand. Give your plant time to root, about two weeks. After approximately a month, shoots should be visible.
Place your cuttings away from direct sunlight to prevent sunburn during propagation and rooting. Sprinkle the soil after some days or whenever the soil surface feels dry. Once your cuttings have developed roots. You can reduce the amount of watering depending on how humid your area is.
Lay the Cuttings directly on the soil
Place the cuttings horizontally on the soil and ensure that the stem is in contact with the ground. The plant will develop roots at all points of contact with the soil leading to a fuller top. We recommend using an excellent succulent potting mix. You can combine coarse sand, perlite, and cactus soil equally.
Mix the soil when the soil surface is dry. Watering will also depend on how deep you have planted the cuttings. Shallow plantings tend to dry out faster. After your cuttings are rooted and established, shift to watering your plant at least once a week.
In about two weeks, new roots should emerge. The rate will be much faster if the cuttings already have roots. Position your plant in a shaded area where it can receive indirect light from the sun. You can combine both methods for a complete trailing plant if you have a big pot.
Coiling Strands on the Soil's Surface
This method is relatively easy and leads to a full crown. Coil strands on the surface and make sure they are in direct contact with the soil for root growth to get started. Water the plant thoroughly and give it some time. Once the roots have begun growing, expose the plant to lots of sunlight. Make sure the surface is dry before watering.
Propagate the Cuttings in Water
Take your cuttings and stick the tips in the water. Use a clear glass vessel to monitor the water levels and rooting progress. Place the glass container in a warm spot. We recommend using purified water though you can use any water.
Change the water after some days until roots form. Make sure that the nodes are submerged. New roots will emerge in a few weeks. The rate at which the sources develop depends on the season. Rooting can be quite fast during summer, while it can go up to months in winter.
When noticing numerous new roots, transfer to a well-draining potting mix with a 1:1 cactus mix and perlite solution. Spray the soil only when it feels dry and then water, typically once the plant is well established. You can tell the plant is set if you notice new growth on the top of your plant. Shield the plant from direct sunlight.
Caring for your newly propagated String of Bananas
If you notice that your propagated plants have stunted growth, you can add diluted nutrient-rich fertilizer. Water your String of Bananas until the excess water drains through the drainage holes. Though your newly propagated plant is unlikely to suffer from pests, you can scrub using soap if you notice any infestation.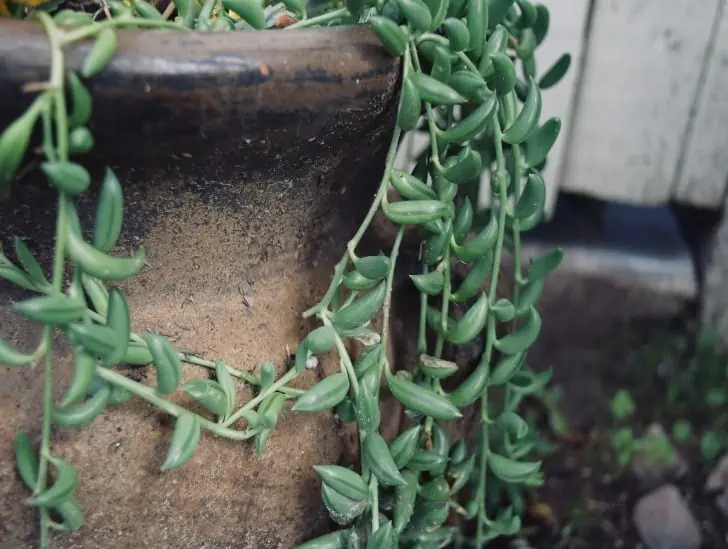 Bottom Line
Propagating String of Bananas is not only fun but incredibly easy. If you want to adorn your home with green waterfalls, this low-maintenance plant is for you. With a bit of patience, these eye-catching succulents will be all over your home.
Last update on 2023-07-26 / Affiliate links / Images from Amazon Product Advertising API