Sansevierias, also known as Snake Plants, Devil's Tongue, and Mother In Law Tongue, stand out because of their firm, straight, sword-like foliage. In addition, these easy-to-maintain houseplants are popular because they are very adaptable and perfect for contemporary interior design.
Methods of Propagation
You can quickly propagate the Snake Plant through two main ways, namely plant division and leaf cuttings. Both methods are great and help your cuttings to mushroom into fully-grown plants. Keep your cuttings in bright and indirect sunlight. We recommend temperatures greater than 45 degrees Fahrenheit.
Propagating Your Snake Plant Through Plant Division
Plant division is the safest and most straightforward way to propagate your Sansevieria. The method involves waiting for the mother plant to grow baby plants. The baby plants are dependent on the mother plant for food. Therefore, they increase, and you will have a big plant ready to be potted within no time.
Cut off the baby plant using a sharp kitchen knife or a pair of scissors. You will notice that the cut-off part is moist. Give it about two days to dry before placing it in your growing medium. The best part about this technique is that the baby plant, most likely, already has a few roots, making it easier to look after your new plant.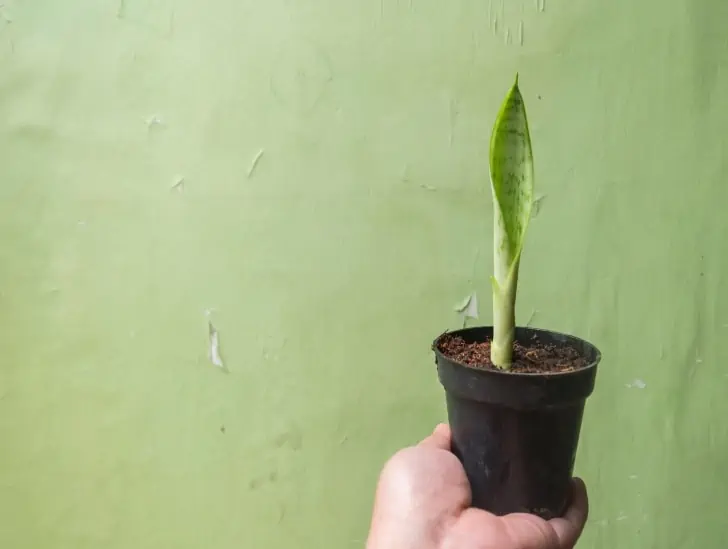 The division may also involve breaking up the root clump of your plant into several parts but leaving the root and crown intact. To get started, dig up a root ball from the soil. Then, divide the root ball using a pair of scissors or a clean, sharp kitchen knife.
Make sure each division has roots and pups or leaves attached. Next, plant the divisions in their new containers. This technique allows new growth as your plant expands. However, you will require a significantly larger plant for division.
Propagating Through Leaf Cuttings
Propagation through leaf cuttings is possible because Sansevierias store lots of moisture in their leaves. The high moisture content enables the leaves to develop roots and maintain good plant health.
When selecting a leaf, consider the following:
● Pick a healthy leaf that is relatively young
● Use a sterilized and sharp pair of scissors to cut the leaf off
● Allow the leaf cuttings to callous over
● Take more than one cutting to improve your chances
Cut one or more leaves from the mother plant; you can even cut a leaf into small pieces and cultivate more plants from a single leaf. The leaf segments should be 2-3 inches. Please make sure the segments are placed the same way they were on the parent plant.
If you flip them, they will not grow roots. However, the risk of losing the leaves is higher because you need to work twice as hard to get the roots to grow. On the other hand, whole leaves have more nutrients that will sustain them for a few months. If you are new at this, we recommend propagating from whole leaves.
Once you have cut the leaf from the parent plant, allow it to dry for about two days. If you place the cut wound in the growing medium before it dries, your plant might get infected with a disease.
Selecting a Growing Medium
There are many growing mediums that you can use to propagate your cuttings. The main ones are Soil, Lightweight Expanded Clay Aggregate (LECA), and Water. So let's dive into it.
Propagation of Sansevieria in Water
Propagating leaf cuttings in water is super easy and fun. Rooting the Snake Plant in water is substantially quicker than in soil. First, cut off your healthy Sansevieria leaf close to the base. Then, make an inverted cut at the base and put the leaf-cutting in a germ-free water jug.
Fill the water up to the V Cut. Use a jar narrower at the base to hold up the cuttings in place. Alternatively, use hair clips to hold the cuttings securely. Do not let the cuttings rest at the bottom of the container to allow the roots to grow.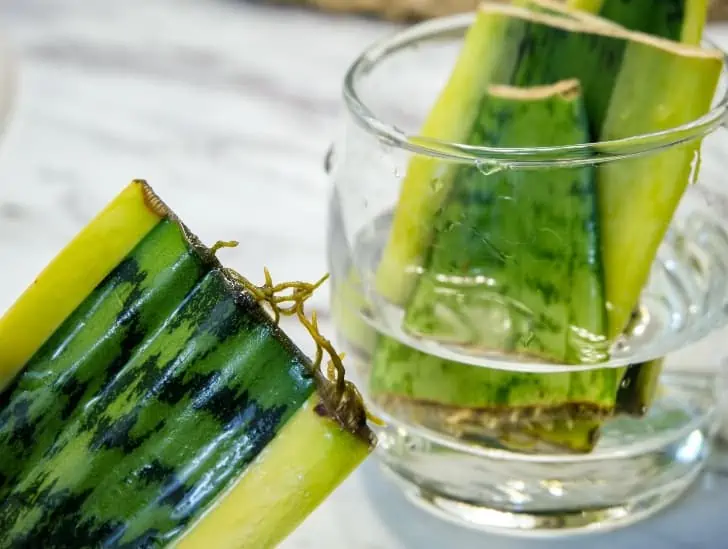 Change the water regularly, especially if you notice a cloudy or dirty appearance. Initially, the leaf cuttings might get slimy, but this should not gross you out. Take the cutting out and feel the parts that were submerged.
Rinse off the slimy parts with warm water and gently rub off the slime using your fingers. After cleaning your cuttings, clean the jar as well using soapy water. Rinse and add the cuttings plus fresh water to reduce the chances of rotting.
Place your cuttings near an eastern window where they are exposed to shining but indirect light. Avoid too much sun or darkness. Water filtration systems put sodium into the water, which is toxic to plants, so do not use this water for propagation.
This technique helps lift the cut surface, giving the roots room to grow because the roots grow from the pierced tissues. The roots start to grow from the base of the leaf cuttings after at least three weeks. You will notice tiny pups after about six weeks.
At this stage, you may either transplant the cuttings into the soil or let them grow in water. However, growing your cuttings in water may not be a long-term solution, as once the roots grow, you may need to transplant them into the soil or Leca.
Snake Plant varieties with dark margins or colored stripes can lose the colored margins once propagated in water. If you want to maintain the distinctive patterns, divide the plant at the root or divide the plant and pot the different parts.
Propagation of Snake Plants in Soil
Propagating your Snake Plant cuttings through the soil helps them grow roots and nourish them with nutrients. In addition, soil propagation is less involved as compared to water propagation.
To propagate your cuttings in soil, cut off a healthy Sansevieria near its bottom and let it dry for two days. Then, use the rooting hormone to accelerate root growth. You can skip this step, although it helps with speeding up the process.
Pre-moisten the potting soil and insert the cuttings, water sufficiently and let the excess water drain. The soil should be neither too dry nor too humid; we recommend a mixture of succulent soil or cactus mix. You can also blend in some perlite or pumice for additional drainage.
Make sure the soil dries out before watering. Feel the soil's surface after 1-2 weeks, water your plant if the first two inches feel dry. Then, move your pot to a sunny spot in your home with access to bright, hindered light.
After some time, the cuttings will grow roots and pups, which will become new plants. The cuttings might take longer to root in soil than in water. However, this method is simple and can be performed in one step; you can also put several cuttings in the same container.
You can give some personality to your plants by mixing different varieties and making them look like sculptures. On the reverse side of the coin, the cuttings may be slightly different than the original plants. It would help if you considered a few things when you grow your cuttings in soil.
Watering your Sansevieria Cutting in Soil
Because new cuttings do not have roots, they are incapable of absorbing water from the soil. Sansevierias prefer dry soils as wet environments can cause infections. Since cuttings have not yet developed roots, the soil can remain moist longer, causing decay of leaf cuttings.
If you notice this, cut the infected part off and dry your leaf for two more days. Try once more. Your cuttings will require very little water until they have developed roots. After the roots have grown, water them usually.
Potting your Snake Plant in Soil
Select a small container when using the soil as a growing medium because a large pot will need more soil. Plenty of soil will stay wet longer than if you use more miniature soil/smaller pot. When planting your cuttings, use a pot that will allow the soil to dry up quicker. A small container will also promote growth because Snake Plants prefer being root-bound.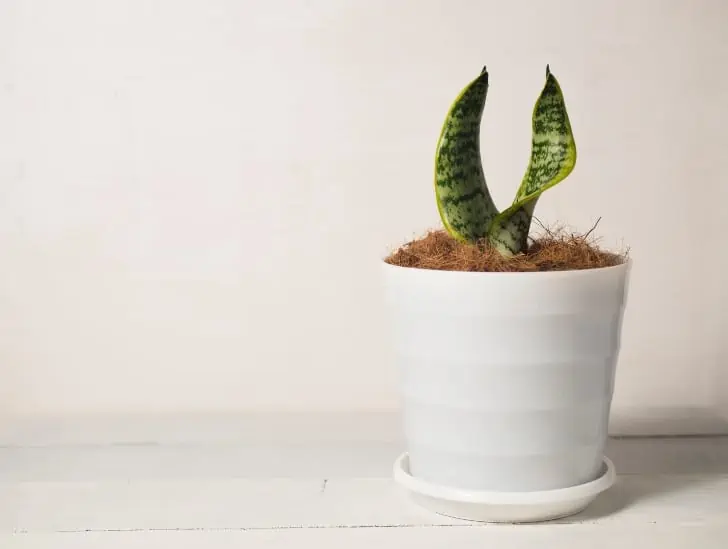 Propagating Your Sansevieria in Leca
Leca works perfectly for plants that dry out quickly, so you must water your plants more frequently. Consistent watering is excellent for cuttings. The rigid clay balls let in sufficient amounts of oxygen and moisture to your plants' roots. Because your Sansevieria will not be exposed to too much humidity, the chances of rotting due to overwatering are slim.
Leca is a growing medium that promotes growth. The roots will grow longer to get moisture in the clay balls, fastening the growth process. Although leca distributes water equally to the plant, you should not allow your cutting to sit too long in the water.
Bottom Line
Plant Propagation is a fun and enriching way to increase your plant collection at a minimal cost. The various propagation methods discussed here are effective and have their benefits and disadvantages. We suggest you try dividing the plant with Leca as a growing medium, as this will promote growth and reduce the chances of over-watering your cuttings.

Last update on 2023-07-26 / Affiliate links / Images from Amazon Product Advertising API