When you think of succulents, the first thing that probably comes to mind is a cactus. But did you know that there are other types of succulent plants? Crassula ovata, also known as Jade Plant or Friendship Tree, is a popular type of succulent plant that has been used in gardens for centuries.
Crassula ovata is easy to propagate succulent, and this is seen as it tends to get weedy outside its natural habitat when left unattended. This blog post will explore why to propagate the Jade plant and propagate Crassula ovata.
If you have been into the world of succulents and don't know which one may work for you, we suggest you try this excellent plant. Well, it might require low maintenance like almost every other succulent, but here is why you should consider propagating Crassula ovata:
Why Plant Crassula ovata?
1. Cleans Air Quality
Introducing a Jade plant in your home helps purify the air. Indoor air can be polluted as much as the outside air. Proper ventilation is usually the best case to clean indoor air, but this is usually not the case.
If you have been suffering from exhaustion, weakness, or insomnia due to Volatile Organic Compounds (VOC) that comes from paints, moth repellents, and wood preservatives, planting Crassula ovata indoors helps curb these problems.
2. CO2 Absorption at Night
Jade plant conducts Crassulacean Acid Metabolism (CAM) process. The plant absorbs CO2 at night and helps reduce the amounts of CO2 in the house.
3. Raises Humidity Level
The surrounding dry air is likely to affect your health and beauty. You can opt for humidifiers, but this means increased bills. The Jade plant helps increase indoor humidity levels during the CAM process.
Finally, you know the benefits of growing Crassula ovata indoors as it helps you live healthy and wealthy, in addition to decorating your home. But how do you propagate it?
How to Propagate Crassula ovata
Propagating Crassula ovata is mainly from cuttings, either leaf or stem cutting. While getting a leaf-cutting is more straightforward, they take much time before becoming a Jade plant.
Items Necessary for Propagation
A pair of scissors or sharp knife
Rooting hormone liquid or powder
Suitable soil (a succulent soil or cactus mix)
A pot or container with drainage holes
Working space
Where to lay cuttings to dry, paper towel or dry surface
Crassula ovata Propagation from Stem Cuttings
Cut as near to a node as possible using your sterile knife. Nodes are sections of the stem where new leaves and stems develop. Make the incision four to five inches long.
Prune off leaves at the bottom of your cutting. The lower part of the cutting is used as the anchor when planting.
Place the cutting on a paper towel or dry surface to dry. Let the cutting dry for two to four days, or until the leaves and stem cut form a callous.
Apply the rooting hormone, either liquid or powder, at the bottom inch of the cutting. For powder rooting hormone, you may need to moisten the stem first for the powder to stick.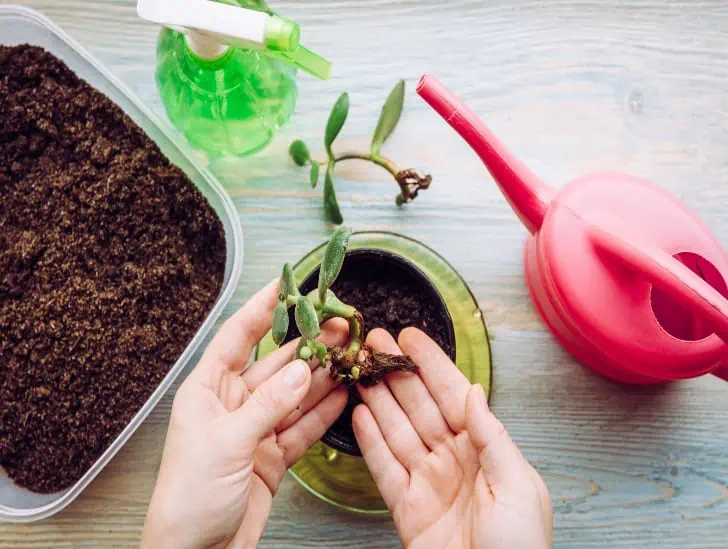 Now your stem cutting is ready for planting; however, there are two rooting methods that you may want for your Crassula ovata before planting. Here is how to root Crassula ovata:
Rooting Crassula ovata in Soil
You can directly plant your Jade plant stem cutting in the soil. Succulents are pretty tenacious, so this method almost always works. The only disadvantage is that you won't be able to monitor your cutting's development until new leaf growth begins to appear.
Get your container or pot with drainage holes. A standard plastic nursery planter also may do the work.
Fill the pot with well-draining soil or succulent mix. Crassula ovata isn't picky about soil; hence you may use any kind of potting soil plus a decent handful of perlite for better drainage.
Water the soil just enough to make it moist. Don't let the soil be too wet.
Use a stick or finger to dig a small hole in the soil. It just needs to be deep enough for the stem cutting to stand up.
Move the pot into a shade, let your cuttings receive bright indirect light, and water them every few days once the soil is dry.
Pro Tip: Once the stem cuttings start drooping, it's the time most of them are growing roots. You don't need to worry. They will grow new leaves and look healthy and fresh.
Rooting Crassula ovata in Water
Rooting Crassula ovata in water for propagation is a favorite for many since it's often easier and faster. And perhaps even more importantly, you get to see the roots growing in real-time!
To root in water, immediately the calloused part has healed, pop it into a vase or glass of water. Now move the glass or vase with the cutting into bright, indirect sunlight and a well-ventilated location.
The only thing you'll be doing is changing the water once or twice a week. Immediately you note the roots, move your Jade plant into a new home for planting. Remember not to leave it for long in water once the plant has grown roots, lest they start rotting.
Crassula ovata Propagation from Leaves
To propagate Crassula ovata from leaves, simply pluck off leaves entirely from a stem. Identify healthy leaves and pluck. The leaves are even very easy to grow.
Once you have plucked the leaves, let them form callous for at least two days or until the node area has dried.
Prepare a potting mix. You can use ordinary soil with 50% coarse sand or perlite to enhance water sipping into the soil. Porous soil lets water sip through and helps maintain wetness but is not soggy. Soggy soil causes bacterial infection to Crassula roots hence roots rotting.
Once the cut area has dried up, apply some rooting hormone to encourage fast rooting.
Rooting Crassula ovata Leaves on Water
Rooting leaf cuttings in water might seem impossible, but you may use toothpicks or mesh to suspend the leaves in a vase of water or glass. Ensure only the calloused areas are in contact with water.
Again, you will have to change the water every week to prevent the rotting of the leaves. Once you note rooting, you can repot baby Jade plants into a new pot for growing.
Pro Tip: It may take a while for leaf cuttings to develop into a Jade plant. It takes time before they form stems.
Rooting Crassula ovata Leaf Cuttings in Soil
The easiest way to root Crassula ovata is by soil. All you need to do is place them on the well-draining soil and make sure the calloused area touches the soil. That's it! Amazing right?
Leaves are an excellent resource for getting new Jade plants. The best part about leaves is that you may put many of them in the same container to improve your chances of success. The resulting plants will be tiny at first, and once grown, transplant them into separate containers.
When you've repotted all of your leaves into new pots, move them into bright, indirect light and spray them every few days to keep the soil gently wet.
You may transition to a regular succulent watering schedule after the roots, and young plants become apparent.
Tricks and Tips to Grow Crassula ovata
Crassula ovata is a succulent; hence it retains most of its moisture in its stems and leaves. This trait makes the Jade plant very delicate to water supply. Too little water is just as bad as too much water.
The plant's root development appears to be aided by periods of drought. The roots expand in all directions and clamp the plant securely to the soil in search of moisture. This also keeps the plant from falling over or prevents becoming 'top-heavy.' Furthermore, in these times, the soil dries up between waterings.
Many people can tell when their Jade plant needs water just by the appearance of its leaves after having it for a while. If the leaves aren't as plump and cheerful as usual, it's time to water them.
Jade takes a long time to grow, so be patient and allow it to develop.
A clay container is the best choice. Clay, rather than plastic, will assist in evaporating moisture and help dry the soil, preventing it from being soggy.
This plant thrives in a south-facing window with lots of natural light and at least four hours of direct sunshine. Do not introduce your baby Jade plant to the sun immediately. Start by slowly moving it into a bright spot before introducing it to direct sunlight. Let it gradually adjust.
Final Thoughts
You can propagate Crassula ovata from leaf or stem cuttings. Using leaves will take time as they'll have to grow to form strong stems for new branches. Unlike stem cutting, branches will start growing from the primary cutting.
We hope you find the above different propagation tips helpful, and you are now free to plant Crassula ovata and watch them grow to fill your garden.
Last update on 2023-10-05 / Affiliate links / Images from Amazon Product Advertising API