Disclaimer: The author is not a medical doctor or veterinarian. The information presented is purely to share our experience and for entertainment purposes. As always, check with a doctor and/or veterinarian before making any health or nutrition decisions and consult with a doctor and/or veterinarian regarding any question or problem that you have. The author and blog disclaim liability for any damage, mishap, or injury that may occur from engaging in any activities or ideas from this site.
Cacti are generally considered hostile and unfriendly plants, which is quite understandable. Most cacti species are covered with dangerous spines and grow in hostile desert climates. But did you know that these desert plants can also be your best friend? Cacti plants produce delicious fruits that are full of healthy nutrients. The moment you get past the thorny skin of the fruit, you find a soft, fleshy, delicious, and nutritious heart. Even the pads of these plants are edible.
So, here is how to clean a cactus fruit. The most important thing you need to do while cleaning cactus fruit is to be careful with the tiny glochids that can easily penetrate your skin. Wear rubber gloves and hold the fruit with one hand, scrub it hard with the brush to get rid of the glochids then rinse it under running water to get rid of any dirt before you peel off the skin.
In addition, You will need the right tools to get the job done. They include a scrub brush, fork, sharp knife/potato peeler, rubber gloves, and a container. That is a simple way to get the fruit ready to use in your recipes. However, there are lots of other things you need to do while cleaning and preparing your cactus fruit. We cover the detailed steps below.
The Simple and Quick Way of Preparing and Cleaning Cactus Fruits
One thing you need to keep in mind while preparing your cactus fruit is that it is covered in tiny needles referred to as glochids. These tiny spines are so thin that you may not even feel them when they penetrate your skin.
But, the problem is that they sting so hard when you touch the area of the skin where they have penetrated, and it is difficult to get them out. They are also almost invisible, so; you can unknowingly prick yourself.
However, that shouldn't stop you from enjoying the delicious cactus fruit. The steps outlined below will guide you on how to clean and peel cactus fruits and how to dispose of the tiny spines properly.
The first thing you need to do is carefully poke your fruit with a fork to pick it up. Only prick the fruit once and leave the fork where it is. Keep in mind that every time you stick a fork in, the inner flesh gets broken, which makes it harder to peel off the skin.
Hold the fork and rotate the cactus fruit under running tap water for a few minutes. The force and pressure of the water knock off some glochids making your work easier. Be sure to empty the sink of all dishes so that the tiny spines go right down the drain and not onto anything that someone may touch later on.
Once the running tap water has knocked off the loose spines, scrub the skin of the fruit with a nylon-bristle brush to get rid of all the remaining glochids. Make sure you do this over a container, newspaper, or trash can so that you can easily gather and properly discard the spines. Make sure you are wearing rubber gloves while completing this step.
Carefully hold the cactus fruit on a plate or any other container with the fork and chop off one end. Rotate the fruit, and without taking the fork out, chop off the other end as well. There is always an indentation in the bottom of the fruit, make sure you find it and cut it off as well.
Removing the skin
After cleaning the fruit and getting rid of the glochids, the next thing you need to do is peel off the skin to expose the delicious flesh. We have to remind you that you don't need to get out the fork even after cleaning the fruit because you still need it while peeling off the skin.
Follow these steps to peel off the skin:
Make a slit down on one side of the skin. Do it carefully to avoid cutting into the inner pulp of the fruit.
Carefully stick the kitchen knife between the skin and the inner pulp on the opposite side of the fork to separate them.
Continue peeling off the skin from the pulp on the first side. You will find this process to be a lot easier if the cactus fruit was fully ripe. If it was not ripe, the skin might not peel off easily, and if it was overripe, the pulp will not hold together well, making it harder to peel the skin off.
Carefully move the fork over to separate the skin from the inner pulp with the knife now positioned on the second side. Carefully remove the whole piece of the inner flesh from the remaining bit of the skin with the fork. You can also do it with your fingers since the skin doesn't have any glochids.
PS: It is good to mention that cactus fruits contain small, hard seeds that you cannot bite through, but you can swallow them if you prefer. Alternatively, chew on the fruit plus the seeds and spit the seeds out. You can also use a strainer or juicer to remove the tiny seeds from your fruit.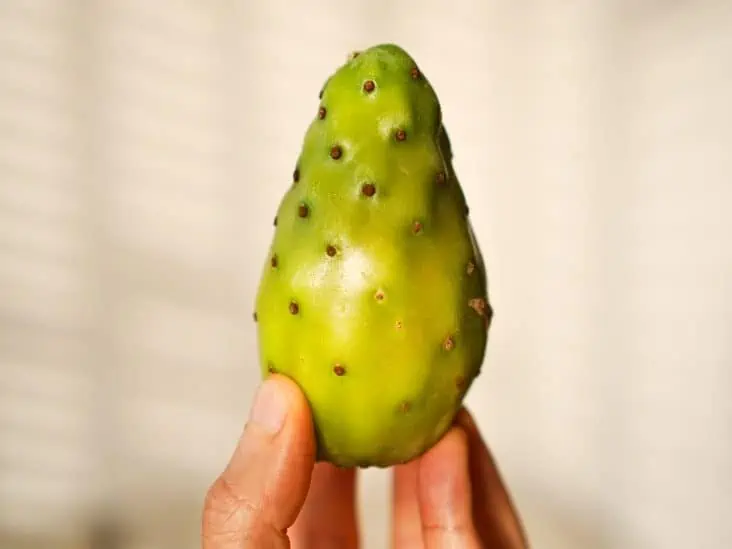 Are Cactus Fruits Spines Poisonous?
Spines occurring on the surface of cactus fruits are usually referred to as glochids. However, we have chosen to refer to them as cactus fruit spines to avoid confusion.
While you may have done your best to avoid them while cleaning and preparing your fruit, one or two of them can still find their way into your skin. So, apart from the obvious fractured skin and the irritation, you may be wondering if they are poisonous.
Well, the simple answer to the question is no. However, depending on the type of cacti glochids that pierced through your skin, the effects could be far-reaching than you can imagine.
Glochids lodged into your skin can cause varying degrees of severity from minor wounds that may heal with time to opening avenues to other serious infections, especially when they are left in the skin for a long time.
Glochids are common on the prickly pear from the Opuntia genus and occur in clusters on the surface of the fruit. Their impact is usually inverse to their size. While they may be small in size, they can cause severe irritation and extensive damage on your skin thanks to their sheer numbers and barbed shafts.
In fact, a simple mistake, such as forgetting to wear rubber gloves while handling a prickly pear, could mean hundreds of glochids getting clamped into your skin!
Dealing with Glochids: How to Pull Them Out
Most cactus fruits will have glochids on their skin. The worst thing you can experience while preparing your fruit is suffering from glochids piercing. These little spines grip onto your muscle fibers tightly, making it almost impossible to pull them out.
The irritation that accompanies the piercing is devastating. In fact, the spines are described as "barbs" for a good reason; they are closely similar to how a barbed wire functions.
Take the following precautions when glochids get stuck into your skin:
Never try to pull them out with your teeth: While you might succeed in getting a few of them out, they may end up in worse places such as your throat, gums, and tongue.
Avoid scratching the areas where glochids have stuck. This might be a gut reaction, but for your safety, try to resist the temptation as much as possible. Scratching the affected areas will affect you in two ways.
First, you will drive the glochids further into the skin. Secondly, scratching can easily spread the little spines to lots of other parts, making it difficult to get rid of them.
So, how can you pull the glochids out? Follow these simple steps to get the tiny spines out of your skin:
Using a nylon pair of pantyhose, gently brush the glochids off. Make sure the hand you are using is clad in a strong pair of rubber or gardening gloves to avoid further trouble.
Apply a significant amount of rubber cement on the affected area using a piece of cotton. Allow the rubber cement some time to dry and carefully pull up its edges. The cement should peel off with some glochids. Repeat this process several times to remove as many glochids as possible.
If you cannot remove the glochids using any of these methods, be sure to book an appointment with a professional for further assistance. Keep in mind that although glochids are not poisonous, leaving them inside your skin for too long can cause a wide range of infections from other sources.
Are Glochids the Same as Spine?
From the explanation above, glochids are not the same as spines. "Spine" is a general term used to describe any sharp structure or projection extending from an object.
In contrast, glochids refer to modified small spines with a single point and backward-facing barbs (hooks). These features make it easier for them to attach to skin and clothing more firmly.
Glochids arise from the epidermis of cacti, and in many cases, they are found in clusters either on the stem or surface of a cactus fruit.
The size of glochids varies depending on the type of plant; some species can have larger ones that measure up to 3mm, while others may have even smaller ones.
The main difference between glochids and spines is that the former has a sharp point at its end, making it easier for them to get stuck to the skin.
Spines, on the other hand, are wider and less likely to cause irritation because of their blunt ends. Therefore, you should take extra precautions when handling cactus fruits with glochids.
What Are Some of the Health Benefits of Eating Cactus Fruits?
In addition to their delicious taste and texture, cactus fruits are also packed with numerous health benefits.
The content of minerals such as calcium, iron, magnesium, phosphorus, zinc, copper, and vitamins A, B1 (thiamine), B2 (riboflavin), and B3 (niacin) make them an excellent source of dietary nutrition.
The high antioxidant content in cactus fruits may also help reduce the risk of chronic illnesses such as cancer, heart disease, and stroke by reducing inflammation and oxidative stress. Cactus fruit may also improve insulin sensitivity, thereby helping to manage diabetes.
Moreover, these fruits have a low glycemic index which helps maintain blood sugar levels and control appetite.
This makes them an excellent snack for those trying to control their weight. The high dietary fiber content in cactus fruits also supports digestion, relieves constipation, and decreases bad cholesterol levels in the body.
Cactus fruit is also packed with electrolytes such as sodium, potassium, magnesium, and calcium, essential for maintaining healthy muscle and nerve function.
They contain the essential fatty acid linoleic acid, which helps to maintain healthy skin, hair, and nails.
Summary
While cactus fruits are sweet and nutritious, you must know how to clean them properly before eating them. A slight mistake during cleaning can be costly since it can leave you with glochids lodged in your skin.
Be sure to pin this post and share it with your friends so that they can also learn how to clean these wild fruits properly.
If you have got any questions or suggestions, be sure to leave them in the comments section below. We always love hearing from cacti lovers all over the world.

Last update on 2023-07-26 / Affiliate links / Images from Amazon Product Advertising API