My passion for cactus has driven me to watch hundreds of Youtube videos on how to take care of them. I've read multiple blogs, research journals, books, and any material online and in the libraries, I can find about the cactus.
But before I tell you all the details I uncovered in my research, I realized something significant that many cactus lovers forget before buying the pots. Here are some of the things you should think about before heading out to find the right pot for your cactus.
Questions to Answer Before Your Buy The Pots
Are you looking for pots for indoor or outdoor plants?
Where exactly do you plan to place the cactus?
If you're looking for pots for your indoor cacti, what colors will complement your home decor?
Would you want a masterpiece pot that makes a statement or would you prefer all the pots to be of the same color?
If you're repotting your cactus, what is the size of the current pots?
Here is a detailed report on my research to help you make the right decision when choosing the right pot for your cactus.
What Factors Should You Consider When Choosing A Pot For Your Cactus?
Drainage
The cactus plant is biologically adapted to survive for an extended period without water. These adaptations also work against it when you water it so much and too frequently. Therefore, when choosing a pot, ensure that it has drainage holes to drain excess water. If it doesn't have them, ensure that you drill the holes before using it to plant your cactus.
Material
This is usually the first thought in the minds of many cactus lovers. There are many options to consider when looking for the right material. However, there is no good or bad material. It all depends on your preferences. Here are the materials available and some of the facts you should know about each:
1. Clay (Terra Cotta)
The clay pots are some of the most popular mostly because they drain quickly. Their porous nature creates a conducive environment for the cactus. Also, because they absorb water, it's pretty easy to estimate the moisture level in the soil. This is because, when the clay pots soak up the water, they turn dark. Finally, these clay pots are affordable as compared to other planters. And, it's easy to find them in a uniform color for consistency in your home decor.
On the flip side, the clay pots are highly delicate: they immediately shatter if they fall or hit on a rock-solid. Also, due to their high drainage rate, the water can dry out very fast in summer. Therefore, when you transplant a cactus into a clay pot, pay close attention to it to prevent it from drying out. And, the clay pots are susceptible to breaking in winter.
Note, clay pots might be a challenge when repotting because sometimes the cactus roots might penetrate the clay pot walls. This challenge doesn't happen with any other kind of pot. However, clay is perfect for people who live in humid areas and do not have an issue with space (they take up a lot of space) and don't need to move the cactus.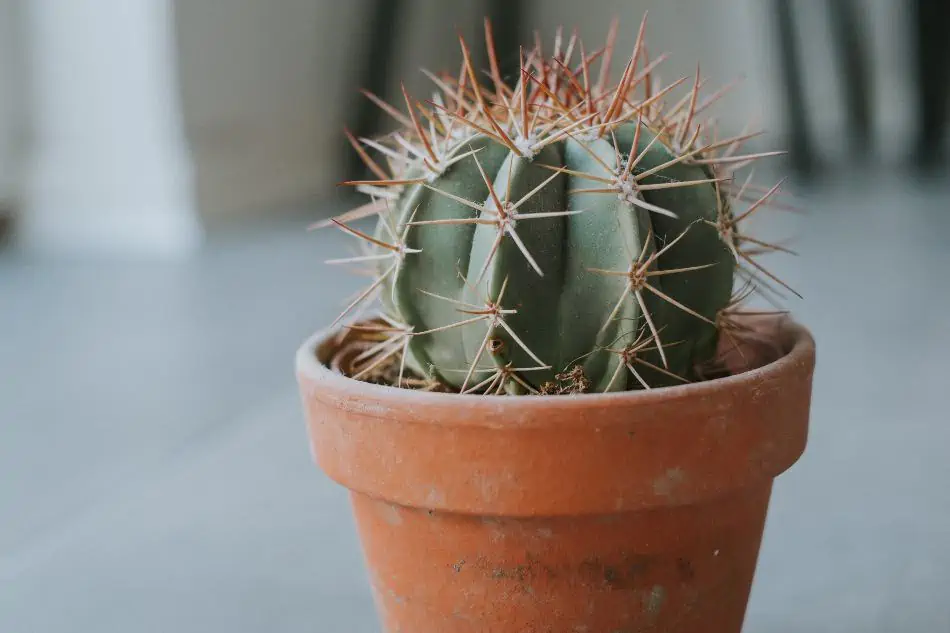 2. Wood
Wood is perfect for outdoor cactus. It's resistant to cold temperature and can hold water for a relatively long period. This makes it ideal for outdoor cactus. All in all, wood is a beautiful material. It can transform the home decor. And, it's easy to get beautifully crafted wood containers for your cactus.
The major problem with the wood planter is the fact that they're prone to rotting. This can affect the health of the cacti. Therefore, to prevent this, line the inside of the planter with a plastic bag.
Doing this also compromises the drainage capability of the wood planter. Therefore, ensure that you poke a few holes in the plastic lining to facilitate drainage.
3. Plastic
Plastic pots are some of the most convenient planters you can use. It's because they're cheap, readily available and you can easily reuse them. They're available in all sizes, shapes, and colors.
Plastic pots came into popularity as a better alternative to clay pots due to their functionality. Unlike the clay pots that turn color due to salt build-up after evaporation, indoor plastic pots remain to look beautiful for a long time.
On the contrary, these plastic containers are inferior in drainage and as such need to be well-drained to avoid soaking up the cactus in water. They're also not ideal for outdoor use since they're brittle and can be destroyed by constant exposure to sunlight.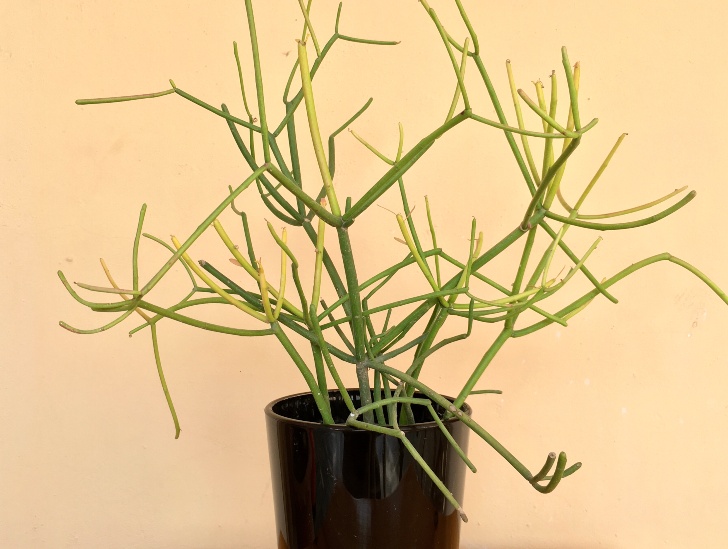 If you're looking for a planter that will add color and design into your home decor, but you're operating on a budget, you should consider plastic material planters. With technology, plastic planters can now be painted to look like rocks and also manipulated into different shapes.
4. Ceramic
If you're looking for a planter that will add elegance to your home decor, a ceramic pot is the right choice for you. They come in different shapes, sizes, and colors, making them ideal as indoor planters.
However, these beautiful ceramic pots can be quite heavy, making them not ideal for bigger cactus that require bigger sized planters.
There are two types of ceramic pots:
Unglazed ceramic
Glazed ceramic
Unglazed ceramic pots are porous and most suitable for cactus since they are permeable to water and air. This allows for the healthy growth of the plant.
Glazed ceramic pots are not porous. This makes them very poor in drainage and therefore, the only ideal for the cactus that doesn't mind a lot of moisture.
If you're looking for beautiful planters to use for small-sized cactus, you should consider this material. But, be ready to pay extra for the beauty than you would for other materials.
5. Fibreglass
Fiberglass planters come in different colors, shapes, and sizes. They're mostly moulded and colored to look like clay or wood planters. Due to their lightweight, they're ideal for planting cactus that will be continuously moved. Additionally, the material is very durable and can withstand changes in temperature, thereby keeping your cactus healthy.
However, these nicely shaped planters have zero drainage. Therefore, to prevent root rot, you'd have to drill holes on them. Since they're recommended for indoor planting due to their aesthetic nature, you might consider planting your cactus in a plastic container that has holes and fitting the planter into the bigger fibreglass container.
6. Metal
Metal planters can be very aesthetic since they come in different shapes, colors, and sizes. This makes them an excellent additive to your interior design. Metal is very durable and as such can be reused to plant cactus for many years. Copper and brass make some of the most trendy pots due to their attractive nature.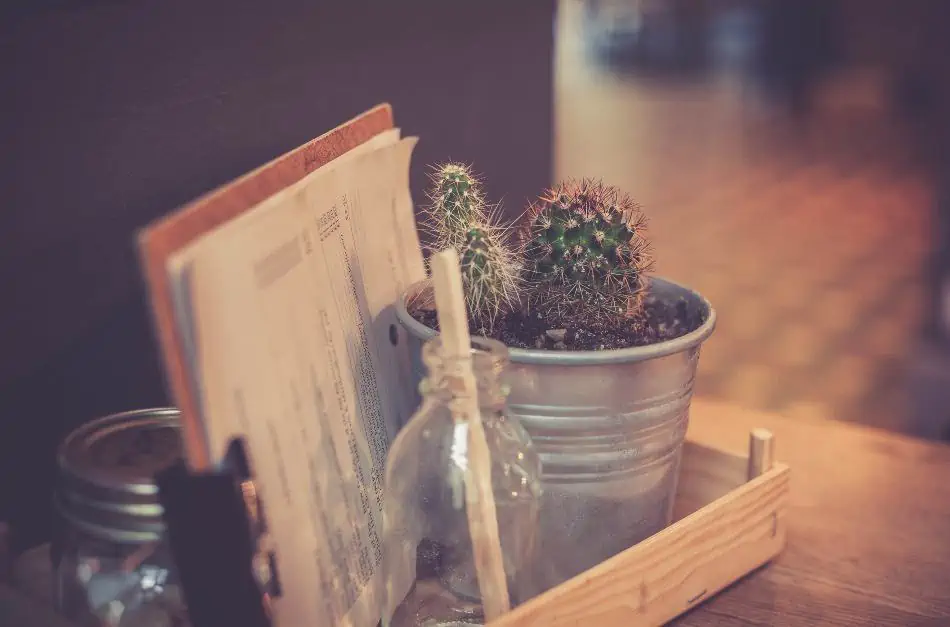 However, metals such as iron are susceptible to rust. Rusting can be prevented by applying a rust-resistant sealant once every year. Additionally, metal is heavy and therefore not ideal for cacti that you plan to keep on moving.
Lastly, metal, being a good conductor of heat, can get very hot during summer. It might end up burning the cacti. Also, during the cold season, the extremely low temperatures might affect the plant. Also, if the metal container doesn't come with holes, it might not be ideal for your cactus due to poor drainage.
7. Concrete and Cast-Stone
First, these planters are ideal for outdoor settings. They can withstand various weather conditions, thereby keeping your cactus healthy. Since they can be moulded into different shapes, they add aesthetic value to your landscape.
Concrete is porous and allows water and air to move in and out freely. This quality makes the concrete pots ideal for cactus since it prevents root rot. However, concrete produces lime which lowers the water pH. This can interfere with the health of your cactus. To prevent this, simply water it frequently to drain the excess lime.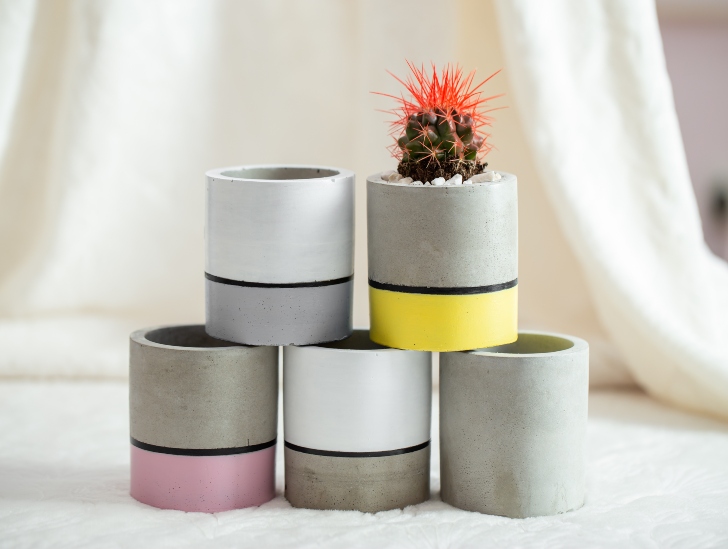 8. Stone
Stone pots are ideal indoor planters. They come in different shapes and sizes, making them physically appealing.
Note, there are two types of stone pots: natural stone which has been carved into a planter and limestone mixed with fibreglass. To note the difference, lift each pot and note the difference in the weight. Natural stone planters are very heavy.
Naturally, the stone pots are durable but, if you drop the natural stone pot, it's likely to break. The fibreglass and limestone pots are more durable but with less drainage capacity.
Color
Color is a huge determinant, especially when choosing an indoor planter. Ideally, you'd want a planter with a color that compliments your home decor.
However, if you're buying a pot for an outdoor cactus, the color might not be a big priority. All in all, if you're purchasing several pots for many cacti, you might consider purchasing a uniform color to consistency or mix and match the shade for a splash of beauty and fun personality.
How to choose the right pot with the right size
Does the size of the pot matter?
Yes, it does. When getting a succulent, you will note that they're referred to in specific measurements. A 4″ cactus doesn't apply to the length of the cactus. Instead, it refers to the diameter of the pots that are appropriate for the plant.
The general fact to know when choosing the right size of the planter is that the size of the pot should allow for the natural growth of the plant as if it were its natural habitat. Cactus plants usually don't require big pots. However, if you choose a tiny pot, it will constrict the roots leaving no room for the soil. On the other hand, if you choose a vast container, you will- most likely over water the plant. Therefore, it's incredibly essential to choose just the right size for the cacti.
The Best Size
The ideal pot size should have a ¼ of an inch between the main body of the cactus and the end of the rim of the pot.
The depth
The depth of the pot is also very significant since if you choose the wrong depth, it might interfere with the growth of the cactus. The depth is dependent on the type of succulent you're planting. The depth of the pot should be proportionate to the natural growing process of your cactus. If your cactus grows tall and tends to have deep roots, get a deep pot to accommodate the deep roots. If the cactus has shallow roots, you can easily use a small pot with minimal depth.
Note, the depth factor is one of the primary reasons why you need to repot. Usually, when the plant is young, it will have a minimal root system and as such, will require a small pot to avoid overwatering. After a few years, you will need to repot it as it grows to accommodate the growing roots and to prevent the roots from getting bound in the small pot. The one sure way to check whether you need to repot is top check the drainage holes at the bottom of the pot. If there are protruding roots, it's time to repot to a bigger sized pot.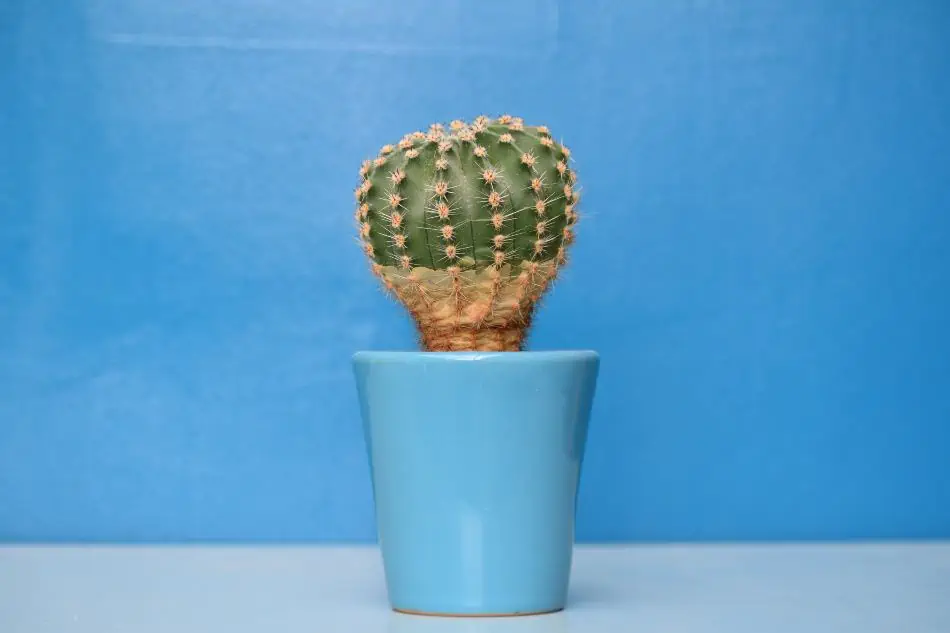 Width
There are quite several cactus species that have shallow roots which grow horizontally. Such types of cacti will not thrive in deep pots. Therefore, always know as much as possible about the species of cactus you're buying or growing.
If you plant such a species in a slender and deep pot, you will start to notice the roots showing on the sides of the container. Once this happens, it's time to repot the cactus into a wider pot.
Another tip to help you select the right width for your cactus is the width of the plant. Check the width of the cactus and choose a pot that is only 10% wider than the plant. Therefore, if a plant is 4 inches wide, select a pot that is only 4.5 inches wide.
Is it possible to grow several types of cactus in a single pot?
Yes, it is. However, when choosing the pot, you need to know the growth characteristics of each plant. As much as most cactus grow at a languid speed, some do grow relatively fast. If you pot these species together with the ones that grow slowly, you might need to repot them soon.
Therefore, when choosing a pot to plant different types of cactus, select the species that have similar characteristics. Also, ensure they're not crowded in the pot by giving them a large bowl. Note, when you have several cacti in one pot, you'll need to be very observant. Ensure the pot size, as well as other conditions of the soil, aren't favouring certain species while straining the others.
How to Choose the Right Pot When Repotting
As the cactus grows in size, you will need to transfer it to a bigger pot. It helps to facilitate it's growth and also prevent its roots from getting rootbound. Note, do not be tempted to take shortcuts and repot it using a pot which is double the size of the initial size.
Repotting a cactus is like buying new clothes for your child as it grows. Usually, you buy clothes that fit. If you buy your child's clothes that are way too big to avoid buying more clothes, later on, they will look awful dressed in oversized clothes.
However, for the cactus, it will not look 'overpotted,.' Instead, it will run the risk of root rot by being overwatered. Therefore, if you are transferring a cactus from a 4 inches pot, repot it using a 6 inches pot.
Pro-tip
For your indoor cactus, you'd want a pot that looks stylish. If you're not getting ceramic pots-which to have poor drainage, it might be hard to get elegant containers. Therefore, instead, get a plastic pot and decorate them using beautifully designed cloths. Alternatively, you can make your own 'DIY' pots for small cactus that look elegant and the perfect fit. This is an excellent option for the people who love to get their hands dirty and are quite artistic.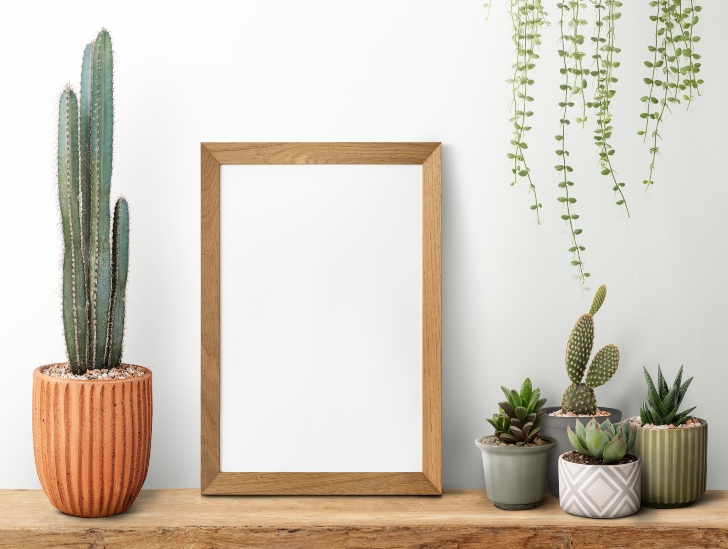 Bottom Line
Remember, do not over pot the cactus. Meaning, do not plant a cactus in a large pot. This will most likely lead to root rot. If your cactus has a dense stem structure but a minimal root network, plant it in a small pot, but to increase the support, place the small pot in a bigger container. Fill the space between the two pots with gravel. It will give your top-heavy cactus enough base support without running the risk of root rot due to overwatering.
Last update on 2023-07-26 / Affiliate links / Images from Amazon Product Advertising API