Away from the soil, water, and light, the other way to show that you care for your plant is to put it in a good pot. If you want a healthy aloe vera, one that will bring a beautiful touch to your house, or one that will bloom well, it all starts in the pot used. Start your wonder plant on the right foot, and that is to get a perfect pot for it.
Since Aloe needs bright sunlight and partial shade, to ensure the aloe plant grows as healthy as possible, it is advisable to grow it in a container that best suits it. This low-maintenance wonder plant needs enough sunlight, occasional watering in the right size pot to thrive. The aloe plants range in size from very small to large pots.
So how do you choose the right pot for your aloe vera plant? Know the size of the plant, pick a pot with perfect drainage, know the materials the pot is made of, the weight and porosity of the soil, and above all a large and deeper pot. The pot should be well maintained, not too heavy, and not rusty. Of course, when planting it indoors, aesthetics are important in maintaining the beauty of the house, thus the need to pick a pot with attractive colors.
Come read with me how to choose the best pot to grow an aloe plant.
What is the best pot for Aloe Plants?
It is important to let an aloe plant grow to the maximum, therefore pick a pot 3-6 inches in diameter, and 2-4 inches tall. Aloe develops best in small pots that allow proper drainage. Always use ceramic pots that have enough drainage holes to support maximum drainage and save the plant from root rot.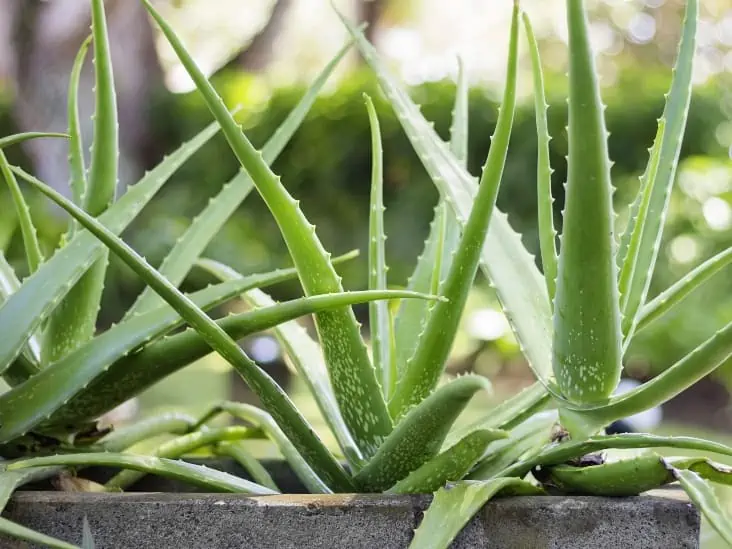 Why Does the Size of Your Pot Matter?
The size of your aloe plant matter, because in most cases, new gardeners are tempted to pick a huge pot. They believe that the plant will grow and needs space. Gauze what? That is the worst decision ever.
Choosing a large pot allows the plant's roots to grow and spread out even before the plant grows. These create a fragile plant. A large pot will also hold a lot of water which causes overwatering, leading the plant to rot. A lot of water in the pot tends to soak the plant's roots, which can lead to root rot.
Choosing a smaller pot for your plant may not also be a good idea. A small pot will not give enough room for the roots, which may lead to root rot. A small pot will not be good for beauty as the roots try to find extra space out of the pot.
A good pot should be about one-third larger than the plant at the moment. These will provide about 1 or 2 inches of space on all the sides of the plant, good for aloe Vera's growth. Such a pot also holds enough water for the plant.
Depth of the Pot
Aloe plants got a unique root system, as they grow horizontally, but remain shallow. Typically, it is an indication that a deeper, and wide pot inhibits the plant's growth. Instead, go for a wider, but not so deep pot, to allow the roots to reach the bottom, and support water drainage, and not sit in a single place.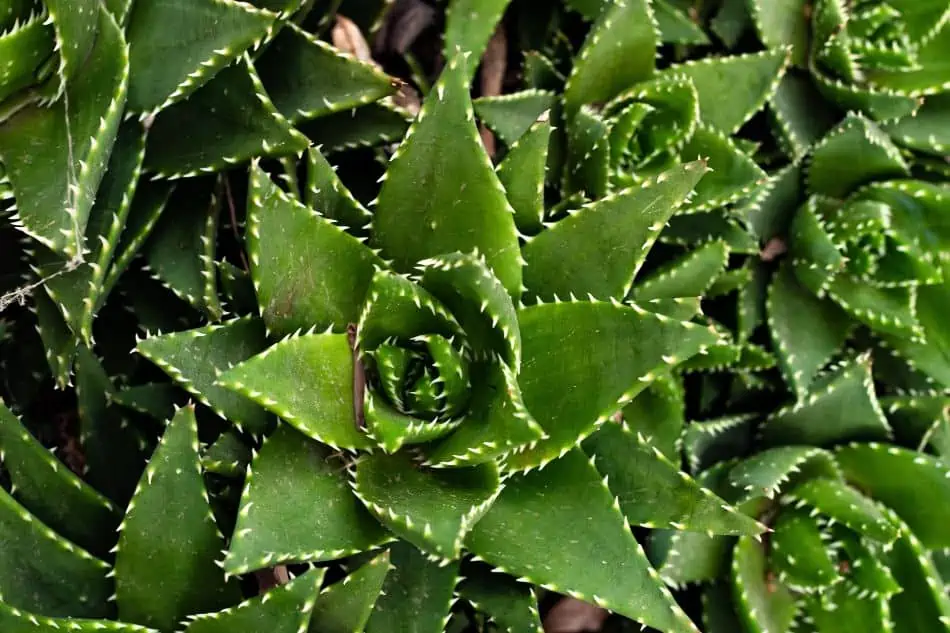 A Pot that Permits Good Drainage
If you get it right in choosing a pot with good drainage, you will get it right with the plant's growth. At the base of the pot you choose, always ensure there are numerous holes that will remove excess water from the plant.
If the pot lacks drainage holes, every time you water the plant, the soil around the plant gets wet. Damp soil will promote good conditions for the growth of bacteria and fungi. These bacteria and fungi will catalyze the process of root rot, and you may end up losing your succulent plant.
Your pots drainage should complement the well-draining gritty soil that you will use for your plant to help replicate the aerated soil condition for maximum growth of your aloe plant. In this kind of pot, gritty soil should be used to prevent the blockage of the holes by compacted soil.
Your good holed pot should also have a small tray that will hold excess water. Aloe vera is not planted to keep you stressed up. You don't have to wipe your hose every time you water your plant. Let the small tray hold the excess water for. You should ensure that you empty the tray from time to time to prevent the pot from sitting in a pool of water.
How are Materials used to make the Pot Important
Aloe thrives in different materials, including ceramic, plastic, resin, terracotta, wood, and metal. But when picking among them, it is an opportunity to make the right choice, thus selecting the one that will give maximum results. What is the best material?
For the best results from your aloe vera, terracotta or ceramic is the best pot to use. Why? Maybe the following pointers will help you understand:
Terracotta and ceramic permit proper air exchange with the potting soil inside the pot.
Terracotta supports proper drainage as it pulls water away from the plant root.
However, take note that terracotta is the best when planting an aloe plant. But after it has grown and is big, and needs moving around from house to sun, terracotta becomes quite heavy. When the plant becomes large, switch it to a lightweight resin or plastic. This is because the wonder plant has a well-developed root system, and can handle the reduced air exchange and drainage well.
Go for the Wide Pot, not the Deep Pot.
Aloe vera has a unique root system. Its root system remains shallow while growing horizontally. This suggests that a deep pot than wide is not the best option for your plant. A deep pot is useless because the roots won't go that deep.
When considering the pot, opt for a wide pot. A wide pot will ensure the proper spread of the root system and ease the water's drainage. A wide pot will also ensure a proper supply of air to the roots of the plant. When choosing the width, ensure you take heed of the factors that we have highlighted above.
Beauty is in the eyes of the beholder. Consider the aesthetic
Let your aloe plant attract attention in the pot it will be in. Pots come in different colors and you have an option to select the one that fits your décor preferences. You may choose a pot color that stands out in contrast with the green leaves.
Other people prefer a terracotta that offers a different kind of visual appeal. There are numerous types of such pots. Pick the color that fits your style of beauty and matches your home appeal.
When making these preferences, the best pot to use is the pot that offers an easy-going aesthetic. A pot that makes movement from one room to another and from indoor to outdoor, seamless.
A Porous Pot Works best.
There are numerous reasons why you should take a porous pot. Porous containers like clay or terracotta and timber or other natural materials allow air and moisture to move through them easily. A porous pot, allows fresh air to circulate in the plant's roots, enabling healthy growth. As this moisture evaporates out, it cools down the soil and aids them to draw excess water, avoiding root rot.
However, kindly note that porous containers dry water very fast, especially during summer, when the sun is hot. This could cause plant stress, because of underwatering. Under such conditions, ensure watering is done regularly. Unlike non-porous materials like ceramic or plastic, you need to regularly check up on the plant to ensure that it has enough water.
Consider the Weight of the Pot for Mobility
The weight of the pot will determine where to place a pot. Some pots get too heavy when they are watered and could destroy the deck of a house. Choose a pot that can be placed indoors, as well as outdoors for easy mobility.
If you are a gardener that alters your garden look once in a while, ensure you use a mobile pot that will allow you to change when necessary. Again in some instances, an aloe plant may show some signs of distress or die, and to revive it. You have to move it from indoors to outdoors to get enough sunlight.
However, even in choosing a lightweight pot, the stability of the plant is also important. If the plant is kept in open ground, you will need a heavy container to prevent the succulent plant from falling and damaging. You have numerous options based on your liking, but above all prioritize the safety of the plant.
Cost and Time involved in Maintaining Your Pot.
If you want a pot that will not cost you more afterward, choose one that doesn't need restoring from time to time. A pot made of wood may require to be treated annually with a preservative or stain to retain its appearance. Using such chemicals may increase your overall cost, not to mention the health hazards of the chemicals. Ask for the life and the maintenance requirement of the pot that you want to buy from your dealer to avoid unnecessary surprises.
Bottom Line
To help you make the right decision, examine the pros and cons of each pot material to ensure that it meets the attributes that will allow the aloe plant to grow healthy. Remember that after the plant, pot is the next thing that your friends will see. All the best as you try to get it right.
Last update on 2023-07-26 / Affiliate links / Images from Amazon Product Advertising API