Knowing how often to water your cactus is vital to support blooming and fruiting. How often you should water your cactus will depend on what kind of cactus you have. While we most often associate cacti with deserts, some cacti have adapted to growing in the rainforest.
How often should a cactus be watered? A cactus typically needs to be watered about once a week, depending on the season and the cacti's environment. A cactus can survive in extremely dry conditions. However, the key is making sure your cactus is thriving and not merely surviving.
You can do many things to make sure your cactus is thriving no matter the season or the environment. Keep reading for more water and cactus care tips.
How Often to Water a Cactus
Each cacti species is different and requires a different amount of water, so the best thing you can do is look up your specific species and learn all you can about it. Let's walk through a few things that influence how much you should water your cactus.
Indoor Cacti
Keeping an eye on your plant is the best way to know when and how often to water your cacti. Once your soil has thoroughly dried, it's time to water your cactus again.
Here are a few other factors that will help determine how often you should water your indoor cactus:
The size of your cactus. Smaller cacti are younger and need more water, whereas larger cacti are older and don't need to be watered as frequently.
The size and type of your pot. If your cactus is in a large pot, it won't need to be watered very often as its volume will contribute to holding water; however, a smaller pot will need to be watered more frequently. Smaller pots are recommended for cacti since it's not good for them to sit in water.
Plastic pots tend to hold onto moisture for a while. While they can still be used for planting cacti, keep in mind that plants probably won't need to be watered as much and be sure to check the soil before watering. Terra cotta pots are porous and allow the soil to dry quicker. Terra cotta is also a super inexpensive pot that can be purchased in any size or shape. Regardless of what type of pot you choose, keep in mind a pot with drainage holes is the way to go.
The specific species of your cactus can also help you determine how much water will ensure your cactus is thriving.
Checking your soil is essential when it comes to watering your cactus, but also a great way to ensure you're not over-watering your plant. To properly check your soil, you should:
Poke a finger into the drainage holes and check if the soil is dry.
Use a small stick or skewer to check if the soil is dry or damp at the bottom. If the soil is still damp, it will adhere to the stick or skewer, and if the soil is dry, the stick or skewer will come up clean.
Poke your finger a few inches into the soil, if the soil is dry, you can add some water, and if the soil is still damp, you can hold off on watering.
Outdoor Cacti
Watering cacti outdoors can be a little trial and error, so if you do your research and find a routine that works for you and you notice your plants thriving, stick with it.
Generally speaking, a deep soak is great for outdoor cacti. This mimics its natural environment more. A deep soak is achieved by allowing your hose to drip steadily for several hours, depending on how big or small your cacti are.
As a general rule, you'll want to plan on watering cacti every two weeks; however, if you live in a warmer climate you may find yourself needing to water cacti more often, and if you live in a cooler climate you'll probably find you won't need to water your cacti as frequently. Just as with indoor plants, smaller cacti will require more water while larger cacti are able to store more water and won't need to be watered as much as smaller ones.
A super helpful tip if you're repotting or planing a new cactus, plant it dry and give them roots about one week before exposing them to water.
Spring, Summer, Fall, & Winter
Spring and summer are the peak growing season for cacti, so plants will need to be watered about once a week during these warmer months. Still make sure before you water again that the soil is mostly dried out to avoid overwatering.
During this time, when plants are thriving and experiencing a lot of growth, it's also a good idea to fertilize plants once a month.
The cooler months of fall and winter are dormant, or rest periods, for cacti. This means plants are alive, but not actively growing If you have a cactus that will flower during the winter, it's important to keep your plant warm and to water regularly; however, if your cactus doesn't bloom during the winter and prefers warm, dry climates, you'll find yourself watering your cactus less frequently.
More Watering Tips
Here are a few more tips to keep in mind as you fall into a routine of watering your cactus:
Make sure you always allow the soil to dry completely before adding water to your cactus. To ensure your soil is dry, you can opt to use a water gauge or simply dig your finger a few inches into the dirt.
If your cactus is planted in a pot, it will need watered more frequently than cacti that are planted outdoors.
It's important to note that the hardness of your water will affect your cactus. If you have hard water, you'll want to plan on repotting your cacti every couple of years to avoid salt buildup.
Too Little Water? Or Too Much?
Just as easy as it is for some to neglect a cactus, you can easily over water a cactus as well. Here are a few signs you may be neglecting your cactus, as well as signs you may be killing your cactus with kindness.
Signs of Under Watering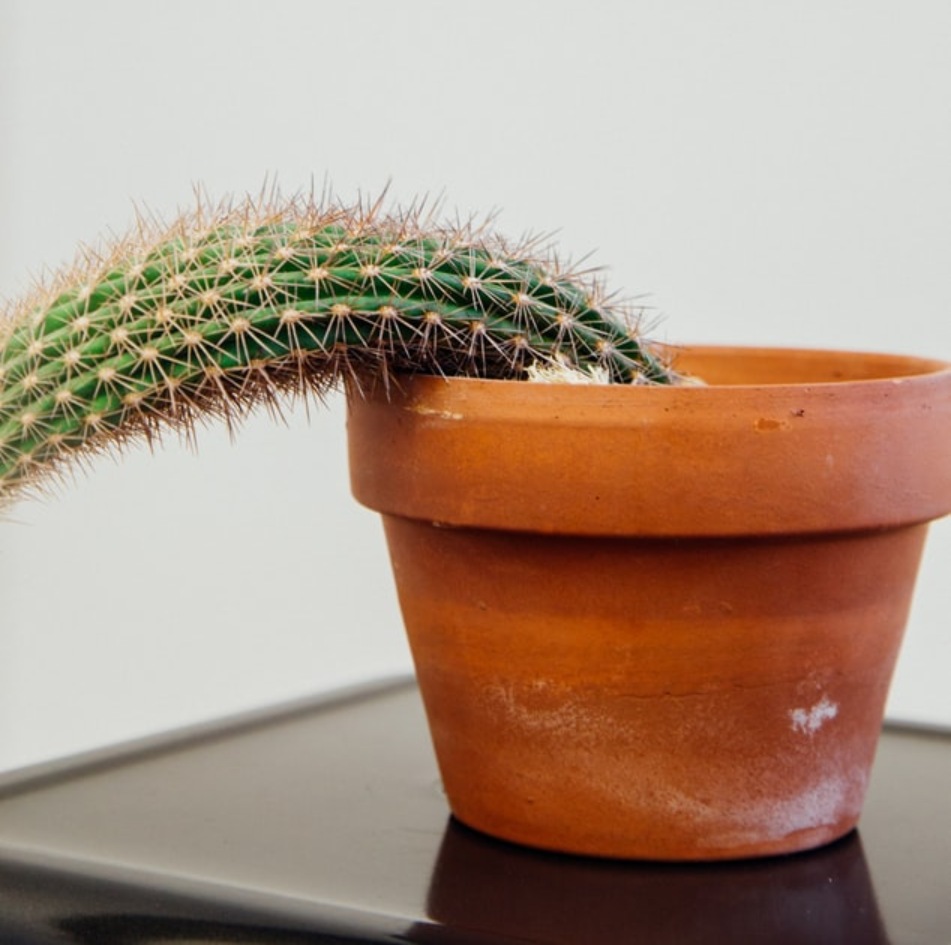 Cacti can still survive even if you've neglected them for a little while, but if you start noticing any of the following signs, it's time to give your cactus some love and maybe start a cactus watering schedule.
Cactus appears to be limp and/or soft.
Cactus is leaning to one side.
Cactus has changed color; typically when cacti are suffering from drought, they will turn a paler color.
It's important to keep an eye on your cactus and if or when you start to notice any of these things occurring to go ahead and increase the amount of water your cactus is getting. Consider keeping a spray bottle of water near you or your plant and using it as you need to give your plant some extra moisture.
Signs of Over Watering
Too much watering will cause cactus roots to rot, can cause bacterial and fungal growth, and doesn't allow the cactus to absorb nutrients properly. Unfortunately, your plant will appear to be happy and healthy on top, while it is suffering underneath. Here are a couple of signs you may be giving your cactus too much water:
Look for extremely fast growth. If you notice your cactus has recently gotten plum and is growing quickly, cup back on watering for a bit.
If you notice your cactus turning yellow, wilting, or softening, it may be too late to save it.
To avoid overwatering, make sure that the pot you have your cactus planted in has drainage holes in the bottom so that the roots aren't sitting in water, and opt for a fast-draining soil to plant your cactus in. It may also be helpful to track when you water your cactus by creating a plant schedule.
More Cactus Care Tips
Cacti are pretty low-maintenance plants, but they still require a certain amount of love and attention. Here are a few things you can do to make sure your cacti are staying happy and healthy:
The soil you plant your cactus in is super important, and soil used to plant a cactus in needs to allow drainage to avoid allowing the cactus to sit in water. Check out this Succulent Planter Soil Kit or this Succulent and Cactus Soil Mix. Research the kind of soil your specific cacti prefer; some prefer soils with more gravel, while others prefer a sandy mix.
Cacti love sunshine, but there is such a thing as too much. Cacti can begin to burn if they happen to be sitting in a window that receives a lot of direct sunlight. Look for color changes on the side facing the sun. Your cactus may need to be moved to a different spot with less sunshine if you notice they begin to burn.
Read up on your cactus and learn how to care for your specific plant, and should you have any questions, don't be afraid to ask a local nursery. Plants typically come with a tag that includes basic information, including the name, for your plant; if not, take a picture to your local nursery, and they can help you identify your plant, or look at pictures online to discover what species of cacti you have.
Cacti can benefit greatly from some fertilizer, especially fertilizers that are made specifically for cacti and succulents such as Cactus Juice or this Dynamite Cactus and Succulent Food. Typically you'll just sprinkle a little fertilizer with each watering, but read the instructions on your fertilizer before use.
Mistakes to Avoid
Here are a few common mistakes to avoid as you begin to care for a cactus:
Using a peat-based moss. Many nurseries use this moss for cacti and succulents, and while peat moss may work for a while, at some point, it will get and stay too wet, which isn't good for cacti.
If you plan on using cacti for landscaping, consider your cacti's specific needs before planting. Poor planning can lead to unhealthy and potentially dead cacti. Again, be sure to do your research on the specific species of cacti you have so you can find the perfect spot outdoors with sufficient sun and shade.
Roots need room to grow, and as they become too tight, the roots may not be acquiring the nutrients the plant needs causing the plant to die. If you can see roots through the drain hole, it's time to re-pot.
While succulent and cacti gardens are super popular right now and look great, mixing different species of plants that require different watering schedules and amounts of sunshine could cause cacti, or other succulents, to die. While it takes a little more research and planning, taking the time to choose cacti and/or succulents with similar needs will be worth it in the long run.
Best Indoor Cacti
If you're wanting an indoor cactus, but aren't really sure what species to go for, here are a few ideas:
Rat Tail Cactus – The Rat Tail cactus is a hanging basket cactus that can grow up to 3 feet long. This cactus blooms bright magenta and takes direct sunlight.
Old Lady Cactus – The Old Lady cactus is a unique looking plant that consists of spheres with white hairs and spines. On the healthiest of plants, you'll notice small pink blooms that form a circle at the top of the spheres. Old lady cacti like sandy potting mix, bright light, and to be watered bi-weekly to monthly.
Christmas Cactus – The Christmas cactus has no prickles and bears beautiful flowers that bloom in red, pink, orange, or white. This cactus requires diffused light, and slightly cooler temps during the winter months.
Angel Wings Cactus – This cactus has hair instead of spines, grows to be about two feet tall, requires full sun, and will have pale yellow blooms.
African Milk Cactus – The African Milk cactus is a slow grower but can grow up to 8 feet tall. This cactus likes partial to full sun and likes watered about twice a month.
Best Outdoor Cacti
Cacti typically thrive indoors, but there are some that do great outdoors as well. If you're interested in planting cacti outside, check out these species:
Claret Cup Cactus – The Claret Cup cactus can grow up to 3 feet high and 6 feet wide. These cacti bear a juicy fruit that turns bright orange as it ripens. Claret Cups like soil with a lot of gravel and prefer full sun.
Golden Ball Cactus – Golden ball cacti are also known as Lemon Ball or Yellow Tower because of its color. These cacti can grow up to 3 feet tall, are great for beginners, and enjoy some shade during the hottest part of the day.
Strawberry Hedgehog Cactus – The Strawberry Hedgehog cactus grows to be about 28 inches tall, loves all the sun, and has beautiful purple-magenta blooms.
Old Man Cactus – Old Man cacti grow as tall columns covered by woolly white hair. These cacti can grow an impressive 49 feet tall and enjoy full sun.
Orchid Cactus – The Orchid cactus is a beautiful plant that can grow as long as 225 feet, and grow gorgeous blooms in pink, red, white, yellow, or orange. These cacti require filtered sunlight.
Final Thoughts
How often you water your cactus is vital to making sure it's not only surviving but also thriving. Several factors will contribute to how often you water your cactus, such as the location of your plant and what climates you experience where you live, among other things.
For example, if you keep your plants indoors, you will want to keep an eye on the soil, and once it's dry, you can add water. For indoor cacti, you'll more than likely fall into a routine after a while. For outdoor cacti, the general rule to follow is a deep soak about once a week.
During the warmer months, it's normal to need to water cacti more frequently and to hold off on watering during the cooler months.
Something to be mindful of with a cactus is that while they can die from not getting enough water, too much water is just as bad for them. Softness, leaning to one side, and lightening in color are all signs your cactus may be thirsty, while extremely quick growth may be a sign your cactus is being overwatered.
Being mindful of the soil you use, noting how much sunshine your cactus is getting versus how much it requires, researching the specific species of cactus you have, and fertilizing your cactus are all ways you can ensure your cactus is staying happy and healthy.
Cacti are pretty versatile, low-maintenance plants making them great for beginners and green thumbs alike, so whether this is your first plant or one of many, enjoy the process and happy gardening!
Last update on 2023-10-05 / Affiliate links / Images from Amazon Product Advertising API