Aloe vera plant is a beautiful and easy to care for succulent, making for a great indoor companion. In addition, aloes do well in dry, winter conditions. Still, they are somewhat challenging to grow indoors because they need lots of sun every day.
Light is where most succulent gardeners fall short of the needs of their plants. It would be best to put your Aloe where it will get a minimum of six hours of sunlight daily. Without adequate, direct light, your Aloe begins to stretch towards light and loses its compact form. As a result, the plant may topple over as the stem grows weak.
Light is an essential factor when growing an aloe vera plant. Sunlight plays a crucial role in aloe vera's long-term health and well-being, although individual plant needs vary depending on positioning, soil, and age.
Indoor Light Requirements For Aloe Vera
Aloe Vera is a trendy house plant because it looks beautiful, adds a friendly vibe to your house, and does not require as much care and water as other house plants do. However, because succulents are warm and sun-loving plants, many are afraid to grow succulents in places where the summer season isn't that long.
You will need a location with bright and indirect sunlight. Excess direct sun can dry out the plant and turn its leaves yellow. Water your Aloe more often if your Aloe lives in an incredibly sunny area. Place the aloe vera plant in a container near a kitchen window for occasional use.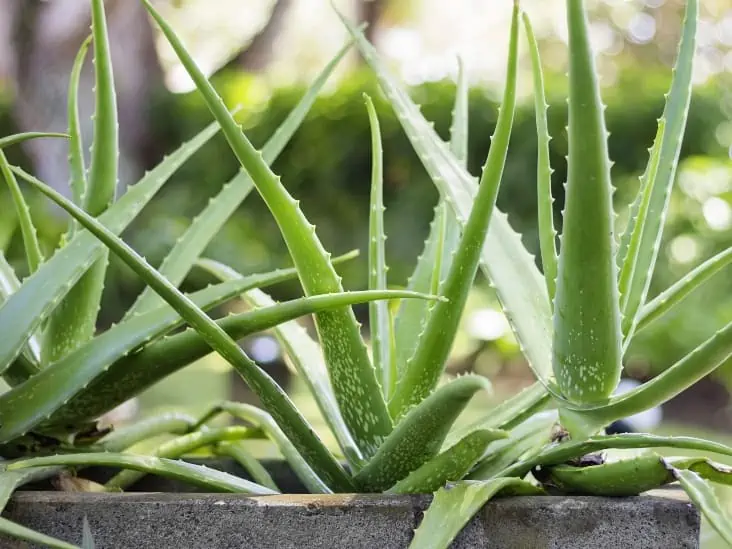 We recommend A western or southern window. If the sun in your brightest spot is not adequate, consider artificial lights, alone or natural light. If it's not a sunny, hot exposure like a south or west window, you can put it in the window.
Rotating your indoor Aloe Plant plant every 2-3 months will ensure it receives light evenly on all sides and not permanently leaning towards the light source. You can still grow your succulents throughout the year even if you live in a climate with distinct seasons and the winter months are cold and dark. Bring them inside once freezing temperatures hit and use artificial lights to give your succulents the light they need.
Artificial Light Basics
You can grow aloe vera plants under artificial light if you provide the correct amount of light. You need to choose the most suitable lights and know how to use them to bring out the best of your Aloe plants.
When you choose artificial lighting for an indoor garden, you need to think about a couple of things when making the decision. And these things are:
How bright is the grow light
It would help if you considered how bright the light from the artificial lights would be because this will affect how much light the plants get and how well they will grow. For Aloes, you need lights that emit at least 2,000 lumens for each square foot of sunlight.
What color temperature is the artificial light?
Aloes prefer bright light overshadow, so they also require a specific light in terms of the color temperature of the morning. Color temperature is the visible color that the grow lights radiate. The optimal color temperature for succulents begins at about 5,000 Kelvins, giving your succulents full-spectrum light that closely resembles sunlight.
How much energy does the grow light consume?
The more energy a light consumes, the more you have to pay for your electricity, so you don't want to buy a bright light but chews up a lot of watts, as that will be very expensive. Instead, look for lights labeled energy-efficient for a high lumen count and low wattage.
How much heat does the grow light give off?
If they give off too much heat, you could have a problem with the room where you grow your succulents being too hot, resulting in you having to spend more money on good ventilation or a cooling system.
How high to hang the grow lights from your plant
How high you hang your grow lights determines how much light the plants get. Therefore, it would be best to turn the plants to get the maximum sunlight without burning the plants with the heat radiating from these lights.
Put the grow lights at least 6 to 8 inches away from the tips of your aloe vera because this will reduce the chance of your grow lights burning and damaging your plants. If you realize that your lighting doesn't give out much heat, you can place them closer to the succulents to get more intense light. A white fluorescent light will give good results. Provide artificial light for at least 14 to 16 hours per day
Outdoor Light Requirements
You can allow your indoor Aloe to experience fresh air and sunshine in the late spring and summer by moving it outdoors. However, shallow temperatures can lead to the death of your Aloe Vera. So ensure you shield your plant from temperatures of 40 degrees F or lower.
Provide your Aloe Vera Plant with as much light as you possibly can, mostly during springtime and summer. You can keep Aloes outdoors in full sun during the summer when temperatures are above 70°F (21°C). However, bring the Aloe inside if nighttime temps threaten to drop below 60°F (16°C).
Please do not move your aloe plant from indoors to the outdoors right away; it may need some time to acclimatize to the bright light, or else it will sunburn. First, make sure it sits in partial shade for about a week before moving it to a sunnier location.
Aloe vera thrives in full sun, especially in cooler climates where fog or overcast skies are typical. Be careful that your plants get a minimum of six hours of direct sun; however, most aloe vera plants can tolerate some light shade or filtered sun at midday.
The best outdoor areas are South- or west-facing with slight sandy soil, whether in a pot or the ground. Sunburn is a concern when moving indoor aloe vera plants to a bright, sunny location outdoors.
If you're growing aloe plants outdoors, place them in partial shade. The location you choose should get lots of morning sun. However, make sure you protect the plants during the afternoon as the lighting is more intense during this time.
Direct lighting can dry them out if you don't provide enough protection for your aloe plants. The leaves can also become scorched by the sun. Introduce the plant to outdoor conditions slowly by exposing it to sunlight for an increasing period each day throughout one to two weeks before planting or leaving it outside. Acclimatizing minimizes stress to the Aloe.
Age and Light Requirements
Older aloe vera plants can withstand direct sunlight. However, young, freshly propagated plants will not tolerate intense light levels as more senior, mature plants. Therefore, for freshly potted pups or seedlings, make sure that you use a sheer curtain when placing them where there is bright and diffuse light.
If the plant is outdoors, place it beneath a shade cloth in the daytime and move it indoors at night. 
Avoid exposing young plants to the scorching noon sun until they are mature, at which point you can adjust the light conditions slowly over a week or so.
Signs That Your Aloe Vera Is Not Getting Enough Light
Aloe flop can occur if your plant is not getting enough sunlight and the foliage does not have the strength to grow in the fine upright form you expect. Instead, leaves will appear limp, flattened, and elongated.
Frequent low light will lead to a lack of blooming, in addition to discolored growth. Plants that experience low light develop leggy growth because they stretch toward light sources, which disfigures the plant and weak growth.
Aloe vera plants are grown under low light and experience root rot. Sunlight regulates the moisture in the soil by heating it. Cold and damp will increase the likelihood of root rot. Ensure you monitor the moisture level in the ground and only water when dry.
Lack of light will weaken your Aloe plant and cause the leaves to crease or bend at the base or in the middle. A leggy growth habit and pale leaves are other indications of insufficient light.
Signs of Overexposure to Sunlight
Aloe vera plants exposed to too much sun for long will not be in the best condition. Excess sun exposure happens in coastal areas or can also happen if you grow the plants against a south- or west-facing wall because light bounces off the structure.
Despite adequate watering, signs of overexposure to sunlight include blanched leaves and midday wilting. Move your potted aloe vera plants to a location where they will receive some filtered shade at noon. Garden-grown aloes will require protection when the sun is hottest, so place a shade cloth over them or move them into a lightly shaded bed.
Bottom Line
The Aloe's piny, gray-green foliage and showy golden-yellow flowers add beauty to your indoor and outdoor spaces. Just provide the right light to enjoy these beauties.
Last update on 2023-07-27 / Affiliate links / Images from Amazon Product Advertising API