Learning succulents' needs is vital to their care, especially how much light they need. There are quite a few types of succulents out there, and they come from just about all over the world. The amount of light a succulent needs to thrive depends on the kind of succulent.
Succulents can not grow in shaded areas without any light. With the right lightning regiment, succulents can thrive indoors and outdoors. Allowing succulents a mixture of natural and artificial light for 14 – 16 hours a day is optimal.
These unique plants are about as low maintenance as they come, but they have specific needs and care. Don't worry. We cover them all here. Just keep reading to make sure you're able to provide your succulents with the proper amount of light.
Good Lighting Makes a Difference
Like a lot of plants, succulents need light. Even though these tough little plants can take a lot. As well as do without a lot, light is a must. They can only survive a short while in the shade or with no light at all. Without a good source of the proper light, succulents' health will start to deteriorate.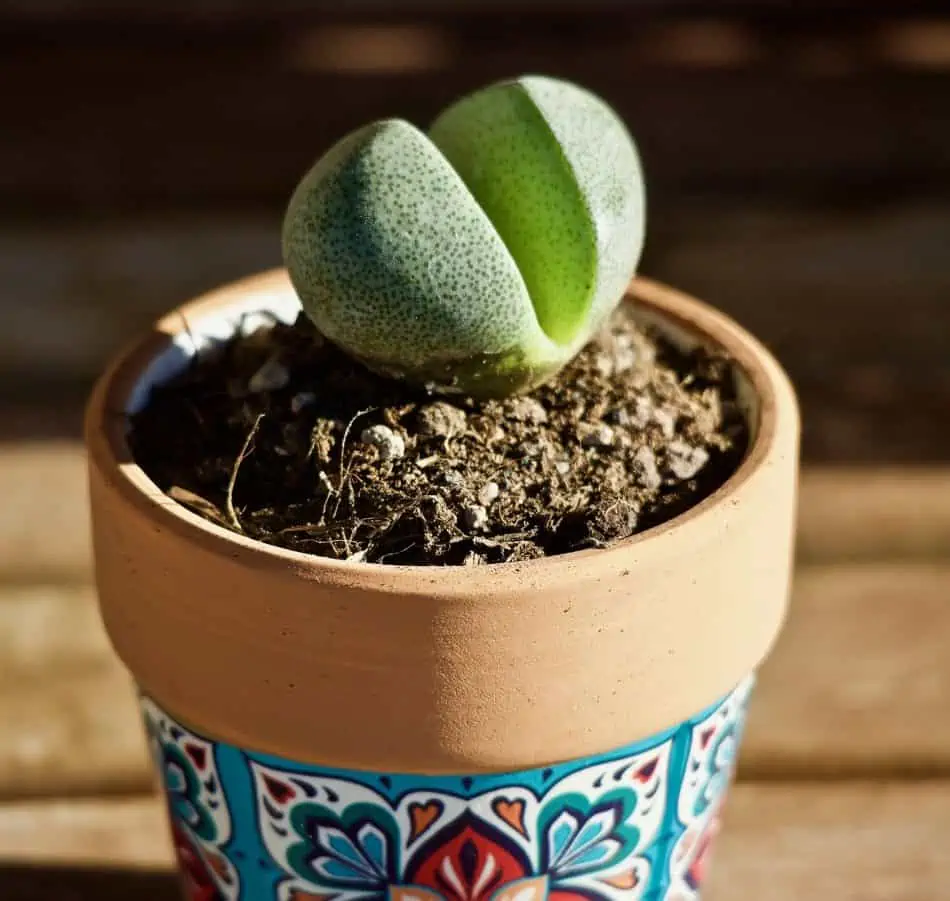 Knowing what to look for, and addressing it promptly, can save your plant. Here are some things to look out for to determine if your succulent is getting the right amount of light:
• Color changes that are not common to your type of succulents. Commonly white or yellow
• Any part of the plant that shows decay
• Lengthening limbs, or leaves that seem to be stretching
• Thinning petals, not the normally lush, curved edges
These plants have adapted to sometimes very harsh environments. Often they will begin lengthening or stretching towards a light source if possible. This can be because it isn't getting enough light or any at all. They essentially try to save themselves by reaching towards the light.
Succulents and plants, in general, need light to produce chlorophyll. Chlorophyll is needed to continue the photosynthesis cycle that converts energy for the plant to live and function. Without being able to complete this function, succulents will eventually perish.
Luckily, they usually show signs before it gets that far if you are paying attention. Their resilience is pretty remarkable. So don't give up on them too quickly. If you see any of these signs, there is still hope.
Make Sure You're Providing the Right Kind of Light
Natural light is obviously the go-to for plants, if available. But of course, sometimes it can be too much of a good thing. Succulents can be found in areas that have pretty extreme light exposure and droughts. That doesn't mean that is how they should be cared for.
If you plan on providing natural light indoors, around 6 hours is a good amount for most succulents. This can be a bit more complicated since you can't control how strong the sun's rays will be. Direct harsh rays can cause damage to succulents over time.
This can lead to brittle, flakey petals and even rot. Having a well-managed schedule of a little sunlight is important. But also adding artificial light from a simple LED light with a white fluorescent bulb can make a world of difference for the health of your succulents.
| | |
| --- | --- |
| Type of Light | Time |
| Natural Light Only | 6 – 8 Hours |
| Artificial Light Only | 14 – 16 Hours |
| Both Natural and Artificial Light (Depending on how harsh the sun is) | 4 Hours Natural Light10-12 Hours Artificial Light |
This lighting schedule is a good base of time and how to care for your succulents. Watching how the succulents react per your schedule, you can figure out the best options:
How Mother Nature Affects Succulents' Lighting Needs
Mother Nature is incredible yet unpredictable and uncontrollable. This can make depending on natural light for your succulents a little difficult. Some days may give more light, and others may leave succulents wanting more.
Adapt Your Succulents to Lighting in a New Environment
Whether a succulent is transitioning from indoor space or even another outdoor environment, it is best to help them get used to their new digs. Easing them into their new environment is a safe way to give this beauty a good chance to get their bearings.
Planting succulents and walking away isn't the best choice. Try bringing your succulents to where they will eventually be planted over some time. You can do this by gradually exposing the succulents to the new environment.
Here are a few tips on adapting your succulents:
• Keep succulents in a portable container, like a pot.
• Start slowly, especially during warmer seasons
• Make sure to check the weather for rain.
• Have a place ready to transport your succulents back to that that isn't in direct light.
Depending on your climate and daylight hours, starting off with a slow and steady pace is best. Try a few hours the first day and build from that. Always taking temperature and weather into consideration. Scorching your succulents and it being bogged down with rain are major things to avoid.
Bring the succulents out of the sun after each round of exposure. Not to inside temperatures, just a place still outdoors, yet away from rain and too much sun.
This allows the succulents to adjust to the lighting and temperatures by slowly introducing the succulents to the elements, helping them adapt at a safer pace. They are such hardy plants; adapting is what they do. It is just much better to do so in a healthier way, given a chance.
Getting to Know Your Succulents to Provide the Right Light
Contrary to popular belief, succulents are not meant to fry in the desert sun. They are capable of withstanding drought-like conditions, including sunlight, but these aren't ideal growth conditions, especially for those meant to grow indoors. This doesn't mean toss your succulents on the hood of your vehicle in the Texas sun. What it does mean is these cuties can endure a lot. Here, we are going to make sure they don't have to.
Succulents Come from Areas with All Different Kinds of Light
Succulents are so adaptable that they are found nearly everywhere globally, except for a few places like Antarctica and some of the nearly uninhabitable deserts on earth. Wait, they don't necessarily thrive in the desert? Exactly! Leaving succulents to fend for themselves in these conditions switches them into survival mode, and we want to encourage them to actually thrive.
Here are some interesting and possibly surprising places you can find succulents.
• Africa
• Central America
• The European Alps
Where is a Good Place to Put Succulents for Optimal Lighting?
While it might seem like a succulent is a great way to brighten up a dark corner in your bedroom or a windowless basement, it'll end with a dead plant. Here are some good places to keep a succulent in your home to make sure they get just the right amount of light:
Show them off by placing your succulents on a balcony or porch.
The perfect place to have a chat with your plant, the kitchen window.
Add simple spa-like elegance to your bathroom out your succulents on full display in your bathroom window
Setting Up Artificial Light for Your Succulents
The lighting setup doesn't have to be overly complicated for these fairly self-sufficient plants. A full-on greenhouse in your apartment isn't a requirement. LED or fluorescent bulbs are a good choice for either the main lighting source or in rotation with natural sunlight.
Make sure to check the dimensions of any lighting setup you plan on using. You want to be sure it will fit properly and safely in the space you have planned for your succulents. Also, keep in mind the lights need to be kept at least 6-12 inches from the succulents to give the right amount of light without scorching them. These are some great options to get your succulents all set up and thriving.
Final Thoughts
Succulents are such incredible plants, forgiving and resilient in ways that amaze them. After bringing a little light to learning how much light succulents need, we can conclude with just a little love and the right amount of light, caring for succulents will be well worth it.
Last update on 2023-12-11 / Affiliate links / Images from Amazon Product Advertising API