Cacti are unique and popular plants that are known for their distinct appearance and exceptional characteristics. Most of these succulents thrive in relatively hot and dry climates. Unlike most plants, a cactus requires minimal amounts of water to survive since it can store water in its stem for a relatively long period.
So, how many types of cactus are there? The Cactaceae family consists of approximately 150 genera and 2,500 species found in different parts of the world. A significant number of these species are adapted to growing in arid environments, although some of them are native to rainforests and tropical climate. Most of them have reduced leaves that are modified into spines and photosynthetic stems.
While most cacti plants are known to be desert plants, they can grow and thrive in a home environment too. But before you start growing these amazing plants, you need to know the different types of cacti that exist and their unique needs.
In this post, we discuss essential information about cacti plants that you need to know. We shall talk about their classification, some of the unique physical characteristics they possess, and some of the common types of cacti plants you can grow in your home.
Classifications of a Cactus Plant
Classification refers to the process of listing an organism or plant into different groups to which it belongs. The classification starts from the highest group, which is the Kingdom to the lowest group; the species.
As you move from the top group (kingdom) to the lowest group (species), the characteristics of the organism become more specific and defined. So, let us see how a cactus plant is classified into the seven different groups.
1. Kingdom
Since a cactus is a plant, it falls into Kingdom Plantae. This is the highest group in our classification, and there nothing unique about it except for the fact that it houses all plants.
2. Phylum and Division
All cacti plants belong to the Phylum Tracheophyta and division Anthophyta. Phylum Tracheophyta features all vascular plants, while division Anthophyta features flowering plants or angiosperms.
3. Class and Subclass
These succulents are part of class Magnoliopsida, also referred to as dicots and subclass Caryophyllidae. All plants in this class and subclass are typically insect-pollinated, and their seeds have two cotyledons hence the name dicots.
4. Order and Family
Cacti plants belong to order Caryophyllales and family Cactaceae. Order Caryophyllales features a group of approximately 26 families of flowering plants subdivided into about 12,500 different species. The families in this order include Cactaceae (cacti), Portulacaceae (purslanes), Didiereaceae, and the carnivorous plant families Nepenthes and Droseraceae.
5. Genus
There are approximately 150 different genera in the family of Cactaceae divided into three broad subgroups or tribes. The subgroups are:
Opunitieae: Genera Opuntia features branched plants that may or may not have spines but have fine hairs referred to as glochids. Their leaves are cylindrical or flat, and their fruit is usually seedy. The most common example of plants in this genus is the prickly pear cactus.
Pereskieae: Plants in this subgroup have woody stems, and their areolas are spiny and woolly at the leaf axis. Their leaves are also semideciduous, and their fruits are mostly fleshy.
Cactoidea: This tribe has about 100 genera, and most cacti plants are found here. Some of the common subtribes of Cactoidea include cactinae, Trichocereinae, Echinocereinae, Browninginae, and Hylocereinae.
Physical Characteristics of Cacti Plants
Now that you understand the general classification of these succulents, it is time to discuss the unique physical characteristics that distinguish them from other plants.
In most cases, cacti plants can easily be distinguished from other succulent plants by the presence of areoles on their surface. These are small hair-like structures and occur in almost all cacti species. Areoles are modified branches from which other branches, leaves, and flowers grow.
Cacti plants also have a relatively thick and herbaceous stem. The primary function of the stem is to store water and photosynthesize. Keep in mind that the spines which serve as leaves on these plants cannot photosynthesize.
In most cacti species, leaves are reduced and modified into spines, which minimize the amount of water lost through transpiration. Only the tropical genera Pereskopsis and Pereskia have true looking and photosynthetic leaves. The Christmas and Holiday cacti that are native to rainforests of Brazil also have true leaves.
The roots of these plants are generally thin, fibrous, and shallow to absorb water effectively.
These succulents also vary in size and appearance, from the low clumps of Opuntia prickly to the relatively tall columns of barrel cacti and the imposing stature of the giant saguaro. Most of them grow in the ground, but a few species, including the leaf cactus (Epiphyllum), Schlumbergera, and Rhipsalis, are epiphytes meaning they grow on other plants or hard surfaces such as rocks.
However, this doesn't mean that these cacti plants are parasitic. They only use other plants and rocks to gain support but have their own means of obtaining food and water.
The primary method of reproduction is by seeds, although you can propagate cacti plants from cuttings. They produce beautiful flowers mostly during summer. Their flowers are often large and colorful. Some cacti species, such as the prickly pear, produce edible fruits.
Some of the Common Types of Cacti Plants
Although these plants are well known for growing outdoors in arid areas, some of them do great in a home setting when watered and taken care of properly. If you are looking to bring some cacti plants into your home, you should consider going for one of the following common types of cacti:
1. Christmas Cactus
One of the most popular types of cacti is the Christmas cactus that is native to the tropical rainforest of Brazil. This plant is in the Schlumbergera family.
Christmas cactus doesn't have true leaves but its long, flat stems extend to form leaf-like structures. Its name is derived from its unique characteristic of flowering during winter, just around Christmas time.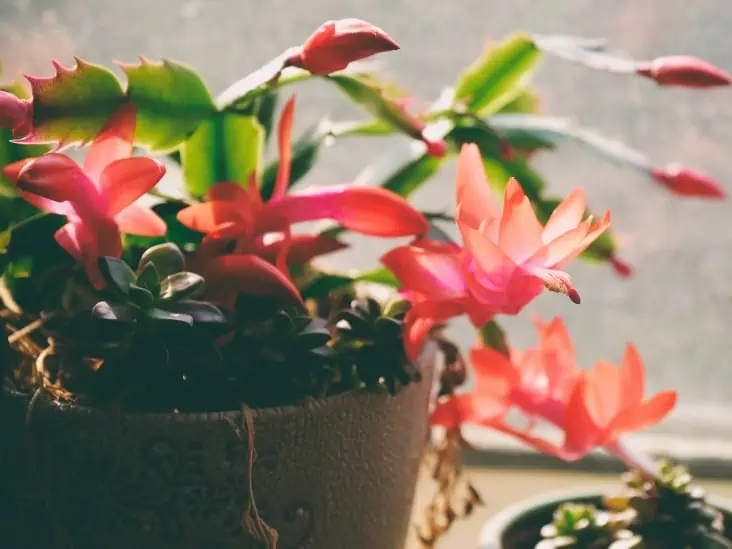 It produces yellow, red, pink, or white flowers. To ensure that your Christmas cactus flowers, you need to keep it in a relatively cool environment, water sparingly, and expose it to prolonged periods of darkness. Typically, the plant should get between 12-14 hours of darkness every day.
2. Barrel Cactus
Barrel cactus is a group name for a specific type of barrel-shaped cacti native to North and South America. Plants that fall into this group are characterized by their ribbed, cylindrical shape. They come in different sizes, but all of them are cylindrical.
The barrel cactus usually requires plenty of sunlight but not much water. In fact, a barrel cactus can still survive and thrive even with one watering session every three months as long as you expose it to sufficient lighting.
Therefore, make sure you keep potted barrel cactus in the warmest room of your house and position it on north-facing windows if you live in the southern hemisphere or east-facing windows if you live in the northern hemisphere.
3. Old Lady Cactus
The Mammillaria Hahniana, commonly referred to as the Old Lady Cactus, is native to Mexico and grows up to ten inches tall and 20 inches broad. Its stunning spherical stems are usually covered in sharp white spines and white hairs hence the name Old lady cactus.
This plant doesn't like being lonely, which explains the reason why you will always find them growing in groups creating a beautiful collection of spheres. During summer, the spherical ball of the plant begins to take a new look.
The balls start flowering with reddish-purple flowers forming a stunning crown at the tip of the plants. The flowers look like a headband creating a perfect halo effect. The Old Lady cactus is easy to take care of, and as long as you do everything right, you will always have a show to savor every summer.
4. Bunny Ears Cactus
Bunny Ears cactus is also native to Mexico and grows indoors quite well. Some people call it the Bunny cactus, while others refer to it as Angel's Wings cactus.
The plant looks comical thanks to its large green pads that resemble a rabbit's ears. An indoor bunny cactus can grow to a height of 60cm. However, just like most cacti, the bunny cactus is slow-growing and will take some years to reach the maximum height.
It doesn't flower regularly, but its general appearance is beautiful. The plant has fine hair-like glochids that are extremely thin. Its glochids can cause severe irritation if they penetrate through your skin hence the need to be careful if you decide to grow this plant in your home.
5. Saguaro
The final cactus on our list of top five common types of cacti is the saguaro plant that is native to the Sonoran Desert in Arizona. Although this plant is slow-growing, it can reach a height of 60 feet and can be used as a good indoor plant for many years before the need to move it outdoors.
The saguaro has a barrel-shaped body, which gives it a classical cactus appearance.  It requires a lot of sunlight to thrive. Therefore, if you are keeping it indoors, be sure to position it in a spot that receives plenty of direct sunlight.
The plant can hold water for long, so you don't have to water it frequently. However, when watering, ensure you do so deeply and wait until the soil is completely dry before watering again.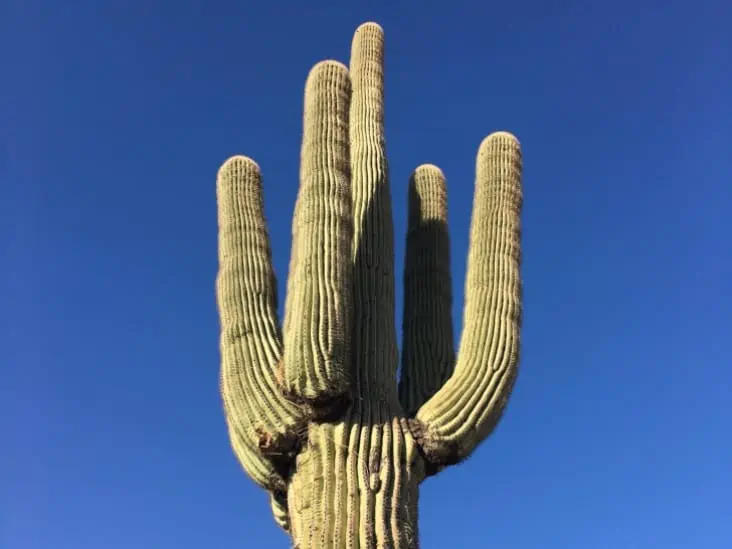 6. Moon Cactus
The moon cactus is a type of cactus that is native to Brazil. It is a small cactus that only grows to be about 3-5 inches tall. The moon cactus gets its name from its shape, which resembles a round ball. The top of the moon cactus is usually brightly colored with colors such as yellow, pink, or red. The bottom of the plant is usually green.
The moon cactus does not require a lot of care. It does best in bright, indirect light but can also tolerate low light conditions. When watering, allow the soil to dry out completely before watering again. Moon cacti are not heavy feeders, so they do not need to be fertilized often.
7. Prickly Pear Cactus
The prickly pear cactus is a type of cactus that is native to Mexico. It is a large cactus that can grow up to 6 feet tall and 10 feet wide.
The prickly pear cactus gets its name from the round, fleshy fruits it produces, also called prickly pears. The fruits of the prickly pear cactus are edible and have a sweet, juicy taste.
The prickly pear cactus does best in full sun but can also tolerate partial shade. When watering, allow the soil to dry out completely before watering again. Prickly pear cacti are not heavy feeders, so they do not need to be fertilized often.
8. Spiny Pincushion Cactus
The spiny pincushion cactus is mostly found in the deserts of Arizona and Mexico. It is a small cactus that only grows to be about 2-4 inches tall.
The spiny pincushion cactus gets its name from its small, spiny flowers that bloom on the plant. The flowers are usually white or yellow.
The spiny pincushion cactus does best in full sun but can also tolerate partial shade. When watering, allow the soil to dry out completely before watering again. Spiny pincushion cacti do not need to be fertilized to thrive.
9. Star Cactus
The star cactus is native to Mexico and can grow to about four inches tall. It is a small, round cactus that gets its name from the star-shaped flowers that it produces. The flowers of the star cactus are usually pink or white.
The star cactus does best in full sun but can tolerate partial shade. When watering, allow the soil to dry out completely before watering again.
Summary
If you have been feeling that inner calling to grow plants and you want to embrace it, then acquiring a cactus plant is a great place to start. These plants are relatively easy to maintain and don't require much attention to thrive.
We hope you enjoyed reading this post, and we'd love to hear from you. So, feel free to leave your comments, queries, or contributions in the comments section below.
Last update on 2023-10-05 / Affiliate links / Images from Amazon Product Advertising API