It is no secret that a lot of people cherish cacti plants not only for their appearance but also for the beauty and size of their flowers. This is the primary reason why they stand out from other plants in your garden. The way these succulents flower and bloom is close to a miracle. It is a unique moment that no plant lover will want to miss. But how long does the show last? We are here to help you understand.
So, how long does a cactus flowers last? The length of time that cacti flowers last tend to vary greatly depending on the species of the plant. While some plants bloom and wither within one day, others will retain their flowers for periods of up to six weeks. Some of the crucial factors that determine how long a cactus flower lasts include the temperature of the surrounding environment and the amount of watering it receives.
In this post, we focus on different aspects of flowering among cacti plants and what you can do to ensure you get the best floral show possible. Read on to discover some of the interesting things about cacti flowers and the behavior of these unique plants during the blooming season.
How Old Must a Cactus Plant Be to Start Flowering?
A cactus plant will only start flowering when it is fully mature and exposed to the right conditions. Age is a crucial factor in the whole process. While some cacti plants will begin to flower at a relatively younger age, others may take more than 30 years before they start to show any signs of flowering.
That is not all. In most cases, the plants won't bloom even if they are mature enough unless they get the proper care. They must be exposed to the right light conditions and receive sufficient watering and fertilization.
Generally, columnar cacti plants will take many years before they bloom for the first time if grown from seed. However, if you carefully root a branch from an already mature and flowering plant, the newly propagated plant will keep blooming even after it has been separated from the mother plant.
Unfortunately, some columnar cacti plants, such as the Saguaro, have branches that cannot root no matter how hard you try. This means that the only option you've got with such cacti species are grown from seed with a 40 to a 55-year waiting period before you can see the first flower.
A few plants in this category can produce flowers for the first time after ten to 20 years. A good example is the Peruvian cactus plant.
The short-stem cacti with mature stems usually flower within five years from germination.  Hedgehog cactus is a good example that falls into this category. This plant produces large beautiful pink or red flowers in plenty during spring.
Easter lily cactus is another good example of short-stem cactus plant that starts to produce huge funnel-shaped flowers within the first five years after germination.
For round cacti, you won't have to wait for too long before you start to see the first signs of flowering. In most cases, cacti plants that fall into this category will begin to bloom three to four years after sprouting.
Although most of them are round when they are still young, they tend to elongate into medium columnar plants with time. In fact, the most floriferous cacti plants belong to this category. They include the pincushion cactus and the Rebutia SPP cacti plants.
When Does a Cactus Flowers Bloom?
Most cacti plants bloom in the spring, opening their flowers during the day. The spring flowering season usually starts from mid-February to mid-June, with the peak happening around mid-March to late April, depending on the amount of rainfall and temperature.
The spring-blooming plants can create an incredible floral show that can last for days or weeks. Even if rains are sparse during this time, most cacti plants are poised to put on a magnificent floral show because they draw up their stored water and use it to flower.
The only difference is that they won't flower as much as they could if rainfall was abundant. Typically, wetter years spur more flowers. The cactus show continues throughout spring with some species such as the Opuntia spp starting to flower in May, followed by the giant Saguaro in June.
While a lot of cacti species will start to bloom in the spring, others do so in summer. Most cacti plants that flower in the summer are generally the large species that tend to store a lot of water in their stems.
The stored water helps them bloom reliably, even when the temperatures soar. For instance, Saguaros are well known for their striking flowers that start to bloom in June through to July. However, these giant plants that can reach up to 60 feet tall won't start flowering until they are at least 40 years old.
Creating the Perfect Blooming Environment for Your Cacti Plants
Your cacti plants require the right conditions to bloom. Keep in mind that even if your plant is fully mature, but the conditions aren't right, it won't flower. Almost all cacti plants usually need bright and hot desert-like sunlight to bloom properly.
They also need a period of dormancy that usually occurs during winter to get ready for the blooming season. In this section, we highlight some of the critical conditions that you must achieve to help your plants bloom.
What temperature does a blooming cactus plant require?
If you want your cacti plants to bloom, you must ensure that the temperature is right. Most cacti plants take a break during the cold winter months and bloom actively during spring and into the summer.
The best range of temperature to spur flowering in your plant is between 55 and 60 degrees F. You must strive to maintain this temperature for about six weeks just before the flowering season kicks in.
Maintaining this temperature during the period of dormancy (winter) will help the plant to devote much of its energy towards creating flower buds.
During spring, you can gradually increase the temperature and closely monitor how the plants respond. Most cacti plants love relatively high temperatures and will cope quite well when carefully transitioned from an indoor setting to outdoors.
If you don't want to take your plants outdoors, be sure to keep them near a south-facing window where they will receive plenty of sunlight.
How much light does a blooming cactus need?
Just before the blooming season kicks in, you will need to expose your plants to lots of darkness. Your plant requires between 12 to 14 hours of uninterrupted darkness for at least eight weeks to bloom.
During this period of dormancy, exposing your plants to some minimal indirect sunlight is okay, but you have to make sure the darkness cycle is not interrupted. However, things might change once your plant starts to put on the beautiful floral display.
During the flowering period, strive to provide it with at least six hours of direct sunlight. This shouldn't be a difficult thing to achieve since there is plenty of sunlight during spring and summer when these plants bloom.
Typically, your plant will show some signs of distress if it is not receiving sufficient sunlight. You may start to notice some discolouration on its spines, and the flowers will begin to wither.
The plant may also start to stretch towards the light direction. If you notice any of these signs, carefully relocate your plants to a spot that receives more direct sunlight and it shall self-heal and bloom more.
How much water does a cactus plant need when blooming?
Even though cacti plants are extremely drought-tolerant, they still need sufficient water supply, especially during the flowering season. Keep in mind that in their natural desert environment, these plants receive the bulk of their annual water during monsoon's rains.
The amount of water absorbed and stored in their stems during this period is usually sufficient to last them for too long. But, you don't have to expose your flowering cacti to such harsh conditions.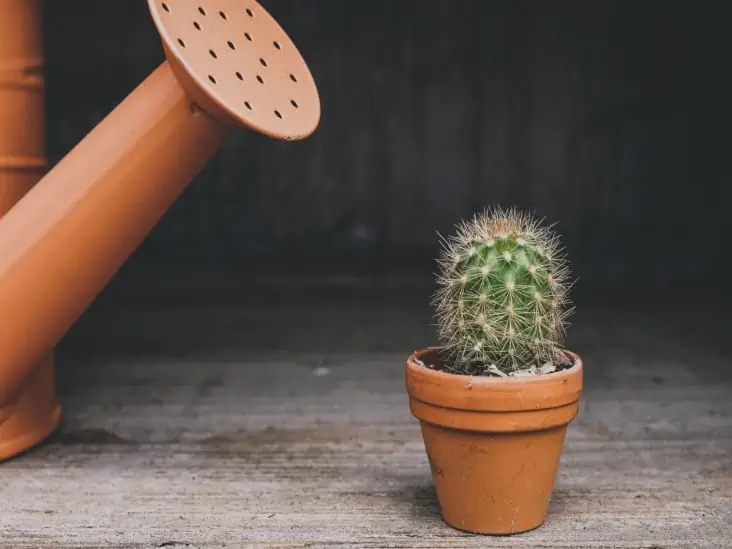 Always check your potting mix frequently and be sure to water whenever the topsoil is completely dry. Check the soil by hand and be sure it is completely dry before you water again.
Generally, water your flowering plants once or twice per week to keep the flowers healthy. But, you need to be careful not to overwater your cacti plants because overwatering is much more dangerous than underwatering.

Why Is My Cactus Not Blooming?
While cacti plants are incredible exotic plants that create quite a magical show when blooming, these plants may sometimes fail to flower. As we have mentioned earlier, you must strive to provide the right conditions for your plants to bloom.
Therefore, if your plants are fully mature and haven't started blooming, it could be they are not getting the right amount of light/darkness, water, temperatures, or are grown in the wrong type of potting soil.
But what if all the conditions are right, but still you cannot see any signs of blooming? In such a case, it could mean that you are growing one of those cacti species that take too long to bloom.
As mentioned earlier, some cacti species may take up to 50 years to start flowering. In other words, you will have to be patient for at least 50 years before you can see the first floral display on these plant species.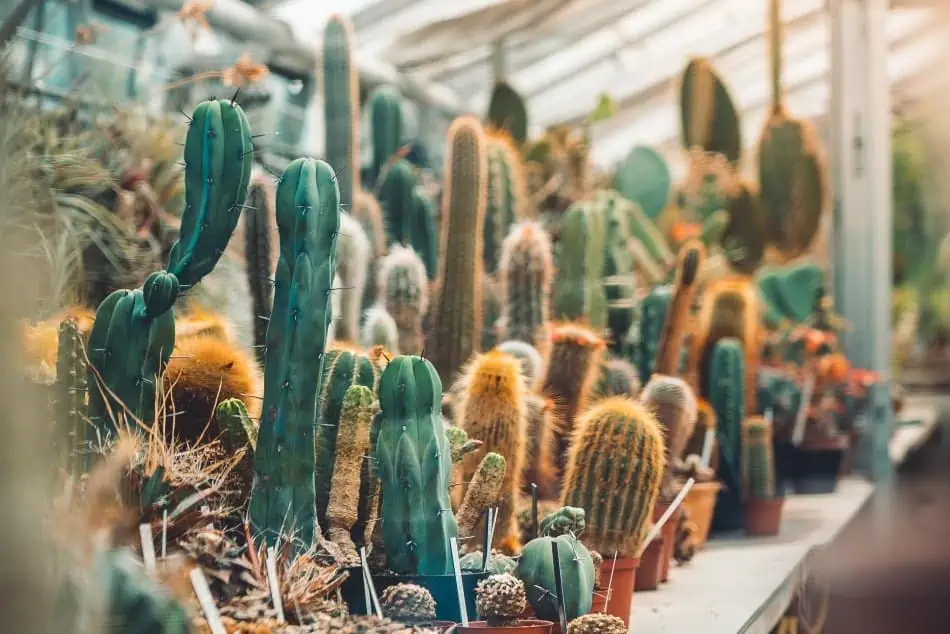 Summary
Almost all cacti plant flower as long as they are fully mature and are exposed to the right environmental conditions. Even after blooming, the length of time the flowers last will depend on a wide range of factors and how you take care of your plant. The good thing is that as long as you do everything right, you can be sure to enjoy a magical floral display that can last for weeks.
Have you heard any experience with flowering cactus that you'd love to share with us? Let us hear it in the comments section below.
Last update on 2023-09-01 / Affiliate links / Images from Amazon Product Advertising API