Most of us tend to think that cacti plants don't require water to survive. Images of these plants growing in deserts abound in media tend to reinforce this perception. However, the reality is quite different. Just like any other living thing, cacti plants require plenty of water to thrive. When it comes to growing cacti plants at home, it is not just about watering but how you do it that matters. Let us see how you are supposed to water cacti from the bottom.
So, how do you water cactus from the bottom? The method involves immersing your potted plant in a sink or water pan. The drainage holes in your pot allow the potting mix to absorb water over some time (usually five to ten minutes) without over-saturating it. After that, you let the excess water drain out before taking your plant back to its resting place.
The most important thing you need to know about the bottom watering method is that your pot must contain sufficient drainage holes.
In this post, we discuss everything you need to know about bottom watering. How to do it right, its effect on your cactus, and much more. Read on to discover more.
What Is Bottom Watering?
In simple terms, bottom watering refers to watering your cactus plant from the bottom up. When you water potted cactus using this technique, its roots get stronger because they are always growing downwards towards the moisture.
Also, you will always be sure that water reaches the bottom of the container and drains out as expected. When you do it correctly, this watering method can help you achieve great success with both indoor and outdoor cacti plants.
How to Bottom Water Your Cactus Plant
When it comes to bottom watering, the key is timing. You need to know when your plant is thirsty to avoid overwatering it. The best way to accomplish this is by checking the dryness of your potting mix. Keep in mind that good potting soil should be fast-draining.
To check if the soil is completely dry, carefully stick your finger into the pot. Make sure your finger penetrates at least two inches deep. If the soil feels damp, wet, or colder than the surface, then you shouldn't water your plant. Give it a few more days.
You can also use a moisture meter to check the moisture level before watering. Once you are fully satisfied that the soil is dry and your cactus needs watering, follow these steps:
Step 1: Fill a container or sink with water
The first thing you need to do is fill a sink or large container with enough water that will accommodate your plant pot. If your plant pot is filled with soil and nothing else, then you are good with any water level.
However, if you have got pebbles or drainage rocks at the bottom of the container, the level of water in your sink or container needs to be a little higher than the rocks/pebbles so that it can reach the soil.
You should also keep in mind that different types of potting mix will absorb water differently. If you are using cactus soil that has a lot of pebbles and perlite, it might take a longer period to absorb water.
But for a standard potting mix with minimal inorganic matter, you should expect the process to be faster.
No matter the type of your potting mix, make sure you have got enough water in your sink/container that will allow your cactus to soak in as much as it wants. If you don't put enough water in your container/sink, you will simply underwater your plant.
Step 2: carefully immerse your pot in the water
Carefully immerse your plant pot into the sink or container containing water. If you are still using a grow pot and the soil is too dry, the pot may start floating. If this happens, you're your pot upright for a few minutes before you leave it alone.
If you don't take necessary precautions, the plant may tip over and cause a mess that you will have to clear.
Step 3: Leave the plant to rest in the water
Don't be so quick to take the cactus plant out of water. Leave it to rest in the bath for approximately ten minutes before you check on the progress. You will know that it is time to take it out when the soil is sufficiently moist to the top.
Sometimes, the very top of the potting mix may fail to get wet, which is okay. If that is the case, let your plant rest in the water for about ten minutes, take it off, and water the dry tip manually.
Step 4: Drain out your sink/container
After ten minutes, drain out the sink or container that was holding the water and let your plant stand out for a few minutes to drain fully.
Bonus tip: Use distilled or filtered water to bottom water your cactus. Avoid using tap water because it contains too much chlorine, which might damage your plant in the long run. You should also keep in mind that bottom-up watering works best on small to medium-sized cacti plants that are easy to move.
Why Do Experts Recommend Bottom Watering?
Well, the truth is that top watering never saturates your potting mix. Technically, it means that water is not reaching the roots of your plant.
With top watering, small amounts of water trickle down to the soil and start dripping to the bottom. This gives you a false impression that you have watered your plant adequately.
In reality, you are underwatering and leaving your plant feeling thirsty most of the time. Cacti plants need complete soaking to absorb as much water as possible. The difference should be in how frequently you water your plant, not how thoroughly you do it.
Bottom watering ensures the entire root system is getting sufficient water. This watering technique also saves you a lot of water and time in the long run.
Instead of dripping each plant individually, you can keep putting more plants into the same sink/ container of water until the water is used up.
In a nutshell, bottom watering keeps your cactus healthier, and it is easy to use.
How Often Should You Water Your Cactus?
Now that you know how to water your cactus using the bottom watering technique, you might be wondering how often you should do it. Cacti plants are hardy and may not need frequent watering compared to other plants. Nonetheless, you need to make sure you aren't underwatering.
Specific signs in the leaves and stem of the plant could indicate that the plant is becoming stressed and needs watering. Recognizing these signs and acting promptly can help you take good care of your plant.
Some of the factors that influence the timing of watering include; are your plants grown in the ground or containers? How much light are they exposed to? What is the air temperature, humidity, and soil type where they are growing?
Keeping everything constant, one thing you must keep in mind while watering a cactus is its inability to survive in standing water. This is the primary reason why you must ensure your potting mix is fast draining.
As long as the soil is porous enough, occasional overwatering may not be a big issue since the excess water can easily drain away quickly. Heavy and compact soils that capture and retain water for a long time may cause root rot.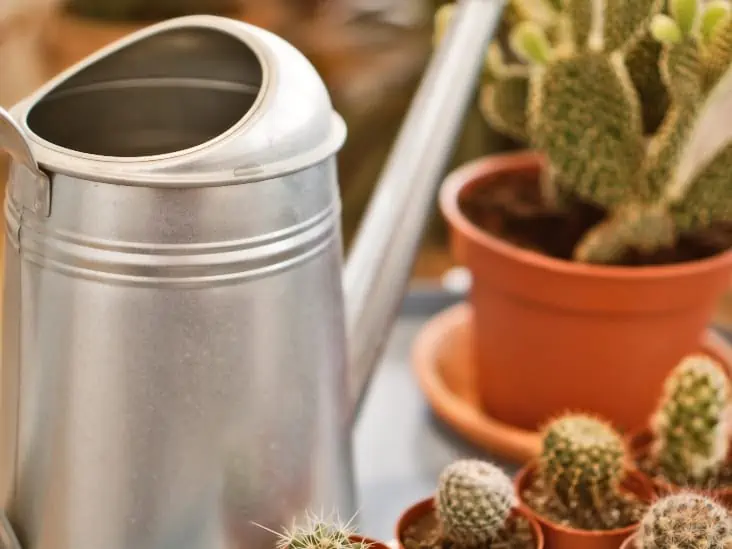 Generally, you need to water your plants more frequently in warmer seasons than colder seasons. During summer, your plant requires frequent watering to fuel growth. At this time, you should consider watering your plant once or twice a week.
However, things change during the colder seasons. In winter, most cacti species enter into a state of dormancy. No growth occurs at this time. Therefore, you need to be cautious with watering to avoid causing problems. Generally, water your plant once every three or four weeks during the colder season.
More Tips for Success
Here are a few more tips to help you utilize bottom watering effectively:
1. Watch the time, carefully
While this method is good in making your plant stronger and healthier, you should also keep in mind that it is easy to overwater it.
If you leave the plant to sit in the pool of water for too long, the effects can be devastating. Overwatering can result in death. Always keep an eye on your plant and find the perfect time to let it sit in the water, based on the size of your pot and soil type.
2. Add nutrients to the water
If you are giving your plant more food, bottom watering is an incredible way to do that. Just add the food/fertilizer to your water, and you are good to go.
3. Do not overcrowd the pool
Be careful not to overcrowd the sink with plant pots. The best approach is to water one plant at a time.
Technically, the number of plants you have got in the sink will change the amount of water you require. Be extra careful with young plants that can break easily.
Final Thought
That is it about bottom watering. Just remember to be sensible when watering your cactus and find out what works best for you. If you haven't tried the bottom watering technique, be sure to try it out and let us know the outcome.
Last update on 2023-07-26 / Affiliate links / Images from Amazon Product Advertising API