A dying succulent doesn't have to be the end. Succulents are hardy, and even one that is dying can usually be saved. There are various techniques to saving this low-maintenance plant. The key is to identify what is wrong with the succulent and restore its good health.
Just because succulents are low maintenance does not mean they still can not have issues. If you notice your succulent is showing signs of dying, there is no need to fear. Succulents are resilient plants and can almost always be revived. Read on to find out how you can save your succulent with these six easy steps.
1. Identifying a Dying Succulent
There are few tell-tale signs that your succulent may be starting to die off. Thankfully, they are straightforward problems to identify.
Look for brown or decaying leaves.
Look for mushy, soggy, or almost transparent leaves.
If the leaves fall off the plant with the slightest touch.
Check the stem; sometimes, the leaves will look okay even though the stem is rotting.
Overwatering is going to be the most common cause of these types of symptoms. Your succulent is closer to a desert cactus than it is to a desert flower.
That being said, sunspots or sunburns on your leaves may be a sign that your succulent is getting too much sun, or is being underwatered. If your succulent is getting direct sunlight, it may be necessary to relocate it inside. A simple pain of glass may be enough to shelter your succulent from harmful rays.
2. Prune Your Dying Succulent
Before you do any moving or re-potting of your succulents, you will need to trim and remove any and all leaves that have gone bad. Again, look for any leaves that are discolored or have lost their durability. Succulent leaves should feel pretty solid and can usually handle a little roughing up and not fall off.
3. Digging Out Your succulent
You will want to be as gentle as possible, but it is time to dig out or cut your succulents. If your succulent has a sturdy-looking stem, but the leaves are dying and breaking off, you are going to want to dig it out. Be sure to protect as much of the roots as possible. If the leaves are dying, the roots should come out easy enough.
Gently work a small shovel or spade around your succulent until you can easily remove it from its current pot. At this point, it is essential to clear the roots of all dirt fragments. You want clean, robust roots for the next step. Succulents planted in the ground outside will need this same step if their leaves have gone bad.
4. Cutting Your Succulent
If the leaves on your succulent seem to be healthy, but the stem looks rotten, then it is better to snip the plant. Follow the stem up past any rot until you find a nice healthy-looking spot and give it a snip. This is a good time for extra pruning. Take an extra close look at your stem to make sure all the dead leaves and rot are gone.
5. Leave Her Out to Dry
Whether you snipped or dug out your succulent, you will need to find a place for it to dry out. Preferably indoors on mesh or a strainer. You are going to want to let your plant dry out completely. This should only take two to three days.
After a few days, touch the roots yourself to make sure they are dried out. This is important again because overwatering is the most common reason for succulents to die off. Thoroughly dried out roots will reattach to dry soil easier. 
6. Time to Re-pot and Care for Your "New" Succulent!
Once your snipped or uprooted succulent is dried out, it is time to re-pot. It is best to select a small temporary pot filled with completely dry soil to replant your succulent. You will leave the succulent in this temporary pot for around a month or until you can feel strong roots growing. 
You are going to want to find a dry place in your house with no access to sunlight while your succulent nurses itself back to life. A counter with no access to sunlight should be a fine place to put your plant.
When the roots are solid, you can feel free to relocate your succulent to the garden or the windowsill or back in the large pot with all the others. Just be sure not to overwater.
How to Prevent your Succulent from Dying
If you can prevent your succulent from dying in the first place, you won't need to worry about bringing it back. Keeping your succulent from dying can be done in a few ways:
Using a moister meter to make sure the succulent doesn't dry out
Not overwatering the succulent
Make sure the soil is nutrient rich
Give you succulent enough space to grow
Keep the succulents warm
Purchase a Moisture Meter
This a crucial step, get yourself a moisture meter. You can purchase a moisture meter for five to fifteen dollars. Moisture issues will be live or die for your succulent, allowing your life to be made easy with a moisture meter.
You are going to want to check multiple spots in your pot in the future. Several plants in the same pot can register different levels. You only want your meter to register one to three. As long as there is moisture present, you should be fine not to underwater.
Overwatering Your Succulent
A common mistake people make when caring for succulents is overwatering. Succulents are part of the cactus family and don't need much water to live. Make sure the soil is damp and never looks like mud after watering. Don't use a mister. Succulents are desert plants and misting will change the humidity level around them.
Overwatering can also result from improper drainage. Make sure your succulent is in a container with multiple holes on the bottom.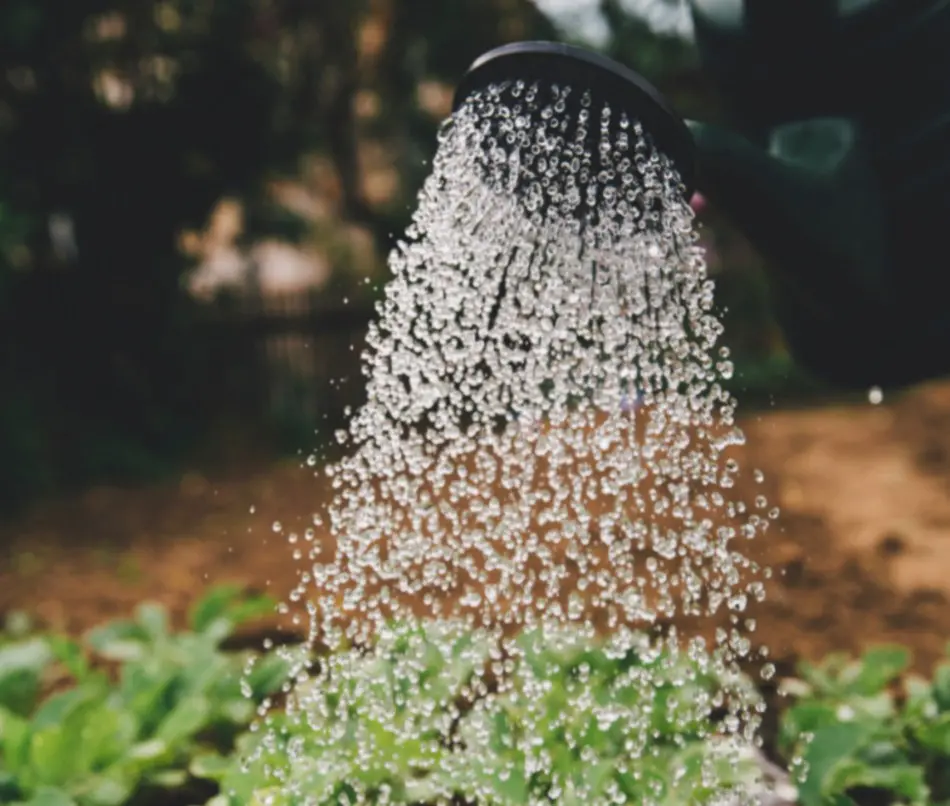 Indoor succulents will require even less watering than outdoor. As a general rule do not water your succulent until the soil feels one hundred percent dry. Fourteen to twenty-one days is a good number to keep in mind. Especially if your succulent is in a place with little to no sun.
Outdoor succulents should be watered one to two times a week. Being outside they will have more direct sunlight and need to be watered more frequently then indoor succulants. If you're in a climate that experiances a winter, only water one or twice during that season because the succulents go dormant in cold weather.
Succulents Need Properly Mixed Soil
It is highly recomnded that you use potting soil for indoor plants only and that you add sand to the soil before planting. Coarse sand is your bet best for proper drainage. This will help ensure no overwatering. Keep in mind that certain potting soil will have added nutrients in them that can harm or burn Succulent roots. This another reason sand needs to be added.
The proper ratio if using regular potting soil is two parts coarse sand, two parts potting soil, and one nd a half cups of perlit or pumice. When planting directly into the ground, use a similar mixture to add as top soil before planting your succulent.
Use a Big Enough Container
Just because succulents can be small doesn't mean you should cram several of them into a small pot. Each succulent should have several inches around them. Space allows the succulents to keep growing without getting into each other's way or deprive them of nutrients in the soil.
Keep Your Succulents Warm
Succulents need to be kept warm year-round. Outdoor locations or areas of your home prone to drafts are not a good place to keep your succulent. Any location of your home with consistently warm temperatures is ideal.
Conclusion
Thanks to the hardness and versatility of succulent plants, they can most likely be saved and salvaged. It requires a few steps but nothing too complicated. Once your succulent is entirely replanted, use your moisture meter to ensure your plant will have a long, happy life. In the meantime, go save that plant!
Last update on 2023-07-27 / Affiliate links / Images from Amazon Product Advertising API