Cacti are relatively easy-to-grow plants that can survive for a prolonged period in drought conditions. However, it doesn't mean that they are indestructible just because they originate from the desert. Prolonged drought can be catastrophic, and that is why you need to understand dehydration signs to look out for in your plant needs.
So, how do you know when a cactus needs water? Well, to know if your plant needs water, you need to observe its behavior carefully. Typically, if a cactus is under-watered, its body may look wrinkly and feel somehow "soft." The spines (modified leaves) feel dry and may easily fall off. Dry leaves caused by lack of enough water are usually softer to touch than when they are adequately hydrated but don't look soggy and translucent like overwatered leaves.
In this post, we would like to share with you some of the common signs of a dehydrated cactus plant and how often you need to water your plant for it to thrive.
How Do You Know If Your Cactus Needs Water?
If you want to know how to tell when your plant needs water, you need to understand how cacti plants are different from other plant species. The primary characteristic that makes these plants different is their ability to store water for a relatively long period.
Cacti plants have specialized stem cells that hold onto water whenever there is a downfall in the desert. This means that once you water your plant, these cells absorb water until every cell is fully hydrated.
Over time, the plant will utilize the water stored in its cells, gradually reducing the hydrostatic pressure inside the plant cells and tissues.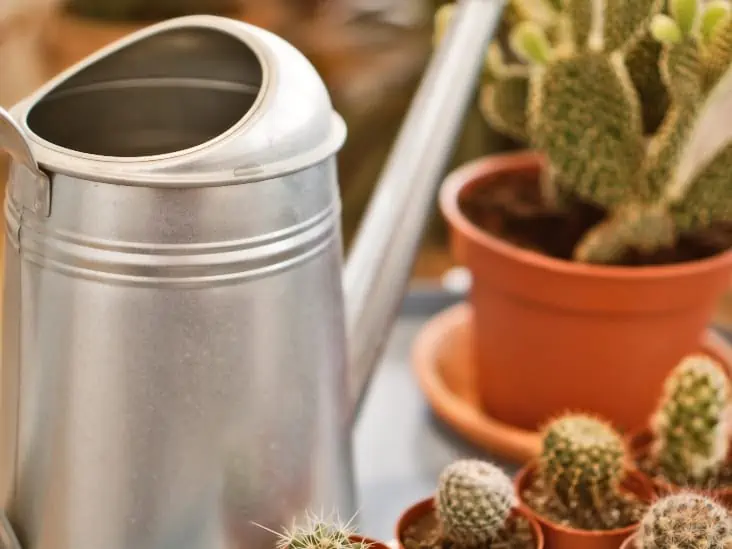 As long as the plant's water reservoir hasn't been exhausted, it will prefer dry, airy soil. This is the primary reason why it is highly recommended to grow cacti plants in porous potting mix.
Problems arise when you grow these plants in wet and humid areas where soils don't dry up quickly in between watering sessions. You may also encounter problems when a drain hole in your pot blocks or if the holes are too small.
Pots designed for growing cactus must have numerous holes to facilitate quick drying of the soil after watering.
To know when to water your plant, you must learn how to tell when the hydrostatic pressure is relatively low. So, how can you tell when the hydrostatic pressure is low?
1. Visual change
When a cactus is fully hydrated, it will stand up to its full height and appear healthy. However, many of them start to show signs of distress when the internal hydrostatic pressure drops significantly.
For instance, some cacti species will start to fold into half then after watering, they straighten up again since the hydrostatic pressure is back to normal.
Other species may show signs of wrinkles on their skin caused by reduced tissue volume. Sagging tips, drooping leaves or subtle leaning are some of the common signs of reduced internal moisture and a clear indicator that your plants require watering.
2. Physical touch
Another way you can tell whether the hydrostatic pressure of your plant has dropped is by touching it and taking note of how it feels. A fully hydrated cactus plant feels "hardy" and regains its shape quickly if you press it slightly.
If you haven't done this before, start by watering your plant, let it rest for a few hours then press it several times to understand how it feels when it is hydrated. Let this serve as a basis for your future comparison.
When the stored water is used up, the plant tends to soften up due to significant loss of hydrostatic pressure. The plant will easily yield to your touch while in this state.
However, you should be worried if your cactus is softening unevenly since it could be a sign of invisible root rot spreading through the healthy plant tissue.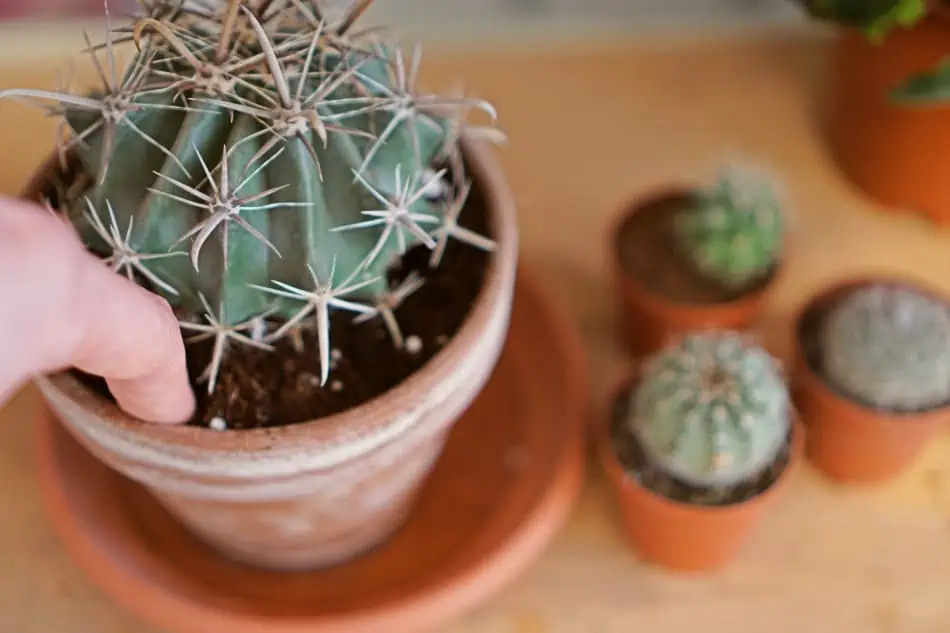 3. Water when the soil is completely dry
The first step to keeping your cactus plant happy is ensuring that your potting mix is fast-draining and has plenty of inorganic materials. From there, you need to make sure that your soil is completely dry before you water your plant.
Fortunately, checking if your soil is dry isn't difficult. The easiest way of checking is by sticking your finger into the container. Be sure to go down at least two inches and note how it feels.
If the soil feels wet, damp, or slightly colder than the surface, do not water your plant. Instead, give it a few more days and check again before you consider watering.
The other way of checking the level of dryness of your soil is by using a soil moisture meter. A moisture meter is a simple device that records the soil moisture content.
Be sure to go for a quality moisture meter because the cheap ones can be quite inaccurate.
4. Watering method
Did you know that your watering method can have a significant impact on your plant? Experienced gardeners agree that there are a lot of o problems caused when you water your cactus plant from top to bottom like other ordinary potent plants.
With this watering method, water travels down the edges of the soil mass and out the bottom, which leaves too little behind for actual absorption. In fact, some cacti plants develop rot right at the soil line due to this kind of watering.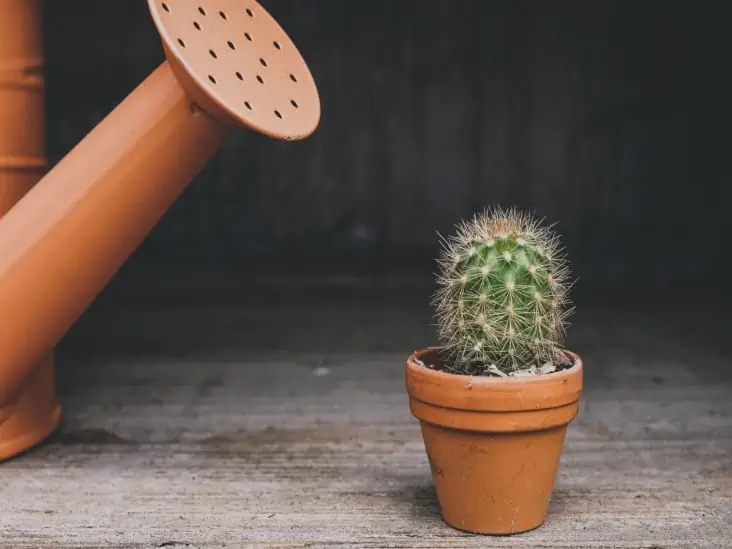 The best way to water your cactus to ensure it stays longer before dehydration is to set the pot in a pan of water. This way, you allow the soil to absorb as much water as possible, which in turn boosts the plant's absorption rate.
Once the moisture moves up to the surface of your potting mix, carefully take the pot out of the water pan and let it drain.
How Often Do You Need to Water Your Cactus?
One of the most dangerous things for your cacti plants is watering them incorrectly. Keep in mind that these plants hold water in their stems and tissues. They use stored water to survive for prolonged periods before they need another watering session
Too much water is deadly for your plant. In fact, it is much easier to recover from underwatering than overwatering. However, leaving your plant too dry for prolonged periods can easily cause their roots to die.
The best way to determine if it is the right time to water your plant is by examining the soil and feeling the moisture level. As mentioned earlier, don't just touch the surface of the soil and make a decision. Dip your figure deep down the potting mix to see if it is scorched.
How much and when to water your plant will also depend on the season. During the growing season (spring and summer), when most cacti plants are active, you need to water the plants regularly and thoroughly.
For most indoor potted plants, watering at least once every ten or 14 days during the active growing season should be okay.
During the inactive season (mostly winter), you only need to water it a few times. Typically, watering your cactus at least once per month will be sufficient.
Pay close attention to how your cactus looks during this period. If it starts to appear shriveled between watering, you should consider watering it more.
Watering After Initial Planting
Once you have your plant in the right pot with a good potting mix, you need to water it properly, so it picks up. Be sure to soak the container in plenty of water and let it absorb as much after as possible. After all, the first watering after planting may be the most critical.
However, it is still important to allow the plant to drain even if you are watering it for the first time. Don't be tempted to leave a dish under your pot or block some holes because it encourages rotting.
Watering Outdoor Cactus
Outdoor plants tend to have slightly different watering needs because they are constantly exposed to various weather conditions. As a general rule, make sure you water your outdoor plants at least once every seven or ten days during spring and summer.
Before watering, take time to feel the soil moisture and make sure the potting soil is completely dry. Water your plants thoroughly until you see excess water seeping out of the drainage holes.
Depending on the type of your container and soil, you may not always see excess water flowing out of the drainage holes.
During the inactive seasons (fall and winter) water your plant less often and lightly. Consider watering only once every three or four weeks.
The best time to water your outdoor plants is early morning. This allows it enough time to dry out during the day. Watering early morning also enables the water to penetrate through the soil quite easily, hence reaching the roots.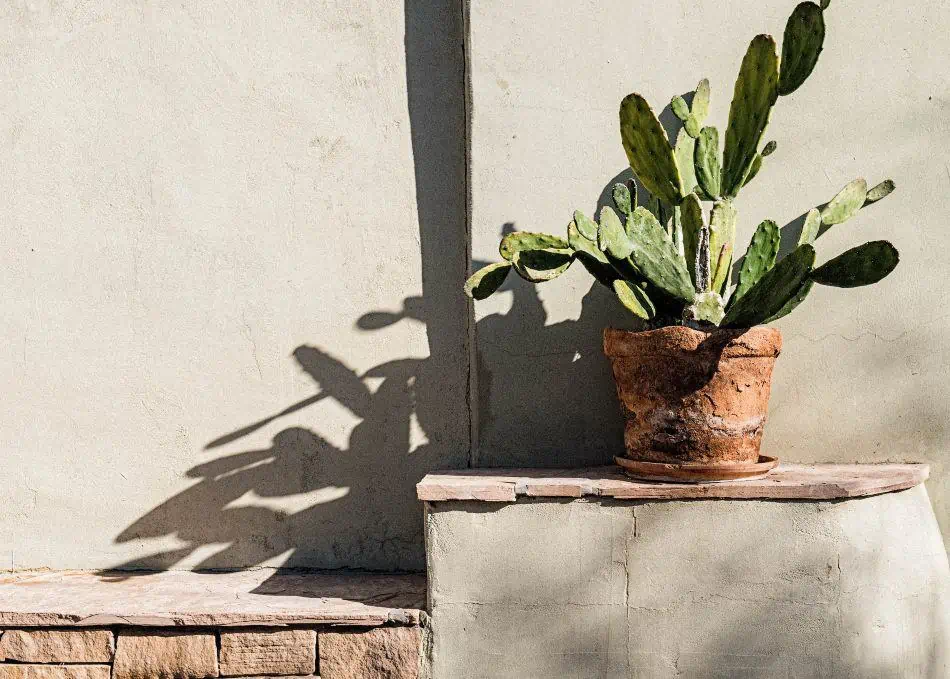 Final Thoughts
The notion that cacti plants require little to no water at all to survive has caused the death of many plants due to dehydration. Although these plants are drought-resistant, it is good to keep in mind that they can easily die if you don't provide them with sufficient water.
Do not treat your cacti like other traditional plants that depend on perpetual soil moisture to thrive.
Always remember that your plant has a unique way of speaking to you, and it will clearly show you signs when it needs some watering. All you have to do is learn how to read the signs.
Last update on 2023-07-26 / Affiliate links / Images from Amazon Product Advertising API