Cacti are slow-growing plants, and it can take years before you notice any signs of life. Sometimes they may stay dormant for a long time, that you even start doubting your gardening skills. Start wondering whether you're doing the right thing. Am I watering correctly? Do they need more sunlight? Is the soil the correct type?
While sometimes your cactus might show you signs of life after years of torturing your brain, other times you'll have to deal with the shock of your life. A rotting cactus!
Rot is a common cactus problem that can affect the roots, the crown, the tip, and the leaves. Common causes of rot in cactus include overwatering, high humidity, wound, insect infestation, among other issues. The causes of the rot may vary from one cactus to another, but the signs will look the same. Other signs may be difficult to detect, especially root rot, but others can be quite obvious.
How do you know if the cactus is rotting? The telltale signs of a rotting cactus include;
Change in color
Softening and mugginess
Producing foul smell
Weak roots
Drooping leaves
Black sports
Let's have a look at the detailed description of these problems, their cause, and how far they can go to affect your precious cactus. Read through to the end as you might save your cactus from rotting before it dies.
Change in Color
While not all change in your precious cactus plant is bad, an older cactus is likely to develop some brown patches or change its color. You'll notice such changes at the base of the stem creeping upwards. You might also notice the patches turning gray over time. There's no cause for alarm if this is the problem.
But if you notice your entire cactus turning yellow to brown, it could be your worst fear. A rotting cactus! The specific parts that will show the color change depending on the source of the problem. Cacti don't only rot from the roots. The rot might also start from the stem. You might notice the rot easily when it occurs on the base of the soil or the stem segments. You might also see the cactus turning brown from the top, which is no doubt a tip rot.
As soon as you notice that any part of your cactus plant shows rotting signs, you need to act fast to save it. This sign of rot doesn't mean that your cactus is dead, as you can still save it. Act quickly, so the color change doesn't spread all over the plant and end up killing it. If it's rotting from the tip, the simple solution might be to prune it and allow it to start growing afresh.
The Cactus Is Softening
There are many reasons why your cactus may go soft, and one of the reasons can be your dreaded fear, a rotting cactus. Your cactus may start going soft if you expose it to improper ambient conditions, too much watering or diseases attack it. You'll likely notice soft spots in the flesh. The rotting spot may discolor and become corky with a mushy and wet center.
A potted cactus will generally require good drainage soil to stay healthy. You must also know that cactus require minimal moisture to thrive, whether indoors or outdoors. The absence of well-drained soil and too much watering can cause softness in your precious plant. Other causes of this softness may be a bacterial attack, insect damage, or physical injury.
If you notice these soft spots near the base, you'd be dealing with root rot. The first culprit to root rot is excess watering in humid conditions. A stem rot might also cause the softness of your cactus. If your cactus is rotting from the stem, the culprit might be a fungal infection. It's not easy to save a cactus plant that's already softening as it will start seeping liquid and falling off.
Your Cactus Smells
Cactuses don't smell bad. In fact, some produce very sweet-scented flowers. If you can sniff some foul smell, then something is wrong. A smell is not a good sign but an indication that a huge part of your precious plant is completely rotten. Anything rotten is likely to smell.
The foul smell can sometimes be a result of a condition called Erwinia soft rot. The Erwinia bacteria attack the plant through natural openings and wounds. The rot can spread very fast in humid and wet weather. It can affect any part of the cactus, including the roots and the crown. The soft rot first appears as watering looking scabs. After some time, the plant tissues start turning brown to black. Your cactus will start emitting a foul-smelling seepage from the rotten area.
If this is the case, then you must know that the cactus is already dead. All you have to do is to dispose of. It's also worth noting that this kind of rot can spread to other cacti and succulents in your garden. Be careful on how you handle and dispose of the dead plant to contain the spread.
Weak Cactus Roots
Once you've planted your cactus, you expect the roots to go deep in the soil and support the plant. But rotting can still find the roots deep inside the soil and destroy them. You'll notice your cactus has no good roots if it appears like it wants to fall off from the pot. A plant that appears loose in the soil is stressed. There could be something serious ailing the cactus. Finding this out early enough can help save it.
If you've been overwatering your plant, the chances are that the roots will rot. Many cactuses need airy and well-drained soil. The potting should never be wet or waterlogged for too long because this will damage the roots. Most root rots happen in winter because the cactus might not withstand the low freezing temperatures. If you happen to water it at this time, you'll worsen the situation causing the plant to rot.
Many desert cactuses are more exposed to root rot if grown indoors. This is because they're used to dry conditions, which you might not maintain in your house garden. If you plant your cactus indoors and now plan to take it out, do it gradually. A sudden change in temperature conditions may affect the roots causing them to rot.
Drooping Leaves
You don't need anyone to tell you that your cactus is stressed when you can already see the sign on the leaves. Well, you won't notice any change in the leaves during the early stages of rotting. The only time the plant will give you an obvious sign of unhealthiness on the leaves is when the problem has already escalated. The leaves might remain vibrant and beautiful while the root is already dying.
A healthy cactus has its leaves standing strong with vigor. But when the leaves are pointed downwards or sagging, you have something to worry about. Maybe it has some disease attaching it from the roots or the stem, and you can't see it yet. This can also be a sign of underwatering or overwatering your cactus.
Underwatered cactus showcases wrinkly appearance with droop branches, but it's not a sign of rot. The plant is wilting and will go back to its happy self once you water it. Overwatered cactus will get soft and droopy. With time, the moisture content in the soil becomes too much for it to bear, and it begins to rot. When the rot is in its final stages, the leaves might also feel squishy and soft. At this stage, it would be too late to save your lovely cactus.
Black Spots
Black spots in your cactus are not ornaments; hence you cannot take them for granted. You'll mostly notice these spots in saguaro and prickly pears than any other cactus, and they can be a disaster. These spots indicate a dry rot usually caused by lack of enough water, sunlight, fertilization, and high humidity. Other times, black spots form due to damage by living organisms like fungi, pests, and bacteria. All these factors slowly damage the roots of the cactus plant, causing them to rot.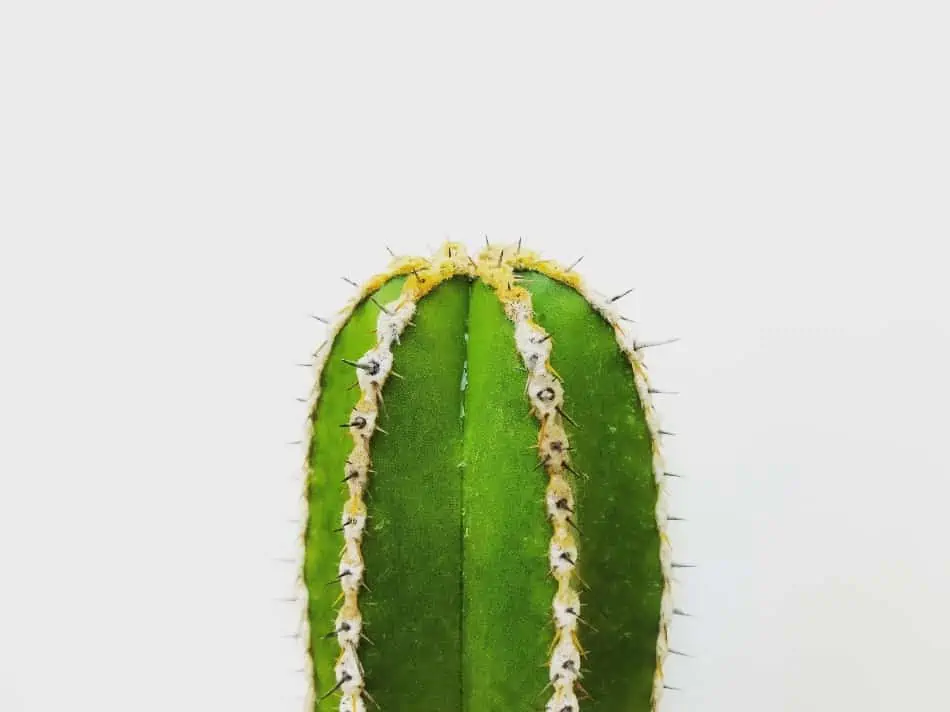 Unfortunately, it's not easy to cure your cactus of this rot. The best thing to do is get rid of the plant entirely to protect others from the infection. If you can only see the black spots in some parts of the cactus, cut out the damaged section. Ensure the remaining section receives sparing watering, so the problem doesn't recur.
Bottom Line
Cactus is an easy plant to grow and take care of. But this doesn't mean they're immune to diseases and harsh conditions. Things that look like a good remedy for your plant, such as water, can turn out to be the biggest poison if not used well. Don't underwater or overwater your plant.
Some cactuses are very resilient and can recover from problems no matter how severe they look. But this depends on how early you realize there's a problem. Others won't recover even if you identify the problem early enough. You should do all it takes to ensure your cactus is not exposed to any conditions that can cause the rotting.
Last update on 2023-07-26 / Affiliate links / Images from Amazon Product Advertising API