Taking care of a succulent is supposed to be easy. But to keep it healthy, there are a few things to know. First, how do you know if your succulent is thriving or dying?
As a general rule, common indications that a succulent is dying include:
Brown, mushy leaves mean the roots are rotting.
Pale, yellow leaves indicate that rot or infection has spread.
Wrinkly, dehydrated leaves mean the roots are drying up.
Brown roots indicated rot or infection.
These are some of the tell-tale signs that may indicate your succulent is not thriving. If you own one or more succulents and are concerned your plant is dying, read below for more about how to tell that your plant needs attention.
There are Brown Spots on Succulent Leaves
The number one reason for brown spots on succulent leaves is due to over-exposure to the sun, or also known as succulent sunburn. If too much sun is the not culprit, brown spots on the leaves may stem from insect infestation or fungal rot.
Before attempting to take action to revive your plant, investigate further to find out what is causing the brown spots.
The Succulent Leaves Are Turning Black
Leaves turning black towards the top of the plant mean the plant is most likely going to die; there is no way to nurse it back to health. Overwatering is most likely the reason for the problem.
Black leaves falling from the bottom of the plant are normal. There is no reason to be alarmed if the black leaves are at the base of the plant. Simply remove those from the pot.
Your Succulent Has Root Rot
Some succulents are more prone to stem rot over others. However, overwatering could be the cause of the problem. If it's not too far gone, stem rot may be fixed:
Remove the succulent from the pot, carefully detaching all of the rotted soil.
Clean the pot with a bleach-water solution and rinse well – or use a new pot.
Carefully trim affected roots, cutting about ½-inch above rot. Pat dry with a soft towel.
Replant the succulent in a new, dry soil mixture: two-parts soil, two-parts coarse sand, and one-part pumice.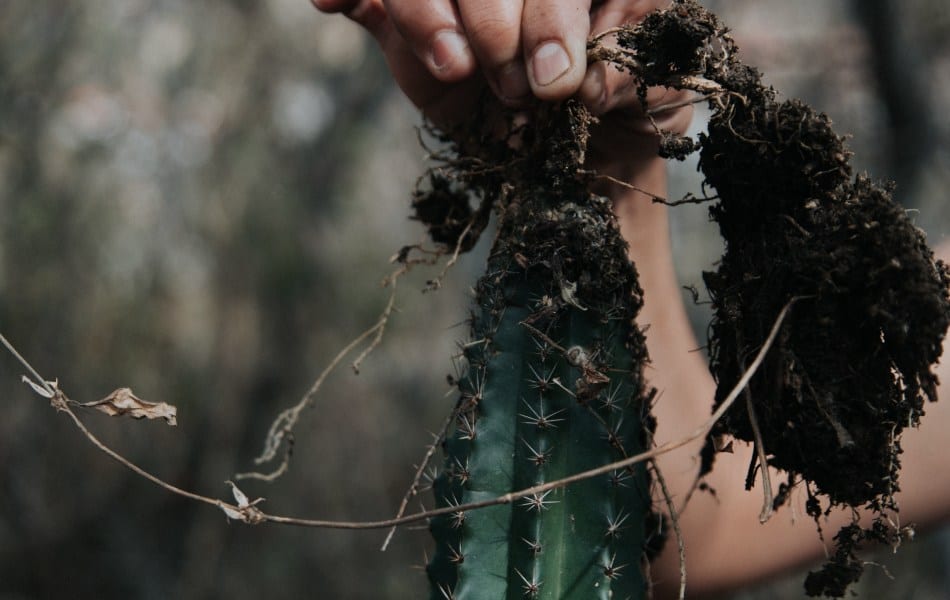 Do not water the plant again immediately. Monitor for a few days to a week before watering again.
Note: If the rot has spread to the stem or leaves, it is too late to repot.
Succulent has Droopy Leaves
Overwatering is the primary source of droopy leaves. Fixing this problem is similar to how you fix root rot: trim the bottom, repot and then rewater when ready. If you repot the plant, make sure to handle the succulent with extra care. Although considered hardy, the roots of the succulent are fragile and often do not recuperate from trauma.
Tall, Thin and Stretched Succulent
Lankiness is a sign the succulent is not getting enough sunlight. It can indicate a severe problem. The stretched-out parts can never be fixed. The way to move forward is to nurture the new growth for optimal health. Trim the leaves at the base of the plant and take care of them well. If this does not work, it may be time to start shopping for a new succulent.
Stressed, Red Succulent Leaves
Red leaves may indicate succulent stress; like people, succulents become stressed with too little or too much light or too much or too little water. Stress does not necessarily mean the plant is going to die; it means it may need some additional tending loving care.
Some growers will intentionally stress their succulent out for the aesthetic appearance of the red leaves. Purposely stressing a succulent out should only be done by those with a "green thumb" and expertise.
Succulent has Damage from Trauma or Bugs
Damage to succulents may occur if the pot has been tipped over or if any type of infestation from a bug occurs. Small brown spots on the leaves indicate the plant has undergone trauma. With additional care and patience, your succulent can survive.
Succulent has been Overexposed to Sun
Just like us, a succulent can get sunburn with overexposure to UV rays. Too much sun to the plant and the leaves will turn dark brown. There is no sunscreen for succulents like there is for people; keeping the plant in an adequate location with the right amount of sun will help the plant.
Care Tips to Keep Your Succulent Healthy
Overwatering, underwatering, too much sun, too little sun, and trauma; can be rather confusing on how to best care for a succulent. Since these potentially bountiful plants cannot speak to tell us they are ill, monitoring your succulent for tell-tale signs is critical. Here are some steps to care for a plant and help it flourish.
Keep the Plant in Ample Sunlight
An established succulent needs up to six hours of sun per day. If your succulent is new, you will need to slowly acclimate the plant to the sun. Put the plant in front of the window but place the plant behind a barrier such as a light curtain or something not allowing direct sunlight. 
Rotate the Pot Often
Succulents thrive on sunshine; rotating the pot often allows for the entirety of the plant to acquire those rays. If your plant is swaying to one side, rotate the pot and watch your succulent stand straight.
Seasonal Watering
During Winter or Fall seasons, succulent growth will stall; this is no different than us! The climate in Spring and Summer months aid in growth and rejuvenation. More water is necessary during these seasons as the plant uses more energy to revive.
The rule of thumb to make sure your plant is not under- or over-watered is to stick your finger about an inch to an inch and a quarter of the soil. If the soil is dry, your plant needs a drink. Remember not to over water the plant; as stated above, more water less often is the key.
Apply Water Directly to the Soil
Soaking the soil until water exits the drainage holes is an adequate dose. Some gardeners state using an ice cube or two allowing the water to slowly melt into the soil is the best approach. During Spring and Summer, the plant will need more water reaching down to the roots. Soaking the plant is optimal during its peak season.
Clean Your Succulent
No one likes to be dusty or dirty, and that includes your precious plant! When you dust your house, include your succulent. Do not use a dusting polish or chemical agent. Rather, dampen a soft cloth to polish the plant's leaves. For those hard-to-reach spots, use a soft-tipped paintbrush dipped in water.
Use a Pot with Good Drainage
Drenched soil leads to plant rot; make sure to use a pot with at least one draining hole and a saucer underneath. Two holes are even better. Terra Cotta pots are a good pot for beginner succulent gardeners.
Use the Right Soil
Dirt from your yard or standard potting soil leads to an unhappy plant. Succulents require their own soil, the same soil used for Cactus and other drought-type plants. Make sure the soil you plant your succulent in contains sand, pumice, or perlite. If you decide to use regular potting soil, simply mix in some sand, pumice, or perlite.
Eliminate Bugs and Potential Trauma
Gnats love to inhibit succulents. These pesky bugs are easy to get rid of.
Spray seventy percent alcohol directly on the leaves; this will remove the gnats.
If your succulent is infested with bugs, make sure to move it away from your other healthy plants. Too much water can lead to mealybugs – which can also be defeated with an alcohol spray.
Beyond bugs, make sure your pot is in a location it cannot be knocked over. Such an accident can cause trauma to the plant and result in irreversible damage.
Summer Fertilization
Fertilizing your succulent during Spring and Summer months helps the plant during its revival period. Do not over-fertilize the plant; it can cause the plant to become weak.
How to Select a Good Soil and Fertilizer for Succulents
Although unique to standard potting soil, succulent soil and fertilizer do not necessarily need to be expensive. Here are some suggestions for soils and fertilizers.
Soils for Succulents Need Not Be Pricey
You can find a bag of soil to cost on average around six dollars for one pot, and that includes organic soils. When selecting soil, make sure to purchase a succulent soil that drains. Consider adding perlite or pumice to help with air circulation and drainage.
Go with a Slow-Release Fertilizer
Fertilizers also average around six dollars per container. Make sure to choose a fertilizer based on whether your plant is indoors or outdoors. Also, select a fertilizer that is slow-release. Slow-release will not over-fertilize the plant, and over time the food for the plant will result in new growth. 
Soils Infused with Fertilizer Are a Great Choice
To get the most bang for your buck, soils infused with fertilizers are a great option as well. No need to purchase two different products, the combination of succulent soil and fertilizer makes caring for your plant easy and cost-effective.
Conclusion
Your succulent will tell you when it's not thriving. Pay careful attention to the appearance of the leaves and be mindful of how moist the soil is. Many issues can be remedied before your plant will begin dying. Once the symptoms have become more severe, it may be too late.
Last update on 2023-10-05 / Affiliate links / Images from Amazon Product Advertising API