If you are a cacti enthusiast, you would already know that these desert plants are resistant even to the harshest of environmental factors. However, this does not mean that they are immune to attacks from animals, diseases and bugs. Cactus can withstand some form of neglect, but it needs proper care to remain healthy and thriving. A healthy cactus is a sign of good prospects and hope for reproduction in the future.
So, how do I know if my cactus is healthy? A healthy cactus will be evident from its physical features. A strong, succulent stem, upright leaves, evenly green outlook and strong roots stand out as some of the characteristics of a healthy cactus. A healthy cactus will hold a considerable amount of water without showing any signs of weathering and will bloom bright colored flowers each flowering season without fail.
This article will take a look at the characteristics that stand out for a healthy cactus. It will discuss ways to keep the plant healthy and how to spot any signs of poor health.
Physical characteristics of a healthy cactus
The Stem
A cactus stem, unlike other plants, is specialized for several functions. Apart from acting as the pillar for the whole plant, it also works as:
A water reservoir to help store water for the plant to be used in times of drought
Making food for the plant through photosynthesis
Based on this, a healthy cactus ought to have a strong, upright stem. In most cases, the stem will be green. The green color on the stem should be even with no sign of discoloration or rough patches.
A healthy stem enables photosynthesis that keeps the plant alive. Unlike other conventional plants, cacti take in carbon dioxide at night when the temperatures and evaporation are low in a process known as CAM photosynthesis. This carbon dioxide would then be used during the day to make oxygen and sugar.
Leaves/pads
While some cacti have little spiny leaves, others have pads or spikes to compensate for the same. A healthy cactus portrays vibrant pads with no signs of withering or leaning over. Depending on the cacti species, the pads would multiply with time, thus providing the pant with a chance to propagate into new plants. Usually, the pads may be attacked by bugs or herbivores trying to feed on them. This leads to dents and discoloration of the outer skin. However, note that as the cactus ages, discoloration may be noted in the stem or leaves, and this is normal.
Flowers
Almost all cacti have flowers. Usually, the flowers are short-lived and would appear in specific seasons. A healthy cactus blooms brightly colored flowers every season. Depending on the cacti species, a flower would have 5 to 15 petals, usually blended with the sepals. It also features a multi-loved stigma surrounded by several stamens.
An unhealthy cactus may skip some flowering seasons or fail to flower altogether. This may be a result of nutrient deficiency or lack of enough water. Notably, the ability of a cactus plant to bloom can be determined by its age. While some cacti may take years to mature and produce flowers, others may stop flowering after a certain age. It is, however, important to ensure that your cacti get enough sunlight and watering as desired.
Fruits
The flowering season is usually followed by an abundance of fruits and seeds, depending on your cactus species. A healthy cactus would produce juicy fruits and healthy, full-size seeds following its flowering period. Some edible cactus species like the prickly pear, barrel and dragon cactus produce juicy edible fruits. A healthy cactus would be consistent in producing fruits and seeds for a better part of its lifespan.
Spines
A healthy cactus plant features multiple erect spines all across its surface. These are meant to help protect the plant against external attacks from herbivores. The spines keep the cactus healthy by insulating it against cold or dry weather. Weak or broken spines are signs that the plant is in trouble and at risk of dying off from external attacks.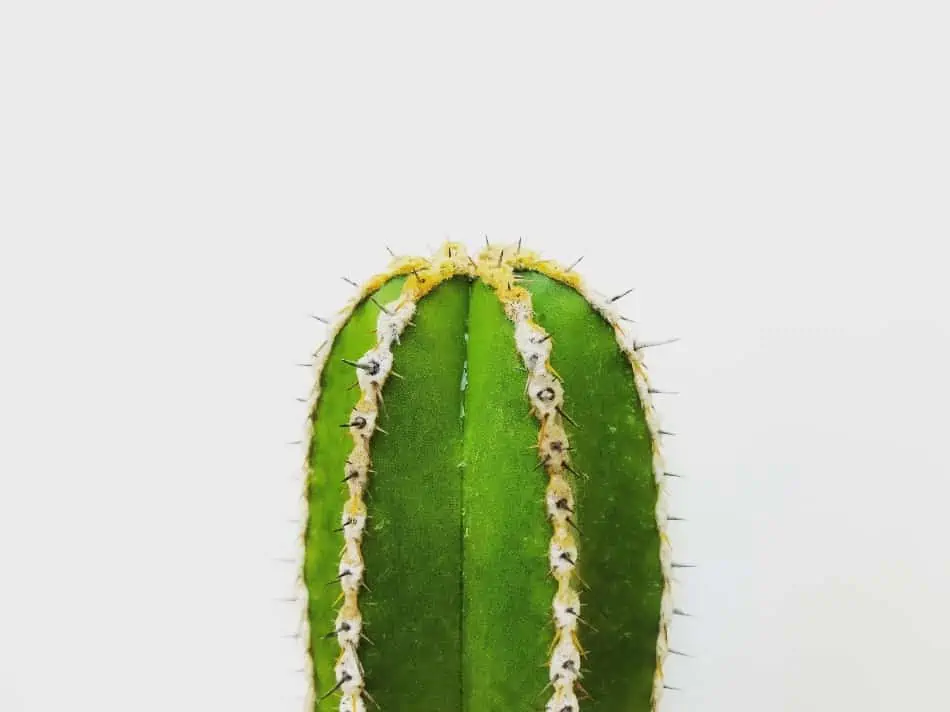 Skin surface
A healthy cactus plant features a moist, shiny and ribbed surface. The ribbed surface is an adaptation that helps the plant expand comfortably without the risk of bursting as it absorbs more water to its reservoir. A healthy cactus also features a waxy surface that helps the plant reduce evaporation in times of drought. The waxy skin also comes in handy to help deter insects and other bugs from eating into the plant's moist and soft interior.
Roots
Unhealthy roots in a cactus can spell disaster. The plant is commonly attacked by root rot, leading to death if it doesn't get urgent attention. As such, it is important to understand the characteristics of healthy roots.
You wouldn't accurately determine the health of cactus roots unless you uproot the plant. This may be done when repotting. Healthy roots are usually whitish or grey. They are moist, and some would feature vibrant hairs around them. Roots with brownish or black coloration may be a sign of poor health not only for the roots but also for the plant as a whole.
Soil
For a cactus to remain healthy, the soil's condition must be ideal enough to ensure efficient nutrient uptake by the plant. A cactus growing on light, porous soil is a healthy cactus. Such soil guarantees just the right drainage to avoid dumpy conditions that may lead to root rot and eventual death. When planting, you may opt to make your own soil mix at home or opt for the commercial soil mix available in most arborist stores, here are our recommended ones.
Potting container
A good sizeable potting container with drainage holes is a guarantee to have a healthy cactus.  As long as the container can still comfortably hold the plant with no signs of roots outgrowing through the drainage holes, it should be an indication of a healthy cactus.
Consider repotting your cactus every year or whenever signs of roots getting overcrowded are noted for better results. A larger container gives space to the plant to grow even bigger and more vibrant.
How to keep a cactus healthy
Cacti are resistant plants, alright, but this does not mean you neglect them altogether. Cactus plants, especially those grown indoors or in gardens, require constant attention to keep them healthy and thriving.
Watering
Cacti are desert plants, but they need sufficient watering to keep them vibrant and improve their growth and reproduction rate when grown indoors. However, watering a cactus needs skill and strategy. Unlike other moisture-loving plants, cacti need some waiting period between watering to allow the plant to use up most of the water already fed. Since they store their water in their succulent stems, cacti do not need frequent watering. Only water when at least two inches of the topsoil feel dry.
Sufficient lighting
Cacti love light, and you may not be too lucky if you keep them in the dark place. Lack of light causes the plant to change color and eventually die off. When growing your cacti indoors, ensure you provide enough light. Do this by strategically positioning your plants in a west-facing or south-facing window. At least six hours of light per day is enough to keep your cacti healthy, vibrant and thriving.
However, beware not to expose new or young plants to too much light. This may scorch the outer skin and expose it to external attacks by bugs and fungal diseases.
Use proper potting soil and container
The survival of your cacti is highly dependent on the soil and container used. For better results, always ensure you use proper-sized containers with drainage holes. These will help drain excess water to avoid cases or root rot.
When planting, use the proper soil mix ideal for planting cactus (Here are our recommended ones), The soil should not be heavy as these will retain too much water. A soil mix with lighter soil will be ideal in this case.
Fertilization
Cactus may be a dessert plant where nutrients are limited, but this doesn't mean it doesn't need fertilizer. A properly fertilized cactus will grow and mature faster, will produce brighter and more regular blooms and will have a vibrant appearance overall.
Cacti do not need a specific blend of fertilizer, but a highly diluted, all-purpose fertilizer will do the magic. Use a low nitrogen water-soluble fertilizer with a ratio of 5-10-10 or 10-10-10 for better results.
A healthy cactus is a happy cactus. As a cactus enthusiast, you not only have to get acquainted with the characteristics of a healthy cactus but also take steps to ensure that it remains so for the rest of its lifetime. With proper care and expert attention, your cactus will live to serve its purpose, whether indoors or in the garden.
Last update on 2023-07-26 / Affiliate links / Images from Amazon Product Advertising API