Is your cactus plant changing color? Does it look unhealthy or unhappy? If so, then you should be worried because you might be staring at a dying plant. The truth is that cacti plants are hardy and will thrive with minimal care. However, just like any other living thing, they have weaknesses, and if you are not careful or don't take action swiftly, the plant can develop diseases, which will eventually lead to death.
So, how do I know if my cactus is dying? Well, one of the easiest ways to know if you are staring at a dying cactus is checking the plant's overall condition. Typically, a dying cactus feels shakier in its potting mix and may appear as though it wants to fall off. This is a clear sign of root rot and other underlying problems. Some plants may also change color, develop soft segments on the stem, or start producing a foul smell.
Read on to find out some of the telltale signs of a dying cactus and some of the common reasons why cactus plants die. We are here to help you grow healthy and happy plants.
Early Signs that Shouldn't Worry You Much
Before we jump into serious signs of impending death, it is good to know some of the early signs so you can deal with the issue as early as possible. In this section, we look at some of the signs that should make you concerned but are not actually symptoms of potential death.
Some plants change color
It is good to note that some cacti plants change color when they are stressed and unhappy. However, you need to observe the color change keenly because it may be a sign of good health.
For instance, if you expose your plant to lots of sunlight, it may turn to reddish, which shouldn't be a major cause of concern. Unfortunately, if your plant is turning to yellow or brown, then you should be worried.
Corking
Another common phenomenon that gardeners mistake for a disease is corking. In most cases, corking happens naturally as the plant ages. During this stage, your plant will develop a hard, brown skin where its green outer layer used to be.
The browning usually starts from the base of the plant and gradually develops up the stem. The parts affected by corking harden and turn to light brown or brown grayish. In such a case, your cactus is only aging and not dying.
Withering
Another common sign that people mistake for death is withering. If you discover that your plant has shed some pads and some parts are drying off, then it is a sign of dehydration. In such a case, the only thing you need to do is water it.
Most cacti species react to prolonged spells of drought by preserving the younger parts and letting the older ones dry and fall off. No need to worry because this is not lethal, and your plant will soon recover as long as you water it moderately and regularly.
Also, don't be afraid to cut off the dried parts if you need some beauty.
Signs That Your Cactus Plant Is Possibly Dying
Some signs point to serious problems that can lead to the death of your plant. The moment you notice any of these signs, be sure to act swiftly just in case you still have some time to save your cactus.
Discoloring
In most cases, cacti plants will start to lose their natural color as a sign of stress and strain. Depending on where the actual problem is coming from, the discoloring can begin at the top end of stem segments or from the base of the plant.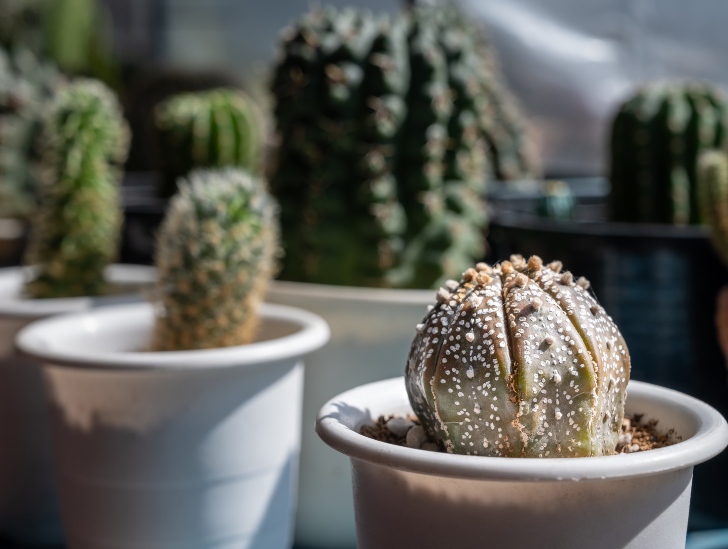 Severe discoloration is quite dangerous, and death is guaranteed if you do not take rapid action.
Your plant become wobbly
You should be worried if your cactus has become wobbly because this is a clear sign of root rot. Keep in mind that succulents are slow-growing plants, which means that symptoms of underlying problems develop quite slowly.
By the time you notice the signs, it could mean the roots have already rotten beyond repair.
If the base of your plant has become yellow or brown, then it could mean the cactus is already in a severe state.
Root rot is, by far, one of the most common causes of cactus death. Root rot is often accompanied by a loss of firmness and turgidity of the leaves and stem of the plant.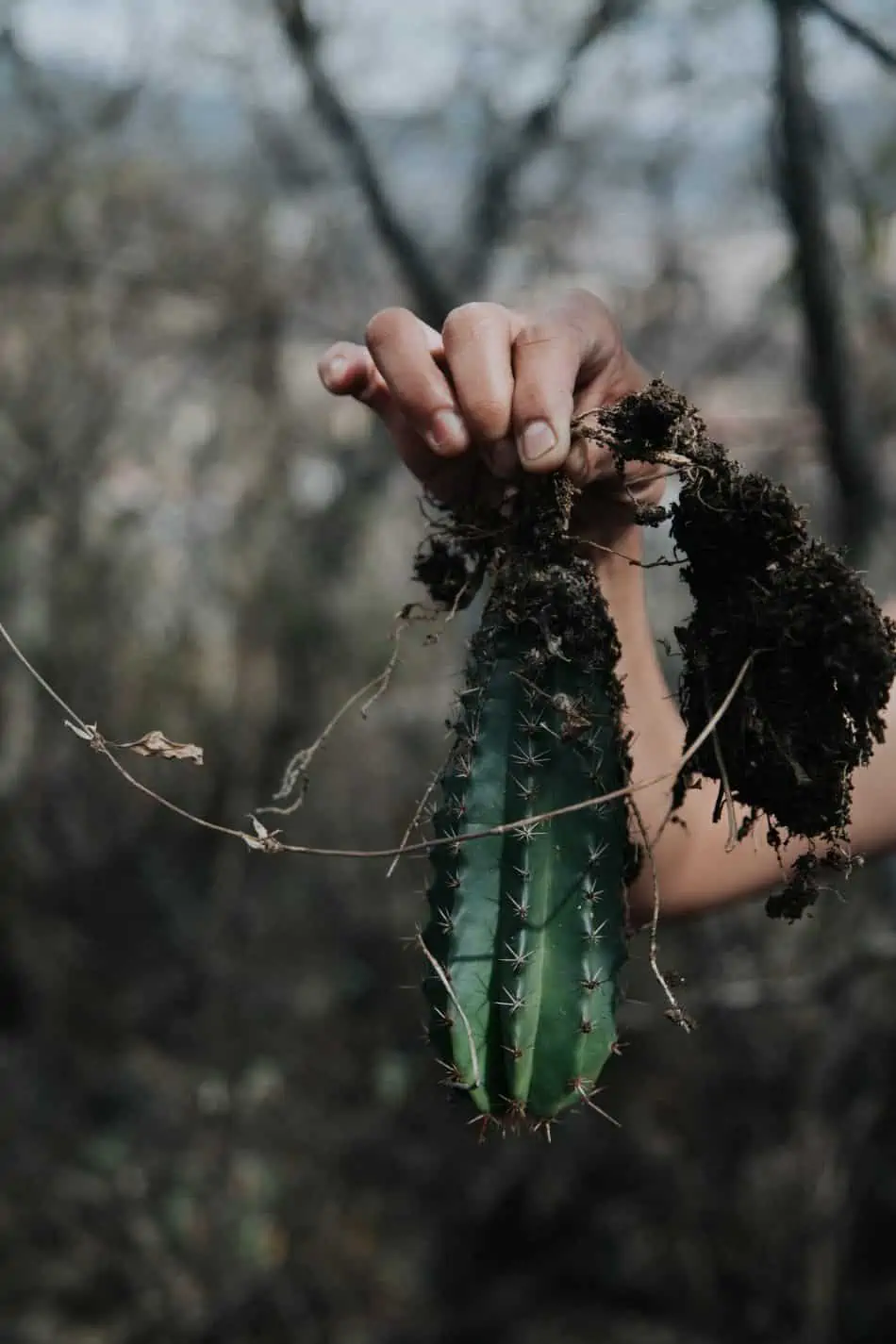 To try and save your plant, take it off the ground, identify all the rotten roots, and cut them off. Rotten roots will appear brown or even blackish depending on the level of rot, while healthy roots will be light in color.
Presence of soft segments around the plant
In most cases, discoloring will be accompanied by stem portions that appear soft and swollen. These parts can easily break off with minimal force.
The easiest way to establish the presence of soft segments around your plant is by trying to pull a spine off. If it falls off easily without much struggle, you should be worried.
That alone is a sign of a dying cactus.
Fungal infection
Fungal infection is also another sign of a dying cactus plant. You can easily recognize fungal infection because it causes lacerations in the tissues of your cactus plant. The lacerations may start at the areolae or any other part of the outer tissue.
Fungal infections take different shapes and colors, but the most common are only two.
The presence of brown dents on the plant's outer tissue rounded in most parts like half-moons is a sign of fungal infection. The appearance of white-gray spots is also another sign of fungal infection.
Fungal infection on the aerial part of the plant may not be as damaging as root rot, but they are still dangerous.
The best way to avoid further damage as a result of such infections is by spraying your plant with a natural fungicide. Most people prefer using tea tree oil diluted in water to treat such infections.
Alternatively, you can sponge the affected areas with alcohol for as long as it takes. However, if the infection was too severe and had already damaged part of your plant, consider chopping off the affected area and sterilize the wound.
Foul smell coming from your plant
If your cactus plant is emitting a foul smell, you should be worried because it is a bad sign. Foul smell means that a significant part of the plant is completely rotten, and there is probably nothing you can do to save it.
In other words, your plant is no longer in the dying process, but it is dead. All you can do in such a case is to dispose of the plant and obtain a new one if you still need to have a cactus plant around.
Reasons Why Your Cactus Is Dying
Now, you can tell if your cactus is dying, but your biggest worry should be; why is it dying? It becomes easier to deal with the problem if you know the cause. Here are some of the common causes of cactus death.
Overwatering
Overwatering is by far the surest way of killing a cactus plant. While it may seem a sensible thing to do, frequent watering only causes more damage than good.
Typically, cacti plants need less love, attention, and water. Some of the common signs of overwatering include browning, root rot, and unusually plump spines.
To avoid this problem, try not to be overzealous in your watering and follow these simple watering tips all the time.
Improper planting depth
Planting cacti too deeply inside a container can also cause death. Try to position your plant at almost the same potting mix depth it was grown at while at the nursery or previous container.
Resist the temptation of burying a significant portion of the stem into the soil. While planting or repotting your cactus, make sure all the green stem tissue remains above the soil.
When your newly planted cactus shows signs of bending, consider using a wooden to provide support instead of additional soil.
Improper soil drainage
Cacti plants need a special type of soil to thrive. Typically, these plants do well in soils that drain water quickly. If the soil holds water for too long, root rot becomes inevitable.
Luckily, it is not hard to get the right type of soil for your plant. You can make your own potting mix or go for the commercial soil mixtures, which also work fine.
Wrong pot size
Getting the wrong size of a container for your plants is another sure way of kicking off the dying process. The pot could be too small or too large.
A pot that is too small for your plant will most likely choke its roots since there is little breathing space. A larger pot, on the other hand, may retain too much water leading to root rot.
Lack of light/sun
Have you noticed unusual stretching of your cactus plants towards a light source? This might be a sign of inadequate exposure to light. The stretching is referred to as etiolation and is common among indoor plants.
Most cacti species are native to deserts and require access to intense sunlight to thrive. Therefore, if you are living in a region that receives less sunlight, you should consider supplementing the deficit with artificial lights.
Fortunately, there are lots of good grow lamps on the market designed to deliver the exact amount of lights needed by indoor cacti plants.
The Bottom Line
While it is relatively easy to grow cacti plants, you need to keep in mind that they are susceptible to death if the conditions are not right. Since they are slow-growing plants, it may take several weeks or even months before you start to notice signs of death in the plant.
To save your plant, always act swiftly whenever you notice any of the symptoms discussed above. We hope you now know about dying cacti plants and what you can do to save them.
It is now time to check around your plant and do the necessary.
Last update on 2023-07-26 / Affiliate links / Images from Amazon Product Advertising API