When you think about the desert, what comes to mind? Most probably, an endless mass of sandy soil and rocks. While it is true that this is the case with most deserts, it does not mean that nothing good comes out of the same. The desert is home to some of the most colorful plants you will ever encounter.  These drought-resistant plants help add pomp and color to the otherwise dull desert terrain. These may range from trees to shrubs, cacti, succulents and wildflowers. These flowering desert plants come in a variety of sizes, shapes and colors.
So, what are some of the most common types of flowering desert plants? Truth, is most desert plants have flowers, but some have more distinctive, brighter flowers that the rest. Some of the most common flowering desert plants include the following:
Arizona Poppy
Desert Marigold
Tacoma stans
Prickly pear
Ice plant
Muhly Grass
Lantana
Desert Lily
Mojave Aster
Bottlebrush
This article will take a look at each of these flowering desert plants in detail. It will look at their characteristics, type and color of flowers, the flowering seasons, and the importance of the same.
1. Arizona Poppy
The Arizona Poppy (Kallistroema Grandiflora) is a flowering herb native to Arizona and found in Northern Mexico and California. It stands out with its herbaceous stems that rise from the stout and the numerous branching.
This flowering desert plant features abundant flowers that measure about one inch. The flowers are five-petaled and rise above the plant. Usually, the flowers are bright orange with a noticeable red basal spot. Its petals feature a number of nectar guides and are distinctively ultraviolet reflective.
The flowers from the Arizona Poppy remain open for one day, during which cross-fertilizing takes place. As the flower closes, however, this opens ways for self-fertilizing. Its blooms may lack any fragrance, but it still attracts over 46 species of insects, including wasps, bees, butterflies and flies.
2. Desert Marigold
The desert marigold, also commonly known as 'paper daisy,' is an outstanding desert plant that can grow to about one foot in height. It stands out with its flowers that produce many seeds. The plant is usually short-lived and would only live through one season and germinate the following year through its seeds. Blooms from that desert marigold start during spring and may last through summer.
The bright yellow flowers form clusters about two inches in diameter. Its leaves are green coupled with some silver-white hairs that grow very low on its thick stems. When planning to grow these in your garden, it helps to note that they are poisonous to sheep and goats but have not been proven to harm larger animals like horses and cattle.
3. Tacoma stans
The Tacoma stans, also commonly referred to as yellow bells, is a flowering desert plant native to the Sanora desert. It thrives best in sunny conditions or filtered shade. The plant produces bright yellow flowers that assume the shape of a bell, thus its name. Yellow bells bloom at the end of spring and would last through the start of fall.
The Yellow Bells is a favorite for bees and hummingbirds, thanks to its tubular, yellow blooms. It also stands out with its vibrant leaves that mimic feathers. These features make it a perfect choice for a butterfly garden. When not blooming, the plant still adds some ambiance to your garden as it turns into an appealing backdrop for other plants in the garden.
4. Prickly Pear
Prickly pear is a type of flowering cactus that blooms bright flowers during the spring season. These would eventually lead to some edible fruits on maturity. Also known as Opuntia, this desert plant stands out with its paddle-shaped stems. It is one of the most adaptable blooming cacti that you can include in your desert garden.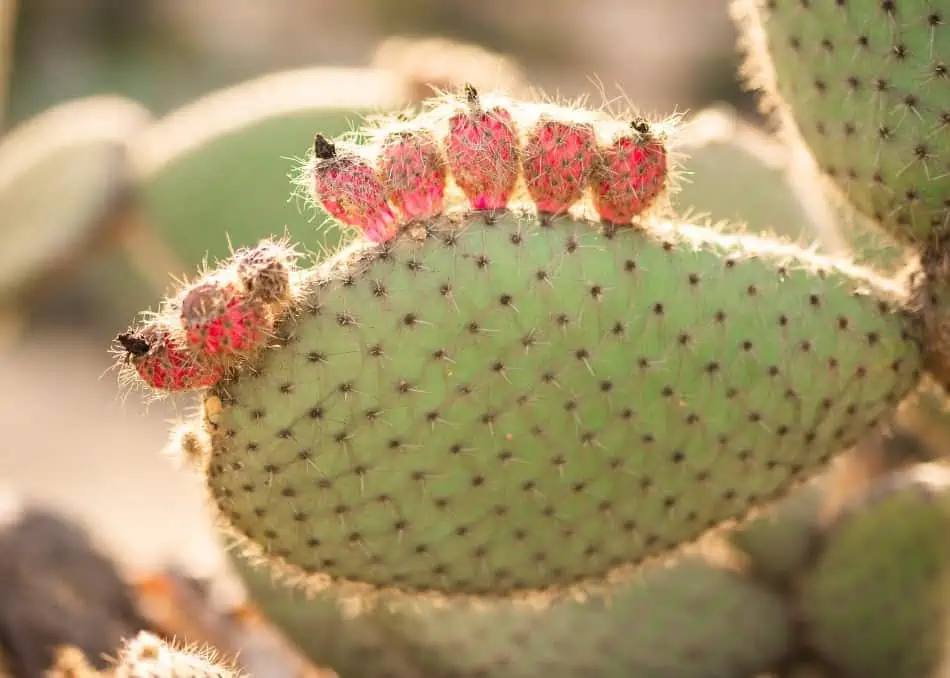 The prickly pear is rarely noticed until it starts to bloom. Its flowers range from white to red, to pink and purple. Apart from its fruits, the pads from prickly pear are also edible and can be harvested at any time of the year. Both the pads and fruits can be eaten raw or cooked.
5. Ice plant
The Ice Plant is an easily recognizable flowering desert plant that can help add color to your desert garden or landscape. This colorful succulent features bright flowers that come in a variety of colors ranging from pink to yellow, red and purple. This is an excellent recipe to attract various species of insects like bees, butterflies and even birds.
The Ice Plant's daisy-like flowers help add some pomp to your desert garden and act as a perennial ground cover even when not in bloom. It acquires its name from the fact that its leaves and flowers tend to shimmer as though they have been covered in some ice crystals. The plant grows to about one meter wide and 6 inches tall.
6. Muhly Grass
Muhly grass (Muhlenbergia) is an ornamental grass that blooms into a beautiful white or pink spectacle. It is commonly found throughout Canada, Mexico, South and Central America. Usually, individual species of the plant would assume a capillary-like branching system, thus forming some form of shrubs. Its green leaves would cover the understory while the pink flowers would outgrow them.
This flowering desert grass may grow in clumps but does not spread through underground or above-ground stems. Being a warm-season plant, Muhly Grass thrives during the summer, and by autumn, it would be in full bloom. This makes it an excellent garden plant as it also attracts notable insects like the ladybird and butterflies.
7. Lantana
Lantana is a genus that involves over 100 flowering plants. These are native to tropical regions in Africa, central and south America. Lantana grows to form clusters of rounded flowers, usually very bright in color. Colors from its flowers vary from species to species. These may range from orange to red, yellow, white, purple, and much more. In fact, some species may depict more than one color in one cluster. Lantana's leaves and flowers have an aromatic fragrance that attracts insects and birds, thus helping in desert pollination. Its leaves are also used to make perfumes, thanks to its fragrance. However, the plant is toxic when raw and should be kept out of reach of children when grown in the garden or indoors.
Lantana blooms almost all year round in tropical climates. In the United States, this flowering can be seen from spring to fall. Notably, the flowers' colors tend to change through the season. This may see a yellow flower at the start of the season turn to reddish-brown or orange by the end of the season.
8. Mojave Aster
The Mojave aster is a delightful desert plant, also known as the Mojave woody aster. It is a perennial plant that can grow up to 30 inches high. As the name suggests, the plant is native to the Mojave desert. When it blooms, the plant produces large daisy-like flowers. Mojave aster stands out with its petals that resemble lavender and features white rays that come right from its yellow center. Its overall flowerhead grows to about 2 inches in diameter. Normally, the Mojave aster blooms in spring, but it can sometimes flower in the fall too. During this time, each plant may bear up to 20 flowers.
Apart from the Mojave desert, this desert flowering plant also grows in the Great Basin Desert and the Sonoran Desert. Usually, the plant grows alongside other notable desert plants like the creosote bushes, Joshua tree, and saltbush shrubs.
9. Desert Lily
Lilies are hugely popular for their colorful flowers. This is not different for the desert lily. Well, it may not be a true lily, but its flowers resemble that of a lily, thus the name. When the desert lily blooms, it produces some large white or cream-colored, funnel-shaped flowers that mimic a true lily.
The blooming happens between March and May, with flowers growing up to 2 inches wide. The flower features some six petal-like segments, each bearing some silver-green band on the back. Usually, this bluish-gray plant would grow to a height of about 6 feet.
10. Bottlebrush
Bottlebrush is a flowering desert plant that grows as a shrub. They are native to Australia and would produce colorful red flowers. These would contrast with its light green foliage, making it an ideal candidate for a desert garden or landscape. The plant gets its name from its flowers that mimic a bottle brush.
Usually, the bottle brush blooms during the summer months. While a majority produces red flowers, some varieties have crimson and even light yellow flowers. When grown at home, the plant needs regular pruning and removal of suckers.
Flowering desert plants are delightful additions to the desert environment. This makes them the perfect options when looking to design a desert landscape or garden. These would also come in handy when looking to create a butterfly garden since most of these plants attract a large variety of insects and birds.
Last update on 2023-07-26 / Affiliate links / Images from Amazon Product Advertising API