Resembling a large sewing pincushion, the golden barrel cactus offers intimidating spines across a highly ribbed, spherical body which is perfect for your desert terrarium. Although the barrel cactus may look mundane for most parts of the year, its appearance changes at certain times of the year when the blooms burst forth.
So, does barrel cactus bloom? The simple answer is "yes." The cactus blooms wonderfully in spring and summer. The flowers burst into life with a neon brilliance putting on a spectacular show. Its flowers are exceptional with red spines that reflect natural light in the evening when the sun is setting. When the conditions are right, these flowers get pollinated, producing relatively large fruits filled with seeds that feed different types of animals in the wilderness. Typically, the cactus starts to flower once it reaches approximately six inches wide or after about 15 years.
Do you have a barrel cactus in your home and wondering whether it will ever bloom? If so, you have come to look for information in the right place. This blog post discusses everything you need to know about the golden barrel cactus and how it blooms.
When Does the Golden Barrel Cactus Bloom?
The golden barrel cactus is one of the most popular indoor cacti species. It generally grows slowly and doesn't bloom during its early years. In most cases, this cactus starts to produce flowers when its barrel is at least six inches wide. To achieve this width, the cactus must be at least 15 years old.
So, if you have a relatively young barrel cactus that isn't showing any signs of flowering, you don't need to worry a bit. When the cactus is mature enough and the conditions are right, it will start producing flowers.
The cactus mainly blooms during spring and summer – mostly between mid-April and September. In some cases, the flowering may start in May, but it rarely extends to October.
During spring and summer, the long sunlight hours stimulate the cactus' growth and reproduction. The succulent's brightly colored flowers attract bees for cross-pollination, resulting in the formation of fruits.
The resulting fruit serves as a source of food for the local wildlife, which helps to spread the seeds throughout the area.
The cold winter and fall months are dormant periods for the golden barrel cactus. During this time, the succulent slides into dormancy, and growth stops. It is not until spring that the plant becomes active and starts to show signs of growth.
How Long Do Golden Barrel Blooms Last?
While some succulents bloom and wither within a day, most golden barrel cactus species will retain their flowers for up to six weeks. Some of the crucial factors that determine how long the flowers will last include the amount of watering it receives and the temperature of the surrounding environment.
When the flowers don't receive sufficient watering in relatively hot temperatures, they tend to wither pretty fast.
The flowers are mostly two to three inches wide and grow in a crown near the top of the stem. Most of them generally last for one or two weeks, but if you keep the conditions right, you might enjoy the impressive show for six or even seven weeks.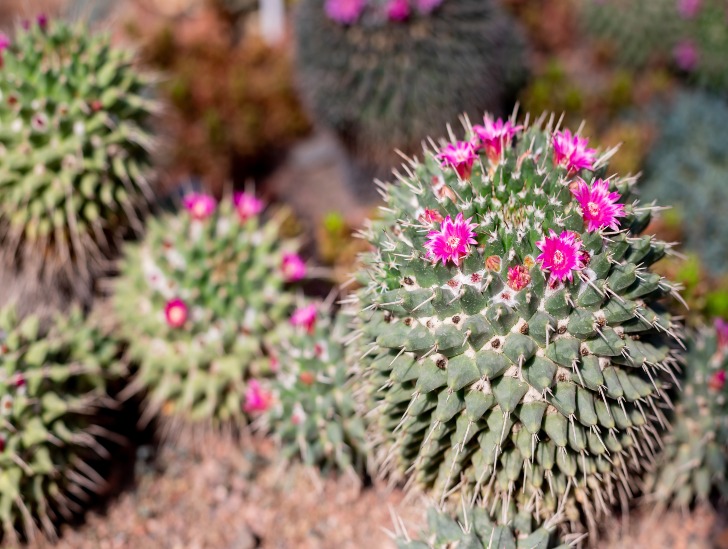 Although the cactus requires minimal care to survive, dropping or wilting flowers within a few days is usually a clear sign of improper watering or sudden temperature changes.
Keep in mind that watering is a critical aspect of barrel cactus care. So, you need to make sure that your plant is always receiving the right amount of water all the time. Avoid underwatering or overwatering your plant for the best results.
The flowers remain open during the day but close at night. It means that pollination of the flowers can only happen during the day.
How Can You Get Your Golden Barrel Cactus to Bloom?
If your cactus is already more than six inches wide or 15 years old, but it isn't showing any signs of flowering, it could be a clear sign of poor maintenance.
Luckily, there are a few things you can do to change the situation and encourage your plant to flower. They include:
1. Water Properly
Most cacti species are known for their acclimation to relatively drought conditions. These plants have developed a wide range of survival mechanisms that make them highly drought-resistant. They store plenty of water in their stems to push them through the dry season.
However, a barrel cactus grown at home may have slightly different water needs than one in the wilderness. A barrel cactus grown at home requires slightly more watering to flower. But be careful not to overwater your plant because it can lead to root rot issues.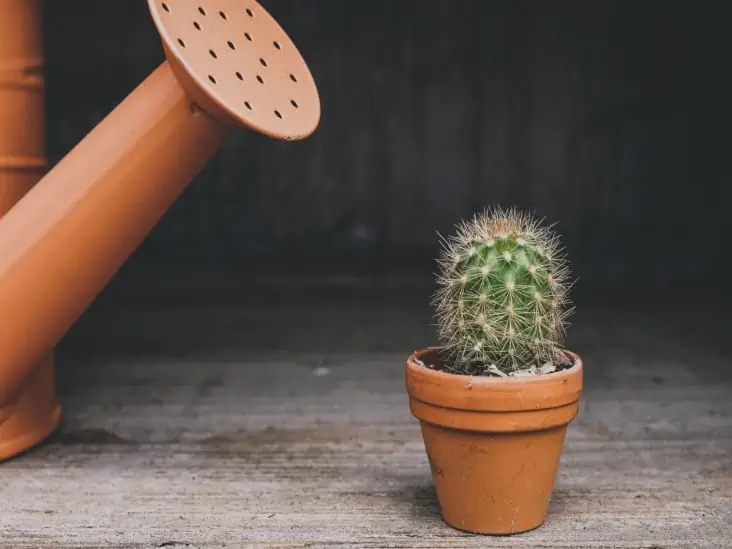 Keep in mind that a truly shriveled barrel cactus doesn't have a lot of energy to initiate flowering. Even if you don't want to be a little bit more generous with watering out of fear of overwatering, ensure you stick to the recommended watering schedule to give your plant the best chance of flowering.
Typically, a barrel cactus that retains an average amount of water from regular watering should be able to flower in spring and summer without any issues.
2. Soil Requirements
The type of potting mix you use to grow your barrel cactus can also significantly impact its flowering. Although the cactus can grow in different types of soils, ensure you stick to a well-drained and rich potting mix.
Well-draining potting mix prevents waterlogging, which is crucial to the flowering process. Fertilize your plant during the growing months with a 5-10-5 ratio mixture that will help accelerate flowering. The numbers represent the nitrogen, phosphorous, and potassium quantities in the fertilizer.
The relatively higher amount of phosphorous in the mixture promotes the formation of blooms over stem growth. Take fertilization seriously because poor soil nutrients can lead to low flower output.
Furthermore, poorly draining soils that lead to waterlogging of the roots may contribute to root rot and blossoming problems. Generally, a barrel cactus cannot survive for long in poor drainage soil conditions.
3. Light Requirements
Flowering can also be affected by too much or too little sunlight. The golden barrel cactus must be exposed to full sunlight in spring and summer to produce the gorgeous flowers that form at the crown of the stems.
Generally, blooming will be stunted if the plant doesn't receive plenty of sunlight. The flowers formed won't last for long either.
However, if you move your plant indoors during winter, you need to be careful with introducing it to sunlight in spring. Aim to do it gradually. You can start by exposing it to a few hours of morning sunlight and increase the number of hours of sunlight exposure slowly until it is ready for full sunlight.
If you throw your plant out hastily, it may fail to bloom as a result of the shock that it will develop. Furthermore, it may suffer from severe sunburns that don't heal.
Ideally, you want to expose your barrel cactus to 12 hours of constant light to give it the best chance of blooming. If you can't achieve that with natural sunlight, consider complementing it with artificial grow lights.
What Happens to Golden Cactus Blooms?
Once your golden barrel cactus has produced flowers, they start to attract insects. These insects feed on the flowers and also facilitate the process of cross-pollination. Bees are the most common pollinators.
When the flowers are cross-pollinated, they close, and seeds start to form inside the ovary of the faded flower. The process may take a couple of weeks.
Pollinated flowers will eventually turn into fruits. The golden barrel cactus fruits are usually embedded in the dense hairs on the tip of the plant. In the wilderness, squirrels usually harvest the fruits to feed on the seeds.
The fruit has a yellowish fleshy wall that turns brown when it is fully ripe. It contains black seeds that remain viable for a relatively long time.
To collect the seeds for propagation, gently pluck the fruit from the plant. Take the fruit to a work table and break them open to remove the seeds.
Leave the seeds to dry for a couple of days before propagation. Generally, the seeds require warm and moist conditions to germinate.
To obtain the best results, use a clean and shallow pot with plenty of drainage holes and a soilless potting mix to germinate the seeds. Fill half of the container with the potting mix and spread the seeds on top of it.
Water the pot from the bottom, cover it with plastic then position it in indirect sunlight. Check the potting mix regularly and ensure it stays moist. The seeds should start germinating after six or seven weeks.
Final Thoughts
Golden barrel cactus flowers are a beautiful addition to any garden, and with a little bit of care, you can get your own cactus to bloom. Make sure to water properly, give it the right soil, light conditions, and wait for the blooms to form.
With proper care, the blooms can last for up to six weeks, turning into fruits with plenty of seeds that you can propagate to expand your golden barrel cactus collection.
Last update on 2023-07-26 / Affiliate links / Images from Amazon Product Advertising API