Succulents are different from other plants in a lot of ways. They don't need as much water, and they can do well in various conditions. But that doesn't mean they don't need fertilizer or that you don't need to know how to fertilize your succulents.
Whether you're new to succulents or gardening in general, you should consider how to fertilize the plants. That way, they can grow, and you can enjoy them for a long time. Read on to learn how you should take care of succulents.
What to Use as Fertilizer
Before you can learn how to fertilize succulents, you should know what to use as your fertilizer of choice. While you can use the same fertilizer as you would for other plants, that isn't your only option.
Sometimes, you may want to use a fertilizer specifically for succulents. That way, it can work with the plants and help them grow. A more general fertilizer can work well for other plants, but you should consider investing in fertilizer specifically for your succulents.
Tea
Manure tea is a kind of fertilizer that works great for succulents. As the name suggests, it's very similar to manure or compost. However, you don't have to worry about the smell or mess, and you don't have to spend time producing it.
You can buy manure tea in tea bags that are ready for you to prepare for fertilization. That way, you can keep them in your home or garden shed. It's a great option for beginners and advanced gardeners.
Tea is a natural fertilizer, so it's also fantastic if you don't want to use chemicals. Whether you or someone you live with is sensitive to chemicals, manure tea might be worth it. Then, you can live comfortably, and so can your succulents.
Commercial
If you don't want to use manure tea, you can use a commercial granular fertilizer that you might find at a garden shop. This is a good choice if you have other plants to fertilize and you want to minimize your equipment and maximize your budget.
A granular fertilizer is great for succulents you plant in the ground. The brand doesn't matter, but make sure you choose a fertilizer with an equal ratio of:
K/potassium
N/nitrogen
P/phosphorus
You can look for a fertilizer near you or online, so you can get something that meets the needs of all of your plants. But even if you only have succulents, commercial fertilizers are an excellent option.
Nothing
It may sound ridiculous to say nothing, but some succulents don't need any special fertilizer. Before you add anything to your succulents, consider how they look now and how you want them to look in the future.
Adding fertilizer can improve the plant's appearance, but it can change it for the worse as well. If you like how it looks right now, you might want to hold off on adding any fertilizer.
You can always add more later, but it's hard to take it back after you put something in the soil. So think carefully about both manure tea and commercial fertilizers. Then, you can make sure one of them is the best option for you and your garden.
When to Fertilize Succulents
Next, you should know when you should add fertilizer if you decide that's what's best for your succulents. Regardless of the species you have, there are a couple of times where adding fertilizer is a good idea.
In the spring, you should wait until temperatures are consistently above 60℉ (15.5 ℃) during the day. That way, the environment will be warm enough for the fertilizer to support the plants as they grow.
Later in the year, you can add more fertilizer during the fall. However, you should do so before a rainstorm, so the rain can help water the plants after the fertilizer. The rain can help dilute the fertilizer, so it won't hurt your succulents.
Ideally, you'd start with only using fertilizer once in the spring and once in the fall. However, you can add fertilizer more if you want to stimulate even more growth. Growers will fertilize their succulents throughout the year to keep them looking good.
How to Fertilize Succulents
Now, you can learn how to fertilize succulents so that you can give them the best chance at thriving. This process involves everything from providing the right growth environment to setting the right schedule for adding fertilizer.
If you've used fertilizer on other plants, that can help here. However, the process is a bit different with succulents. Even if you're new to gardening overall, the steps are easy enough to learn and follow.
Here's how you can fertilize your succulents so that they look good and are healthy.
Ensure Access to Sunlight
Your succulents should have access to sunlight for at least four to six hours each day. That sunlight should be indirect so that light gets through but not too much. However, more sunlight is better than less, so feel free to put your succulents somewhere with more light throughout the day.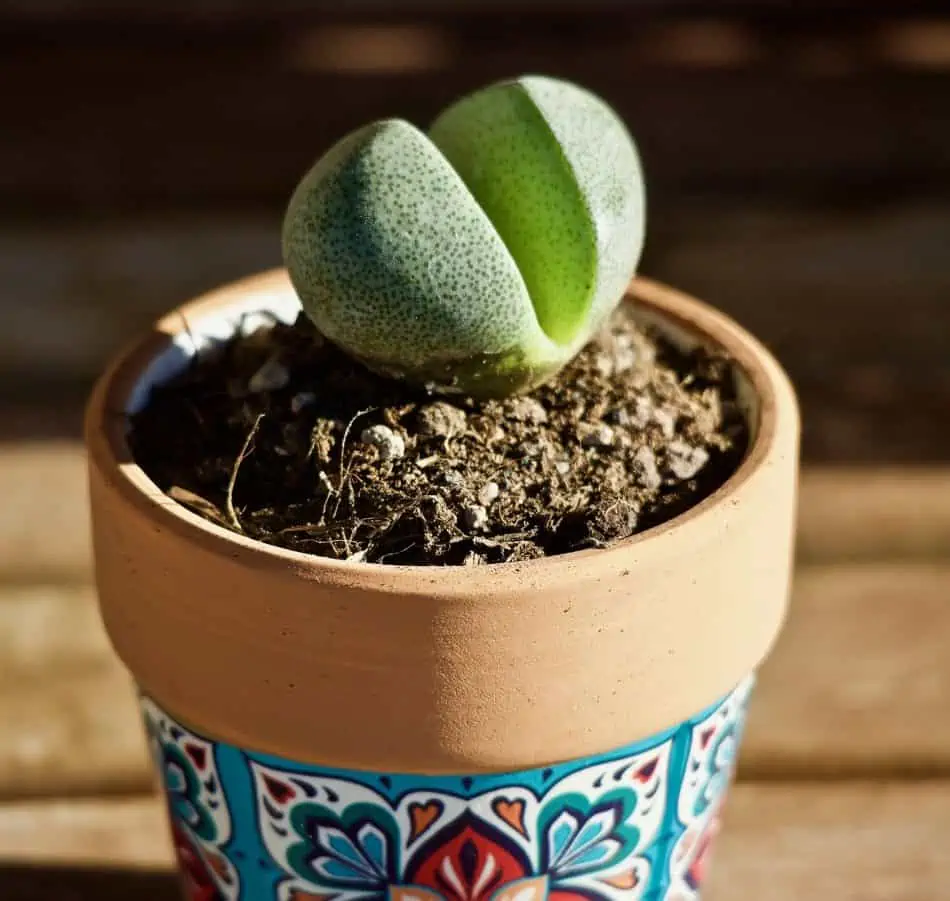 One of the problems with fertilizing succulents that don't get enough light is irregular growth. After you add the fertilizer, the plant will start to grow fast. But it will grow in the direction toward the light.
While that can provide a unique look, it may not be the shape or appearance you want. In that case, you should make sure your succulent can either get enough light or grow a bit more slowly. If you don't have much sunlight, consider holding off on using fertilizer.
Prepare the Fertilizer
When you decide to use manure tea, you need to spend some time preparing it. Like any other form of tea, it needs to steep in water before use. Here's how to prepare manure tea:
Take a tea bag out of the package but leave the tea in the bag.
Place the tea bag in a big bucket (5 gallons).
Fill the bucket with one to five gallons of water.
Cover the top with a lid.
Let the water and tea bag sit for two or three days.
Check on the water and remove the tea bag.
If you want to make the last step easier, you can tape the string on the tea bag near the top of the bucket. That way, you won't have to reach for it at the bottom.
When using other types of fertilizer, you won't have as much preparation. But you should still make sure you have what you need and that you portion it out. That way, you don't use too much fertilizer on your succulents.
Fill Your Watering Can
After your fertilizer is ready to go, you can set it aside and fill up a watering can. Consider how many succulents and plants in https://www.bernardspharmacy.com general you have to water. Of course, you can also use water directly from the hose if it's close enough.
Then, you can add enough water to complete your plant-watering routine. While you won't fertilize your succulents every day, you can incorporate this step into watering all of your other plants.
Water Your Succulents
Now, you can go through each of your succulents and water them. Try to add just enough water to moisten the soil but not drown the plants. This is particularly important when using manure tea.
Adding water alone will keep the fertilizer from being too harsh on the succulents. Plus, it gives you an excuse to add plain water to help your plants grow. If you have plants other than succulents, you can water those now with the plain water.
Then, you can follow up the plain water with your fertilizer. If you use manure tea, you can pour some of the water from your bucket and add that. When using granular or commercial fertilizer, follow the directions and then use half of the dose to keep from "burning" the succulents.
Wait a While
After you finish watering and fertilizing your succulents, you can go about the rest of your day or week. Now, you need to decide if you want to fertilize them again the next time you water them or if you want to wait longer.
| | |
| --- | --- |
| Fertilize With Each Water | Wait Until the Next Season |
| Faster growth | Slow growth |
| Soft plants | Hard plants |
| Easy to remember | Save on fertilizer |
Consider the pros and cons of each fertilizing schedule. If you want your succulents to get really big, adding fertilizer more often is great. However, it can be a bit too much if you keep your succulents in a terrarium or small pots.
Succulents in the ground may benefit from more fertilizer since they have room to grow. But if you live in an apartment or small house without much space, don't be afraid to wait.
Benefits of Fertilizing Succulents
As you learn how to fertilize succulents, you may wonder why you should. Like any other plant, succulents can benefit from the nutrients in fertilizers.
Whether you have a small or big garden, you can use fertilizer to keep your plants in good shape so that they can grow. The right fertilizer can also help with the appearance of the plants, which is great if you want a visually appealing garden.
Either way, consider a few of the major benefits of fertilizing your succulents.
Promote Growth
Of course, the most apparent benefit is that you'll notice your succulents get bigger more quickly. If you want to have a garden full of them, adding fertilizer is a no-brainer. Even if you keep them in pots, you may want to fertilize your succulents to fill out the pot.
As you add more fertilizer, the plants can continue to grow and mature. You won't have to wait as long for them to reach the size you want.
Whether you want to set a world record or simply enjoy the succulents from across the yard, you may want to add fertilizer each time you water the plants. Even adding it every month or so can provide more benefits than a few times a year.
Maintain Shape
Adding fertilizer can either help the shape or hurt it, but the right fertilizer and growth environment is great for your succulents. Not using enough fertilizer may keep the succulents from growing well, so they might look bad, even if they're healthy.
Of course, you don't want to add too much fertilizer, especially if your plants don't get enough indirect light. But as long as they do get four or more hours of sun a day, you can add fertilizer to help your succulents keep a good shape as they grow.
Preserve Color
As your succulents grow, fertilizer can also help keep them a healthy color. While it can be cool to see changing colors, you may or may not want that. If you want to keep all of your succulents the same color, make sure you add fertilizer.
The nutrients will help keep your plants healthy, so they won't die as easily. Sometimes with plants, changing colors signals that the plant isn't doing well. Luckily, you can preempt that by fertilizing your succulents on a regular schedule.
Risks of Fertilizing Succulents
While there are many benefits to fertilizing succulents, doing so doesn't come without risks. If you're fairly happy with how your succulents look, you might not want to fertilize them and risk changing the color or size.
Fortunately, you can fertilize some of your succulents and not others. Then, you can see if you like the results and if it's worth risking the rest of your garden.
Also, some of the risks come from using too much fertilizer. So don't be afraid to start slow if you want to avoid the following.
Too Much Growth
Fertilizer can make your succulents grow, which may be what you want, but it might not. If you start adding fertilizer without a strategy, the plants could grow too big for their pots, or they could take up too much space on the ground.
As mentioned, when you add too much fertilizer to inside plants, they might grow in an odd shape. They'll want to grow toward the light if they don't get enough exposure. Sure, that could give you a cool design, but it can look odd.
Consider how much you want the succulents to grow and how fast. They can still grow if you only use fertilizer a few times a year.
Soft Plants
Soft and hard plants, in terms of a nursery, come down to personal preference. Because of that, this may be a con or a pro, depending on what you want. If you don't want soft plants, you should avoid fertilizing your succulents too often.
Hard plants are more tough, so they can withstand more. If you want to keep your succulents outside, you might want to keep them on the tougher side. That's even more important if your succulents will be in a garden rather than pots.
But if you don't care as much about that, feel free to add more fertilizer. Think about how you want your plants to grow to help decide if this risk is worth taking.
How Do You Choose the Right Fertilizer?
To choose the right fertilizer for your succulents, consider what they are and where they are. For example, granular fertilizers are generally the better choice for gardens. When using granular fertilizers, make sure you spread them lightly and all over the garden, then water the plants.
If your succulents are in pots, you may want to use manure tea or another liquid. Keep the fertilizer to half of the normal dose so that you don't overdo it. If the plants don't grow quickly enough, you can add more each time.
Does Your Soil Matter?
Your soil can have an effect on how to fertilizer your succulents. If your soil already has a bunch of nutrients, you may not need to fertilize the plants as often. When you do fertilize them, you can use less fertilizer.
On the other hand, if the soil is pretty basic and doesn't contain any nutrients, you may need to add more fertilizer. Or you might want to increase the frequency of using something. That way, your succulents have plenty of nutrients to thrive.
What Are Some Common Types of Succulents?
Before you start fertilizing succulents, make sure you know that the plant in question falls into that category. That way, you don't use the wrong product on it. Here are some common types of succulents you should know.
Aeonium
Agave
Aloe
Echeveria
Kalanchoe
Opuntia
Senecio
You can find tons of other succulents, so this list isn't complete. Be sure to learn how to fertilize succulents when you get any type of the plant.
Final Thoughts
Knowing how to fertilize succulents is vital, whether you plan to do it once a year or once a month. Make sure you choose the right type of fertilizer, prepare it well, and add it to your gardening routine. Then, you can see the growth that you want from your succulents.
Last update on 2023-10-05 / Affiliate links / Images from Amazon Product Advertising API