Many people often confuse euphorbia for cactus. Well, we can't blame them because many cactus plants look like euphorbia and vice versa. It's usually hard to tell the difference between the two plants by just looking at them.
Some Euphorbias possess cacti-like features like branching arms, pokery parts, and ribs. You'll even get more confused if you go to nurseries, as many euphorbias are sold as cacti there. However, there are distinctive features that differentiate the two plants. These are usually physical features such as the presence of areoles, flowers, leaves, spines, milky sap, and more.
Read through to understand the distinguishing characteristics between cactus and euphorbia. Most of these differences are in their physical features, which you can easily identify.
Euphorbia vs. Cactus: The Similarities
Euphorbia and cactus have many similarities that make many people confuse them for each other. Both plants have succulent stems that help them store water in the stem tissues for future use. These features, as well as the lack of leaves or small leaves, make these plants survive in arid conditions.
Euphorbia and cactus also have thorns and spines, respectively. These features work in place of leaves but are also a form of defense mechanism for the plants, defending them against animals that would want to eat or wound them.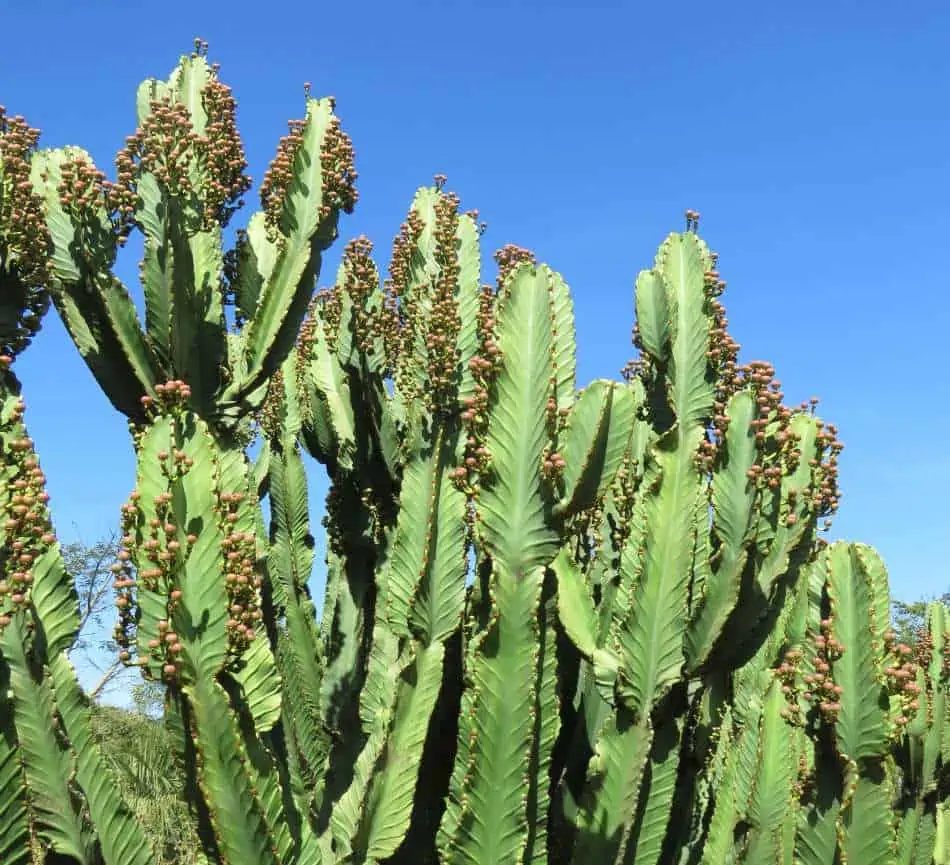 The reason behind these similarities is due to convergent evolution. Both plants grow in similar conditions and hence react the same way to the climate. However, they still have different origins. As a result of their environment, the plants develop some striking features that help them survive and thrive in the climates they grow in. Some of these features include branching stems, thick stems to store water, and fibrous roots for water absorption.
But even though the plants adopted the same survival tactics and have similar features, they're not of the same type. There are still many differences between the euphorbia and cactus.
Euphorbia vs. Cactus: The Differences
You can only differentiate cactus from euphorbia by knowing their physical characteristics. Well, most of these characteristics are not visible, but once you know where to look, you'll understand the differences. Here are the distinguishing features between euphorbia and cactus plants.
The Areoles in Cacti
The areolas are the fuzzy and cushion-like dots where the spines, flowers, and stems of cacti plants grow. The areoles are found in all cacti species and are either white or yellow. Even if they're not visible from a distance, you can still notice them if you take a closer look.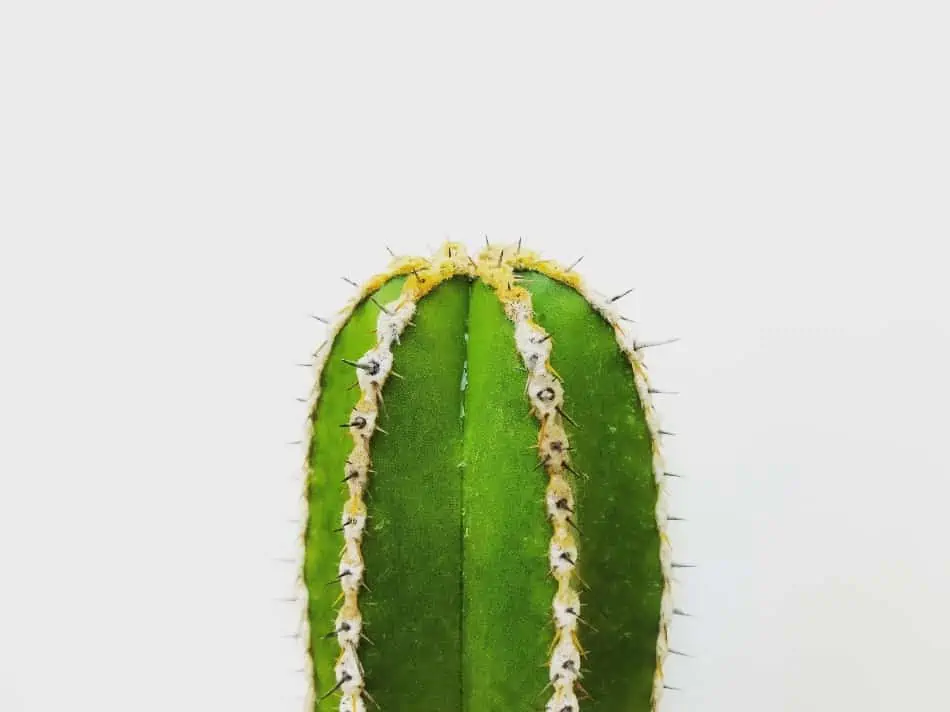 Euphorbia and other plants don't have the areoles. So, if you confuse any plant with cacti, you have to look closely. If you don't see the presence of the areoles, then that plant is not cacti. The same goes for the euphorbia plant.
The Thorns
Both cacti and euphorbia species feature some sort of modified stems that come in the form of thorns. For euphorbia, their thorns come in either a pair or single. These thorns are very thick and form part of the stem. If you happen to remove the thorns and leave the branch, you'll end up with a wounded euphorbia plant.
Cacti thorns come in the form of modified leaves called spines. The spines grow in circles but can also take other shapes. But despite the shapes they take, cactus spines always emerge from the areolas. You can easily remove a spine from a cacti plant and not cause any wound. Some cacti spines are even known to break off the plant easily and penetrate the skin of animals.
While this is another important distinctive characteristic, you must also understand that not all cacti have spines, and not all euphorbias grow thorns. So, for those thornless euphorbias and spineless cacti, you have to look at a different distinguishing feature.
The Flowers
Another essential factor that you can use to distinguish cactus from euphorbia is the blooms. Cacti bloom in beautiful and colorful flowers featuring important parts like petals and stamens. Their flowers are usually vibrant and appealing and can be used as gifts. Like the spines, cactus flowers also grow from the cushion-like areole. The flowers carry both stamens and pistils. This means many cactus plants are self-pollinated.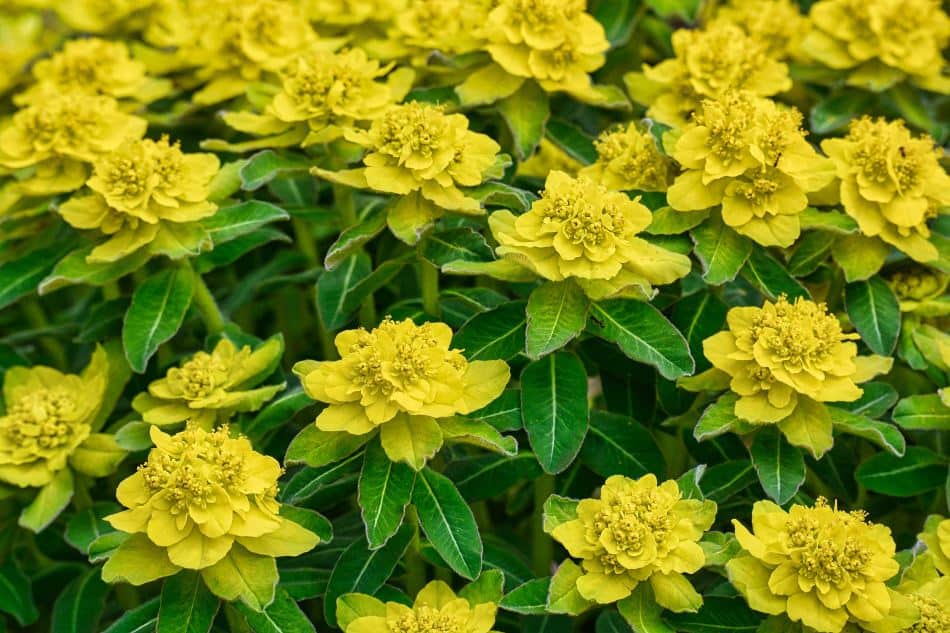 As for euphorbia, their flowers are usually small and yellow. These flowers have no petals. These flowers are not as flamboyant as those of cactus and, at times, can go unnoticed. They usually produce unisexual flowers, which can be only stamens or only pistils. This means euphorbia plants can't self-pollinate like their counterparts.
In some euphorbia species like the crown of thorns, the flowers are surrounded by modified leaves known as very colorful bracts.
The Leaves
There are spiny, cactus-like euphorbias that produce leaves. These leaves are insignificant and fall off seasonally. They might fall off on sunny days, so they don't cause water loss.
Cacti, on the other hand, have modified leaves called spines. Some cacti also have stems that may look like leaves. However, cacti lack leafy leaves. There are exceptional ones like the Pereskia and Opuntia that have leaves. But even these ones lose their leaves as they grow.
The Genius and Species
Euphorbia doesn't exist in families like the cactus plant. It's only a single genus in the family of Euphorbiaceae. The genus is known as spurges and exists in 2000 different species, with some used as ornaments in homes.
Cacti are available in a big family called the Cactaceae. They are available in up to 175 genera with up 2000 species. You'll find popular genera such as Cereus, Echinocactus, and Opuntia. Most cacti are also used as houseplants.
The Milky Sap
Another way to differentiate euphorbia from cactus is to cut it. Euphorbia plants produce a milky sap from their stems when you hurt them. The sap is not too friendly to animals and humans as it's sticky and toxic. Often, it can irritate the eyes or skin if it comes into contact with them. It can also cause severe inflammation when it comes in contact with your body. The sap is mostly white, except for that of E.abdelkuri, which is usually yellow.
For cacti, you'll get a clear sap that doesn't irritate the skin and is not sticky. However, some cacti still produce white milky sap like that of euphorbia. An excellent example of such is the Mammillaria.
The Evolution
Cacti and euphorbias evolved differently, even though they have almost the same features. Cacti are found in North, South, and Central America. These plants evolved in the New World, even though other species such as Rhipsalis baccifera are native to the Old World.
Euphorbias are succulents that evolved in the Old World. They mostly evolved in Madagascar, Africa, and the drier regions of Asia.
Both of these plants are mostly found in their native growth areas. An exception is the Opuntia cactus which escaped from its natural habitat and now grows as a weed in different parts of the world.
Euphorbia vs. Cactus: Frequently Asked Questions
What is a Euphorbia Plant?
Like cactus, euphorbia is not a single plant but a genus that consists of up to 2000 species. They consist of a single family of Euphorbiaceae called the spurge. Many euphorbia species are popular as houseplants because they require minimal care and can do with minimal watering.
Is Euphorbia Poisonous to Humans and Animals?
When you cut euphorbia, it produces a highly toxic sap that can irritate the eyes and the skin when it comes into contact. If you're going to cut euphorbia, you should do it carefully. To be safer, make sure you wear protective gloves and eyewear protection. You should also keep euphorbia away from pets such as cats.
Are Cactus and Euphorbia Succulents?
Both cactus and euphorbia are succulents. However, not all euphorbias are succulent; not all cacti are succulents. Cacti are closely related to most succulent plants like they are to euphorbia. But still, don't assume that all cacti or all euphorbia are succulents. An excellent example of non-succulent euphorbia is poinsettias. There are also many examples of non-succulent cacti across the globe.
Summary
Cacti and euphorbia indeed have some similarities that can confuse even expert gardeners. To make this even worse, many plant nurseries sell euphorbia as cactus. If you're planning to add euphorbia or cacti to your garden, it's essential to know the difference so you learn to differentiate them.
Check the physical characteristics such as lack of leaves, the presence of areoles, and flamboyant flowers to identify cacti. Once you know these features, you should also know that euphorbia is the exact opposite.
Last update on 2023-07-26 / Affiliate links / Images from Amazon Product Advertising API