The string of bananas is native to Southern Africa and has glossy, banana-shaped leaves that grow on long, hanging tendrils. The string of bananas typically sold potted in planters is perfect for growing in a hanging basket indoors or a garden as ground cover.
Generally, we recommend medium or partial sun exposure to partial shade. If you keep this plant indoors, place it in a spot with bright but indirect light. Outdoors, however, the String of Bananas should be kept out of direct sunlight. Partially shaded areas are optimal.
The string of bananas leaves, stems and roots are full of water and can burn in the full hot sun. If they survive, the leaves will be thin and discolored, and the plants most likely won't reach their optimum size. Give these trailing succulents as much light as you can indoors, preferably medium to high exposure.
The Best Location For Your String of Bananas
Whether you keep your String of Bananas plants indoors or outdoors, they will do well in a spot that receives direct light in the early part of the day and the late afternoon. Being out of direct sunlight during the hottest part of the day is usually best.
The string of bananas can be grown outdoors in succulent gardens, but they are not frost-tolerant, so they require regions that experience warm weather year-round. The string of bananas is suitable for growing outdoors in the warm climates of USDA plant hardiness zones 10 through 12.
However, if you reside in a cooler area, you can grow a string of bananas indoors. We recommend a location that receives at least six hours of sunlight throughout the day. The string of bananas does well under grow lights as well if needed.
Growing String of Bananas indoors has many advantages, which we will look at below:
If you have little space or want a small plant, growing your String of Bananas indoors can help control growth by slowing down the plant's growth. Due to lighting and other factors, plants grown indoors grow slower than those outdoors. Keeping your plants indoors in small pots or containers can also be a cost-effective way to save space and help control growth, limiting your need to repot every so often.
The string of Bananas is not cold-hardy and will not tolerate even a mild frost. These succulents will not survive outdoors when the temperature drops below freezing during the winter months. Make sure you protect the String of Bananas from freezing. Having them indoors saves you the trouble of moving them indoors during the winter.
Having your string of bananas plants around you can improve the appearance of the place and affect your mood and happiness. The string of Bananas plants makes beautiful ornamental plants that can liven up a room or add to your home's decor.
Aside from pests invading your String of Bananas plant, you do not have to worry about little critters munching on your plant's leaves or, in some cases, deer eating your plants. Keeping them indoors protects them from being trampled on, damaged, or eaten by furry creatures.
The string of Bananas plants can also suffer from pests infestation but are more protected from outdoor elements that naturally harbor these pests or insects. An infected plant or soil medium may introduce pests to your indoor plant. Generally, healthy plants kept indoors are less susceptible to common pests or insects that invade plants.
Indoor Light Needs
If you keep your string of Bananas indoors, provide as much light as possible. In general, String of Bananas needs approximately 5-6 hours of sunlight per day to thrive. The plants require high light when growing indoors. If you're in an environment with less sun, you will need more light. If you do not receive adequate light indoors or have poor lighting, consider supplementing it with artificial light.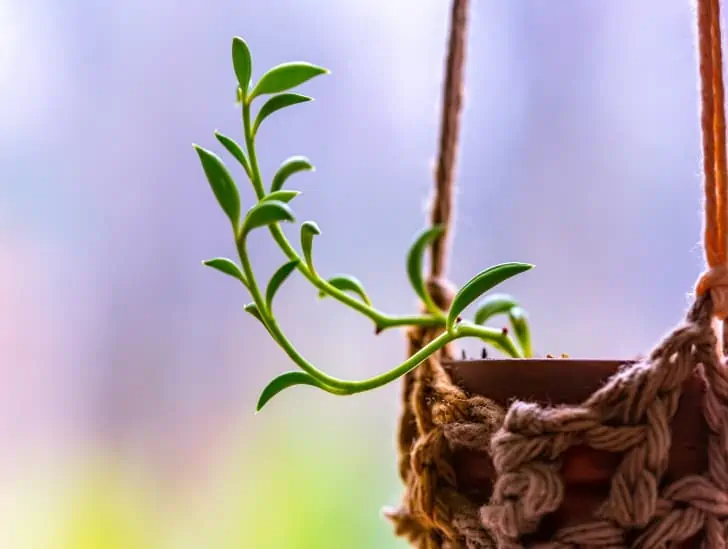 Grow Lights come in handy if you have long, dark winters or if your area does not receive enough sunlight. You may occasionally put your plant outside and let it enjoy the natural sun. Scattered leaves signify that your plant is not getting enough light, and if the leaves have brown tips, it's getting too much direct sun.
Indoor Plant Location and Sunlight
Place the string of bananas near a sunny window indoors where there's a long exposure to bright light. If it's not getting light from all sides, you'll have to rotate it every 3-6 months, so it does.
A sunny southern window works if you live in the Northern hemisphere. Keep the potted string of bananas plants a few feet away from the window in a south-facing room. If kept next to the window, direct sunlight can cause the fleshy leaves to burn, particularly in summer. A Northern exposure window will suit this plant well if you live in the Southern hemisphere.
An east-facing window is also good. This sunny location provides plenty of light but avoids the intense midday sun. Windows that don't have any direct sunlight won't be ideal. Though much slower, your plant will still grow, and the resulting growth may be weak. The leaves will also be thinner and smaller.
Outdoor Sunlight Needs
The string of Bananas plants do well with lots of bright sunlight; however, they also require protection from sweltering heat or direct sun. They do well in bright but partially shaded areas or planters shaded by other taller plants.
The plants tolerate bright morning sun and afternoon shade instead of the more intense afternoon heat. Direct sunlight will burn the leaves. The string of bananas can handle temperatures up to 110 degrees.
It's best to bring the plant indoors when the temperature falls to 50°F (10 °C) and below. Also, if you reside where it gets below 30 degrees Fahrenheit outside, move your plant indoors for the winter. Once autumn kicks in, be sure to include an hour or two of direct light each day to get it through the dormancy period, lasting until the following spring.
You can grow a string of bananas plant outdoors year-round in mild climates. Grow a string of bananas outdoors in areas that receive morning sun, shelter from the midday sun, and bright, indirect light the rest of the day.
It is a summer annual in more excellent areas, making a perfect "spiller" in a low-water container combination. Choose a spot in bright shade in hot, inland areas, like under a tree canopy or porch. Inadequate light is the death of this easy-care succulent.
Acclimatizing String of Bananas to Outdoor Conditions
You can hang your string of bananas outdoors during summer. Please put them in a hanging basket in full to partial sun. The long trailing vines and banana-shaped leafy foliage add greenery to patios, deck areas, and balconies.
Before moving the plant outdoors or increasing the amount of sunlight it receives, it is better to acclimate the plant to prevent sunburn. Slowly increase the plant's amount of light to get it adapted to the more intense light to help prevent sunburn or sun damage.
Keep in mind that even when you have already acclimatized the plant to the sun, you still need to provide sun protection or shade during a heatwave or intense heat. We recommend sunshades because the sun can scorch the plants if left unprotected.
Signs of Too Much or Too Little Light In Your String Of Bananas
The string of Bananas can turn brown because of sun damage. If your String of Banana leaves turns brown and appears shriveled and dry, the plant is most likely suffering from excess sun exposure. 
Move to a shaded location or provide sun protection against intense light or full sun.
Sun-damaged brown spots are usually permanent and do not go away. It would help if you waited for the plant to produce new green growth, and the plant will eventually shed old leaves and get rid of the brown spots.
You can also trim them off, and the plant will re-grow new stems. Do not grow your string of bananas in total shade. The branches tend to get leggy as they "stretch" to look for more light—the stretching results in long vines with meager foliage and thin banana leaves.
If your string of bananas plant does not get enough light, it will become leggy, and the banana-shaped leaves will become significantly more spaced out along the stem. This look is often considered less visually appealing. When your String of Bananas plants does not receive adequate light, they become weak, distorted, and discolored.
Bottom Line
The string of Bananas plants is excellent for creating vertical greenery in your home and requires bright, indirect sunlight. They sit nicely on shelves, windowsills, or suspended from the ceiling. Plus, they grow well in low-light conditions as long as they get high humidity and regular watering. They are excellent as bedroom plants or shower plants where light tends to be limited.
Last update on 2023-12-11 / Affiliate links / Images from Amazon Product Advertising API