The monkey tail is one of the most famous succulents in the world. The plant needs three critical things to grow and thrive: ample light, the right type of soil, and adequate water. While there are no questions about watering and the type of soil that is right for the succulent, many gardeners wonder if they should provide their monkey tail with direct or indirect sunlight. Broadly speaking, monkey tail cactus requires sufficient exposure to sunlight to thrive. But how much is sufficient and should it be full sun?
Do monkey tail cacti need full sun? The short answer is no. Full sun isn't a mandatory requirement for growing monkey tail cactus. Generally, the succulent can use any light for photosynthesis. Even without exposure to full sun, your monkey tail will still grow and thrive as long as you expose it to some amount of light that is enough to facilitate photosynthesis. That being said, it is good to mention that a monkey tail would be happier if you exposed it to full sun.
Do you have a monkey tail in your home and don't know whether to expose it to full sun or not? If so, then you have come to seek the answers in the right place. Read on to learn everything you need to know about monkey tail and exposure to full sun.
General Monkey Tail Light Requirements
This type of cactus is prized for its long, thin stems and interesting flowers. However, they can be quite challenging to care for, so it's essential to understand the light requirements before bringing one into your home.
Monkey tail cacti need plenty of bright, direct light in order to thrive. Generally, it requires at least six hours of sunlight exposure for it to stay healthy. If you don't have a spot in your home that gets that much light, you can supplement with artificial grow lights.
These cacti are also quite sensitive to changes in light conditions, so it's essential to be consistent with their exposure. Sudden changes, such as moving them from a bright windowsill to a darker corner of the room, can cause them to go into shock and lose their blooms.
If you don't have a spot that gets full sun, you may need to supplement with artificial lighting. These cacti also like it on the warm side, so you may need to provide a heat source if your home is relatively cooler.
Why Is Sunlight Beneficial to the Monkey Tail?
This succulent prefers to be in full, direct sun for some reason. First, light is vital for its survival because it aids photosynthesis. During photosynthesis, the light energy absorbed by the plant is converted into chemical energy with the help of the green pigment known as chlorophyll.
Secondly, this succulent requires plenty of exposure to sunlight to help it "reveal" its true colors. This is also known as the "sun blush." These are basically terms used to describe the beautiful colors that the monkey tail is known for.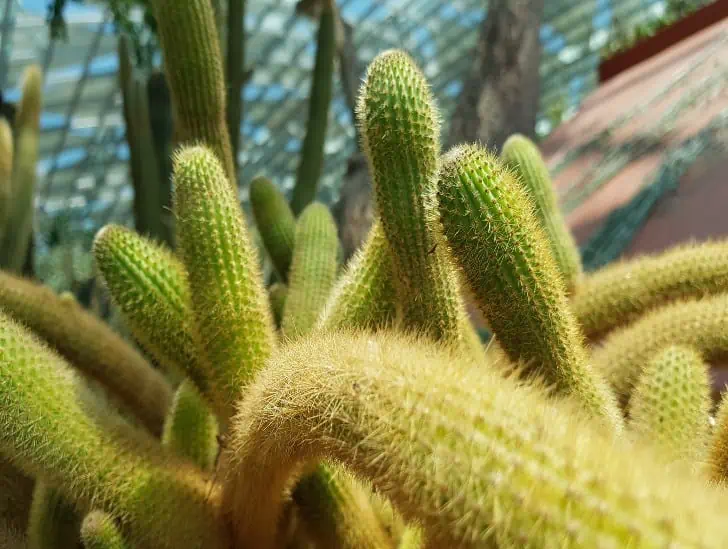 But when the succulent is exposed to overly intense sunlight, it develops "sun stress." You will know that your monkey has developed sun stress when it starts to change color. The color-changing tactic helps the plant reflect some light, preventing heat damage.
The monkey tail cactus can and do survive just fine with minimal exposure to sunlight. But the catch is that your plant will just stay with the dull shade of green.
Lastly, sunlight is also helpful because it brings heat which helps dry out the potting mix. If you have been following our posts closely, you must have noticed the emphasis we put on watering succulents correctly.
Like other succulents, the monkey tail cactus doesn't like being waterlogged. In fact, it prefers growing in highly draining soil. Sunlight plays a critical role in drying out your soil, even if the plant is positioned behind a windowsill or in a relatively cool environment.
The light from the sun is usually high in energy which speeds up the evaporation rate even if you don't notice the temperature rising rapidly.
Why Does the Monkey Tail Require a Lot of Sunlight?
In the course of evolution, monkey tail cacti have evolved to adapt to their natural environment. Typically, the monkey tail cactus comes from relatively hot and dry areas that receive plenty of sunlight.
This is why they can survive relatively long periods of drought without any issues. They store plenty of water in their stems and leaves.
Without sufficient light, the monkey tail cactus will most probably start turning pale before it eventually dies. Therefore, it is critical to ensure that your plant isn't positioned in a dark room of your house.
If you don't have a nice spot in your house that receives plenty of sunlight, consider using special grow lights to provide your monkey tail cactus with the best care possible.
The amount of light also influences the biorhythm of your succulent. During the cold winter months, the monkey tail will automatically notice that it receives fewer hours of direct sunlight per day.
Therefore, it slides into a state of dormancy that promotes the formation of flowers the following year. You shouldn't bother too much about your plant during this time because it is "resting."
Can a Monkey Tail Cactus Receive Too Much Sun?
The simple answer is yes; a monkey tail cactus can receive too much sun. While these are desert plants and can tolerate high levels of sunlight, they can still be damaged by too much exposure.
The amount of sunlight a monkey tail cactus needs depends on a wide range of factors, but most types need at least four hours of direct sunlight per day to stay healthy.
If your monkey tail cactus is exposed to too much sun, it may develop sunburned patches on its surface, which can lead to dehydration and death.
If you are concerned that your cactus is receiving too much sun, there are a few things you can do.
First, try moving it to a shadier spot in your garden or house. If that is not possible, you can also try using a shade cloth to protect it from the sun.
Finally, make sure to water your cactus regularly, even if it receives a lot of sunlight. Monkey tail cactus needs water to stay healthy, regardless of how much sun it gets.
Growing Monkey Tail with Little Sunlight
As mentioned earlier, the monkey tail cactus requires at least four hours of sunlight exposure every day. But it is still possible to grow the succulent in partial shade as long as all the other aspects of growth are not interfered with at all.
The monkey tail will prefer an area that receives a few hours of bright light and some hours of partial shade. This way, the succulent can get the best of both worlds; there is enough light to facilitate photosynthesis and sufficient protection from potential sun damage.
Some types of monkey tail cactus have even evolved and developed unique features that help them survive in areas with minimal light. But for the most part, you still need to provide your monkey tail cactus with a sufficient amount of light for it to thrive.
Keep in mind that there is a significant difference between surviving and thriving. When the monkey tail is surviving, it will stretch its stems, trying to reach the nearest light source. This prevents your plant from reaching its true potential.
Another major drawback of inadequate sunlight is that it can make your monkey cactus succumb to root rot when combined with overwatering.
Where Do You Get the Best Sunlight?
If you are committed to growing a monkey tail cactus, you will need to know the optimal places to position your succulent for better results.
If you are trying to provide your plants with as much sunlight as possible, it is pretty simple to plant them in your outdoor garden. Choose a slightly elevated spot that has nothing around it to cast shade.
However, if you don't have an outdoor garden but still need to have a monkey cactus in your home, cultivating it indoors is the only option you have.
In such a case, south or east-facing windowsill will be the perfect spot for your monkey tail cactus. But since you only get light from one direction, be sure to rotate your plant regularly to eliminate the risk of your plant growing in the direction of light (etiolation).
Positioning your plant on a good south-facing windowsill is just as good as having it outside in your garden. The east-facing option is also good because the morning light tends to be more intense, making it better for your succulent.
Final Thoughts
All in all, it is evident that the monkey tail plant requires a lot of sunlight. If you cannot provide the succulent with enough direct sun each day, you should consider another type of plant.
However, if you live in an area where there is ample sunshine, and you can place your monkey tail near a window or door, then you will be rewarded with beautiful blooms year after year.
Last update on 2023-10-05 / Affiliate links / Images from Amazon Product Advertising API