Kalanchoe is a beautiful succulent plant with thick leaves that store water to grow in drought.
As with all other plants, Kalanchoes need a lot of sunlight to thrive. Therefore, they do well when planted in direct sunlight and partial shade.
So, Does Kalanchoe Need Full Sunlight To Grow? Kalanchoe needs a lot of sunshine at every stage of their life cycle. Sunshine is crucial because chlorophyll uses solar energy to make food, widely known as photosynthesis. Therefore, if plants lack adequate sunlight, they will not achieve the normal photosynthetic process and will be stressed.
Keep your Kalanchoe plants outside in a sunny place where they receive full or partial sunshine. The indoor kalanchoes must be kept near a sunny and bright window if you want to expose them to the sun. Provide your succulent plants with the right amount of light and watch them become healthy and happy.
Protect your Kalanchoes from the sun's rays as they may cause sunburn. In addition, do not starve them to sunlight because they may become leggy or stretched. Kalanchoe grows best under full sun or sunlight. What, then, is bright, indirect sunlight?
Understanding bright indirect light in succulents
Most indoor succulent plants originated on the floors of tropical forests where an aerial canopy of tree foliage shaded them, so they prefer indirect sunlight.
Indirect light is bright enough to project a shadow, although not dark and clearly defined. Instead, use transparent curtains, white curtains that you can see through between the panels and plants on the windows that receive direct sunlight.
Rooms or hallways that do not have windows may not provide bright enough light for indoor plants. You can create an indirect light with fluorescent or LED lamps for these areas.
The best way to create indirect sunlight for your plants is to use your windows and sun direction.
The amount of light your plants get often depends on where your windows are facing and how clear those windows are. Don't forget the white walls will reflect more light towards your plants than the dark colors.
The relationship between the direction of the window and sunshine
South-facing windows
Suppose your south-facing window gets a lot of sun during the day; place plants that need indirect light within a few feet of the window. Place it as far away as possible for the sun's rays to never reach them. If the window is shaded or draped to diffuse light, place your plants near it. Keep the drapery between them and the glass.
West-facing Windows
The afternoon light that a non-shaded west-facing window receives tends to be hotter and brighter than an east-facing window. Therefore, you will either want to place your plants 3 to 5 feet back in the windows facing west or insert a simple curtain between them and the window.
Eastward-facing windows
Although an eastward-facing window with no shade receives direct sunlight in the morning, the rays are softer than those later in the day. Consequently, most plants that prefer indirect light can be placed near or even on the edge of an eastward-facing window without the need for a dispersion curtain.
North-facing windows
You can place sun-loving plants that prefer bright and indirect light on a north-facing window because it seldom receives direct sun. Then, with low light levels in winter, place a mirror in front of the window to bounce more light on the plants. Alternatively, consider purchasing a fluorescent or LED grow light.
How do I move a Kalanchoe from an indoor to an outdoor setting?
Most commonly, Kalanchoe is grown in pots as an indoor plant with bright colors, but they can also be used as outdoor plants if you live in a suitable climate. The Kalanchoe, indoors and outdoors, prefer damp, light, and well-drained soil.
Immediate exposure of the succulent to the outdoors under direct sunlight can be detrimental to the plant's health. In addition, succulent leaves can have sunburn caused by sudden exposure to sunlight. Consequently, plants should be exposed to the full sun to adapt to the new environment.
First, put the succulent in a place that gets filtered or partly bright sunlight. Once the succulent adapts, gradually move it under the full sun, where it will get a lot of the sun for several hours a day and a little shade in the afternoon hours.
Outdoor light demands of Kalanchoe
The plant will adapt easier if you progressively introduce it into its new environment. For example, if you immediately put a succulent kalanchoe in full sun, its leaves can burn. So, firstly, please place it in a place that receives the partial sun or under a tree that gets the filtered sun. Then slowly move the pot to a place where it will receive full sun for most of the day and some shade in the afternoon.
Kalanchoe succulents grow best in a sunny spot that receives partial sunlight from the brutal afternoon sun. You can plant succulent plants beneath the trees to provide partial shade. Move your indoor Kalanchoe outdoors when the temperature gets hot in late spring or early summer.
Indoor Light demands of the Kalanchoe
If you grow succulent Kalanchoe indoors all year round, they will do well in areas where they get a lot of sunshine. Therefore, they should be kept on a sunny window sill to provide the required amount of sunlight. The more sunlight your Kalanchoe gets, the better it will be. Under low light conditions, floral buds tend not to open, and foliage becomes thorny.
If your house does not have a bright and sunny place to keep your Kalanchoes inside, you can increase the lighting by using extra or artificial growth lights. However, be careful; try not to keep your succulent Kalanchoe too close to an incandescent bulb, as it creates heat that can burn the succulent leaves.
Put your Kalanchoe outside during the summer months in a shady place where it will only get 1-2 hours of direct sunlight daily. The plants do well if they get some months outdoors, as it helps them thrive and prepares them for the shorter days of fall.
What happens if a succulent Kalanchoe gets too little sunlight?
If a Kalanchoe does not get enough sunlight, it will begin to stretch its stalk and appear stretched and leggy. The legginess is because the succulent begins to project her growth toward the source of light. If you look at the plant under this condition, it will seek light or move towards the light.
A Kalanchoe leggy or stretched will eventually become weak and break down leaves.
Signs of insufficient light exposure include elongated stems, unbalanced growth, pale or deformed foliage, falling leaves, and the absence of flowers. If there is not enough exposure to natural light, move the plant to a brighter place or add a light lamp for additional light.
Signs of Overexposure to sunlight
Pigments look washed out and bleached.
Leaves appear to have blotchy burns in white, yellow, or brown
Wrinkled, scaly, or crispy leaves
Do Kalanchoe succulents have specific sunlight requirements for blooming?
Many people tend to throw out their succulent plants once they have finished blooming. But instead of throwing your plants away, you may deceive them into blooming again. The Kalanchoe succulents have specific light requirements that must be satisfied to bloom again in the next growing season. Therefore, succulent plants have different light requirements in both phases during the average growth period and the inductive blooming period.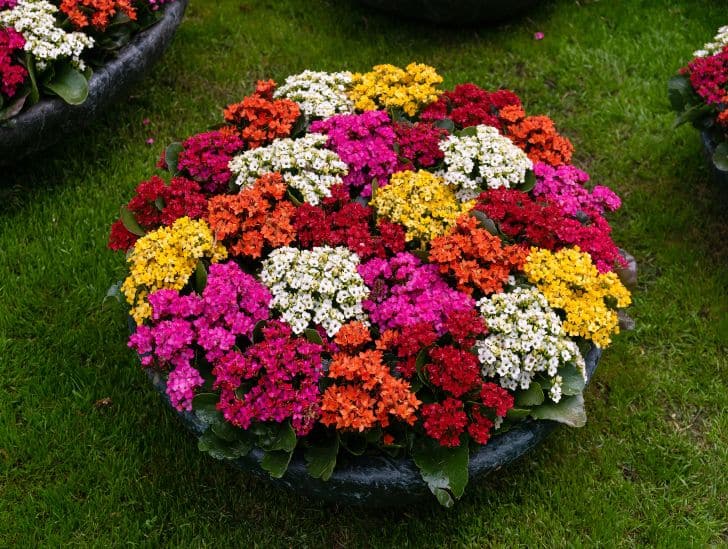 A six-week period triggers the flowering cycle of this plant, where the plant undergoes a minimum of 14 hours of darkness every day. About four months after that time, the plant will begin to flower. However, it is possible to maintain the flowering almost a year-long if winter darkness resets the flowering cycle.
The kalanchoe plants cultivated indoors need a lot of light to bloom, so they must be kept in a room with abundant natural and bright light. However, do not place them in direct sunlight, burning the leaves and reducing flowering. Kalanchoe plants are plants that are sensitive to light. Therefore, a Kalanchoe flower must receive light and dark cycles to develop floral buds and bloom in the following season.
How to Shift Light Levels for your Kalanchoe
Where you put your plants directly affects the light levels. Whether inside or out, there are several ways to influence light levels. Moving your plant to an open area is the easiest way to shift light levels. However, if that's not an option, you can purchase an LED cultivation lamp to give your factory the additional light it needs.
Bottom Line
Kalanchoes prefer to receive natural sunlight that is relatively bright; however, they will usually not do well in full sunlight. Kalanchoe will also prosper in a house that gets a lot of sunshine and natural light. But they don't like direct sunlight and may be stunted when you leave them in full sun all day long. That's because too much sunlight will make the leaves burn, particularly the afternoon sun.
Last update on 2023-07-26 / Affiliate links / Images from Amazon Product Advertising API