If you are a plant lover and have a few cacti plants in your outdoor garden or indoor spaces, you already know that these succulents are unique. While most of them grow slowly, they tend to bloom when the right time comes, and the conditions are right. In fact, many gardeners get a lot of satisfaction from seeing their cacti plants flower. It is always a validation that they are happy and doing well. But what happens after cacti plants flower? Do they die? We shall find out shortly.
So do cacti plants die after flowering? The simple answer is "no." Most cacti plants do not die after blooming, although some do. It depends on the cacti species you have in your home and how you take care of it during the blooming season. If you do everything right and your cactus plant still dies after blooming, it could be a monocarpic species. When a cactus plant dies after blooming, it is commonly referred to as the "bloom of death."
This post covers everything you need to know about the bloom of death and whether cacti plants experience this phenomenon. We shall also highlight some of the things you need to do to take care of your cactus during and after the flowering season. So, let us get started.
Why Do Cacti Plants Flower
The truth is that a majority of cacti species do flower. Some species such as the Christmas cactus start flowering early, while others such as the Saguaro won't start blooming until they are 30 years old.
With over 2,000 species in the cactus family, diversity also reigns on the size of flowers they produce. While some cactuses produce relatively smaller and inconspicuous flowers, others produce large and bold flowers that provide a magical floral display.
It is the flowers and the magical show that they put on which distinguishes cacti plants from other succulents. However, one thing you must remember is that these succulents only bloom during seasons of active growth.
But what does a flowering cactus mean? Like all plants, cactuses bloom to attract pollinators. It is one of their natural ways of surviving in the relatively harsh environment to ensure the production of the next generation.
But how do they do this? It is quite simple. They produce seeds within the flowers, which later on fall to the ground and germinate. Flowers contain the primary reproductive parts for most plants. The flowers are mostly brightly colored to attract birds, butterflies, and bees for pollination.
In the wild, these plants mostly rely on birds and insects for pollination to reproduce. However, if grown at home, you can use a standard paintbrush to facilitate cross pollination. The goal is still the same- to produce seeds. You can then harvest the seeds and germinate them to produce new plants.
Most cacti plant gardeners use this approach to expand their plant collection. However, there are still other ways of reproducing cacti plants, such as stem propagation.
When Do Cacti Plants Flower?
Most cacti species flower at some point in their growth cycle. However, there is no definitive answer to this question since the flowering time for cacti plants can vary greatly.
Some cacti species will flower early during their growth cycle, while others won't flower until they are much older.
For example, the Christmas cactus usually flowers within 2-3 years from seed, while the Saguaro cactus can take up to 30 years before it produces its first bloom.
The main flowering season for most cacti is spring. However, some species, such as the Christmas cactus, can flower during other seasons, such as winter. In general, the blooming season for cacti is mostly determined by the type of cactus plant and the climate conditions in its natural habitat.
For example, cacti plants that originate from tropical regions, such as the Christmas cactus, are more likely to flower all year round than those from desert regions with a shorter blooming season.
Do Cacti Plants Die After Flowering?
As mentioned earlier, most cacti species don't die after blooming, although we have a few species that do. Plants that die after flowering are known as monocarpic, and it is a natural phenomenon that you can't avoid. If your cactus dies after blooming, then it is known as the "bloom of death."
One way to tell if your cactus is monocarpic is by the way it blooms. If the flowers tend to come out from the center of the plant and the entire plant transforms into a flower stalk, there is a high probability that it is monocarpic. Typically, the flowers should grow from the sides of the cactus.
There is nothing you can do once you realize your cactus is monocarpic. Nothing can stop the process because it is natural. All you have to do is enjoy the floral display while it lasts and be prepared to say goodbye to your plant.
Although it may sound tragic, you will be surprised to learn that most monocarpic plants don't die in vain. Most of them are great producers and tend to produce plenty of pups just before they flower and die.
In most cases, the pups will continue living and transform into beautiful plants. Only the mother plant dies after a massive blooming.
How Do I Care for a Blooming Cactus?
In most cases, you don't need to provide a flowering cactus with any special treatment. In fact, blooming is a sign that the plant is meeting all of its needs just as it is. The only thing you need to do is continue providing it with the normal daily care, and it will do the rest.
Some gardeners like to supply their cacti plants with extra nutrients during the flowering season to ensure that the plant receives all it wants to sustain the flowers.
If you must feed the plant during this time, make sure you administer the fertilizer at ¼ or ½ strength every two or three weeks. This is enough to provide the cactus with sufficient nutrients it needs during the blooming season.
However, you need to be careful with watering. If you overwater a cactus, it won't achieve full bloom. If you overwater before the first flowers appear, the plant will only start shooting out what appears to be a bloom stalk, but it won't bloom.
This is common with overwatered cacti. If you want to see the best of your cacti plants during the blooming season, it is necessary to provide enough water but don't overwater.
How Do I Take Care of the Christmas Cactus After the Blooming Season?
The Christmas cactus is one of the most commonly grown cacti species in homes. Most people love it for its beautiful appearance and regular blooming. As long as you take good care of a Christmas cactus, it will always bloom around the holiday season.
Since a Christmas cactus blooms furiously, you need to know how to take care of it after the flowering season so that you don't end up with a mess.
The first thing you need to do immediately after the blooming season is to prune your Christmas cactus to transform it into a full bushy plant so that it can flower better the next holiday season.
The best time to prune your Christmas cactus is four to six weeks after it has stopped flowering.
During the first 30 days after the blooming, consider keeping the soil slightly drier than usual. However, you should never prune your Christmas cactus after May. You can easily propagate this cactus species from stem tip cuttings.
Make sure you use at least three jointed segments from a healthy stem to achieve good results. Allow your cuttings to dry out for a couple of hours before you plant them in a pot to avoid rotting.
You should also avoid moving your Christmas cactus into a larger container. The cactus will typically grow better and produce more flowers when it is in a slightly smaller container.
If you must re-pot your cactus, wait until the blooming season is over. The best time to do the re-potting is in the spring.
How Long Do Cactus Blooms Last?
The answer to this question largely depends on the type of cactus. There are several types of cacti, and each one has a unique blooming period. Some cacti have flowers that only last for a day, while others can keep their flowers for months.
The length of time a cactus bloom lasts also depends on the environment and how you take care of the plant.
For instance, if you live in an area with high humidity, your cactus bloom is likely to last shorter than in a drier climate.
The same goes for how you take care of the plant. If you overwater your cactus, the flowers will most likely rot and fall off sooner than if you kept the plant healthy and hydrated.
In general, cactus blooms usually last anywhere from a few days to several weeks. However, some types of cacti can keep their flowers for months.
A Saguaro cactus flower only stays open for one night, while other species' blooms may last much longer—a week or more in some cases. The duration of a cactus bloom also varies depending on the age of the plant. Younger plants tend to have shorter-lived blooms than older plants.
Should I Deadhead My Cactus Blooms?
In most cases, deadheading cactus blooms isn't necessary because the blooms tend to fall off automatically when they dry.
Getting rid of the spent cactus blooms is relatively easier in such a situation. All you have to do is pick them up from the ground where they have fallen and dispose of them appropriately.
However, you need to be careful when picking the blooms because you may come into contact with the dreaded spines that can pierce through your skin, causing severe injuries.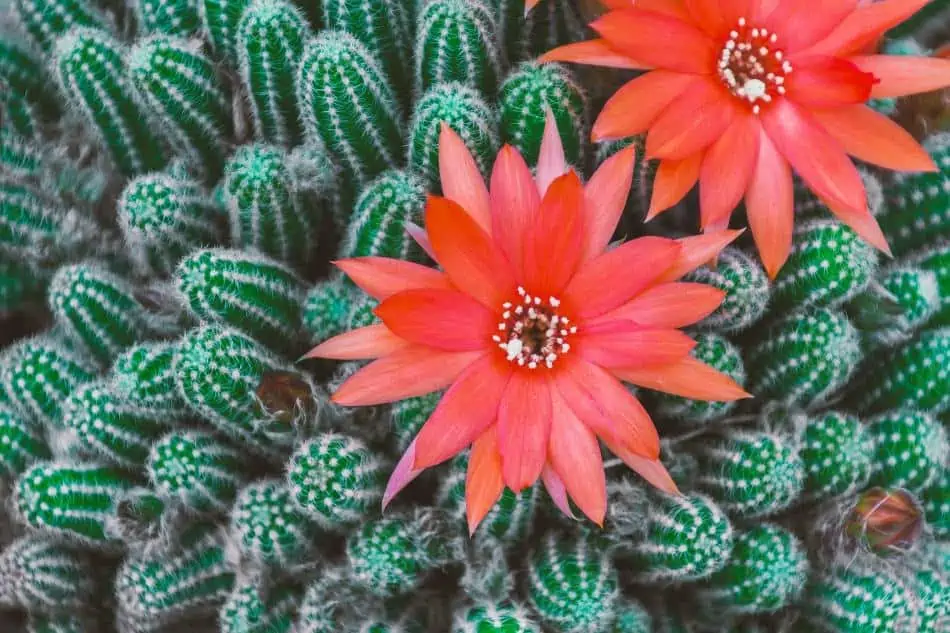 In some cases, the faded blooms will cling to the cactus and start rotting when it rains or when you water the plant. With careful observation, you will know which blooms have clung to the plant for deadheading. In this situation, it is best to remove the stalks as soon as the bloom starts to fade away.
Look for seeds that may reproduce before you get rid of the blooms. If you know the exact names of the cacti species in your garden, look them up to see if they usually produce viable seeds inside the flowers.
In some cases, you may be forced to leave the seeds inside the flower for them to mature before planting.
Should I Water My Cactus When It Is Blooming?
It is crucial to water your cactus when it is in bloom to ensure that the blooms last longer. The extra moisture will also help the plant produce more flowers.
It is best to use lukewarm water when watering your cactus during the blooming season. You can water the plant at the base or use a misting can to avoid damaging the blooms.
Avoid getting water on the flowers as much as possible because this can cause them to rot. Water the plant in the morning so the leaves have time to dry before nightfall.
It is also important to fertilize your cactus when it is in bloom. Use a fertilizer that is high in phosphorus to encourage blooming. You can either apply the fertilizer directly to the soil or mix it with the water when you water the plant.
How often you need to fertilize your cactus depends on the fertilizer you use. Follow the instructions on the package for best results.
Final Thoughts
Cacti are great plants to have in your home. While there are different cacti varieties, most of them bloom at one stage in their lives. As long as you provide your cactus with the right conditions, you can be sure to witness a beautiful floral display when the right time comes.
Although most cacti species don't die after flowering, a few of them do. Cacti plants that die after flowering are known as monocarpic, and there is nothing you can do about it. Fortunately, the monocarpic cacti species usually leave behind plenty of pups that mature into new plants.
Your primary responsibility as a gardener is to keep doing what you are supposed to do, and your cactus will reward you with plenty of blooms when the right time comes.
Last update on 2023-07-26 / Affiliate links / Images from Amazon Product Advertising API