Crown of thorns, also known as Christ thorn or Christ plant, is a flowering succulent native to parts of Madagascar. It is part of the spurge family that features different species of succulents. Generally, these plants are low maintenance, easily adaptable, and thrive in indoor and outdoor environments. While it is relatively easy to care for a crown of thorns plant, one of the most common questions beginners ask is; does the plant need direct sunlight to survive? Let us find out.
So, does the crown of thorns need direct sunlight? The simple answer is no. While the crown of thorns is a sun-loving plant, it doesn't require constant exposure to direct sunlight for it to survive. Typically, the succulent only requires six hours of direct sunlight daily to thrive and flower profusely. Indoor crown of thorns can still thrive under artificial light as long as the intensity is right. Failure to provide your plant with sufficient light may hinder flowering and cause etiolation. When your plant starts to produce elongated, soft new growth, it could be a sign that it is not receiving plenty of light.
This blog post discusses everything you need to know about the crown of thorns and direct sunlight. Read on to learn more.
Crown of Thorns General Light Requirements
Generally, a crown of thorns plant requires as much bright, indirect sunlight as you can provide. The better the light exposure, the more flowers you will get during the flowering season.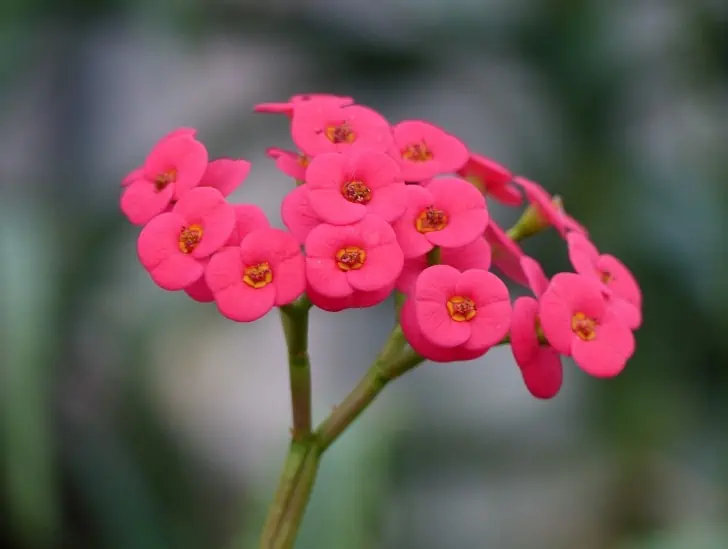 However, your crown of thorns will still thrive and bloom profusely as long as it gets at least five hours of bright, indirect light every day. For outdoor plants, it is recommended to place them in a spot that receives a few hours of direct sunlight every day.
For indoor plants, consider positioning them on a south-facing or west-facing spot for the best results. Avoid placing the plant in direct sunlight because the intense heat can damage your plant's leaves.
Crown of Thorns General Temperature Requirements
The ideal temperature range for a crown of thorns plant is between 60°F and 90°F (15°C – 32°C). The plant can tolerate higher temperatures as long as there is enough moisture in the air. However, prolonged exposure to temperatures above 100°F (38°C) can damage your plant's leaves.
During the winter months, the plant will enter a dormancy period. It is normal for the plant to shed some leaves during this time. The plant can survive temperatures as low as 50°F (10°C), but prolonged exposure to cold temperatures can damage your plant.
When caring for a crown of thorns plant, it is important to keep an eye on the temperature since extreme temperatures can damage your plant and hinder its growth.
Can Crown of Thorns Receive Too Much Sunlight?
While this succulent is sun-loving and can easily soak up intense amounts of sunlight, there are times when the intensity is too much for them. If your crown of thorns is constantly exposed to scorching, direct sunlight, you could end up with a sunburned plant.
When your succulent is sunburned, it cannot carry out photosynthesis more effectively. The primary goal should be to give your plant the correct amount of sunlight exposure. As mentioned above, this succulent tends to thrive in temperatures between 60oF and 90oF.
However, too much intense sunlight can harm even the hardiest succulents. The ultraviolet sun rays and the intense heat can cause your plant's leaves to burn. Furthermore, when the sunlight is too intense, a lot of heat is generated, leading to increased evaporation, making the crown of thorns more susceptible to sunburn.
Like other succulents, the crown of thorns becomes stressed when exposed to too much sunlight. When this happens, the succulent's first response is to generate pigments that help it adapt to too much direct sunlight.
But the pigments may not be sufficient to protect your plant over a long time. Increased exposure to direct sunlight will eventually cause harm to your crown of thorns.
A sunburned crown of thorns will generally have yellow patches on its leaves. In some cases, these patches will be brown or black, depending on how severe the sunburn is. Besides the discoloration, you can also feel a relatively rough texture compared to the usually smooth leaf surface.
A relatively light case of sunburn on your crown of thorns may be depicted with a brown or whitish discoloration, while severe burns appear as dark spots. Indoor or shaded crown of thorns is more susceptible to sunburn and, in most cases, has a slim chance of survival.
How Can You Prevent Sunburn?
If your crown of thorns is already displaying signs of sunburn, you need to respond promptly to prevent further damage.
If you are caring for an outdoor crown of thorn plants, the best thing is to move it to a location with shade. You should also water it frequently to prevent it from becoming too dry.
Water your plant early in the morning or late evening when the weather is relatively chilly. Watering your crown of thorns in the afternoon when the weather is too hot will fry the root exacerbating the sunburn issue.
Additionally, watering your succulents when the weather is too hot only increases the likelihood of the water evaporating before your plant can actually absorb it.
If you can't locate a spot outdoors with enough shade to protect your succulent from direct sunlight, consider using shade cloth or net to provide it with shade and filter out the ultraviolet rays.
For indoor plants, consider moving them away from the window that receives too much sunlight. If you don't want to move the plant, make sure you cover the window.
If you are growing your crown of thorns indoors in a growing container, it may require frequent watering than its outdoor counterpart. Generally, moisture in the growing container tends to evaporate faster hence the need for frequent watering.
Can a Sunburned Crown of Thorns Be Saved?
A sunburned crown of thorns can be saved, but it will take time for the plant to heal and recover.
The first step is to identify the severity of the sunburn. If the leaves are merely discolored or have slight brown patches, your plant has a good chance of surviving.
However, if the leaves are blackened or have big brown patches, the chances of survival are relatively slim.
If you notice your plant is sunburned, immediately move it to a shaded area and water it frequently. Avoid using fertilizers during this time as they may cause further stress to your plant.
Give your plant some time to rest and heal in a shaded area before moving it back to a relatively sunny spot.
You need to keep in mind that the sunburn and brown marks on your crown of thorns plant cannot heal even if you manage to save it. So, if you want to restore the original color of the plant, you may be forced to prune the sunburned sections and wait for new growth.
How Can I Protect My Crown of Thorns from Full Summer Sun?
One of the easiest methods you can use to protect your crown of thorns from damage caused by extreme summer sun is shade cloth.
The primary purpose of shade cloth is to protect your succulent from direct sunlight while allowing just enough sunlight to pass through it.
Furthermore, the cloth prevents the buildup of excessive heat in plant tissues that could lead to the whitish or brown discoloration from the ultra-violet radiation.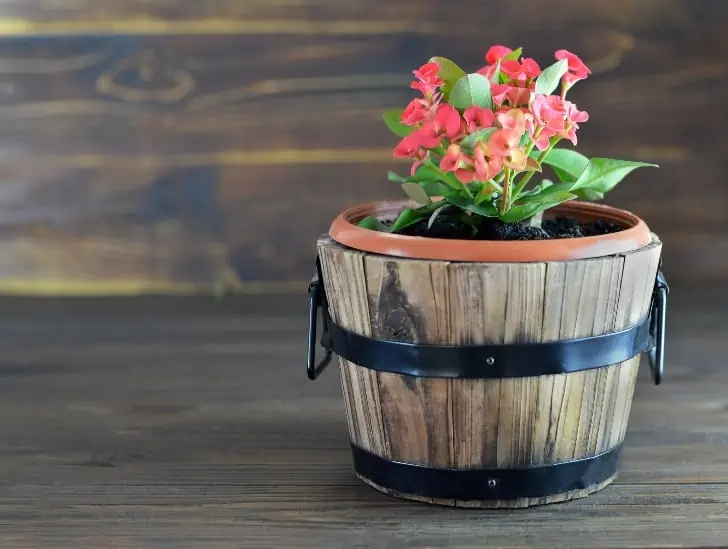 While it is crucial to gradually expose your crown of thorns to light, you need to be careful with how you do it and the amount of light you expose your plant to.
Can a Crown of Thorns Survive Under Artificial Light?
The simple answer is yes, a crown of thorns can survive under artificial light, but it will not thrive as it would under natural sunlight.
Crown of thorns plants are native to Madagascar and other parts of Africa, where they grow under relatively harsh sun. So, they are used to strong sunlight and heat.
When grown indoors, the plant doesn't receive the same amount of sunlight it would in its natural habitat. As a result, it doesn't grow as well.
That being said, if you want to grow your crown of thorns indoors, you need to provide it with bright artificial light. The best option is to use fluorescent bulbs that emit full-spectrum light.
Make sure the intensity of the artificial light is not too strong as it could damage the plant. Also, keep the light source at a distance of about 12 inches from the plant.
You should also rotate your plant every couple of days so that all sides of the plant receive an equal amount of light.
Conclusion
The crown of thorns is a beautiful and popular succulent that does well indoors and outdoors. However, like other succulents, it's susceptible to sunburn, especially when exposed to too much direct sunlight.
To prevent your plant from sunburn, make sure you provide it with enough shade, especially during the hot summer days.
If your plant is already sunburned, immediately move it to a shaded area and water it frequently. With proper care, your plant will eventually recover.
Last update on 2023-07-26 / Affiliate links / Images from Amazon Product Advertising API