Succulents are a resilient breed of plants, so much so that you can actually plant a piece of it, and it will grow into a new plant. Regenerating something new from a decapitated limb may sound like a horror movie or the plot for Netflix's upcoming sci-fi thriller, but it's actually real life. Even if you cut off one of their branches, they will find a way to continue living.
Yes, you can cut off, or prune, a piece of a succulent and replant it. And with the proper living conditions, the pruned piece of succulent will take to its new home and grown into a full-fledged succulent.
Keep on reading if you're interested in learning about pruning succulents. Once you master the process, it's like growing multiple plants for the price of one!
Propagating a New Succulent
The process of pruning a piece of a succulent and using it to grow a new plant is called propagation. If done correctly, propagating can allow you to grow multiple succulents from a single succulent. 
Performing a clean cutting is important for successful propagation. Using scissors or pruning shears will help you get the cut that you need. But you can also experiment with this process by using your hands and pinching off pieces of your succulent.
Depending on what type of succulent you are working with, removing a single leaf is good enough. Whether you are utilizing shears or just your hand, aim to remove a leaf of your succulent as close to the stem as possible.
If your succulent is larger and has multiple stems or branches, you may be able to cut off the top of a certain section or an individual offshoot.
Drying Out the New Cutting
Once you've removed a series of leaves, stems, or offshoots, you will want to let the cuttings dry out. Depending on the amount of sunlight and heat, your cuttings will need to dry out for 1 to 3 days to scab over.
Your cuttings should shrivel up just sightly. If the fresh cuttings do not have time to dry out, they'll absorb too much water the first time you hydrate and drown or eventually develop root rot.
Watering the New Cutting
The cutting you pruned should be placed on top of the soil. Refrain from actually planting one end of the cutting into the soil. Once your cuttings have dried out sufficiently, it's time to start watering them.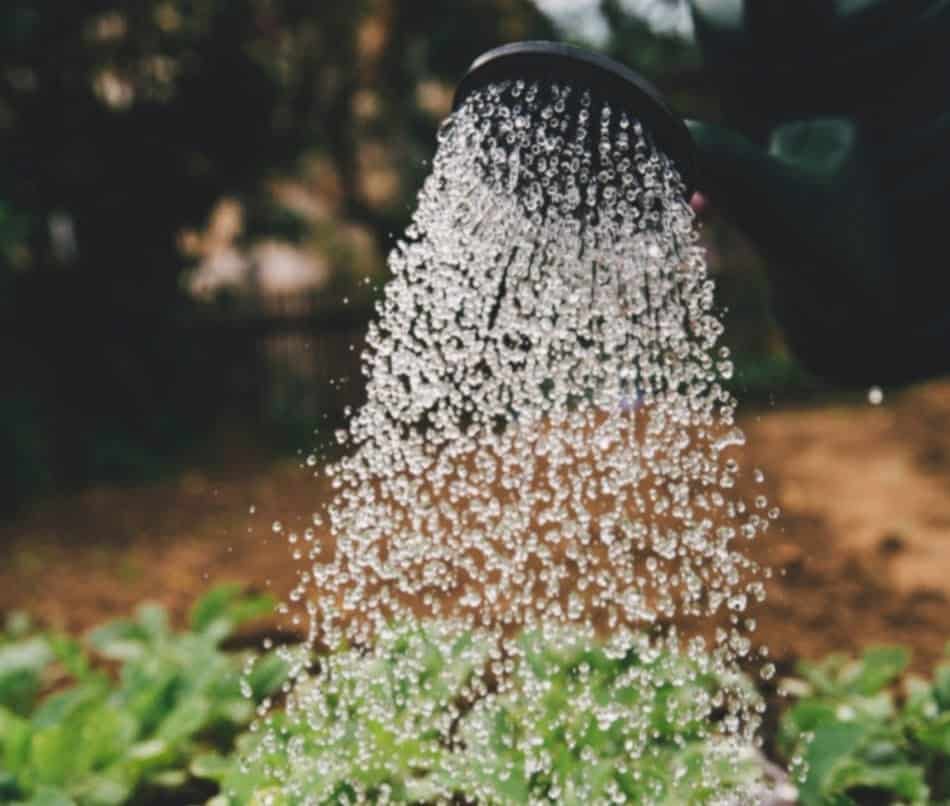 Full-grown succulents do not need to be water every day. However, newly propagated cuttings do require a light watering every day. When the soil is dry, water the cutting. Using a spray bottle is a popular tool for watering, especially during the early stages.
Eventually, your cutting will take to its new environment and begin to set roots!
Ideal Living Conditions for Propagating Succulents
In order for your new succulent to thrive, you will want to create the ideal living conditions for it.
Above, we talked about the watering needs during the propagation process. But there are a few other things to consider moving forward.
Maintaining Your Succulents After Planting from a Cutting
Succulents are popular because they are low maintenance. For the most part, if you water them correctly and plant them in high-quality soil with plenty of indirect sunlight, they will grow happily. However, there are a few maintenance items to consider in order for your succulents to be the happiest they can be.
Pruning your succulent is not just something you can do to propagate more succulents. In fact, pruning is also important for removing dead and dried-up leaves and encouraging new growth.
Dried-up leaves should not cause alarm. It's just part of the life cycle. We recommend you prune your succulents sometime in the Springtime.
Cleaning your Succulents
Maintaining your succulents may also involve cleaning and dusting. Dust and other debris can build up on your succulents. This can take away from their vibrant colors, affecting their aesthetic appeal, and may even encourage pests or diseases to grow.
You can wash your succulents with a damp ramp. Or use a spray bottle to wet them before removing any dirt or dust. If your succulents are outside, you may need to remove extra debris like sticks and leaves. 
Preventing & Treating Pests and Disease
No matter how well we take care of our plants, sometimes Mother Nature gets the best of us. If you grow succulents long enough, you may eventually encounter some pests or diseases on your plants.
The best thing you can do is prevent the pests and diseases from establishing themselves in the first place. There are a few simple things you can do to prevent pests and disease:
Encourage airflow: airflow is important for succulents. If indoors, avoid positioning your succulents in a closed room with little airflow.
Check your plants often: if you examine your succulents regularly, you can stay ahead of any pests or disease. If they do develop, you'll be able to spot them before the infestation gets bad.
Wash your succulents: washing your succulents regularly with water or a diluted alcohol solution will help prevent pests and disease. You can also use neem oil for extra preventative power.
Don't overwater: Or, underwater for that matter. These two things can't be mentioned enough. There's a rumor out there that succulents don't need water- they do! But they don't need a ton. Just a weekly misting is usually enough.
Treating Pests and Disease
If pests or diseases do take hold of your plants, you will have to start a treatment plan to get rid of the infestation. The first thing will be to separate the struggling succulent from other plants to prevent whatever it is from spreading.
Spraying the leaves with neem oil is the preferred method. If the infestation is particularly bad, then you can also soak the soil with neem oil. Using a diluted solution of rubbing alcohol and water can also kill some types of bacteria.
Depending on the problem, you may also consider using a pesticide or herbicide. If you do choose to incorporate chemicals, make sure to follow the directions. If your plant is indoors, ensure that the product is approved for indoor use.
And if you have small pets or children, using an organic and biodegradable product will keep all parties involved much safer.
Summary
Succulents are amazing plants. They are easy to grow and relatively low maintenance. Better yet, if you properly prune them, you can propagate entirely new plants from the cuttings.
Just follow the recommended guidance from above, and you'll be propagating and growing new succulents in no time.
Last update on 2023-06-04 / Affiliate links / Images from Amazon Product Advertising API